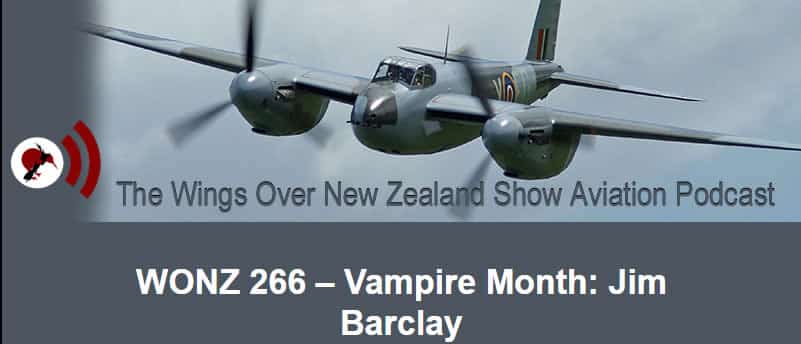 PODCAST: WONZ 266 Vampire Month Jim Barclay
November 2022 marks 50 years since the RNZAF's de Havilland Vampire fleet retired from service. The Air Force operated 58 Vampires within New Zealand, and at least 44 more leased Vampires in Cyprus and Singapore.
In this episode of the WONZ Show, Dave Homewood talks with former RNZAF de Havilland Vampire pilot in 1969 to 1970, before progressing to the then-new McDonnell Douglas A-4K Skyhawks. Jim shares some detailed memories of training on and flying the Vampire, and details its handling qualities and the weapons fits, etc.
Jim also talks in detail about flying the Skyhawk, and the F-4 Phantom on a USAF exchange posting, as well as his time as Commanding Officer of No's 14 and 75 Squadrons, the Skyhawk upgrades, the selection of the Aermacchi MB339CB, and his part in the negotiations to lease the General Dynamics F-16 Fighting Falcons.
An Addendum: Jim says, "I listened to it all – a few mistakes: it was Exercise Golden Kiwi at Gisborne in 1969, not Kea Claw. It was Fred Myers not Fred Kinvig leading the Vampire flypast. I said Fred Myers first time but Fred Kinvig later! I mixed up Skyhawk for Vampire."