Greg Murphy – A Race History 1991-2014
Greg Murphy was born on 23 August 1972 in Hastings, New Zealand. At the young age of 8, he started racing go-karts. When aged 18 he participated in, and won, the 1990 Formula Ford Shell Scholarship that in turn provided him with a full season of racing in a Formula Ford in the NZ 1990/91 season.
In 1992, Greg drove alongside Kayne Scott in the Mark Petch owned "Whittaker's Peanut Slab" Ford Sierra RS 500 in the two-round Nissan Mobil series, achieving 4th place at Wellington and another 4th at Pukekohe, for an overall result of 2nd place in the series. He then raced a Swift DB4 in the 1993 NZ Formula Atlantic / Gold Star Championship.
In 1994, when driving a Reynard 90D Formula Holden single seater, he won the NZ International GP at Manfeild, and finished runner-up in the NZ Gold Star series. He also raced a Ralt RT23 Formula Brabham/Holden to overall 2nd place in the Australian Gold Star Championship and competed in a Toyota Carina at Bathurst for the first time.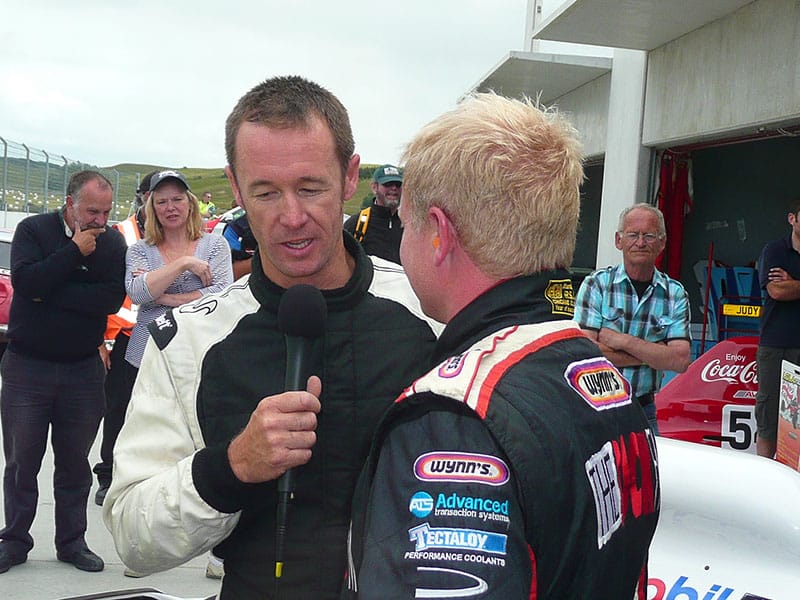 In 1995 he raced a Reynard 92D Formula Holden in the New Zealand Gold Star Championship and had the misfortune to have a brake failure at Manfeild while leading the NZIGP. The car literally left the boundary of the circuit at high speed! He was 4th in the 1995 Australian Super Touring Car Championship driving an Audi 80 Quattro for Brad Jones Racing.
In 1996 Greg was 3rd in the Australian Super Touring Championship, this time in an Audi A4 Quattro.    He had also been asked to join Bill Farmer's 'Le Kiwi Comeback' to race a Porsche 911 GT2 LM at the 1996 Le Mans 24 Hour race, marking 30 years since Bruce McLaren and Chris Amon had won the coveted race in their works Ford GT 40 Mk II. He joined Bill's team of four drivers comprising Bill Farmer, Greg Murphy, Stephane Ortelli (France) and Robert Nearn (UK) for the Daytona 24 Hour race, USA, held on 3rd-4th February 1996. Starting from 23rd position, the team was up to 5th place after 6 hours of racing and into 3rd place after 10 hours, a position they held until the car was withdrawn after 16 hours having suffered a broken camshaft. 
At Le Mans in June '96, the #71 red and white Bill Farmer Porsche (drivers Farmer/Murphy/Nearn) was joined by a second 'Le Kiwi Comeback' car – #83, a white and red Porsche 911 GT2 LM with drivers Andrew Bagnall (NZ), Stephane Ortelli and Andy Pilgrim (USA). The #71 car qualified in 48th and finished in a very credible 14th place on 313 laps – and 2nd in the GT2 class.  Greg played a major part in bringing the Bill Farmer Porsche to the flag. Having suffered a few problems the #83 car finished 17th and 4th in class on 299 laps.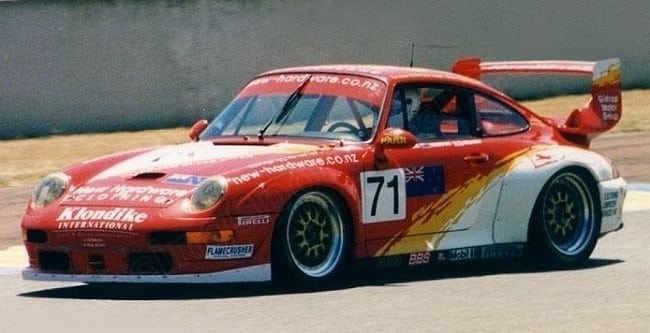 1996 also delivered Greg and Craig Lowndes their first Bathurst Victory, making them the youngest ever winners. After doing his best to make his way into racing in the US, Greg found a solid future racing in Australia. He stayed totally committed to Holden during his time in the V8 SuperCar series, winning the famed 'Bathurst 1000' four times. He was also 2nd in the inaugural NZV8Supertourer series in 2012 after missing 2 rounds through a back injury, and won the series in 2013 and 2014. Greg stepped away from fulltime racing in December 2014.
In keeping with the Porsche theme, Greg's father Kevin ran Greg Murphy Racing in Australia which competed competitively in the Australian Porsche Carrera Cup Championship for a number of years winning the title twice, in 2004 with Alex Davison and in 2005 with Kiwi Fabian Coulthard.