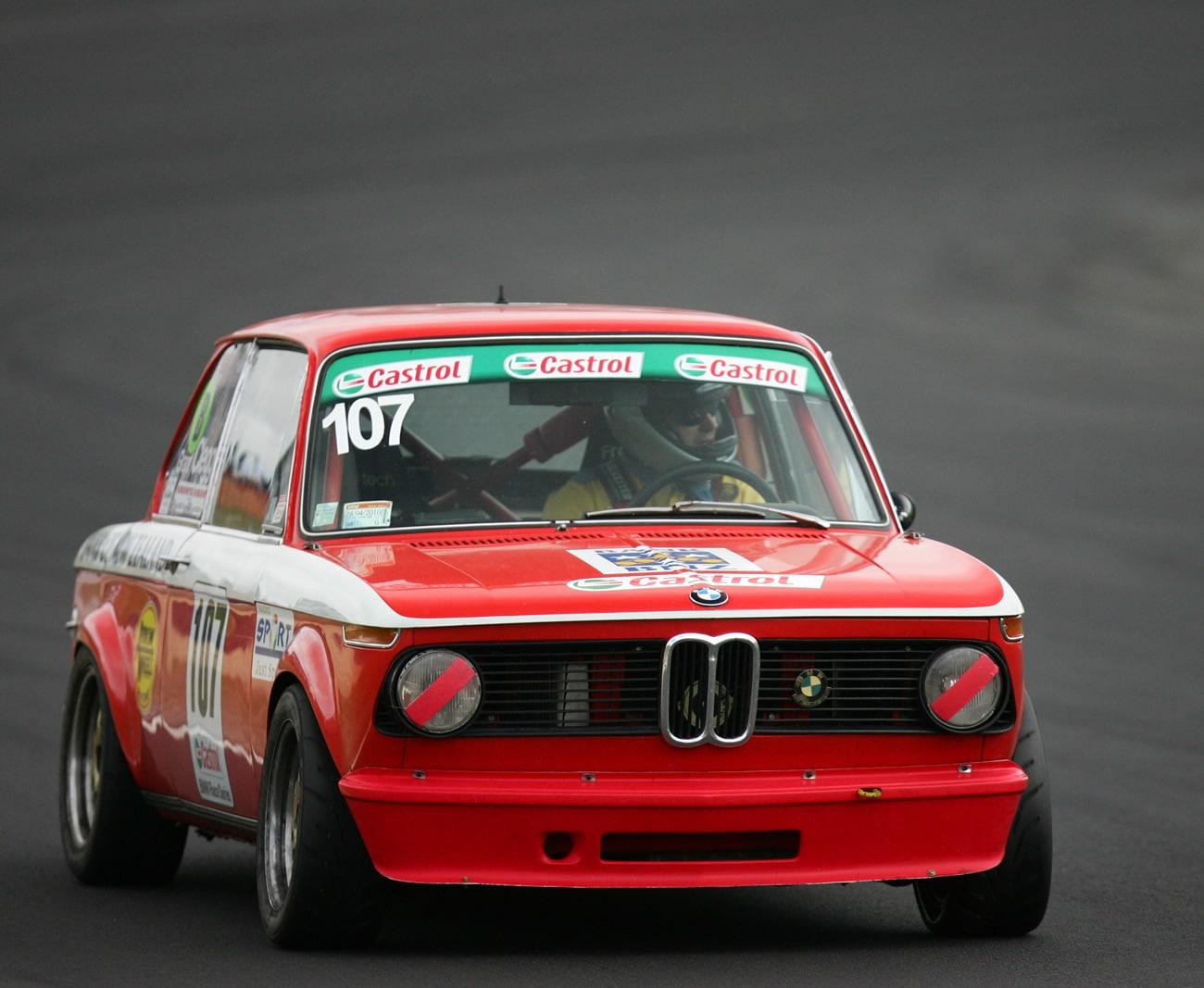 BMW Motorsport in New Zealand – A Brief History

There are two versions of this brief history of BMW Motorsport in New Zealand – a brief one and a longer one ! If you want the brief one, see the one-paragraph version below.  If you want more information, seek out the longer version below.
In compiling both versions, I have been struck by the paucity of information that is readily available about Saloon and Touring car racing in New Zealand. Unlike the amount of information that seems to be readily available in books and on websites about Australian Touring car racing over the past 50 years or so, there seems to be only a small amount of information in just a few books and virtually nothing on any websites about our Kiwi racing.  I, therefore, make no apology about the big gaps that are apparent in the longer version of the BMW Motorsport history in NZ!  If any reader has information including race programmes and photographs to help fill in the gaps, then please contact me jimbarclay@xtra.co.nz
A Brief History of BMW Motorsport in New Zealand (the short version!)
Four decades characterise BMW Motorsport in New Zealand to date.  The first decade, being the 1970s, saw the BMW marque firmly established in NZ Motorsport with the BMW 2002 Ti. The second decade of the 1980s saw the reliable BMW 635CSi and M3s take quite a number of NZ national championships as well as wining for five successive years in the late '80s/early '90s the gruelling Wellington 500 street race. The 1990s saw BMW on top and winning for eight of ten straight years the NZ Touring Car Championship. The fourth decade, beyond 2000, saw the establishment of a very strong and successful BMW Club of New Zealand supported 'BMW Race Drivers series' involving over 100 BMWs of various classes in regular track racing. This last decade has also seen a sizeable growth in the popularity of the 'Targa' events that involve many BMW drivers in their classic and contemporary BMWs. Classic motorcycle racing continues to draw big fields of riders including those riding rare classic BMW bikes.
A Brief History of BMW Motorsport in New Zealand (the longer version!)
Back in July 1967 Ross Jensen, of Ross Jensen Motors, then located at 52 Remuera Road in Newmarket, Auckland, signed the Importers Agreement with BMW in Germany to import and sell BMW motorcars in New Zealand.  It was not surprising that BMW cars would, in turn, be used in motorsport competition in New Zealand because Ross Jensen himself had been heavily involved with motor racing. He was a former NZ champion including winning the 1956/57 Gold Star using Ferrari 750 Monza and Austin Healey 100S sports cars.  He was also the 1957/58 Gold Star Champion driving the ex-Stirling Moss Maserati 250F single seater.  In 1961 Ross was the NZ Saloon Champion driving a Jaguar Mk2 3.8.
The First Decade – the 70s
With Ross Jensen's strong interest in motor sport he gave the early support of Ross Jensen Motors to Rodger Anderson's new model 1969 BMW 2002 Ti Alpina. Such was his outstanding success in the BMW 2002 Ti Alpina throughout the 1969/70 summer season that Rodger won first place in the 1001cc-4200cc NZ Touring Car class and became the overall winner of the New Zealand National Touring Car series. Rodger was joined in 1970 national saloon races by fellow BMW 2002 racers Dr Dick (Doc) Langley and Paul Adams.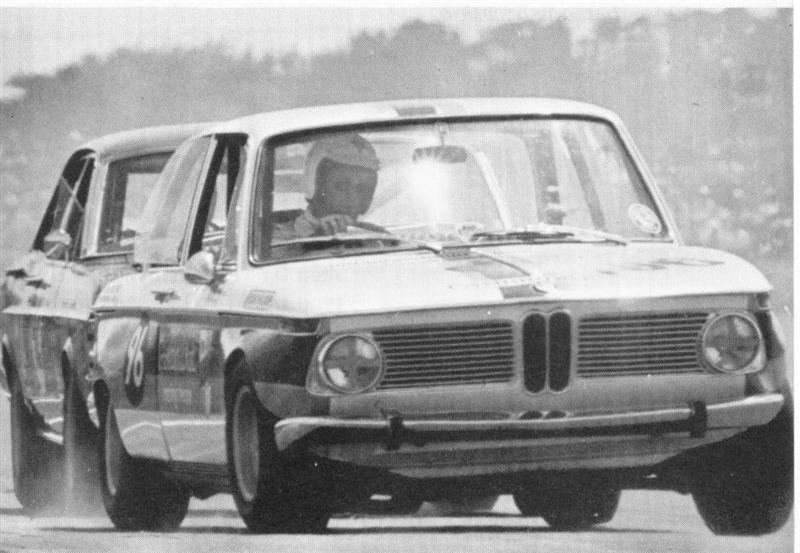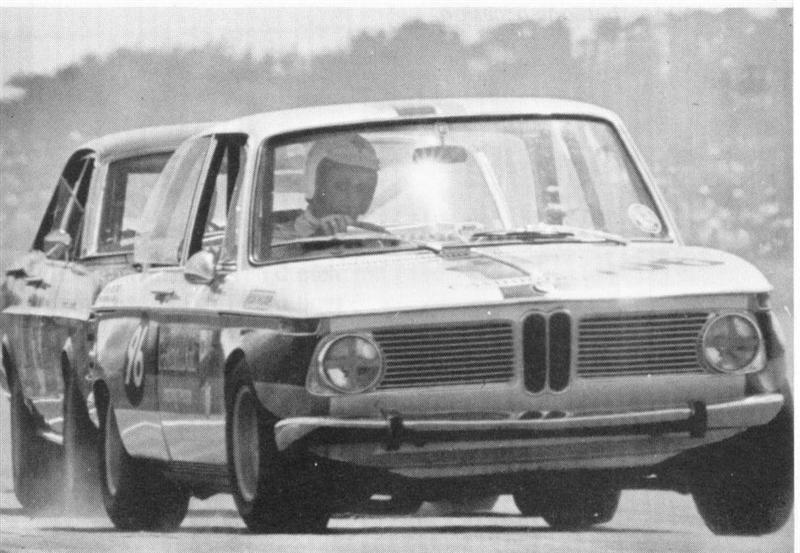 Paul Adams was well known for his rally driving skills as well as his circuit racing in his BMW 2002.  With co-driver Don Fenwick, Paul won New Zealand's premier rally event, the 1970 Silver Fern Rally driving his BMW 2002 Ti Alpina. Also entered in that rally was Jock Freemantle driving the very first BMW 2002 to be brought to New Zealand in late 1968.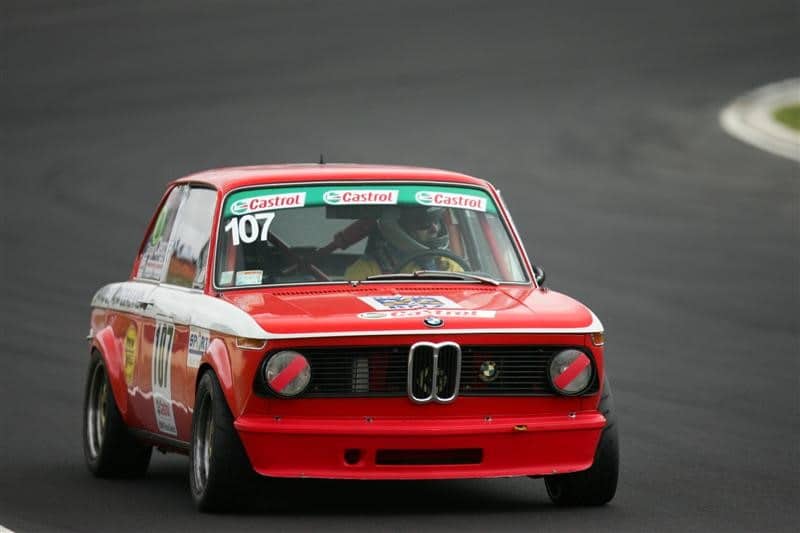 It is of interest to note that both the Rodger Anderson BMW 2002 Ti Alpina and the Paul Adams BMW 2002 Ti Alpina are still with us today – the ex-Anderson car is now owned by former BMW Club President Alan Walker, and one of the ex-Adams cars by Grant and Jo Clegg.  It is hoped that both cars will be at the 'NZ Festival of Motor Racing celebrating BMW Motorsport' to be held at Hampton Downs 20th-22nd January and 27th-29th January 2012.
Other drivers selected the BMW 2002 in its various forms to race including Steve Millen who, in 1972,  fitted an American Rajay turbocharger to his BMW 2002 Ti Alpina – this was at least one year before the BMW 'works' fitted their own KKK turbos to a limited run of BMW 2002 turbos.  Long distance Touring car racing became popular in New Zealand in the 1970s and the great reliability of BMW cars saw them featuring strongly in many results including that of Paul Adams who took out 2nd place in the 'Shell 100 Production Car' 100 lap feature race held at Levin on 6 October 1974.  Ken Adamson was another to enjoy success with the BMW 2002 in endurance racing events.
Having secured the right to import BMWs to New Zealand, Ross Jensen set up a dealer network in New Zealand in 1972, and not surprisingly the dealerships went to his fellow former motor racing driver friends including Tony Shelly of Shelly Motors in Wellington, and Ray Archibald of Archibalds Garages in Christchurch. Both Tony and Ray had raced against Ross in the 1950s and early 1960s. Together with other BMW dealers in Gisborne, Havelock North and Invercargill, and service support dealers in Tauranga, Rotorua, Taupo, Palmerston North and Nelson, BMW motorsport drivers throughout New Zealand were now given professional support for their BMW race cars.
In January 1976 Brian Redman (from UK, but based in USA) took part in the 1976 NZ Peter Stuyvesant International series. Twice a winner of the L&M Championship for Formula 5000 cars run in USA, Redman drove the new Fred Opert owned Chevron B29 F2 car fitted with a BMW M-Power 2000cc engine. Sponsorship in the NZ series included that from Ross Jensen Motors. New Zealander, Dick Bennetts (later to achieve fame in UK with his company West Surrey Racing) was Redman's mechanic. The small Chevron BMW was the only 2.0 litre car up against a much more powerful grid of V8 engined Formula 5000cc cars but Redman finished in a very credible 4th place in the 1976 NZIGP held at Pukekohe. He was also 2nd at Manfeild and qualified 6th at the Lady Wigram Trophy race in Christchurch but retired from the race with a very rare engine problem. At Teretonga he qualified 7th and, when vying for second place with two-thirds of the race run, he was forced to retire with a loose rear wheel.  In the 1976 NZ series, Redman showed that with a nimble car and a reliabille BMW M-Power engine, good results were possible against much more powerful opposition.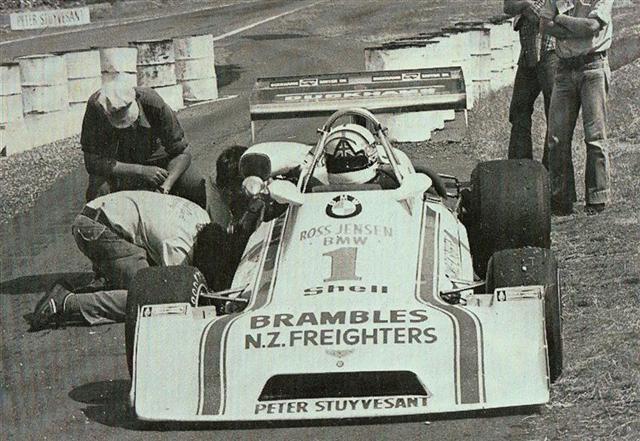 The Second Decade – the '80s
Into the second decade and beginning with the 1984/85 NZ racing season that saw the start of what was to become a long run of success by the BMW marque in NZ motorsport.
Neville Crichton imported a quick and reliable 1984 BMW 635CSi Group A Touring car built up for him by Frank Gardner's Team JPS (Australia).  Kent Baigent imported an ex-team Schnitzer BMW 635CSi Chassis number RA 2/035 that had been driven by Dieter Quester/Hans Stuck in the 1983/84 European Touring Car Championship.  
The NZ Production Saloon Championship (the Benson & Hedges [B&H] series) was held at three tracks during October and November 1984.  Kent Baigent and Neil Lowe in their white coloured #3 BMW 635CSi led in the first race of the series, the 4-hour Manfeild race until an overcharged battery exploded wrecking the engine management computer, which in turn led to their retirement.  With the withdrawal of the Baigent/Lowe 635CSi, Neville Crichton and Wayne Wilkinson took first place at Manfeild in Crichton's #4 black 635CSi.  Baigent/Lowe led again at Baypark but ran a bearing in the engine, so once again Crichton/Wilkinson took the win.  The white Tellus sponsored # 3 635CSi of Baigent/Lowe won the final 6 hour race of the 1984 B & H series held at Pukekohe on 28 October 1984 and the Crichton/Wilkinson 635CSi was placed second. During the race at Pukekohe, co-driver Lowe made an early entry to the Pits and found Baigent was not ready to resume his driving duties so Lowe had to drive the final 3 hour 45 min spell at Pukekohe himself. He was exhausted when he took the chequered flag. On overall results in the three-race B & H series Crichton/Wilkinson took first place in the NZ Production Saloon Championship and third place in the series went to Baigent/Lowe in their 635CSi.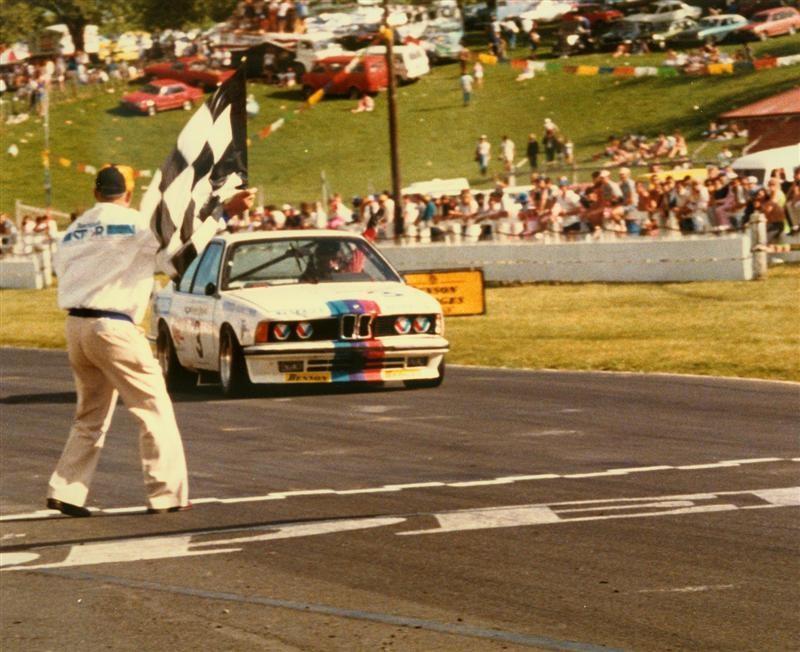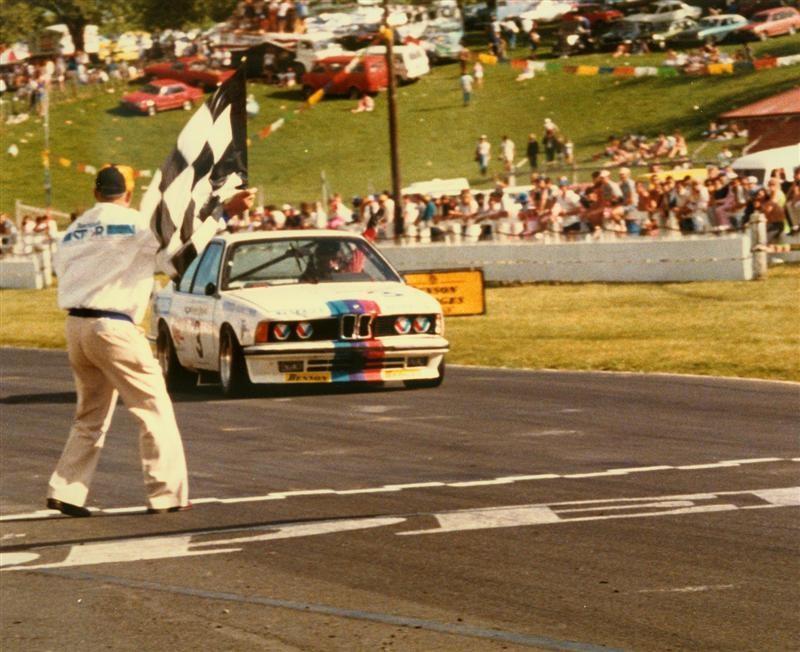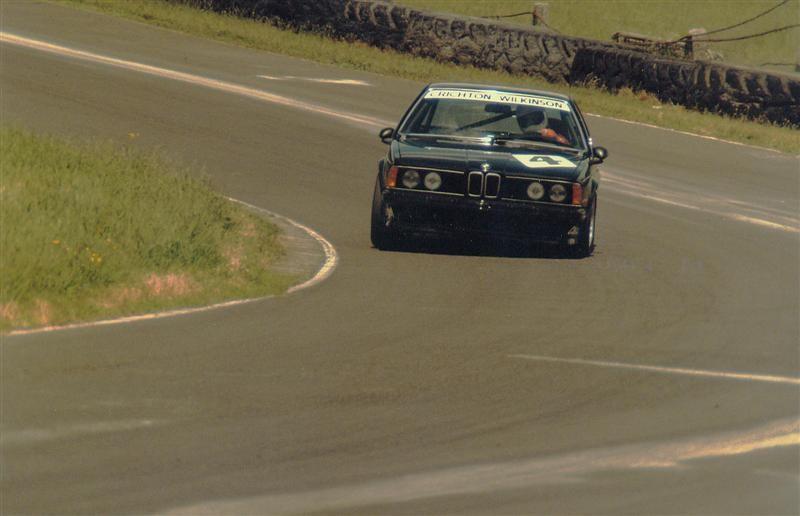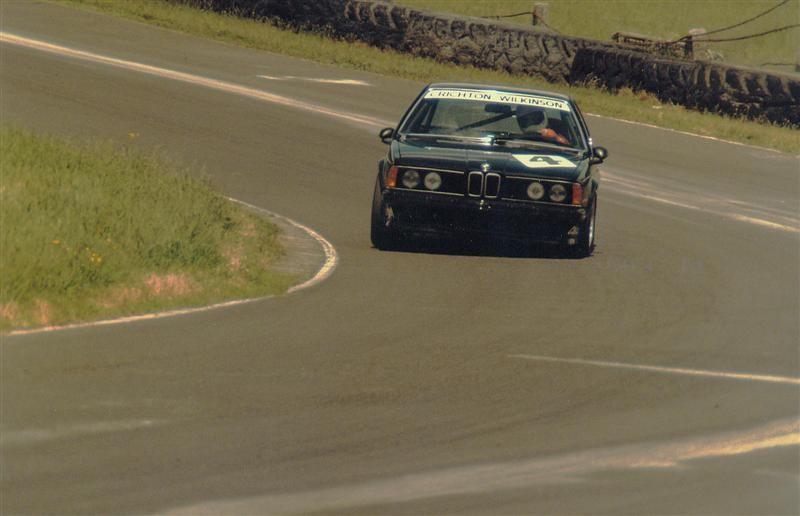 The six races comprising the NZ Touring car championship (the ANZ Touring Car series) for Group A cars were held in late 1984 and early 1985 and saw Kent Baigent win all three races held at Manfeild, Bay Park and Pukekohe in his 635CSi.  Neville Crichton placed second in two of the races. Kent Baigent won both the 1985 NZ Touring Car Championship and the NZ Touring Car Series for Group A cars.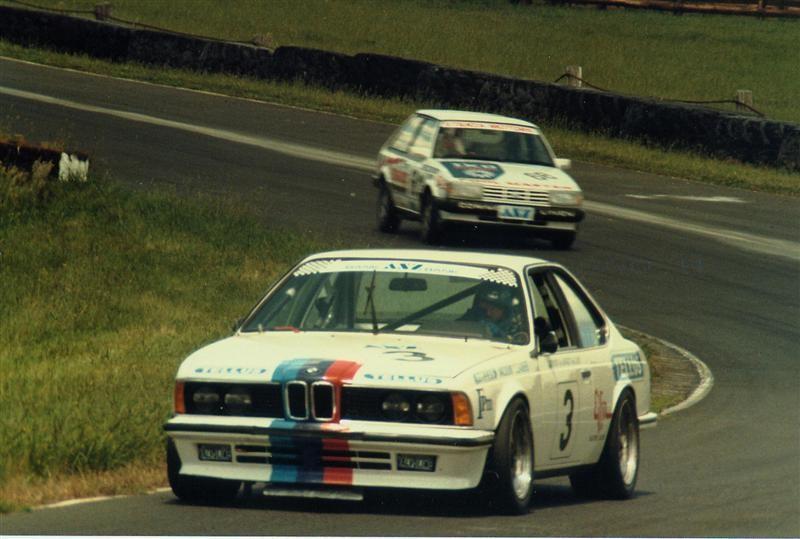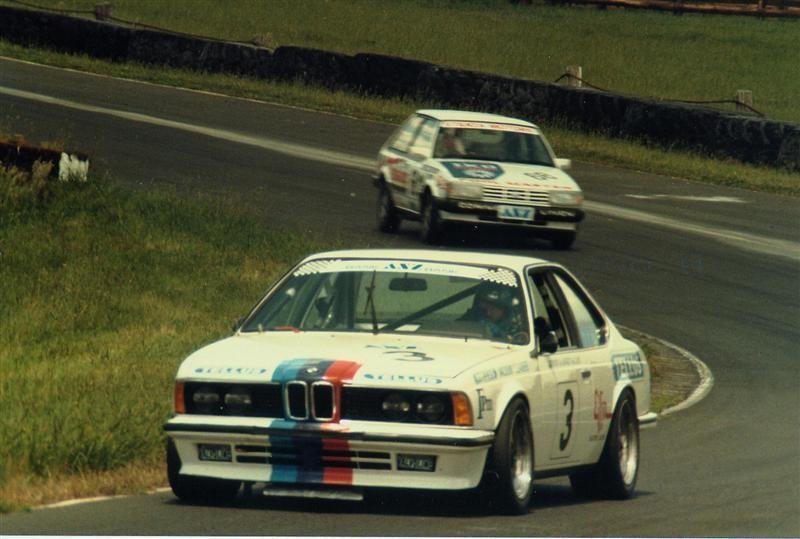 International Group A racing in New Zealand began in a big way with the first of the new Nissan Sport 500 races held in January 1985 on the Wellington wharf and city-street track.  All three BMW635CSi cars that entered finished the race – Frank Sytner and John Morton finished 2nd in their white #6 BMW 635CSi on 149 laps, 1 lap behind the leader, followed by Neville Crichton/Wayne Wilkinson on 148 laps in 3rd place with their black # 4 BMW 635CSi and Baigent/Lowe who were 7th on 135 laps in their white #3 BMW 635CSi.  The series continued at Pukekohe where Crichton/Wilkinson finished first, and Baigent/Lowe were third. Crichton/Wilkinson took overall first place on aggregate points for the two-round 1985 Nissan Sport series.
Across in Australia, expat Kiwi Jim Richards won the 1985 Australian Touring Car Championship in his Team JPS BMW 635CSi. Baigent/Lowe in their 635CSi also raced in the series and finished in a very credible 5th   place in the 1985 Bathurst 1000.
The 1985/86 season began with the three-race 'B & H series' held in October and November at Manfeild, Baypark and Pukekohe. In the 3-hour race at Manfeild, held on 20 October 1985, Kent Baigent was leading when he and Denny Hulme in his Ray Smith entered 'Auckland Gold and Bullion' Holden Commodore touched.  This in turn lead to a major accident for Baigent in his 635CSi, effectively writing-off the car.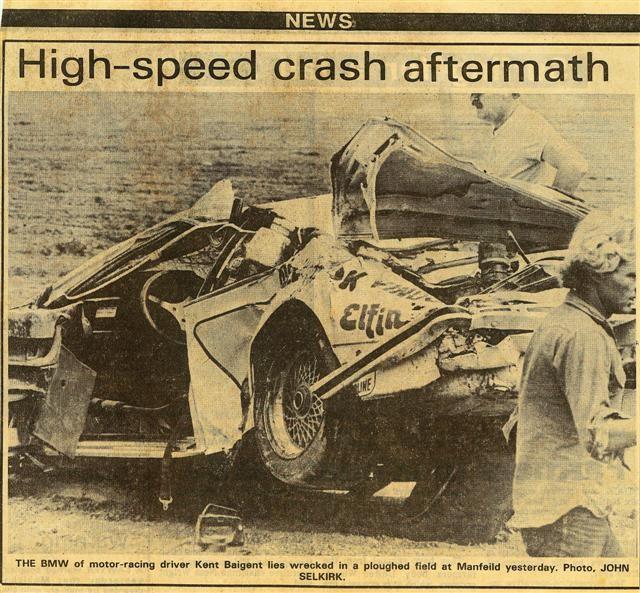 Trevor Crowe had purchased the ex-JPS built Crichton 635CSi and together with Australia's Tony Longhurst, they finished in 4th place.  Crowe/Longhurst won the 2.5 hour race at Bay Park held on 27 October 1985 and the 6-hour race at Pukekohe on 17 November 1985 – they became the 1985 NZ Production Saloon Champions.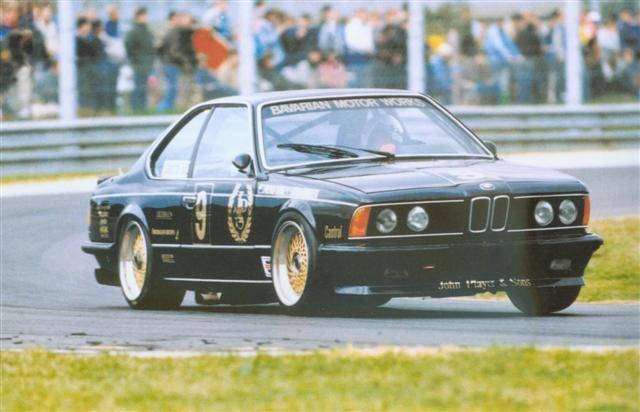 1986 NZ Production Car Championship
The 1986 four-round NZ ANZ Touring Car Championships began at Baypark on 29 December 1985. Former motorcycle champion Graeme Crosby entered his BMW 635CSi, the first ever Group A BMW 635CSi, chassis number RA001. Trevor Crowe won in his 635CSi and Crosby finished 4th.  The next round was at Pukekohe on 5th January 1986 supporting the NZIGP meeting and Crowe was 2nd, Crosby 4th and Charlie Obrien 5th – all in BMW635 CSi cars. The third round was at Manfeild on 12th January 1986 and Crowe finished 4th.  The final round was held at Wigram on 19 January 1986 and saw Crowe 1st in Heat 1, and 2nd in Heat 2.  Crowe took overall second place in the Group A NZ Touring Car (ANZ Touring Car series) Championship.
On 26 January 1986 the newly named Nissan Mobil 500 for Group A cars was run in Wellington with another good entry including five BMW 635CSi cars. Only one 635CSi finished. John Morton and Jim Richards qualified 18th in their white # 3 Team McMillan liveried car but retired in the race.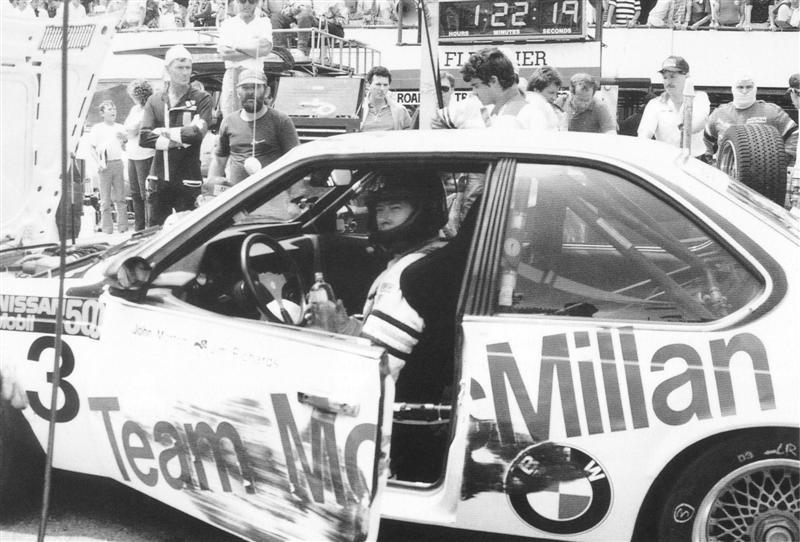 Graeme Crosby and Lew McKinnon drove Crosby's yellow and blue # 6 car and finished in a credible 6th place on 187 laps, 17 laps down on the winner who completed 204 laps.  Jim Keogh and Struan Robertson qualified 16th in their #20 dark red coloured 635CSi but retired from the race after only 2 laps when the car overheated and blew a head gasket – Jim had fitted a new 'big-port' head to his car but to his dismay he found it was porous such that the engine boiled early and they retired. Trevor Crowe and Tony Longhurst qualified 5th and had their black # 31 ex Crichton 635CSi, now with Archibald's sponsorship, up into first place and were leading the race by 2 laps with only 7 laps to go when they retired with a rare failure in the front suspension.  Australian, Charlie O'Brien and Wellington's Glenn McIntyre qualified O'Brien's red 'State Coal' sponsored # 7 635CSi in 8th place but retired in the race.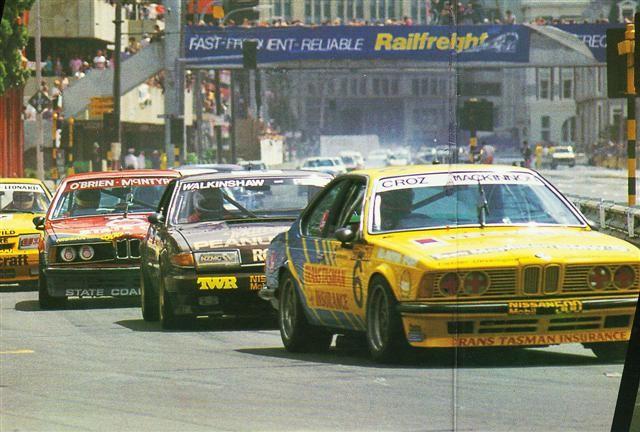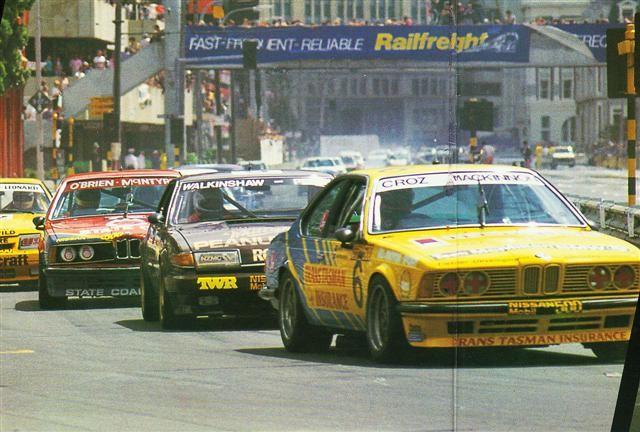 The Nissan-Mobil series continued to Pukekohe for the second round held on 2nd February 1986. The #20 Jim Keogh/Struan Robertson 635CSi qualified 6th between Jim Richards and Charlie O'Brien in their 635CSi cars.  Jim Keogh was lapping Gerald Hay's Commodore at the Esses leading into the main straight when the Commodore took the BMW out – a broken strut in the 635 meant a retirement. The # 31 Crowe/Longhurst 635CSi was 2nd in the race and the # 6 Crosby/McKinnon 635CSi was 6th.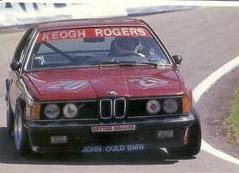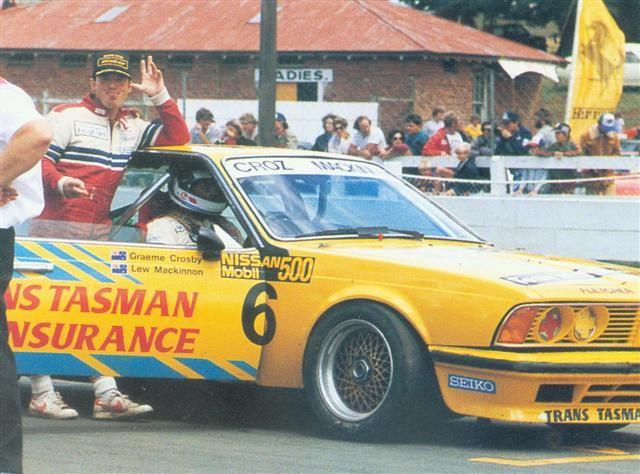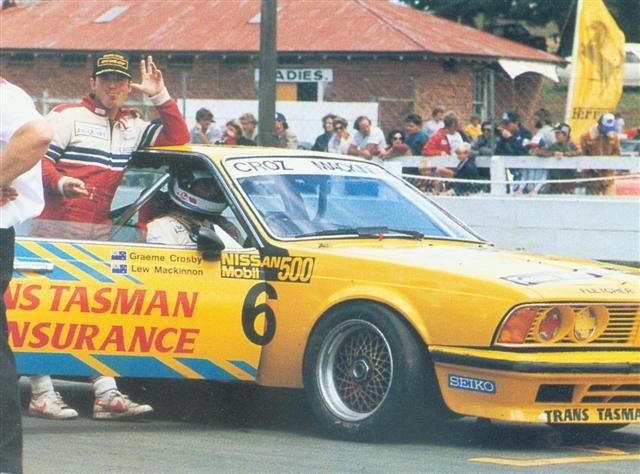 Crosby/McKinnon took overall 1st place on aggregate in the 1986 Nissan-Mobil series with two 6th places.
The 1986/87 Touring Car series began with NZ Production Saloon Championship (B & H Series) at Manfeild in October 1986 and Ed Lamont/Graeme Cameron took first place in their ex-JPS black and gold coloured BMW325i. At the next race held at Baypark, Lamont/Cameron were 3rd.  On to Pukekohe where Trevor Crowe/Jim Richard were 2nd in Crowe's 635CSi and Lamont/Cameron were 3rd in their 325i.  Lamont/Cameron were overall winers of the 1986 B & H Series and thus won the 1986 NZ Production Saloon Championship.
Having already had Rounds 1 and 2 in Australia, the final three rounds of the newly named South Pacific Touring Car Championship (Simpson Appliances Series) began at Manfeild on 30th November 1986 with a 3-hour race.  Trevor Crowe had purchased a later model ex 1986 JPS black and silver BMW 635CSi (as against the normal black and gold JPS cars). Entered as car #31, and again with Archibalds sponsorship, he single-handedly drove this car to 2nd place at Manfeild, as he did again at Baypark in the 3-hour race held on 7 December 1986 for the same result.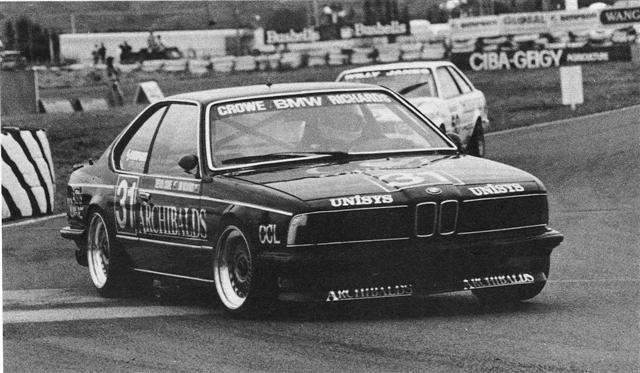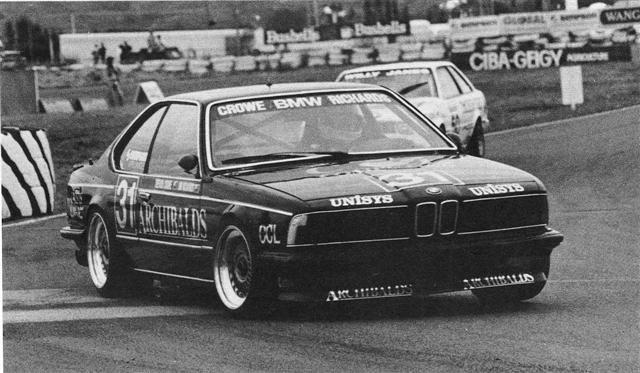 A 3-hour race was held at Pukekohe on 14 December 1986. In the Group A Class 1 for cars over 2501cc, there were five 635CSi cars entered – #7 Charlie O'Brien/Glenn McIntyre, #8 Dennis Roderick/John English (Aus), #10 John Sorensen/Brian Musgrove, #31 Trevor Crowe, and #91 Graham Lorimer/Tony Lawrence. In the Group A Class 2 for cars 1601cc-2500cc were #24 Denny Hulme/Bill Bryce in an ex-JPS BMW 325i and #25, the sister ex JPS 325i car for Ed Lamont.  Trevor Crowe had a first corner tangle with other cars and later broke a rocker in his engine causing his retirement.  Hulme broke a cam belt and also retired. The O'Brien/McIntyre 635CSi took 1st place and Lorimer/Lawrence 3rd.  Crowe finished second in the 5 race Simpson Series. 
O'Brien/McIntyre in their # 7 State Coal BMW 635CSi won the 1987 Group A NZ National Touring Car Series.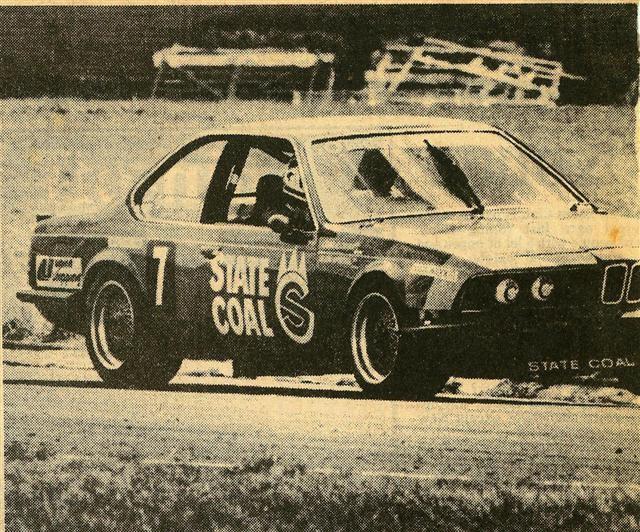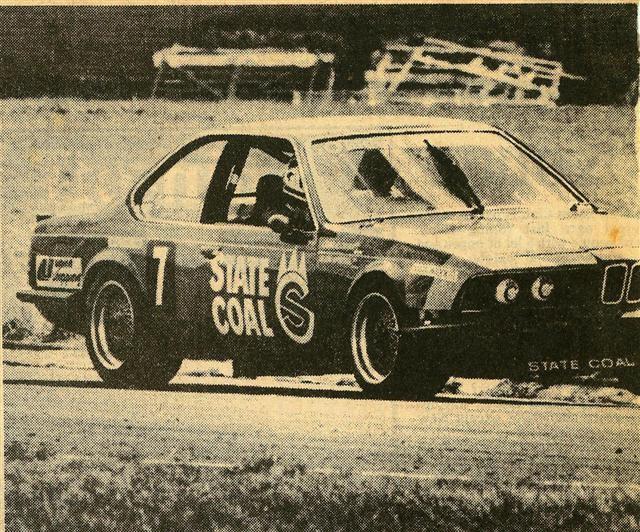 The 1987 NZ Touring Car Championship races were then held at Baypark 28 December 1986, Pukekohe (in conjunction with the NZIGP) on 4 Jan 87, Manfeild 11 Jan 87 and Lady Wigram on 18 Jan 87. Glenn McIntyre driving his BMW 635CSi became the 1987 NZ Touring Car Champion.
Nissan Mobil races 1987 – There were two Nissan-Mobil races in Wellington in 1987. The first was held on 24/25 January 1987. Four BMW 635CSi cars were entered and three were to finish – #7 the red coloured State Coal car for O'Brien/McIntyre finished 3rd on 141 laps being 1 lap behind the leader, #8 car for Allan Milligan/Avon Hyde finished 6th on 134 laps, the #31 black Archibalds car for Crowe/Richards who retired, and the #91 silver DSIR sponsored car for Graham Lorimer/Phil Myhre who finished 7th on 133 laps.  Bill Bryce teamed up with Tony Longhust in a Bryce owned ex-JPS M3 but a series of accidents by Longhurst prevented them finishing. The series continued at Pukekohe on 1 February 1987 – Lorimer/Mhyre finished 13th.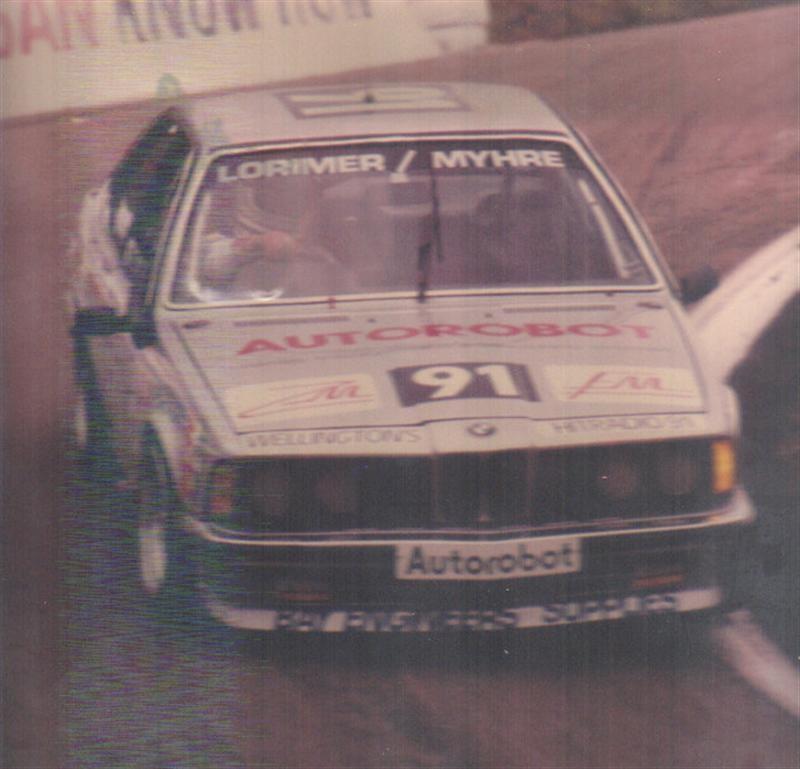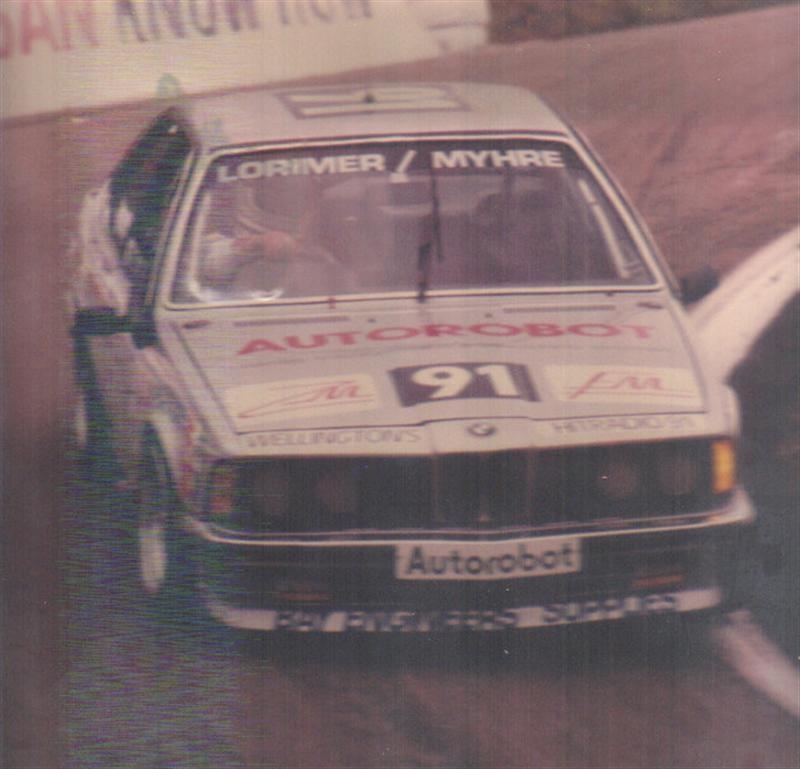 Following on from the Wellington race in January 1987, the second leg of the two-race Nissan-Mobil series was held one week later at Pukekohe on 31 January/1 February 1987.
The 1987/88 Touring car season in New Zealand began with the second Nissan Mobil 500 series to held in Wellington that year and this time, it was an even bigger event.  On 26 October 1987, New Zealand's Labour Day Monday, Wellington once again saw Group A cars competing but this time it was Round 10 of the international FIA World Touring Car Championship for Group A cars. 
Ten Division 2 under 2500cc BMWs were entered, in addition to four over 2500cc Division 1 cars that included three 635CSi. In Division 2, two Italians, Roberto Ravaglia and Emanuele Pirro qualified 3rd fastest in their #46 Schnitzer BMW M3 and finished the race in 2nd place, just 15 seconds behind the winner also on 150 laps in the four-hour race.
Also in a Schnitzer M3 were Roland Ratzenberger (Austria)/ Markus Oestreich (Germany) in #40 M3 who qualified 9th and finished 6th on 148 laps – 2 laps down. Car #41 a BMW Motorsport M3 entry for Altfrid Heger (Germany) /Tony Longhurst qualified in 18th place and finished 7th on 147 laps.  Car #44 a Bryce Homes entered ex JPS BMW 325i driven by Paul Radisich/Ludwig Finauer (Australia) qualified 27th and finished 10th on 141 laps. The Scwaben Motorsport entry for two Germans, Baron Thomas von Lowis of Menar and Prince Leopold von Bayern in a BMW M3 # 62 qualified 22nd and finished 12th on 140 laps while the white coloured 635CSi # 31 driven by John Sorenson/Kayne Scott qualified 32nd and finished 15th on 135 laps. Qualifying 33rd was the # 27 635CSi for Australians Ray Gulson/Graham Gulson who finished 17th on 134 laps. Jim Richards and Trevor Crowe teamed up in car #53, a pre evolution ex JPS M3 sponsored by Cardinal Network to qualify 8th and finish 19th on 116 laps.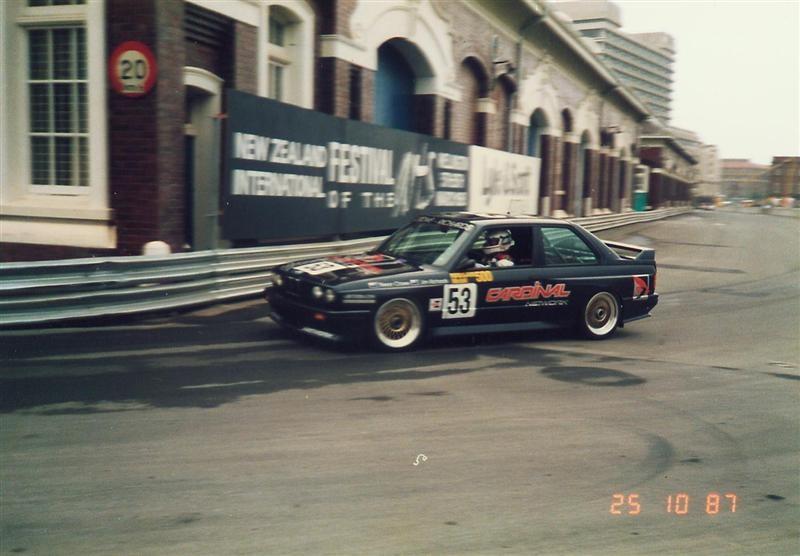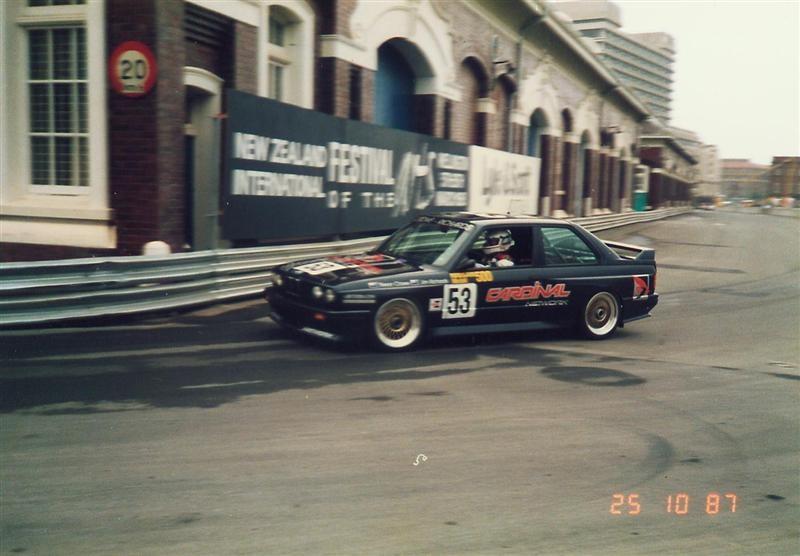 The #14 Charlie O'Brien/Avon Hyde/Jim Richards black ex-Archibalds/Cardinal Network 635CSi qualified well for an older car up in 17th place. They had a few problems in the race and finished 20th on 106 laps.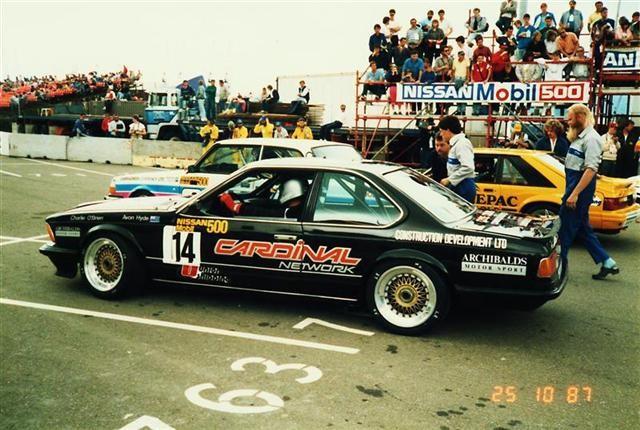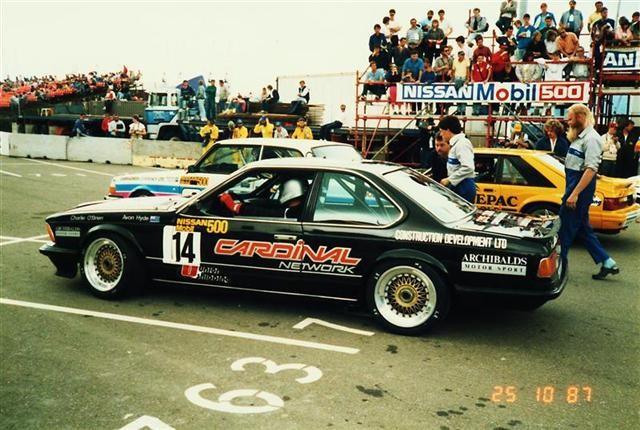 Twenty of the 38 starters made it to the chequered flag. BMW cars listed as 'did not finish' were the ladies team of Anette Meeuvissen/Mercedes Stermitz in the #47 M3 who qualified 23rd and completed 126 laps, but as they were not running at the end of the race, they were classified as non-finishers. The #42 CiBiEmme entry for Italians Johnny Cecotto/Gianfranco Brancatelli M3 qualified well up the grid in 12th place but they retired after 44 laps.  Car #48, the Sax Racing entry for Grahame Lorimer/John Sax M3 qualified 28th but they retired lap 28. Car #43 the M3 Bigazzi entry for Winni Voght (Germany)/Olivier Grouillard (France) qualified 7th but they did only 13 laps. Car # 55 a BMW325i for Ed Lamont/John Morton qualified 35th but did not race. Car # 22, a bright yellow coloured ex- Lorimer 635CSi was entered by Warren McKeller/Alan Prince and they qualified 36th but did not race.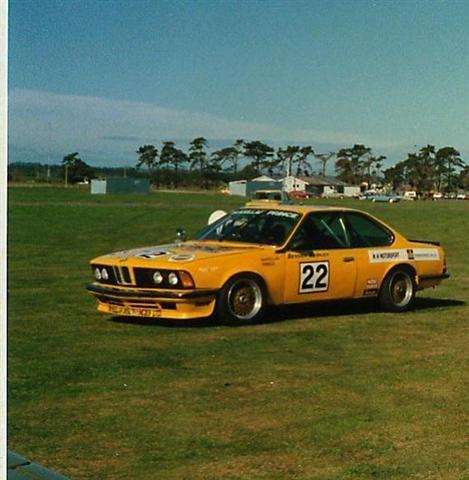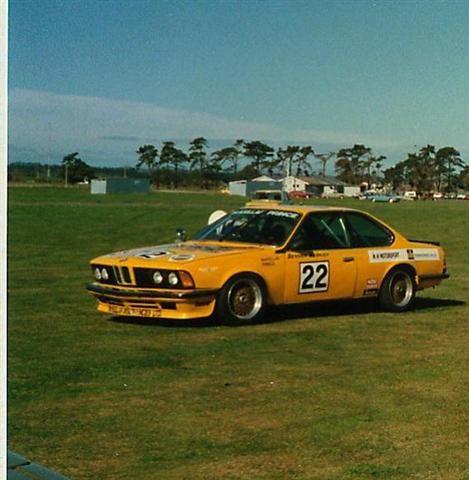 The second race in the series was the Benson & Hedges 500 Classic run on the Pukekohe "long" circuit on 1 November 1987.  Gianfranco Brancatelli (Italy) teamed up with Allan Grice (Australia) in the #42 CiBiEmme M3, now owned by Mark Petch, and took first place on 143 laps.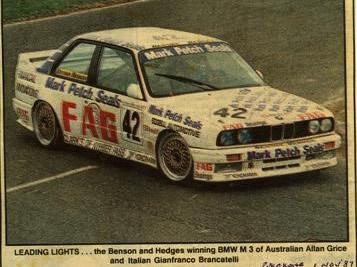 In third place were Trevor Crowe and Robbie Francevic in the Cardinal Freight sponsored M3. The white #31 BMW 635CSi of John Sorenson/Kayne Scott finished 5th. In sixth place were Paul Radisich and Denny Hulme in the ex-JPS Bill Bryce owned BMW 325i driven at Wellington the previous week by Radisich and Ludwig Finauer – the expert 'engine guru' at Team JPS Australia.
The 1988 B&H International Motor Racing series began at Manfeild on 2/3 January 1988, continued to Baypark on 9/10 Jan 88, then to Pukekohe supporting the NZIGP 16/17 Jan 88, Wigram 23/24 Jan 88 and concluded at Timaru on 30/31 Jan 88.
The Manfeild round held on 2nd and 3rd January 1988 comprised a one-hour race followed by a second race over 15 laps.  Cars entered were the yellow #22 Warren McKellar 635CSi, #24 Bill Bryce in the ex Tony Longhurst JPS 325i, #25 Ed Lamont ex JPS 325i,  #27 Graham Gulson (Aust) 635CSi who finished 6th in the 15 lap race, #42 Mark Petch in the ex-CeeBiEmme (Italy) team M3, #48 John Sax/Graham Lorimer M3 who finished 3rd in race one and 4th in race two, and #53 Trevor Crowe in the Cardinal Network M3 who finished 1st in the second race. 
Trevor Crowe in his BMW M3 was the 1988 NZ Touring Car Champion.
The 1988/89 season again started in Wellington with the Nissan Mobil 500, this time held on 24th October 1988. 1988 saw the beginning of an unbroken five year streak of wins for the BMW M3 cars. The Group A Division 2 cars entered were #52 Roberto Ravaglia/Emanuele Pirro in a Schnitzer M3 2332cc that took 1st place.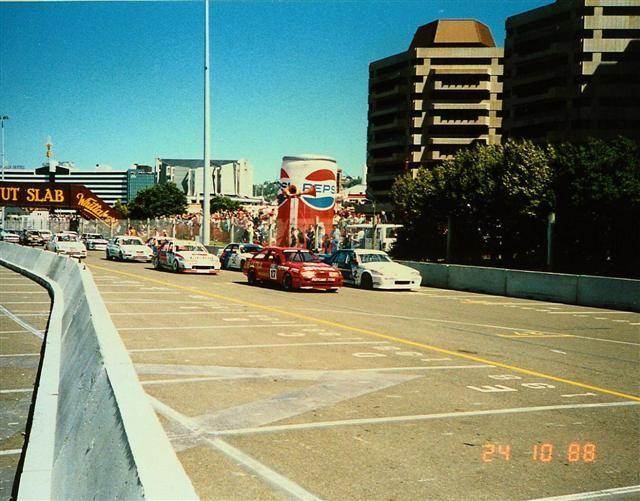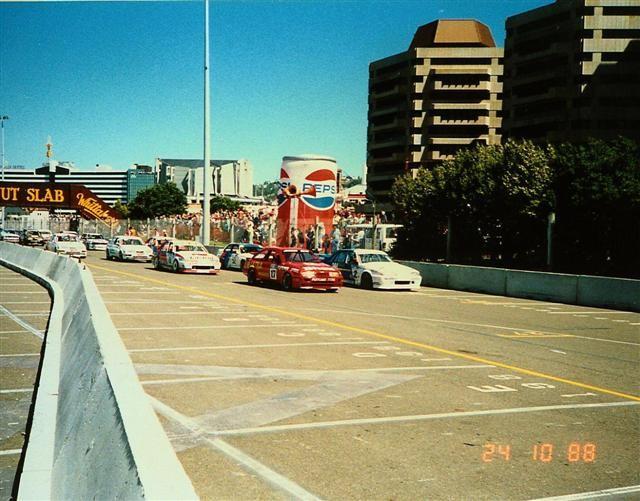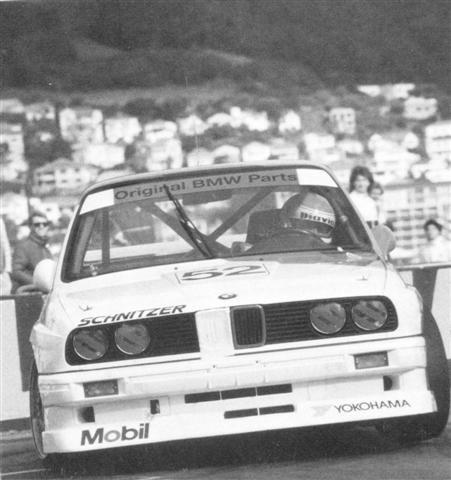 The #53 ex-JPS now Cardinal/Archibalds sponsored M3 was driven by Trevor Crowe and Mark Thatcher (UK) and finished in 3rd place', the #54 Kayne Scott/John Sorenson M3 was 8th, and the #55 Paul Radisich/Ludwig Finauer M3 sponsored by Bill Bryce Lockwood (the ex Petch ex CeeBiEmme car) was crashed by Finauer so the car did not finish the race. As Ludwig commented "I was lapping Tony Noske who was driving Peter Brock's Mobil M3 and he shut the door on me which put me too close to the Armco with the left front wheel touching and braking the steering arm and then crashing into the Armco on the other side."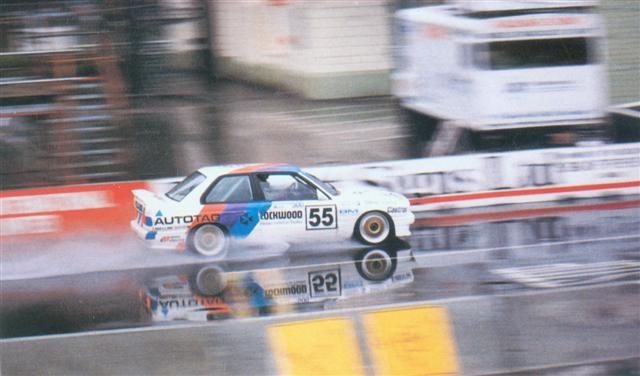 Car #56 was the Peter Brock (Aus)/Jim Richards (Aus) white coloured Mobil Dealer Team sponsored M3 (ex JPS '87 car) that broke a tailshaft after 20 minutes of the race, and Neil Crompton (Aus)/Mark Noske (Aus) in the second Mobil Dealer M3 who also did not finish.
The two Division 1 BMWs were #37 Glenn McIntyre/Avon Hyde in their black ex Archibalds 635CSi who finished 6th and #44 Richard Gillies/Joe Sommariva (Aus) in the yellow Warren McKellar car who did not practice.
The second round of series was the ProMo 500 and was held at Pukekohe on 31 October 1988.  The #54 Kayne Scott/John Sorenson M3 finished in 5th place.  The #55 Paul Radisich/Ludwig Finauer M3 blew a motor when Paul was driving and retired.  (No further details for this race).
Trevor Crowe and Mark Thatcher in the M3 won the FISA Pacific-Asia Touring Car Championship.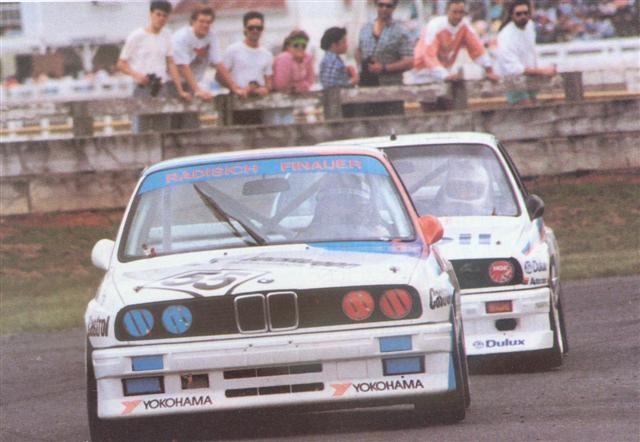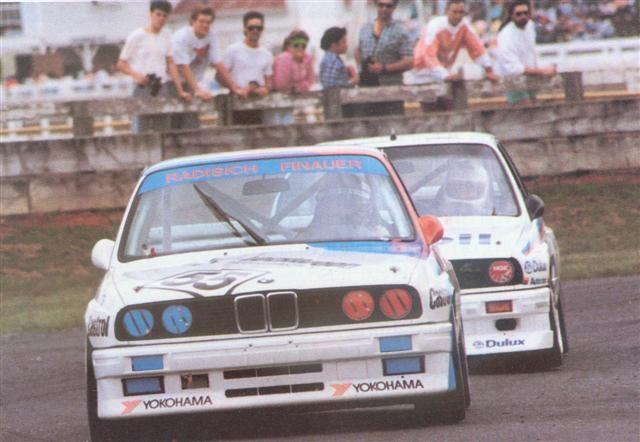 The 1989 Benson & Hedges International Motor Racing series was held at Baypark, Pukekohe, Manfeild and Wigram.  At Manfeild on 22 Jan 1989 the NZ Touring Car Championship for Group A cars saw #44 Warren McKellar in his yellow BMW 635CSi 3500cc (he had problems and did not start), #52 Gregg Taylor in Kayne Scott's BMW 635CSi, #53 Kayne Scott in the ex-Crowe/John Sax entered BMW M3 who finished 1st in Race 1 and 5th in Race 2.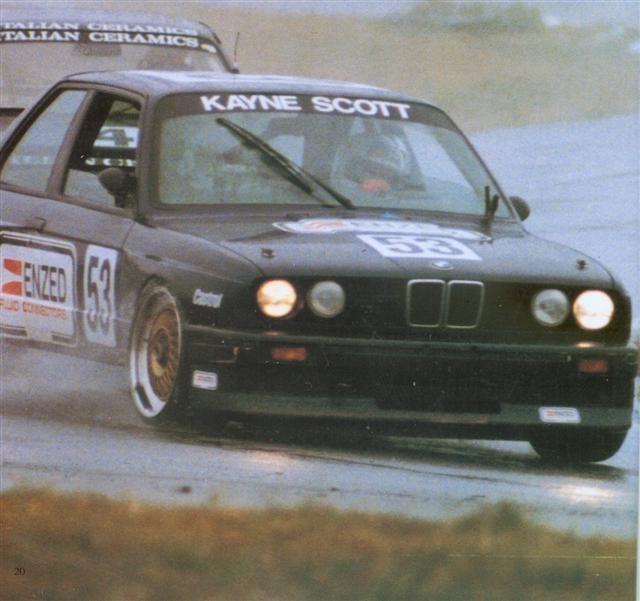 Car #54 was John Sorensen in a John Sax entered BMW M3 and #55 Brett Riley in the Bill Bryce Racing ex-Petch ex CeeBeeEmme BMW M3. Riley finished 3rd in Race 1 and 2nd in Race 2.  In the Class 2, # 7 Mark Petch BMW 325i was 1st in class
At the NZ Touring Car Championship (Group A) held at Wigram 28/29 January 1989 there were two 'heats' for Group A cars over the duration of the meeting. In Heat 1 over 15 laps Brett Riley in the M3 was 2nd, Kayne Scott's M3 was 4th, John Sorenson's M3 5th, Greg Taylor's 635CSi 6th and Mark Petch's M3 7th. In Heat 2, also over 15 laps, Riley was 3rd, Scott 4th, Sorenson 5th, Taylor 7th and Petch 8th .
Brett Riley in his Bill Bryce entered ex-CeeBeeEmme BMW M3 was 2nd in the 1989 NZ Group A Touring Car Championship and Mark Petch in his ex-JPS 325i was 1st in Class 2 (under 2500cc) for the 1989 NZ Touring Car Championship.  Kayne Scott in the Petch M3 was 3rd in the NZ Touring Car Championship
The 1989/90 season began with the Nissan Mobil 500 Series held in Wellington 1-3 Dec 1989. Taking the second win in succession for BMW was car #1, the white 2332cc team Schnitzer M3 with Sony and Cardinal sponsorship driven by Emanuele Pirro/Roberto Ravaglia to 1st place on 142 laps. In 2nd place was the second team Schnitzer M3 #10 of Steve Soper (UK) /Fabien Giroux (France) also on 142 laps.  In 4th place was the Ubix entered M3 #4 driven by Swedes Per-Gunnar Andersson/Nettan Lindgren/Gary Croft (NZ) on 135 laps. The #34 Ray Gulson(Aust)/James McAlpine (UK) BMW 635CSi was 9th on 127 laps and Kayne Scott/John Sorensen in the #56 Sax Racing M3 was 14th on 102 laps.
Those not placed were #29-John Sommariva (Aust)/Darrel Belsky (Aust) in the ex-Jim Richards 1985 Australian Touring Car Championship winning 635CSi, #50 Denny Hulme/Brett Riley in the Bill Bryce Racing M3 (jammed gear selector), and #57 John Sax/Graham Gulson in their Sax Racing M3. Entered but apparently not practicing or racing was # 9 Ian Forrest (UK) BMW M3.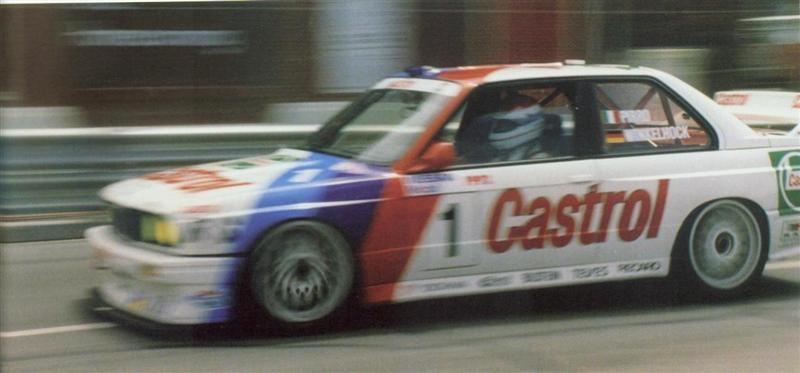 The Nissan-Mobil series continued at Pukekohe on 9th and 10th December 1989 with two 250km races. The faster and open track gave distinct advantage to cars with bigger engines and those with turbo power, so the BMW M3 winners at Wellington the previous weekend were at a distinct disadvantage.  Accordingly, in Race 1 Ravaglia/Pirro drove well but were only able to take 7th place in their Team Schnitzer M3 and Andersson/Lindgren/Croft were 10th in their M3. The Hulme/Riley M3 retired with e blown differential.
In Race 2, Steve Soper (UK)/Fabien Giroux (France) were 7th,  Hulme/Riley 8th,  Andersson/Lindgren/Croft 9th and Scott/Sorenson 10th. Aggregation of points from both Pukekohe races saw Soper/Giroux 8th overall, Andersson/Lindgren/Croft 9th and Scott/Anderson 10th.  Final points for the 1989 Nissan Mobil Series, saw Pirro/Ravaglia 3rd equal, Soper/Giroux 5th and Andersson/Lingren/Croft 7th equal.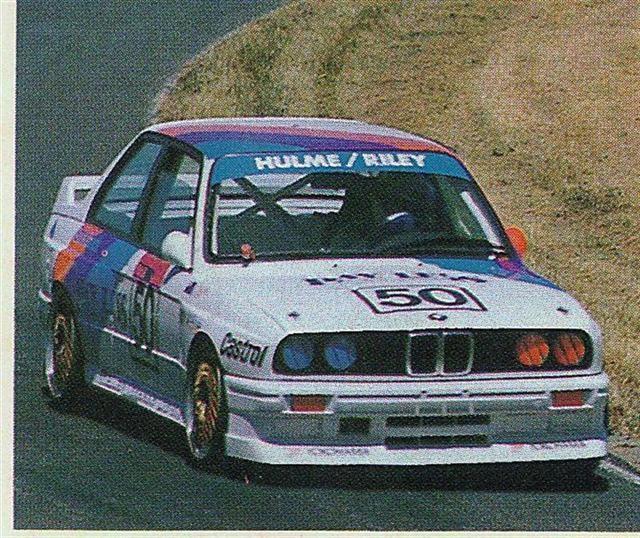 The 1990 NZ Group A Touring Car Championship comprised of the two Nissan Mobil rounds held at Wellington and Pukekohe in December 1989 in addition to a further three rounds held in the North Island in January 1990.  Denny Hulme in Bill Bryce's M3 finished 2nd in the championship.
The Third Decade – the '90s
The 1990/91 season began with the Nissan Mobil 500 Series in Wellington held over 29 November to 2 December 1990 and again it was BMW that took first place. This was the third successive win for Emanuele Pirro, but his time, instead of having Roberto Ravaglia, he had Johnny Cecotto as his co-driver.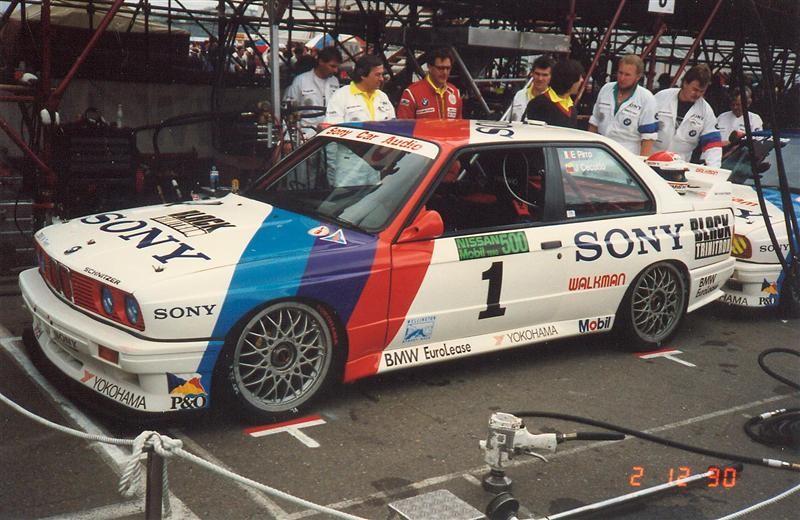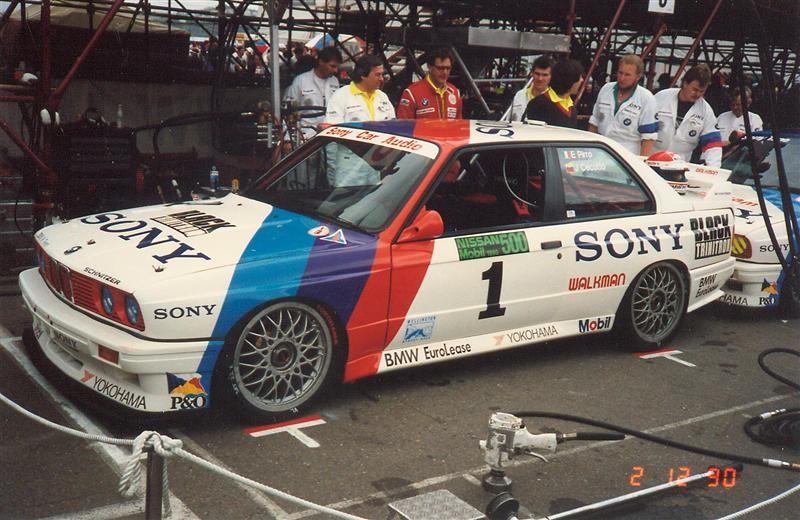 Their team Schnitzer BMW M3, car # 1, carrying Sony sponsorship was 1st and the second Schnitzer car, car # 8, driven by Steve Soper and Joachim Winkelhock finished 4th.  Both of these BMW M3s were later sold to Frank Gardner Motorsport in Australia. In 5th place was car #91, John Sorensen/Mark Jennings in their 'pre evo' M3. In 11th place was car #56, the red Group N/NZ M3 of John Sax/ Slim Borgudd/Jim McAlpine.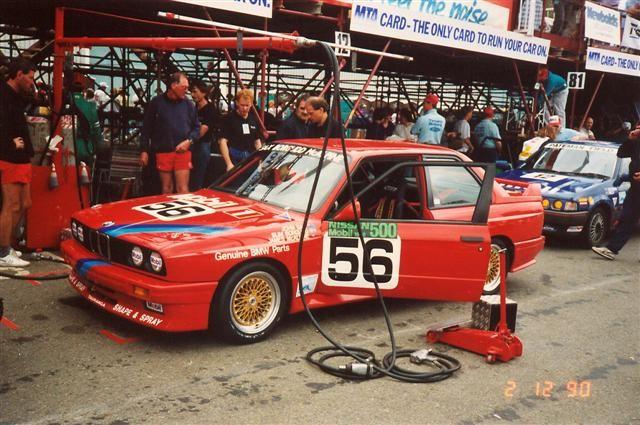 In 13th was the black ex JPS 325i, car # 25 driven by Ed Lamont/Stu McCondach.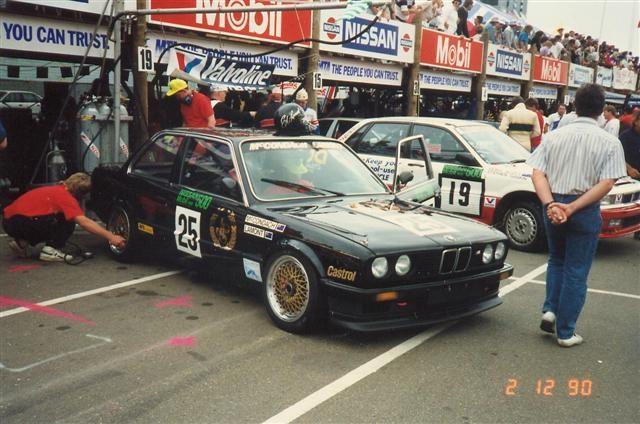 Cars not finishing were the white # 54 Bill Bryce entered pre evo M3 driven by Brett Riley/Craig Baird/Denny Hulme and the #75 Castrol liveried white M3 driven by Keith Sharp/Rob Hurst. Of the seven BMWs entered, five BMWs finished the Wellington race.
The Nissan Mobil series continued at Pukekohe with practice and qualifying on Saturday 8 Dec and the 178 lap race on Sunday 9 Dec 90. (no details of the race )
The 1991 NZ Touring Car Championship was held in conjunction with the Peter Jackson International Series 1991. The series began at Teretonga on 29/30 December 1990, continued at Timaru on 5/6 Jan 91, and because Wigram was not available, the series raced Ruapuna on 12/13 Jan 91. There, only John Sax flew the colours for BMW while racing his M3 in the Dulux Group N Saloon races. He finished 2nd in the first10 lap race but did not start in the second race. On to Manfeild on 19/20 Jan 91 and a bigger field was evident when Group A Saloons joined the series. Group A BMWs were #54 Brett Riley in an M3 2302cc (1st in Race 1 and 2nd in Race 2), # 91 John Sorenson M3 2332cc (3rd Race 1 and 3rd Race 2), #11 Keith Sharp's Castrol liveried M3 (5th Race 1 and 6th Race 2) and #25 Stuart McCondach BMW 325i 2499cc. In the Group N/NZ Saloon class # 56 John Sax's Mobil liveried M3 2300cc was 1st in class in Race 1.
The series continued at Baypark on 26/26 Jan 91 and concluded at Pukekohe on 2/3 Feb 91. At Pukekohe the Group A entry saw # 11 Keith Sharp in the Castrol M3 2332cc, # 25 Stuart McCondach BMW 325i and #54 Brett Riley in Bill Bryce's Brooklands Motor Company M3. The Group N/NZ Saloons class saw #56 John Sax in the Mobil M3 2300cc finishing 2nd in Race 2.
Brett Riley in the Bill Bryce M3 was 1st in the 1991 NZ Touring Car Championship.
The 1991/92 season began with the Nissan Mobil 500 held in Wellington on 1st December 1991.  Once again, for the fourth consecutive year, the race was won by BMW and Emanuele Pirro took his 4th successive win. In car #1, again a Schnitzer M3, Pirro with new co-driver 'Smokin Jo' Joachim Winkelhock took their Castrol liveried E31 M3 to first place.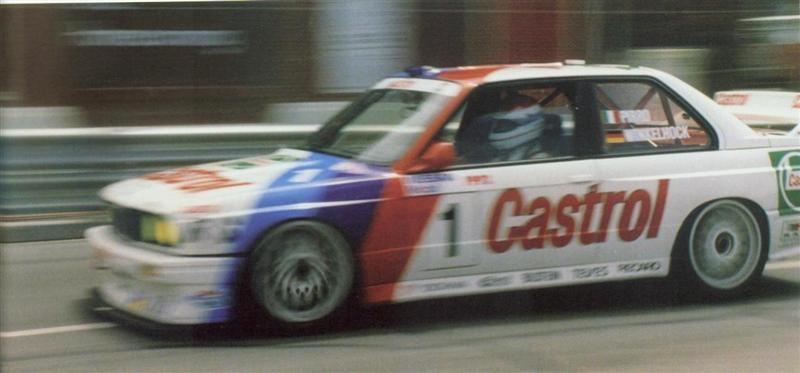 Denny Hulme and Robbie Francevic took 4th place in their M3. Those not finishing were the Tony Longhurst in the ex Schnitzer M3 now carrying B & H yellow colours.  The Longhurst M3 crashed on lap 72 with the red John Sax entered Group N M3. The venerable 635CSi #34 driven by Duncan Beck/Gulson and sporting Harcourts advertising was also a non-finisher.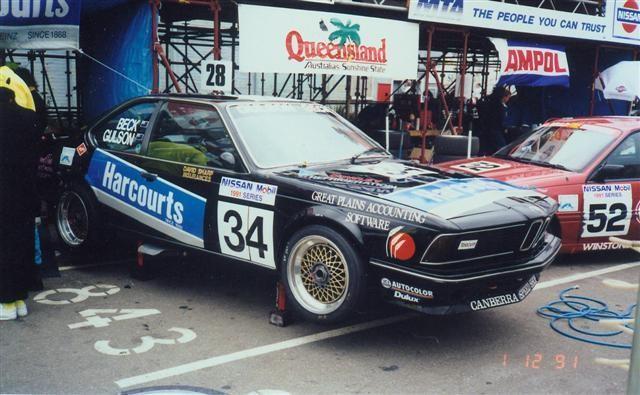 The second round of the Nissan-Mobil series was held at Pukekohe on 8th December 1991.
The 1992 NZ Touring Car Championship included a round at Wigram on 18/19 January 1992. In the Autonews Group N Saloon Races, John Sax drove his BMW M3 to 1st place in Heat 1 over 8 laps, and 2nd in the 8 lap Heat 2.
1992/93 Season
Many were saddened to hear of the death of New Zealand's Denny Hulme, the 1967 Formula 1 Champion. At the Bathurst 1000 on 4 October 1992, Denny suffered a heart attack while driving his B&H liveried M3.  He pulled over against the Armco but had died before help was at hand.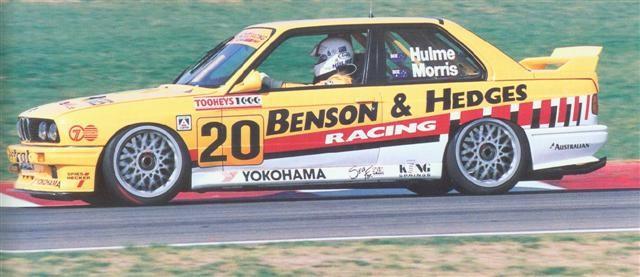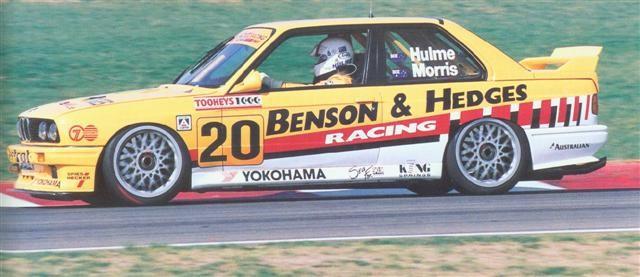 The 1992/93 season began with the Nissan Mobil 500 event held in Wellington.  This was the last race Wellington for Group A cars. For the fifth consecutive year, the event was won by a BMW, this time by Australians Tony Longhurst and Paul Morris who took first place in their BMW M3.
The Peter Jackson International Series was held throughout the summer of 1992 – Teretonga Jan 4/5, Timaru Jan 11/12, Wigram Jan 18/19, Manfeild (NZIGP) Jan 25/26, Baypark Feb 1 & 2 and Pukekohe Feb 8/9.   With practice and qualifying on Saturday Jan 25, Races 1 and 8 at Manfeild on 26 Jan were for the Auto News Group N Saloons. Only one BMW was entered – that for John Sax in his #56 BMW M3 2300cc
1993/94 Season
The 1993 Nissan Mobil 500 was held in Wellington and won by Owen Evans/Bruno Eichmann in a Porsche 911 Carrera RS car. Craig Baird/Brett Riley in the single Lyall Williamson/BMW Motorsport NZ # 31 BMW E36 325 in Castrol livery finished in 4th place overall and won the two-litre Touring Car class of the race. 
The NZ Touring Car series was held in conjunction with the Peter Jackson International Motor Racing Series.  At Wigram on 22/23 January 1994, there were two races comprising three classes each for Touring cars. In Heat 1 of 8 laps, Craig Baird BMW 325i 2.5litre was 2nd and Brett Riley also in a BMW 325i 2.5 litre was 3rd. In Heat 2 of 12 laps, Baird was 1st and Riley 2nd.
Continuing on the NZ Touring Car Series, touring car races were held at the NZIGP meeting at Manfeild on 29/30 January 94. The Lyall Williamson/BMW Motorsport NZ team entered #31 Brett Riley in a BMW 325i Coupe 2494 cc with Castrol/Dunlop/Uniden/Diet Coke livery and #32 Craig Baird BMW 325i Coupe 2494cc Castrol/Dunlop/Uniden/Diet Coke livery.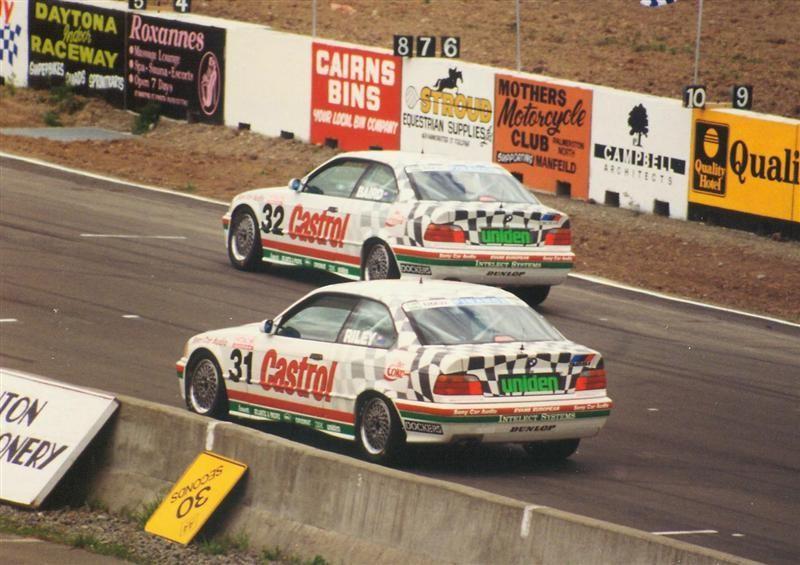 Such was the dominance of the Lyall Williamson run BMW Motorsport NZ team in 1994 that Craig Baird in his BMW E36/325 Coupe was the winner of the NZ Touring Car Championship and Brett Riley was second.
BMW Motorsport – Wellington Street Race – a Summary
1985 – 2nd, 3rd
1986 -6th
1987 (January)- 3rd
1987 (October) – 2nd
1988 – 1st, 3rd
1989 – 1st, 2nd
1990 – 1st
1991 – 1st
1992 – 1st
1993 – 4th
1994/95 season
In October 1994, in Australia, Craig Baird in a BMW 320i Super Tourer was 2nd in Class 2 and finished in 11th place overall in the Bathurst 1000.
The 1994/1995 season in NZ began with the Nissan Mobil 500 held in Wellington on Sunday 4 December 1994 but this time did not include the 2.0 litre Super Tourers and instead they had their own 28 lap sprint races. As the third round of the FIA Asia-Pacific Touring Car series, Race 1 for Super Tourers at Wellington was won by Tim Harvey in a Motorola Pagers Racing Team BMW 318i. Race 2 for Super Tourers, again over 28 laps, was won by Joachim Winkelhock in an Aiwa sponsored Schnitzer BMW 318i Super Tourer. Also competing were Steve Soper in his Aiwa sponsored Schnitzer BMW 318i, Justin Bell in a Motorola Pagers 318i, and Geoff Brabham, Paul Morris and Craig Baird in their BMW Motorsport NZ 318i s.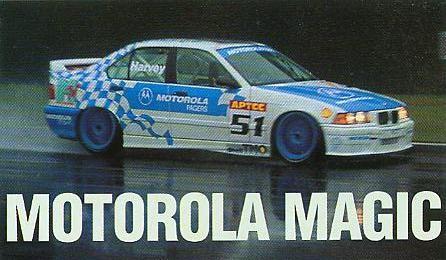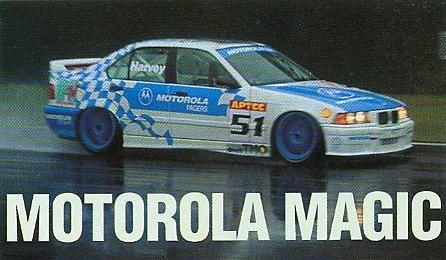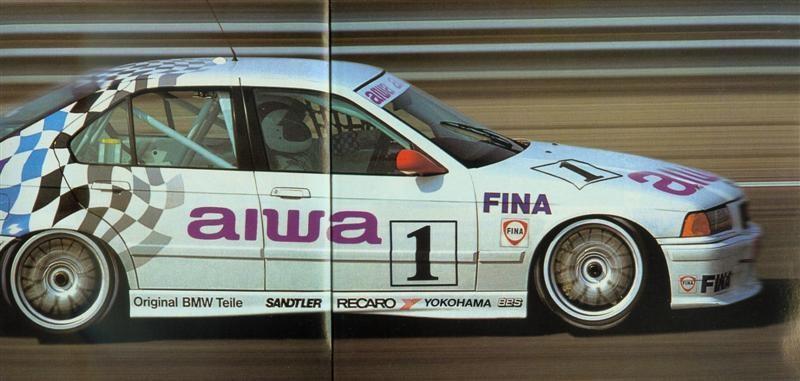 The Nissan Mobil 500 series continued at Pukekohe on 10/11 December 1994 and again separate races were held for the Super Tourers.  BMW entries in the Super Tourer class included #23 Paul Morris Diet Coke/BMW 318i, #44 Craig Baird BMW Motorsport NZ 318i, #50 Dennis Chapman – Tait Communications 318i and  #63 Geoff Brabham Diet Coke/BMW 318i. On Sunday 11 Dec 94, Race 1 for the Super Tourers was held over 29 laps in a 'shootout' format where the last cars were progressively black-flagged until the remaining few raced for the flag. Three hours later Race 2, also over 29 laps in the shootout format was held.
The 1995 NZ Touring Car Championship was held in conjunction with the Street Skills International Series. Round 2 was the NZIGP meeting held at Manfeild on 7th and 8th January 1995. The Lyall Williamson/BMW Motorsport NZ team entered # 1 Craig Baird in a BMW E36 325i 2498cc carrying sponsorship from Cellnet/Castrol/BMW Motorsport NZ and # 2 Brett Riley BMW E36 325i 2498cc Cellnet/Castrol/ BMW Motorsport NZ. Craig did not feature in the first race but was 1st in the second race. Brett did not feature in the first race and retired in the second race.
Craig Baird in his BMW E36/325i Coupe won the 1995 NZ Touring Car Championship
1995/96 Season
The 1995 Nissan Mobil 500 was again held in Wellington.  The race was also a round of the NZ Touring Car Championship. The Lyall Williamson run International Motorsport/BMW Motorsport team entered #1 Craig Baird in the four-door BMW 320i sponsored by Cellnet/Castrol, #2 Brett Riley BMW 320i Cellnet/BNT and # 3 Jason Richards BMW 325i Coupe Cellnet
The series continued at Pukekohe on 9th December 1995. Entered were #1 Craig Baird BMW 320i 1991cc Schedule S NZ Touring car, #007 Brett Riley BMW320i Schedule S NZ Touring car and #4 Jason Richards BMW 325i Coupe Schedule S NZ Touring car. Craig Baird qualified 3rd for the main race behind the two Toyota Coronas.  Qualifying in 5th place was #007 Brett Riley and 6th fastest was Jason Richards.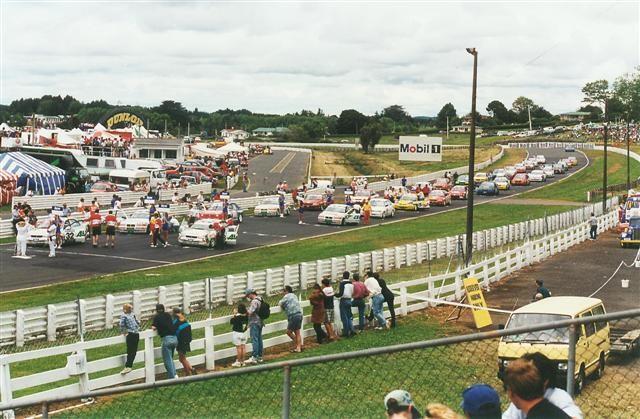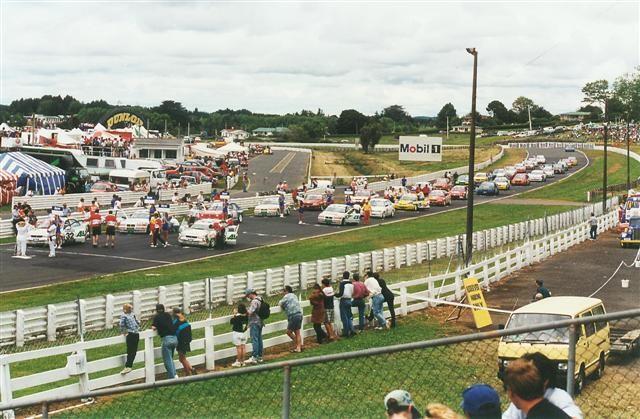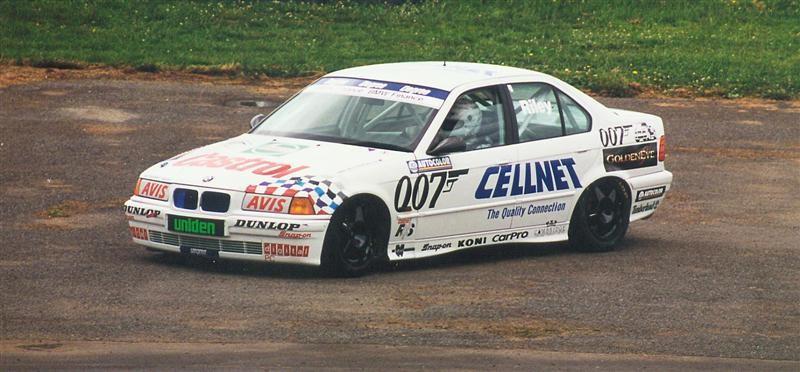 NZ 1996 Touring Car Championship again formed part of the Street Skills International Motor Races. Round 2 was held at Manfeild on 6th and 7th January 1996. BMWs entered were #1 Craig Baird BMW 320i 1991cc carrying sponsorship livery for Castrol/Cellnet/Avis/Dunlop/Uniden/BMW Motorsport Dealer team, car # 007 Brett Riley BMW 320i 1991cc with Castrol/Cellnet/BMW Motorsport Dealer team, car # 4 Jason Richards E36 BMW 325i Coupe 2494cc with Brake 'N Transmission/Castrol/Cellnet/BMW M-Sport Dealers and Car # 22 Bernie Gillon BMW 325 Coupe 2495cc with Mico Wakefield/Jennian Homes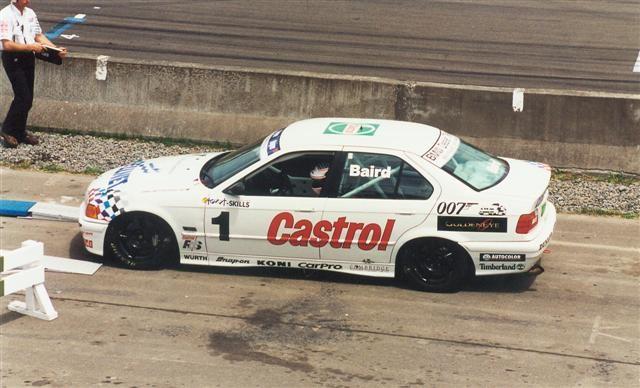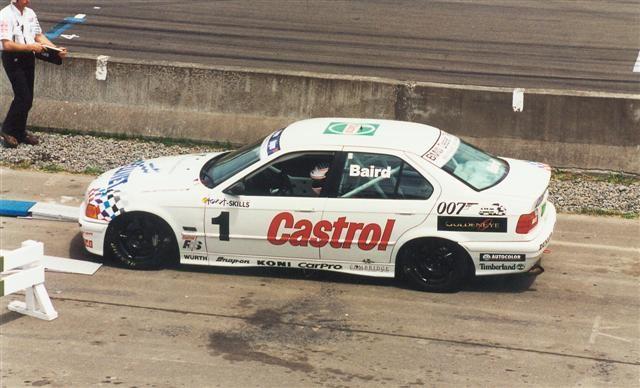 Craig Baird in the BMW E36 320i won the NZ Touring Car Championship and Brett Riley in his BMW 320i was 3rd.
1996/97 Season
The 'Mobil Sprint Pukekohe' event was held at Pukekohe on 17 November 1996 and was won by Greg Murphy in a Holden Commodore prepared by the Holden Racing team.  (Were there BMWs entered?)
The final street race in Wellington was the 'Mobil Sprint Wellington' event held on 24 November 1996.  The winner was John Bowe in his Dick Johnson Racing Falcon EF V8. The Lyall Williamson/ BMW Motorsport NZ BMW 320i raced by Rod Hicks/Kevin Bell won the 2 litre class
The NZ Touring Car series for 1997 included one round at Pukekohe on 2nd February 1997. BMWs entered by the BMW Motorsport Dealer team were #1 Craig Baird Cellnet/Castrol BMW 320i and
#3 Brett Riley Castrol/Cellnet BMW 320i and Jason Richards in a E36 325i Coupe
Craig Baird in his BMW 320i won the 1997 NZ Touring Car Championship and Brett Riley in his BMW 320i was 2nd.
The International Motorsport/BMW Motorsport NZ team cars run by Lyall Williamson won the 1997 Bathurst 1000, the 1987 Australian Touring Car Championship and the 1997 NZ Touring Car Championship.
1997/98 season
In October 1997 in Australia, Craig Baird/Paul Morris driving the International Motorsport/BMW Motorsport NZ BMW 320i Super Tourer won the Bathurst 1000 but the team was denied the win because Craig exceeded the time limit of 210 consecutive minutes in one driving stint limit for a single driver. A second team car driven by David and Geoff Brabham were awarded the win.
Brett Riley in a BMW Motorsport NZ Dealer team BMW 320i won the 1998 NZ Touring Car Championship
1998/99 Season
Riley & Richards – details ?
Jason Richards driving a BMW Motorsport Dealer NZ Dealer team BMW 320i won the 1999 NZ Touring Car Championship
The Fourth Decade – the 2000s
1999/2000 season
Riley & Richards – details ?
Brett Riley/Simon Wills drove a International Motorsport/BMW Motorsport NZ #4 BMW 320i in Castrol livery to win the Pukekohe 500.
Jason Richards driving a BMW Motorsport NZ Dealer team BMW 320i won the 2000 NZ Touring Car Championship
2000/01 season
Brett Riley driving a BMW Motorsport NZ team #4 BMW 320i was 3rd in the NZ Touring Car Championship.  Kevin Bell drove the #3 BMW 320i
The BMW Race Drivers Series
In 2005 a number of enthusiasts from the BMW NZ Car Club saw the opportunity to organise and promote a series with a relatively low cost investment which in turn would result in extremely close racing.  Thus the BMW E30 class was born. It was also mooted that an open class could be run which would give the public the opportunity to see classic BMW cars with great history being raced. Examples of these included the legendary E30 M3, of which there were quite a few scattered throughout New Zealand at the time including an ex-Schnitzer M3. The M3 cars were hugely successful both internationally and in the Wellington Street Races. Other cars in the Open class would include the ex Paul Adams 2002 Alpina Ti, some of classic 635 CSi, and the ex NZ Touring car championship winners in BMW E36 325i and 320i models.  Other genuinely quick cars such as a 2002 Turbo, an E36 M3 (that was once a 325i Coupe championship winner), a host of E30 325's, 2002's and the odd E28, and in more recent times the M3GTR and Z3 M Coupes, and the concept really started to gain momentum.
Both the E30 and the Open class series are now hugely popular. Loosely based on similar series run in both the UK and USA, the E30 class is for BMW E30 series cars running either 1.8 litre four cylinder or 2.0 litre six cylinder engines manufactured between 1984 and 1991. The objective was to run a series that provided close racing between drivers in cars with close performance similarities. The intention was to create a car that was as safe as possible, fun to drive and yet remained as close to standard configuration as possible.
With sponsorship from Radio Sport, BMW New Zealand, Toyo Tyres and Koni Shocks, and support from the BMW Car Club of New Zealand, the series has experienced phenomenal growth.  TV coverage was organised through Leggework, with company owner Gordon Legge also building and racing a car. The series has attracted the full spectrum of motorsport entrants from novice to experienced and has become a very popular series.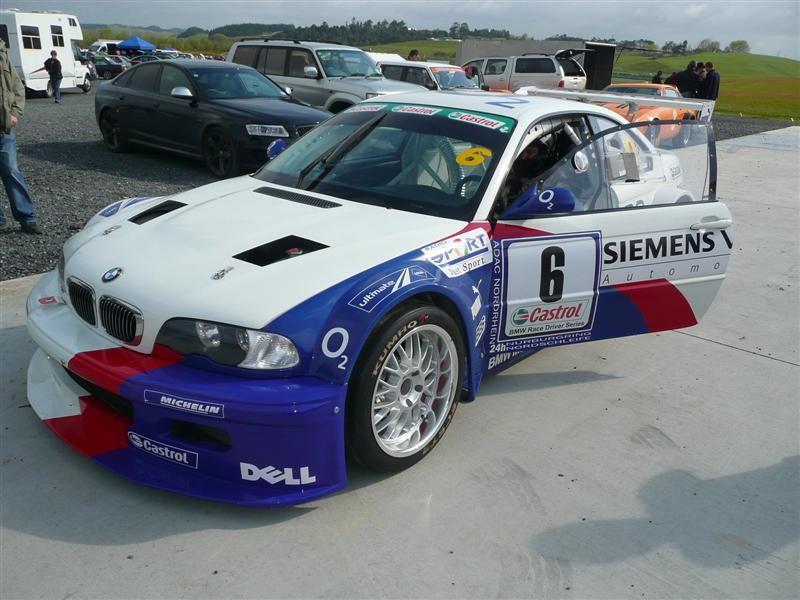 Targa New Zealand
Under the banner of 'Dunlop Targa', an annual tarmac rally has been running throughout the past decade.  Proving very popular to upwards of 100+ competitors and their support crews, the event is staged over some 6 days encompassing special stages linked by touring stages through spectacular scenery in the North Island of NZ. Many BMW owners have enjoyed driving in the Targa.  In later years, shorter 2 and 3 day events such as Targa Rotorua have been added to the successful Targa mix of rural touring
Classic Motorcycles and Sidecars
In addition to Touring car racing and Targa NZ, the classic motorcycle racing fraternity in New Zealand continues to grow in strength. In particular the NZ Classic Motorcycle Racing Register (NZCMRR) has run many very successful events including their big annual meeting held in February at Pukekohe. Included in these events have been a number of rare racing BMW motorcycles, as well as BMW-powered sidecar rigs.