1974 BRM P210-02 F1 V12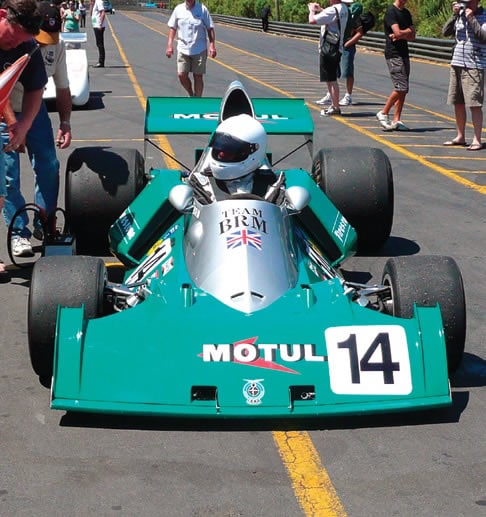 Chassis#02 – owner: Peter Burson, New Zealand
Chris Amon had had a wretched season in 1974 with his advanced but untested new 1974 Amon AF101 F1 car, and the car was finally shelved after only four races. Thereafter Chris accepted a drive as a British Racing Motors (BRM) works driver for the final two races of the F1 calendar. His first race was at Canadian Grand Prix held at Mosport Park on 22 September 1974, driving the 1974 BRM P201 V12 3 litre F1 car for the works team where he qualified in last place in 25th position with an evil-handling car. In the race he was not classified as a finisher, as he was 10 laps down after many visits to the Pits with peristent engine misfire problems. The second race for BRM was on
6 October 1974 at the USA Grand Prix held at Watkins Glen in up-state New York. Here Chris qualified 12th and finished ninth place, two laps down on the leader.
The BRM P201 chassis 02 V12 3.0-litre F1 car was acquired recently by Peter Burson, who will drive his BRM in on-track demonstrations at the New Zealand Festival of Motor Racing celebrating Chris Amon. Peter is hopeful that Chris will drive a few demonstration laps at the Festival and thus be united with a car of the very same type he drove competitively back in 1974.
Source: NZFMR 2011, Page 56