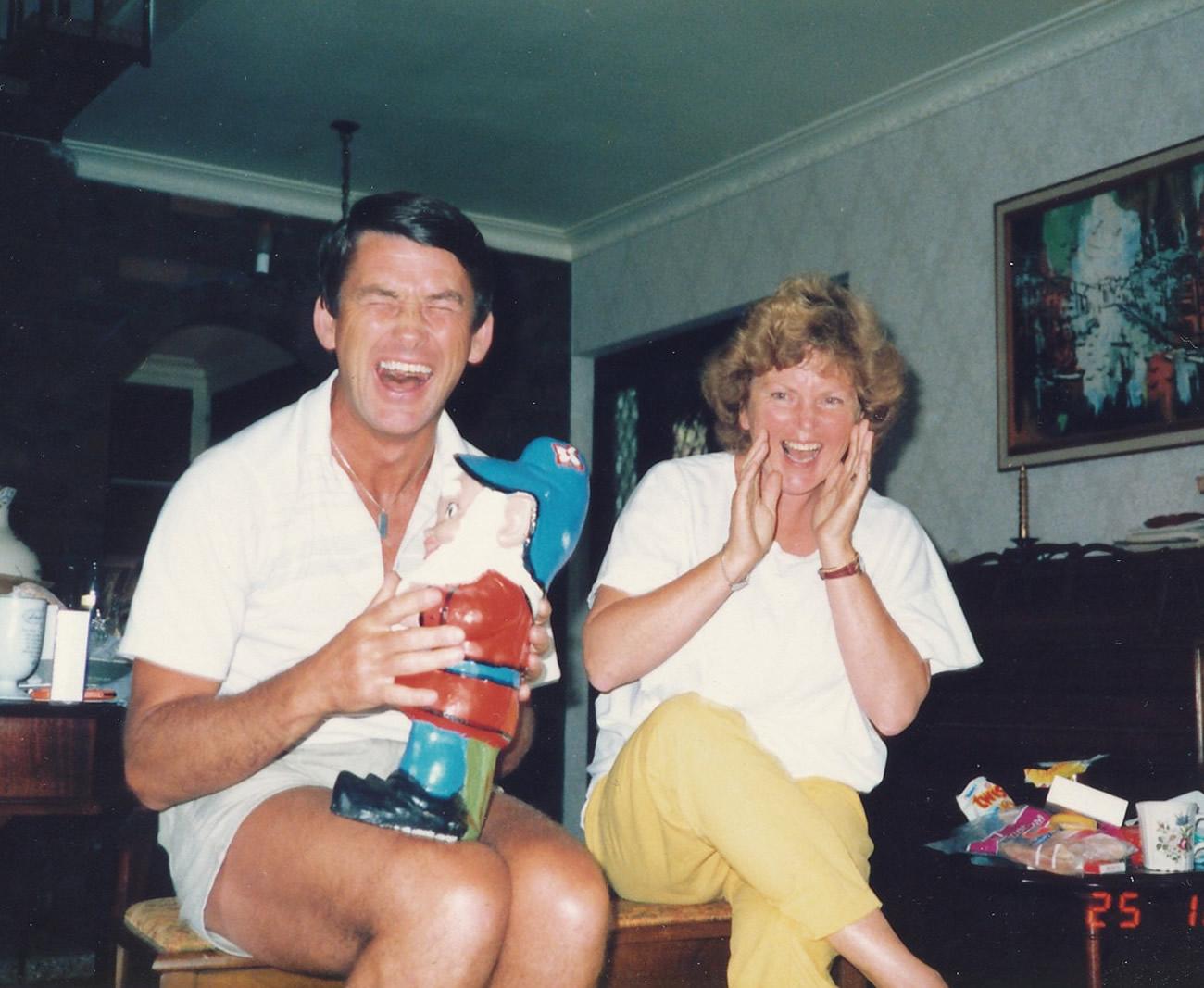 Merv – My exciting holiday at Ohakea 1987
Gidday.  My name is Merv.  I'm a Gnome.  I was created in 1986 by craftsmen at the gnome factory in Bulls, New Zealand. When they saw me at the factory shop it was love at first sight for the Barclay girls from Ohakea – Tracey, Nicola and Stephanie – and they fell for me; much as they wanted to own me themselves, they knew I would be the ideal 1986 Christmas gift for their Uncle Gavin Trethewey who, like lots of Air New Zealand pilots, lived in sunny Howick, Auckland.  It was well known that Gavin hated garden gnomes (and wall butterflies, too, for that matter) so my mission in life was to win Gavin over.   
Gavin displayed mock shock when he took the Christmas wrappers off me at his house.  He was more than a little surprised to find in the gift card that accompanied  me, a requirement that he must display me prominently at all times.  Furthermore, should he happen to accidently lose me I, or my cuzzies, would reappear at his house in multiples.  Thus, I became a permanent Pool Guard at Gavin and Judy's house and I was constantly admired poolside by all their friends and family who in turn were very surprised at Gavin's good taste in having such a handsome gnome like me.
Poolside life was pleasant until Judy & Gavin decided to go overseas on holiday in mid-1987.  As they thought I was too young to stay poolside by myself, I was 'invited' to go to Uncle Jim and Auntie Joanie Barclay's airforce house at RNZAF Base Ohakea, without them knowing about my visit, of course.  They got a (naturally pleasant) surprise when their nephew and young RNZAF Andover aircraft captain, Steve Trethewey personally flew me from the RNZAF airbase at Whenuapai to Ohakea.  When he got to Ohakea, Steve was in a real hurry so he delivered me to Barclay's house where he rather unceremoniously dumped me before hurrying off to fly his Andover on to Wellington and Christchurch. 
The Barclays opened the parachute bag left on the floor of their kitchen by Steve and were absolutely thrilled to find me, together with my little suitcase (it was Steve's first school case) carrying my toothbrush,  a sunhat, a Pixie caramel bar, my favourite book called 'Snow White and the Seven Dwarfs', and a clean hanky.  What a lovely warm welcome the Barclays gave me!  After they read the 'return address for unaccompanied little gnome' note from Gavin that he had tied to my wrist in case I got lost, the Barclays set about to plan an exciting holiday for me.
 What a fantastic time I had over the next few weeks!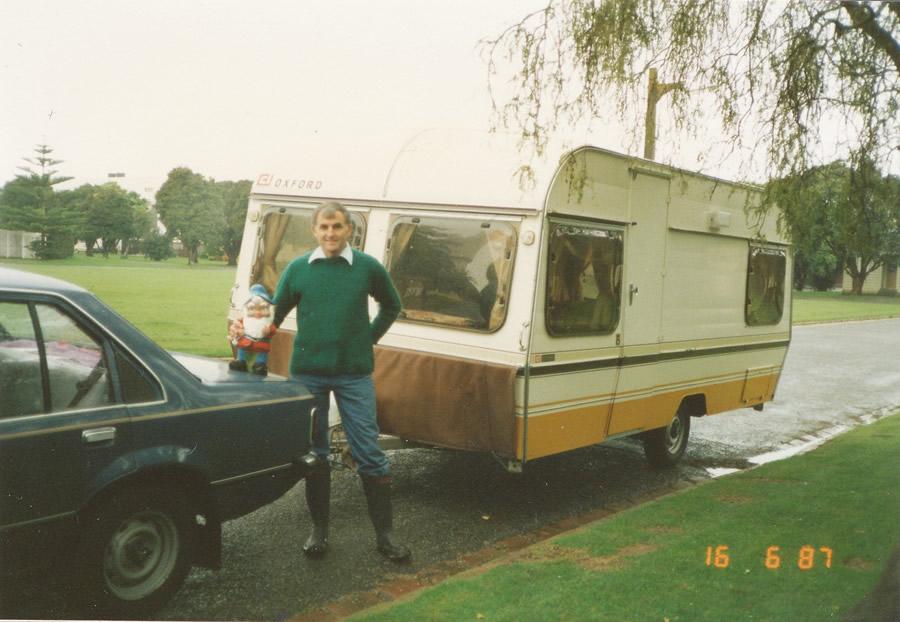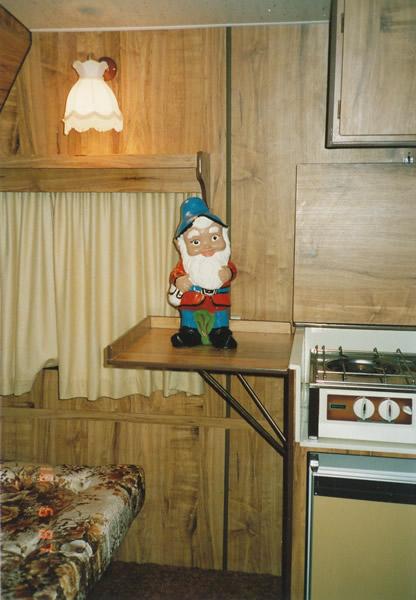 First up was a weekend away in Wanganui in their nice new Oxford caravan – but I didn't like the duck poos I got on my shoes when I went to the loo at the Aramoho caravan park. 
Next activity, was to help Uncle Jim who was having a few problems with his putting stroke at golf, again, so I went to Rangitikei Golf Course in Bulls and gave him few Jack Nicklaus inspired leading-edge tips.  I need my suitcase to be with me, as you can see in the photo.
Then, as winter was fast approaching and Jim needed help cutting some firewood, I used his chainsaw with great skill to rip through a few chords of wood.  Note in the picture that Uncle Jim took that I had my little suitcase with me as I had my Pixie caramel in it for an energy snack
Next day, I went to Uncle Jim's office to slice through the paperwork for him. You can see the 'In' tray on his desk is now empty and the 'Out' tray is full. I liked seeing his Skyhawk model on his desk.
Then Uncle Jim and I went to the Officer's Mess bar with the boys for a pint at the end of a long day.  Man this was a fun holiday.
Next day Nic took me back to the Gnome factory in Bulls and I meet lots of my cuzzies, including a stunning gnomess who I instantly liked. I knew Gavin and Judy would be very pleased that I had met the girl of my dreams and I knew if we got married they would be quite delighted at the prospect of having many more little gnomes at their house in Howick. Later the kind airforce Padre at Ohakea offered to marry us and to give me a marriage certificate following my whirlwind romance.
To get a bit of fresh air before dinner, Nic took me to the kid's swings so I could show her just how high I could fly.
The following day, I went to 75 Squadron to check out the cockpit of an A4 Skyhawk.  I quick glance showed it all to be pretty simple stuff to a gnome of my ability – I could have easily joined the jet jock's club and beaten them in their eternal quest to impress. After that I went to the Ohakea Air Traffic Control centre to help controller Hamish Grey with a few radar intercepts involving the fighter jocks and their air combat manoeuvres. 
That night, I had a very yummy roast dinner which I found to be much nicer than the Pixie Caramel that Gavin had packed for me.  That's Steph on the left and Nic on the right, and Uncle Jim carving the meat.
Unfortunately a sore tooth next day saw me at the airforce dental surgery where Major Ross Murray tried hard to convince me to open my mouth. I politely explained that having a concrete jaw made that very difficult.  Notwithstanding, he used his pickie thingys and his buzzer thing to effect a magical cure; he was  so pleased that I had been such a very brave gnome, he gave me a buzzy bee he made out of a mouth swab that dangled on a string.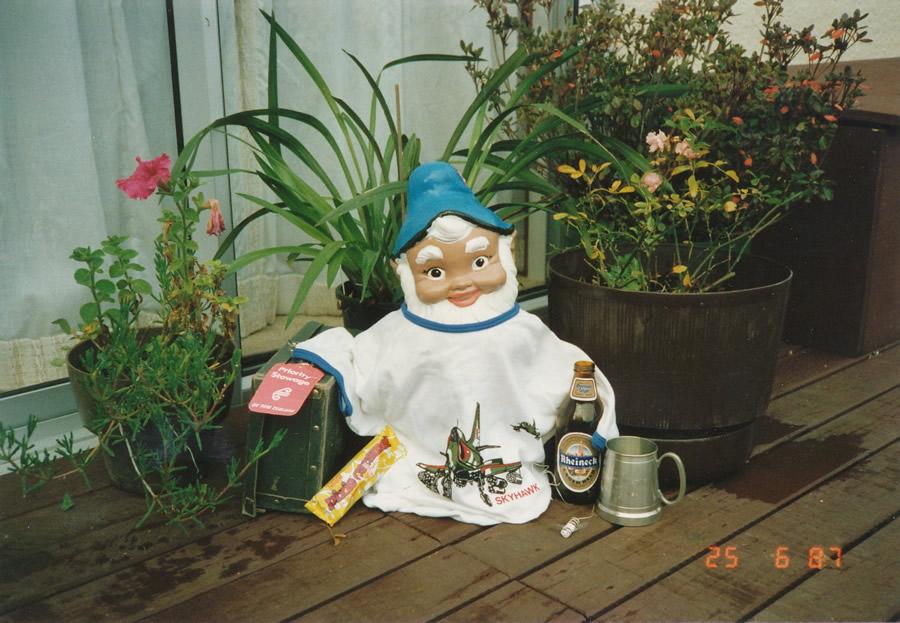 There was more excitement every day and before taking me back to Gavin, Uncle Jim took a photo of me wearing my Skyhawk tee shirt. The photo shows me and my little suitcase with a very exclusive Air New Zealand priority label on it, a new pixie caramel bar, my buzzy bee and a bottle of Bavarian Rheineck beer – for Gavin of course.
Gavin thought about me lots while on his holiday – he sent me a nice postcard from Cornwall with a picture of one of my UK gnome ancestor cousins. He was so pleased that the Barclays had looked after me so well that he gave Uncle Jim a set of nice new fluffy dice to hang in his Jaguar Mk2 3.8. Choice. After my holiday, I went back to Howick and resumed my duties as Gavin's pool guard again. When I finally get to go to school, I will tell everyone about my magical holiday at Ohakea.