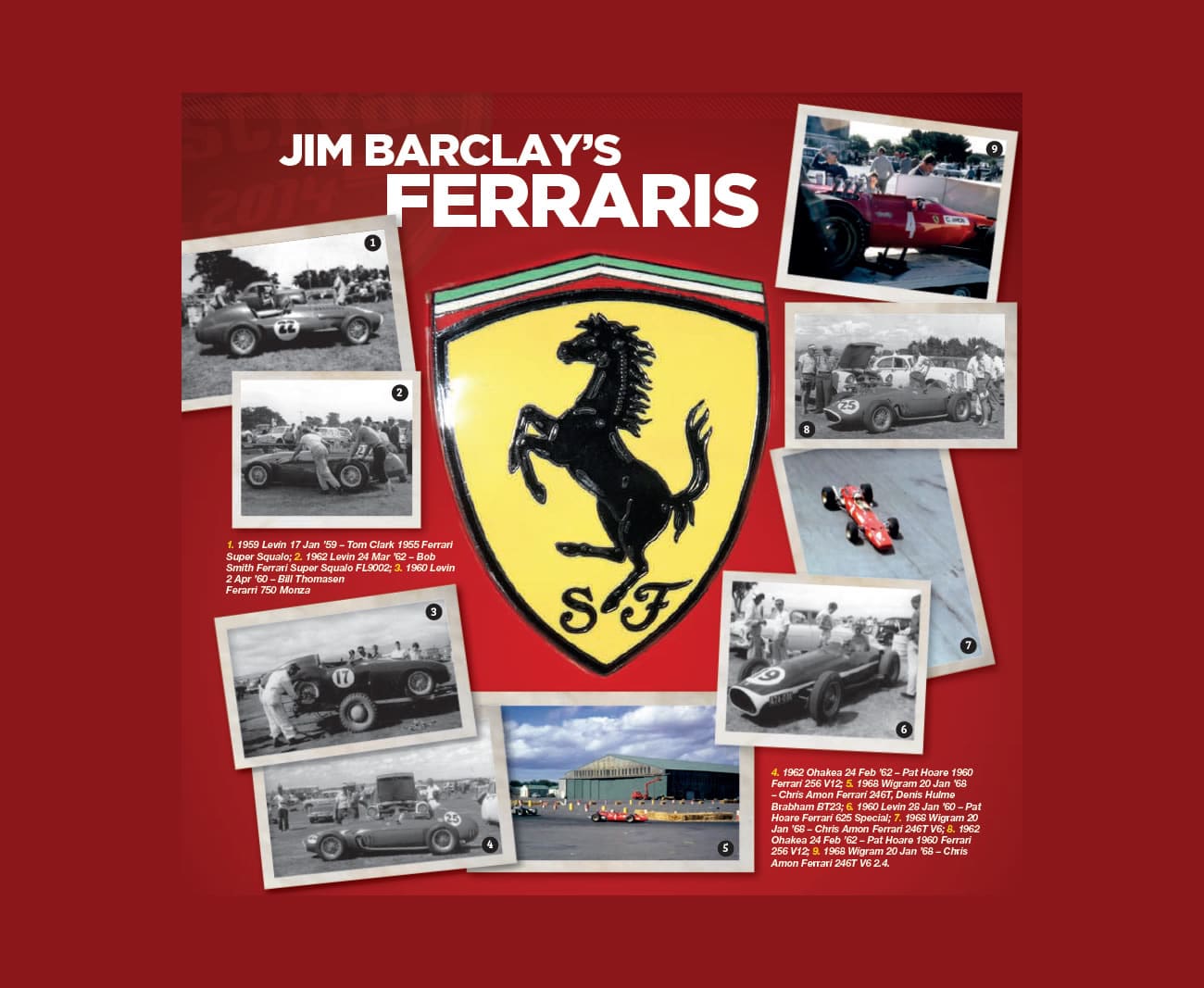 Jim Barclay's Ferraris
I don't own a Ferrari — but read on. As a schoolboy in the 1950s I had read about Ferrari drivers, including my hero and five-time world champion, Juan Manuel Fangio, as well as 1958 Ferrari driving world champion Mike Hawthorn and others.
At that time Ferrari racing cars were all black and white to me as I had only seen them as photographs in books. Imagine my delight as an 11-year-old to see a real red Ferrari singleseater racing car — with the famous prancing horse on the side!
I was raised in Levin and attended Levin School which was then across the road from Frost Motors (that's Ron Frost) on the main street. Tom Clark (later to be Sir Tom) brought his Ferrari Super Squalo to race at Levin and the car was started up at Frost Motors one afternoon. For me, school on that day was over the instant the 3.5 litre Ferrari was heard at full noise just across the road. At that moment, Ferraris ceased to be black and white.
With my little Brownie 127 camera I took photos of Tom Clark's Ferrari at Levin in 1959, Bill Thomasen's Ferrari Monza 750 and Pat Hoare's 625 Special at Levin in 1960, Bob Smith's ex-Tom Clark Super Squalo at Levin in 1962 and Pat Hoare's beautiful (to me anyway) Ferrari 256 V12 at Ohakea in 1962. Thankfully my mother didn't throw away my few photos when I left home so now you can see them, grainy and all, on this page!
When serving in the air force, I saw Chris Amon at Wigram in 1968 in his stunningly beautiful and fast Ferrari 246T V6 Dino. I was delighted to see Chris back in this very car at Hampton Downs in 2011. Ferraris stir passion in every motor-racing enthusiast — love them or otherwise, I say yes to Ferrari red.
Source: NZFMR Magazine, 2014. Page 4.