Denny Hulme – 1970 Porsche 917K – 1970 BOAC 1000 Brands Hatch
Denny Hulme was entered as a driver for the Salzburg Porsche 'semi-works' team for the BOAC 1000 race held at the short and twisty 2.65 mile Brands Hatch circuit in Kent, UK, on 12th April 1970.  This event was the third round of the 1970 World Sportscar Championship. Teamed with Vic Elford, the pair drove the white 'Salzburg' #11 Porsche 917K flat 12 4.5 litre car.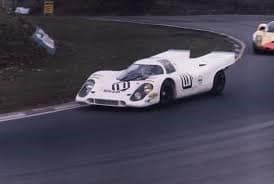 On pole for the race after qualifying was the Chris Amon, making  a temporary return to Ferrari and paired with co-driver Arturio Mezario in car #2, a red 'works'  Ferrari 512S V12 5.0 litre, with a time of 1minutes 28.6 seconds and an average lap speed of 174.081km/h (107 mph).  Next to Amon was car #1, the second red works Ferrari 512S, of Jacky Ickx/Jacky Oliver (1min 28.8Secs) and beside them was the white #11 Elford/Hulme 'Salzburg' Porsche (1min 28.8 secs). JP Beltoise and Jack Brabham were 4th fastest in the blue and white #51 Matra-Simca MS650.  Jo Siffert/Brian Redman were 5th in the iconic light blue and orange coloured John Wyer (JW)/Gulf #9 Porsche 917K-004 and Henri Pescarolo/Johnny Servoz-Gavin were 6th in the blue and yellow #52 car, the second works Matra-Simca MS650. In 7th place was the light blue and orange #10 JW/Gulf Porsche 917K-016 of Pedro Rodriguez/Leo Kinnunen, followed by Piers Courage/Andrea de Adamich in the red #60 Alfa Romeo 33/3. Rounding out the top ten were Richard Attwood/Hans Herrmann in the blue and white # 12 car, the second 'Salzburg' Porsche 917K, and #57 Gijs van Lennup/Hans Laine in a bright yellow Porsche 908/2 Flat 8 3.0Litre.
On a very wet track, Elford, Ickx, Siffert all passed Amon and before the first corner after the start of the race. Amon was followed by Courage and Rodriguez. Elford led the first lap but was soon passed by Ickx. Barrie Smith, whose co-driver was Kiwi Howden Ganley, aquaplaned on 'dry' rear tyres and lost control of his 'start money' Lola T70 Mk3B on lap 1 and crashed heavily into the barriers opposite the Pits on the start finish line bringing out the yellow flag; Rodriguez said he did not see the flag in the very heavy spray and overtook several cars, bringing about an black flag for him and a subsequent severe reprimand from the Clerk of Course.  Meanwhile, out on the track, Elford led with Amon second while Rodriguez, having dropped back to 12th place after his 'briefing', was catching them quickly. By lap 15 Rodriguez was into the lead, a position he was not to lose for the rest of the race.  Siffert's Gulf 917K had a puncture and limped back to the Pits for a replacement wheel. Ickx's Ferrari was in trouble with a malfunctioning windscreen wiper so Siffert moved into third position behind Rodriguez and Amon. Rodriguez stayed aboard after his first refuelling stop, as did Elford, but Rodriguez continued to build his lead.  Redman's Gulf Porsche was punted off into retirement by Amon's Ferrari on lap 176.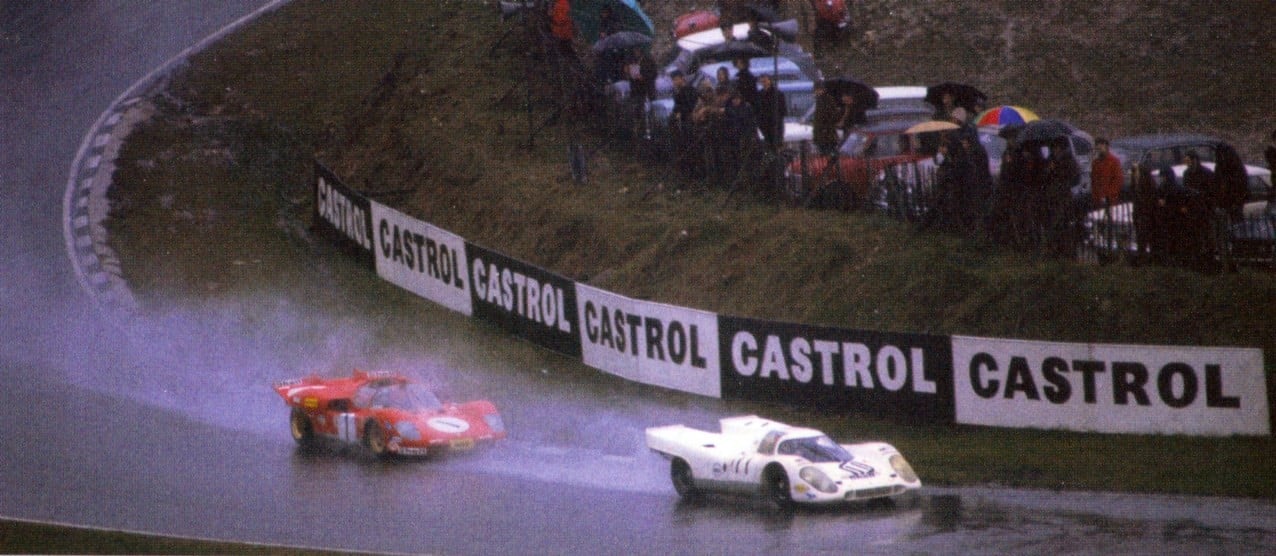 The newly crowned 'Rain Master', Pedro Rodriguez, drove the #10 'Gulf' Porsche 917K for 197 of the 235 laps and was at the wheel for around 5.5 hours of the race time of 6 hours 45 minutes. The Rodriguez/Kinnunen 917K recorded a resounding five lap win over the second placed 'Salzburg' Porsche 917K of Elford/Hulme. The lead car recorded an average speed of 148.296 km/h (91.54 mph). No doubt Rodriguez's co-driver, Leo Kinnunen of Finland, was very pleased he had to do only 38 laps in such terrible conditions, taking a little over 1 hour at the wheel, before he gave the car back to Rodriguez.    
Vic Elford also did some 5.5 hours at the wheel for the 6 hour 45 minutes duration of the race. Most of this was in driving rain on a very cold 8 Deg C and windy English "Spring" day. Denny Hulme, not doubt quite thankfully, drove a much lesser distance in the miserable conditions in which most race cars drove with headlights on.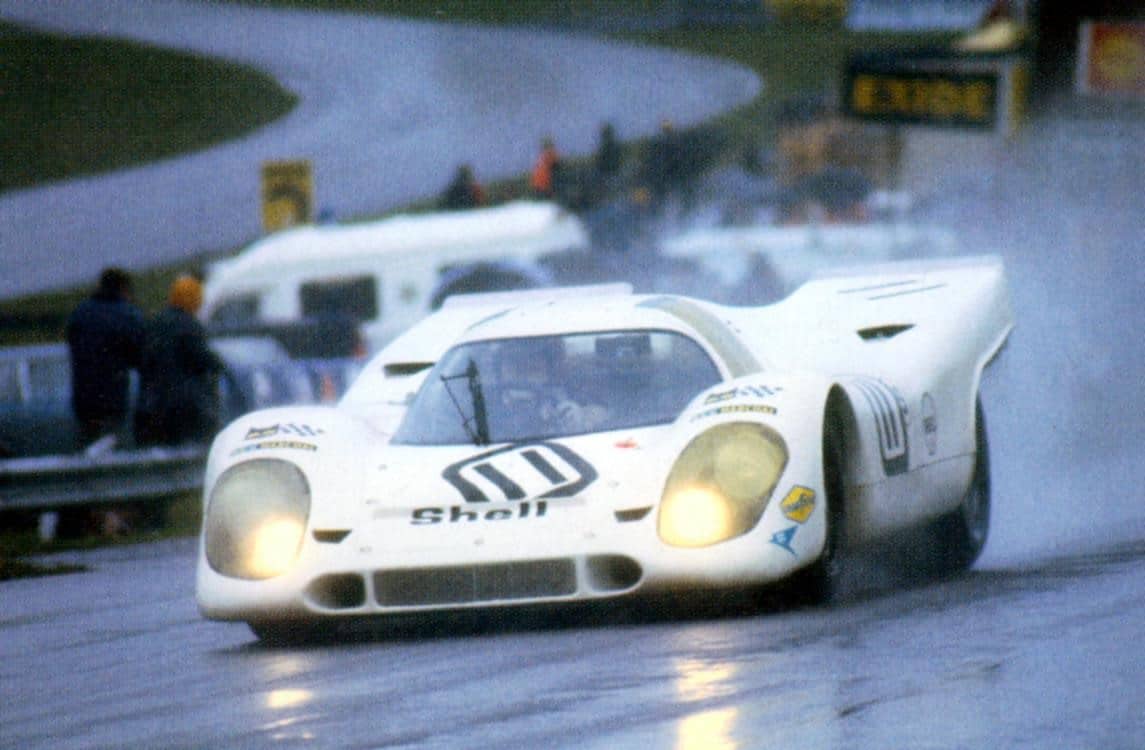 In third place was the blue and white #12 Attwood/Hermann Salzburg Porsche 917K on 227 laps followed by van Lennup/Laine in the yellow #57 Porsche 908/2, also on 227 laps, and Chris Amon/Art Merzario were 5th on 225 laps in the #2 Ferrari 512S.
Of the 35 cars that started the race, only 17 finished. Porsche cars finished in the first 4 places with three 917Ks filling 1st to 3rd, and a 908 in 4th place. Another 908 was 6th and two 910 Flat 6 1.9 litre cars were 9th and 10th.  
Denny was to drive a 'Salzburg' Porsche 917K again in 1970, this time in at Watkins Glen in July. These two drives no doubt gave him a valuable insight to the capabilities of the Porsche 917, a car he was to see develop by 1972 to the 917/10K version that would finally topple the all- conquering McLaren Can-Am cars from their winning 5 year streak as Can-Am Champions 1966-71. The mighty 917/30KL Turbo won the 1973 Can-Am Championship, but by then McLaren Cars were no longer participating in the series.