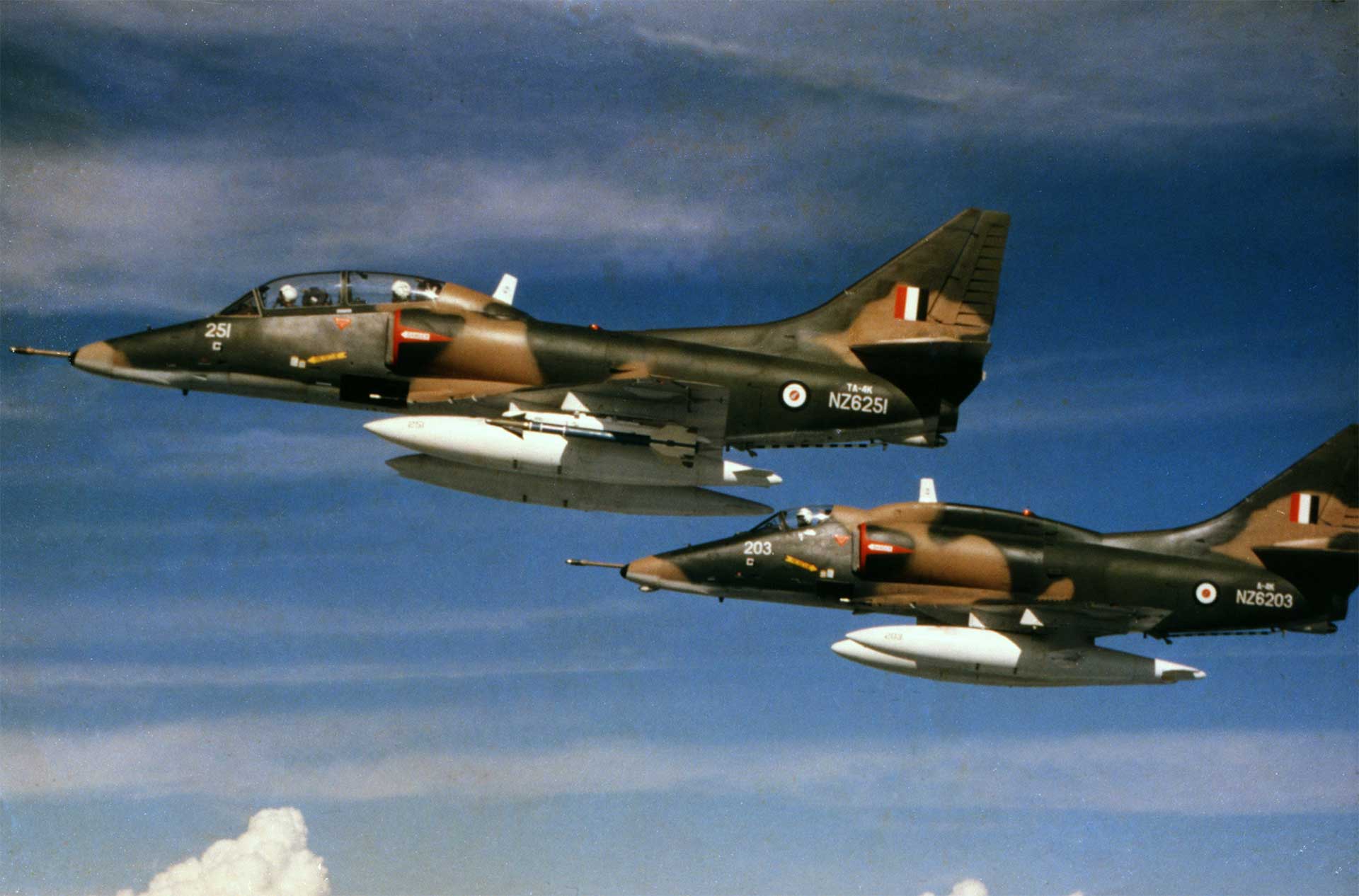 2013 Address to Draken International's RNZAF Heritage Day
Featured image: The originals taken in 1970 – RNZAF Skyhawk TA4K NZ6251 and Skyhawk A4K NZ6203
Address given by Air Commodore Jim Barclay AFC, RNZAF (Ret) to the 'RNZAF Heritage Dinner' at Draken International, Lakeland, Florida, Wednesday 10th April 2013.
Salutation
Guest of Honour – AVM Graham Lintott RNZAF, Defence Attaché, New Zealand Embassy, Washington DC
Jared & Monica Isaacman.  Jared is the CEO of Draken International – the owners of the largest privately owned fleet of tactical jet fighter aircraft in the World.
Don & Sandy Isaacman. Don is President of the Harbortouch group of companies – and Don & Sandy are Jared's parents.
Draken International Advisory Board members – General John Corley USAF (Ret), Lt Gen David Deptula USAF (Ret), RADM Fred Lewis USN (Ret), MGen Joseph Anderson USMC (Ret).
Other VIPs including Officials from the local Government and the Lakeland-Linder airport authority.
Former Royal New Zealand Air Force (RNZAF) A4 Skyhawk pilots of Numbers 2, 14 and 75 Squadrons who are with us tonight (Phil Symmans, Patch Nelson [and myself !]); former USAF exchange pilots who flew our Kiwi A4s (Tim [and Sue] Brady and Frank [and Nancy] Newkirk; former 75 Squadron Engineering Officer Chris Calvert; former A4 support personnel Stuart Bain, Neil Batten, Rex Kenny, Grant Leersyder, Craig Sampson; and the current team of Kiwis who are right now re-assembling the Skyhawks and Macchi 339s and so bringing them back to life – including Hank, Chris from Fieldair, Glen, CFor and others.
Aerospace and Defence media.
Pilots and engineers, friends, family, and supporters of Draken International – including Jared Isaacman (Rook), Jerry Kerby (Jive), Dale Snodgrass (Snort), Michael Eberhardt (Buick), Sean Gustafson (Stroker), Mike Smith (Smithy), John Baum (Slick), 'Bloke', Amanda and many others I have yet to meet
Thank you Jared and Draken International !
Firstly, I would like to thank Jared for 'finding' me in New Zealand. Having discovered my whereabouts in retirement in Auckland, New Zealand, he very kindly offered, on behalf of Draken International to invite my wife Joanie and me to join you for this very special Draken International- RNZAF Heritage Day.  Joanie and I feel very privileged to be here and we want to thank Jared and Draken for their wonderful hospitality.  And thank you Jared and your pilots for your warm welcome and for making me part of your team! 
I also want to commend Jared for his vision. Only some 12 months ago he had a dream of owning his own Skyhawks and now, through his outstanding patience, determination, leadership and sheer hard work we see eight former RNZAF Skyhawks, and nine Macchi 339s jets in his hangar. Congratulations, Jared!
Draken's RNZAF Heritage Day
This Draken's RNZAF Heritage Day effectively commemorates and celebrates the passing of service of these Draken owned A4K Skyhawk and Aermacchi 339 jet aircraft from the Royal New Zealand Air Force to Draken International.
Jared, I am sure I speak on behalf of all those present tonight when I say how much we appreciate your invitation to share your vision to commemorate and celebrate New Zealand's rich aviation history.
Greetings from CAF, RNZAF.
Before I go further with my address, I bring you greetings from the Chief of the Royal New Zealand Air Force, Air Vice Marshal Peter Stockwell, and all members of the Royal New Zealand Air Force – past and present! Peter sends his personal best wishes to you all at Draken International and with them, his hope that the former RNZAF Skyhawks and Macchis will bring good fortune to you and all those who fly them.
The Skyhawks
In regard to these former RNZAF A4s and Macchis, there must be many thousands of colourful stories that will relate the illustrious service of these aircraft while in service with the RNZAF – and I for one can tell only a few about the A4s. 
My association with the Skyhawks
I flew these Skyhawks as a line pilot from 1970 until 1973 when they were brand new in RNZAF service.  After that, I was posted elsewhere including a 3 year assignment from 1979 until 1982 with the USAF flying F4 Phantoms with the 31st Tactical Fighter Wing at Homestead AFB here in Florida.
After my first Skyhawk tour in the early 1970s, I had the real pleasure of flying Skyhawks again from late 1983 until late 1987. 
In the first two years of this second tour on the A4, I was Commanding Officer of the RNZAF's Number 75 (A4 Skyhawk) Squadron. In addition to regular training, we participated in exercises in New Zealand, Australia, Singapore, Malaysia, and a highlight for us all – Exercise Cope Thunder in the Philippines. On behalf of the men and women I commanded, I was delighted that our squadron flew 100% of the missions assigned to us at Cope Thunder over the two-week period of the exercise in 1984.  No other squadron achieved this record.
Following Cope Thunder, we returned to New Zealand for Exercise Triad '84 – the largest air exercise involving air forces from United States, Australia and New Zealand. In addition to our Kiwi A4s and Strikemasters, we had F15, F16, KC135 tanker and AWACS aircraft from the USAF; and, F111, F18 and Mirages from Australia. Sadly, this was New Zealand's final exercise with USA following the announcement of the NZ Government's anti-nuclear stance.
For my final two years on Skyhawks, I was the OC Flying on my Base – the 'Director of Operations' (or DO) as those of you from the USAF would understand.  In total, I flew 1331 hours in the A4 Skyhawk.
As our Skyhawk 'Project Kahu' upgrade programme was only just underway in my last year on A4s in 1987, I regret to say I did not have the pleasure of flying the A4 with all the enhanced trickery that you see on these very aircraft, including those now owned by Draken International.
Macchi 339
As far as the Macchi 339 is concerned, in 1989 and 1990 I was the Project Manager for the 18 new RNZAF Macchi aircraft that were purchased new from Aermacchi in Italy. Those of you who have worked in Procurement in the Pentagon will know of the constant hurdles that needed to be jumped, and minefields to be negotiated, in order to get a new project through to successful completion.
Although I did not subsequently fly the Macchi, I did get a compensatory ride in the back seat of one of the new aircraft soon after they were delivered to New Zealand in 1991.  Beyond being mightily impressed in my single ride with the manoeuvrability of the aircraft, I can only relate how much the flying instructors and squadron pilots enjoyed flying this fine jet trainer – including two pilots who spoke highly of the Macchi, having previously flown the BAC Hawk jet trainer.
Now that I have established that I don't have much 'one-on-one' pilot's experience with the current versions of these two former RNZAF aircraft types seen here at Draken, I think I had better move away to safer ground!
Tiny White
At Jared's commemoration and celebration tonight of New Zealand's rich aviation heritage I would like roll the years back – way back, in fact, to mention someone who had a great deal to do with our rich aviation heritage – a man named Tiny White. As his name suggests, he was tiny in stature.  Tiny was born in 1893 so he was 21 years old when World War 1 started; he told me he was originally a Bugler in the Army until he was successful in getting a place on a pilot's course.  With only some 8 hours total flying experience on 'the flying machine' he was 'operational' over the trenches of that dreadful War.  He told me a little about these flying machines and of his operations including dropping a hand-held bomb over the side of his aircraft onto the enemy – and that was a state of the art technique for aircraft of those days!
After the War and into the 1920s he continued to fly anything with wings on it so he could make a living. At one time he was a commercial traveller for a tobacco company and in his travels to sell his product, he landed his aeroplane on a sandy beach on the West Coast of New Zealand's South Island.  Unfortunately, the wet sand caused a wheel to sink and the plane flipped on its back.  Undaunted, he dropped out onto the sands from his inverted cockpit and with help, he righted his stricken craft – now unfortunately with a bent propeller.  I was told this was the first aircraft in New Zealand to have a metal propeller and Tiny took the bent 'prop' to the local blacksmith who had never in his life seen such a device. Not only did the 'Smithy' carefully heat-treat the prop before straightening it, but he devised a tracking system to ensure the tips of the blade passed through the same point, and thus kept the prop in balance. Tiny was airborne the next day after what he described a somewhat unremarkable event.  Imagine the bureaucracy and paperwork of an equivalent incident today.
In his own incredibly humble way, Tiny had a raft of great stories to tell including pioneering landing places for commercial operations in the Fiji Islands for the floatplanes he flew; establishing scheduled air services in New Zealand in flimsy craft of the day; flying a twin engine aircraft in Australia with the famous Sir Charles Kingsford-Smith when a wooden prop delaminated and fragmented – and, just before getting speared by the shards of broken prop that were now piercing the fragile craft, they were thankfully able to shut the motor down.  Such stories and many more were all in a day's work and all part of our rich aviation heritage.
When based in Ottawa, Canada, during World War 2, Tiny was in charge of New Zealand air force pilots who trained under the Empire Air Training Scheme in Canada; and when he got back to New Zealand after the War he continued his lifelong interest in aviation for many years to come.
I thought one of Tiny's greatest insights was to the startling development of aviation that he had seen in his flying career.  Starting in World War 1 when he was a 'King of the Air' (as all self-styled seemingly invincible Fighter Pilots knew they were, even in those days) his aircraft could fly at an incredible speed of 118 miles per hour – flat out.  Tiny said he was told by one of those 'very clever aircraft design boffins with thick milk bottle lenses for glasses' that Tiny's airplane was within 2 mph of Terminal Velocity.  Everyone knew that nothing could go faster than terminal velocity. At 118 miles per hour Tiny was, therefore, at the extreme edge of the performance envelope – and he was told man could simply not ever go faster than that !!  Period.   
In the early 1970s when Tiny came to see us flying our brand new A4 Skyhawks at Ohakea, our Base in New Zealand, he marvelled at the speed and weapons capability of our new Jets while quietly chuckling about "The Boffin's" Terminal Velocity proclamation ! In the 50 years since he had flown his string-bag fighters and bombers in World War 1, advances in technology and development resulted in our new Skyhawks being able to carry more than their own weight in fuel and weapons and to fly at more than 10 times the speed of Tiny's 'Terminal Velocity' machine.
In his lifetime, and until he died in1979, Tiny saw aeroplanes develop from the string-bag jalopies he flew in World War 1, through the famous Spitfire and Mustang fighters and the big bombers of World War 2; into the Jet age with Chuck Yeager breaking the sound barrier; to the Jets of the Korean and Vietnam wars; the race into space lead by the Russian Sputnik and capped by Americans walking on the moon in 1969 – a place where the famous nursery rhyme's Cow was the only one to have jumped.  Tiny saw air travel at twice the speed of sound in the fabulous Concorde aircraft – which was just a little bit more than The Boffin's Terminal Velocity!
On many of his visits to see we self-styled modern fighter jocks at 75 Squadron at Ohakea in the early 1970s, Tiny would often say how proud he was of New Zealand's modern airforce and its capability; and at the same time he wryly observed the maximum speed of his fighter plane in 1918 was less than the nosewheel-liftoff speed of the Skyhawk on its takeoff roll !  Until he passed away when he was well in his 80s, Tiny remained immensely proud of 'his' pilots and their mighty Skyhawks. 
Imagine when a change of Government in New Zealand in 1999 brought with it a political decision to cancel the recent order to acquire 28 F16 Fighting Falcon 'Viper' jet fighter aircraft that were to replace Tiny's beloved Skyhawks; and then in 2001 another political decision, declared 'shameful' by many, to disband the RNZAF fighter force that in turn would see 'Tiny's' A4s, and the new Macchi 339s, retired from service.  Imagine what Tiny would have thought had he been with us in 2001 – for the first time in over 90 years, New Zealanders would no longer be able to deliver ordinance from a fighter or bomber aircraft.  To this day, I can still sense him turning in his grave.  
THE RNZAF Skyhawks
Let me now speak a little about the RNZAF Skyhawks. The New Zealand Skyhawks were ordered in 1968 to replace the English Electric Canberra medium bomber that itself had been delivered new to New Zealand in 1959.  I must admit that I was one of those in 1968 to be quite surprised that the Skyhawk was purchased to replace the Canberra instead of the much more favoured (albeit more costly and complex) F4 Phantoms, A7 Corsairs, Mirages and other such aircraft that were being considered.
Many years later, and having by then flown the Skyhawk for 7 years, as well the F4 Phantom for 3 years, I can say without any reservation just how good the Skyhawk was at meeting New Zealand's air combat needs.   The single engine, single pilot, much smaller, cheaper and less complex aircraft that we found in the Skyhawk with its long range and great weapons carrying capability proved to be the right choice of airplane for our small country. 
Fourteen aircraft (being 10 single seaters and 4 two seaters) were purchased from McDonnell-Douglas and eventually delivered by the USS Okinawa, a US helicopter carrier, to New Zealand in May 1970.  By that time, the ten RNZAF pilots had completed their conversion training onto the A4 at Naval Air Station Cecil Field, which is alongside NAS Jacksonville, Florida. Having been delivered to New Zealand as deck cargo aboard the Okinawa which itself was enroute to Vietnam (and having very nearly jettisoned the A4s overboard in a ferocious tropical storm), the Skyhawks were craned down onto the wharf in Auckland before being towed up the motorway to the RNZAF airbase some 20 miles away. There, they were stripped of their deck cargo cocoons and made ready for their delivery flights to their new home at the RNZAF Ohakea airbase. 
I can remember the pride I felt on 27th April 1970 when selected as one of a flight of four to formate my little Vampire fighter on the wing of the RNZAF C130 as it brought the newly trained Kiwi Skyhawk pilots back from USA to Ohakea, New Zealand. Later, in May 1970, when I saw the first Skyhawk land at Ohakea, I was surprised at how ungainly the A4 looked on its tall spindly undercarriage when compared to our squat Vampires.  I soon had the pleasure of organising a photo flight on 14th July 1970 for three aircraft in formation comprising the outgoing Canberra bomber, the brand new A4 Skyhawk and me in my small Vampire fighter.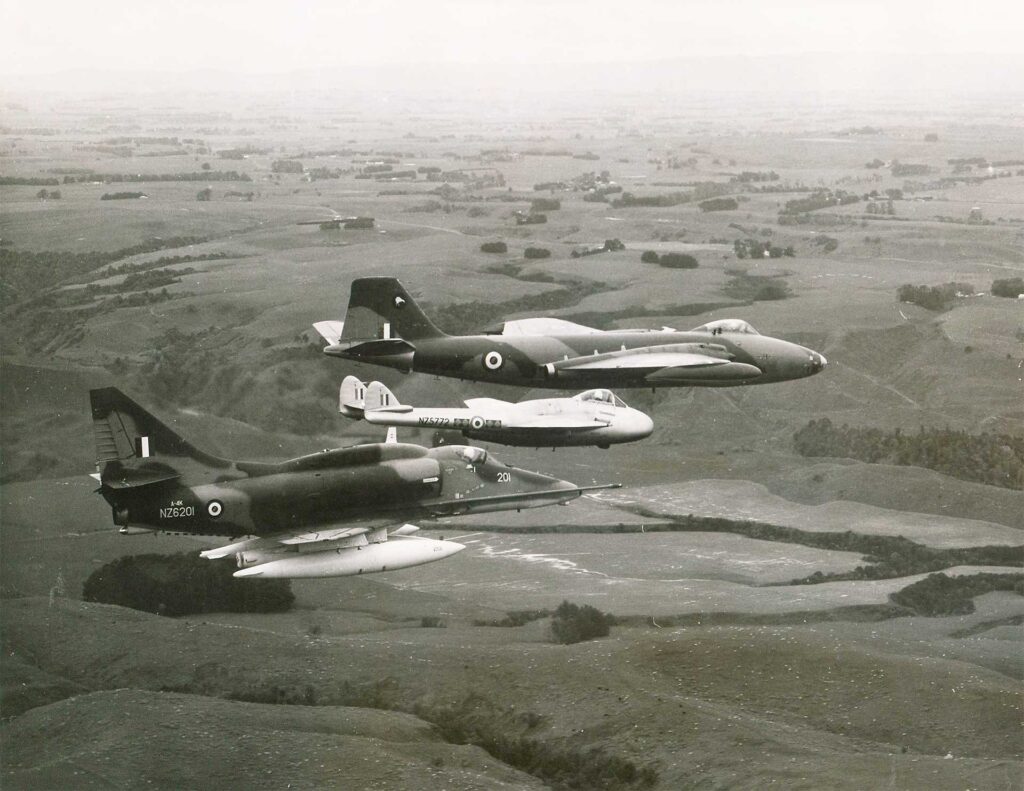 On 16th October 1970 I had my first conversion flight in the new A4. The aircraft was NZ6252 (now N141EM – this very aircraft just behind me here at Draken) – which is one of the two dual-seat aircraft now belonging the Draken International!  How clearly I recall trying to compete the take-off checks as this rocket ship that seemingly launched down the runaway when compared to my very staid and underpowered little Vampire – I think I was well and truly airborne in the A4 before my muddled mind completed the take-off checks, and I think my instructor must have had to reduce power in the A4 to stop us exceeding the 225 Knot landing gear limiting speed!  Oh, such memories of 43 years ago and what excitement there was to follow!  I wonder what Tiny White would have thought, had he ever been able to ride in an A4?
Squadron flying in the A4 included air-to-ground weapons training with rockets, bombs and guns; night dive bombing; air combat training with ground controlled radar intercepts to 'mark-one-eyeball' range and the subsequent fur-ball dogfight; air-to-air live firing with the 20mm gun; simulated attacks on naval ships over the cold grey sea; probe and drogue air refuelling training with the 'buddy-store'; and, close air support training for Forward Air Controllers destined to be FACS in Vietnam.  I even remember seeing a classified black and white movie about our new Sidewinder Aim9G heat seeking missiles – but that was the closest I got to one!  
USA/NZ Exchange pilot programme
Our current Chief of Air Force, Air Vice Marshal Peter Stockwell, has asked me to mention the USAF/RNZAF pilot exchange programme that operated so successfully for many years.
Throughout the first decade and a half of the Skyhawk's service in New Zealand, and up until our Government adopted it's anti-nuclear stance in the mid-1980s, we had a consecutive series of US exchange pilots. The first was Lt Cdr Fred Myers USN who was with us in New Zealand from 1969 until 1971 – his considerable A4 experience was instrumental to the smooth introduction to service of our new Skyhawks.  Next, from 1971 until 1974, came Lt Larry Pfitzenmaier USN and we were able to benefit from Larry's first-hand A4 combat experience and carrier operations over Vietnam. Larry was the last USN pilot we had, and he was followed by US Air Force exchange pilots in Captain Ed Carter (1974-76), Tim Brady (1976-79), Frank Newkirk (1979-81) –(although Frank's long legs prevented him flying the single seater  A4 for safety reasons), Henry Jones (1981-83), and finally, John Davis (1983- 1985). John came to us with F15 experience.   
New Zealand's exchange programmes to USA began with Squadron Leader Fred Kinvig who flew the Phantom F4C at Davis Monthan AFB in the 1960s. Ross Donaldson was next in 1969 and he went to NAS Cecil Field to fly the A4 Skyhawk. Sadly Ross' Skyhawk flying was cut short when his aircraft hit a duck at high speed low-level and Ross lost an eye before he ejected from the aircraft. Dick Lawry flew A7 Corsairs with the US Navy and Graeme Goldsmith flew A7s with the US Air Force at Davis Monthan AFBn followed by John Bates who flew A7s and then A10 Warthogs.  I flew Phantom F4Es, then F4Ds at Homestead AFB, Florida from 1979 to 1982. Chris Lee was next, followed by Gavin Howse – both of whom flew the Phantom F4D model.
Sadly, these extremely valuable two-way exchange positions ceased from the mid-1980s due to New Zealand's anti-nuclear stance.
USAF exchange pilot Captain John Davis was one of those who helped in 1984 to ferry the 10 A4G Skyhawks from Australia to New Zealand. These aircraft were purchased by New Zealand, having been phased-out of the Royal Australian Navy when the aircraft carrier HMAS Melbourne was not replaced.  Some of these aircraft were purchased brand-new by Australia in 1967 as A4G models and some were supplied in 1971 having been converted from former USN A4Fs that had seen service in Vietnam in the late 1960s. 
Project Kahu Skyhawk Update
In the late 1980s and early 1990s all of the remaining 20 RNZAF Skyhawks (including the former RAN A4Gs) were upgraded under 'Project Kahu' to give the aircraft a formidable suite of modern cockpit avionics. The update included the F16 APG66 radar, head-up display, HOTAS, and enhanced navigation and self defence systems that together allowed the A4 to carry a new suite of weapons. I don't believe I am exaggerating when I say that these aircraft, some of which are now owned by Draken International, are the most capable Skyhawks, ever.
Closure
In 1984 I was directly involved with the ferry of the ex-Royal Australian Navy A4G Skyhawks to New Zealand and I can attest just how broken the Royal Australian Navy Fleet Air Arm community were to see the last of their beloved A4s leave their home base at Nowra for the final time.
I was also at Ohakea, the home of our Skyhawks in New Zealand for 31 years, when in December 2001 all our A4s were withdrawn from operational service.  There, too, tears flowed from grown men at the loss of a beloved and trusted Skyhawk aircraft.
You will understand, therefore, how delighted I am to see some of 'our' aircraft back in service with Draken International!  I'm sure Tiny White would be very proud, as well!
In Draken's service, these aircraft will once again provide highly valuable training for many young men and women who will be charged with upholding America's defence and security interests.  I know these aircraft will serve Draken and America well. 
On behalf of all those who have flown and worked with these aircraft over the past 46 years of service with the Royal New Zealand Air Force, the United States Navy and the Royal Australian Navy, I offer to Draken International our very best wishes to all those who will fly, maintain and support these mighty Skyhawks.
May every flight be a safe flight for those involved, and may every mission deliver the best possible training value to those in the future who may be in harm's way as they pursue your nation's defence and security needs.
Presentation
In closing, these Skyhawks now belonging to Draken International were originally built in America before crossing the seas to serve with distinction in meeting the respective defence needs of New Zealand and Australia.  Having completed their service with these nations, these same Skyhawks have now been returned by sea to America where they will serve with Draken International to help train the men and women who in turn will uphold America's future defence needs.  
These Skyhawk aircraft are well equipped to deliver the required standard of training through the very experienced line-up of Draken's pilots. This high standard of training will be achieved at a fraction of the cost of producing the same standard to that of a modern fighter aircraft.
With the homecoming of these fine Skyhawk aircraft to USA, I bring from my homeland in New Zealand the strong sentiment and best wishes from the following:-
all of the 168 pilots who flew the A4 in service with New Zealand , including the very fond memories we still hold for the 3 pilots who lost their lives flying the Kiwi A4s;
all those who serviced and supported our A4s in so many ways;
and, all those who admired the A4s in their own special way  – including our Tiny White .
As these A4s begin their new service with Draken International, I want to present Jared with a small gift that I have chosen. The gift is a symbol of the Maori warrior of New Zealand. The Maori Warriors were 'experts in the art of ambush and surprise raids' – which is something we took pride in accomplishing with our A4 Skyhawks. 
The symbol I present is a called a Wahaika; which is "a short club where quick infighting action required thrusting jabs". 
I trust this symbol will provide a tangible link to the mottos written in Maori language on the respective badges for each of the three squadrons that flew the Skyhawk in New Zealand:-
No 2 Squadron – Whakatopu Kia Mate (translation – we swoop to kill)
14 Squadron – Kia Maia, Kia U, Kia Ngawari (active, ardent, adaptable)
75 Squadron – Ake Ake Kia Kaha (fight on for ever and ever, or, forever and ever be strong)
"We swoop to kill", "Active, ardent, adaptable", "Forever and ever be strong."
Could I ask Jared, on behalf of Draken International, to accept this Maori Wakaika, or short club, as a token of my appreciation. The Wakaika is carved from a New Zealand native hardwood timber called Kauri.  
Perhaps the Wakaika will find a place of honour within the walls of Draken International and serve to remind all who pass by of the link these Skyhawks had in their proud and successful service to New Zealand.