1994 FERRARI 412T1/T1B F1 3500CC V12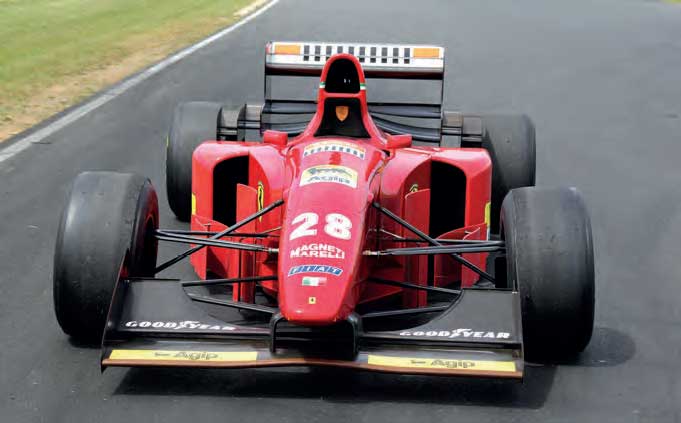 A group of Ferrari enthusiasts headed by Steve Weeber of Christchurch has brought to New Zealand a 1994 Ferrari 412T1B 043 V12, chassis number 154. This car was driven to success by Ferrari works drivers Jean Alesi and Gerhard Berger in the 1994 FIA Formula One World Championship races. Chassis 154 was driven by Alesi and Berger in four races each. Chassis 154 was the second-to-last of six 412T1 and,
later, 412T1B cars that were raced by the Ferrari works team in 1994. Chassis numbers 149, 150, 151 and 153 were used variously in the first five rounds of the 1994 F1 Championship year (Brazil, Pacific GP, Japan, San Marino GP, Imola, Monaco GP, and Spain-Catalunya) before chassis 154 was first used by Alesi in the sixth round of the Canadian GP held on 12 June 1994.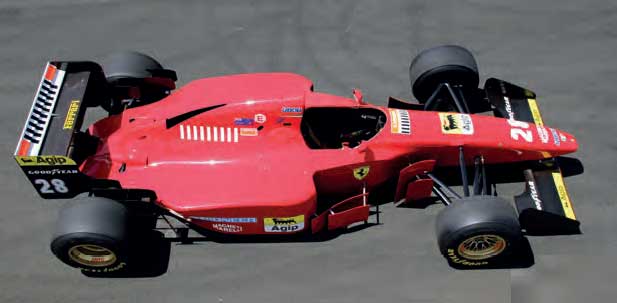 TECHNICAL DETAILS OF THE 1994 FERRARI 412T1/T1B
412T1 stands for: 4 valves per cylinder, 12 cylinders and Transverse gearbox, 1st development
Ferrari 412T1 — the 412T1 was used for the first six rounds of the 1994 FIA World Championship. The car was fitted with an uprated version of the seven-bearing
crankshaft, 3500cc, Ferrari 041 V12 engine of 65-degree vee angle, giving 775bhp at 15,300 rpm.

Ferrari 412T1B — the 412T1B was used from the seventh round of the French GP held on 3 July 1994. In addition to the bodywork changes made in time for the French GP, from the German GP (31 July 1994) onwards a 3500cc Ferrari 043 engine of 75-degree vee angle giving 820bhp at 15,800 rpm was fitted.
Gearbox: 6 speed transverse mounted semi-automatic gearbox with paddle shifters in a lightweight fabricated chrome-molybdenum casing. From the French GP onwards an even lighter titanium casing was used in the 412T1B version.

Wheels: diameter: 13 inches; width: 11 inch front, 15 inches rear

Tyre: Goodyear

Brakes: pads and discs (Hitco or Carbon Industrie)

Wheelbase: 116.9 inches/2970 mm

F1 Formula minimum weight: 1135 pounds/515 kg

Fuel capacity: 46.1 gallons/210 litres

Acceleration: 0 to 100 kph in 2.6 seconds