The Porsche 911 in the 1970s and 1980s
Jim Palmer 911S
Tim Bailey 911T
Ian 'Big Pete' Geoghegan #12 911S
Ian 'Big Pete' Geoghegan #8 911S
Jim McKeown 911
Tony Warren 911T
Lyn Neilson 911S
Peter Fitzgerald 911
Jim Short 911S RSR spec
Wikipedia records : 'The original Porsche 911 (pronounced nine eleven, German: Neunelfer) was a luxury sports car made by Porsche AG of Stuttgart, Germany. The famous, distinctive, and durable design was introduced in autumn 1963 and built through 1989. It was succeeded by a modified version, internally referred to as Porsche 964 but still sold as Porsche 911, as are current models.
Mechanically, the 911 was notable for being rear engined and air-cooled. From its inception the 911 was modified both by private teams and the factory itself for racing, rallying and other types of automotive competition. The original 911 series is often cited as the most successful competition car ever, especially when its variations are included, mainly the powerful 911-derived 935 which won 24 Hours of Le Mans and other major sports cars races outright against prototypes.'
In the following pages there is a selection of some of the Porsche 911 cars that raced in New Zealand from 1970 until 1988. 
Jim Palmer – Porsche 911S
In 1970, Jim Palmer, single-seater NZ Gold Star Champion in 1964, '65, '66 and '68, purchased a Porsche 911S 2.2 litre car from Australian, Brian Foley. Foley had driven this car to 5th place in the 1970 Australian Touring Car Championship. Jim raced the red 911S throughout 1970/71 season in the 1001-4200cc class of the 1971 NZ Saloon Car Championship and in 0-5500cc open class of the 1971 BNSW series for Saloon Cars. However, there was much controversy over the car and Jim faced a lot of adverse criticism. At issue was whether the car was a sports car, or a saloon car – and although he scored a numbers of wins and many good placings, the eligibility of the car was still being argued well after the race season had finished.  Jim said he was so disillusioned he sold the car 'for a big loss and hung up his helmet'. 
Later, the former Jim Palmer Porsche 911S, by then owned by Reg Moore of Australia, was entered in the Bay Park meeting held on 29th December 1974. The car had 2.8 litre engine and carried 'Grace Bros' sponsorship; it was driven in New Zealand by Ian 'Big Pete' Geoghegan in 1974, as recorded in the second Ian Geoghegan story below.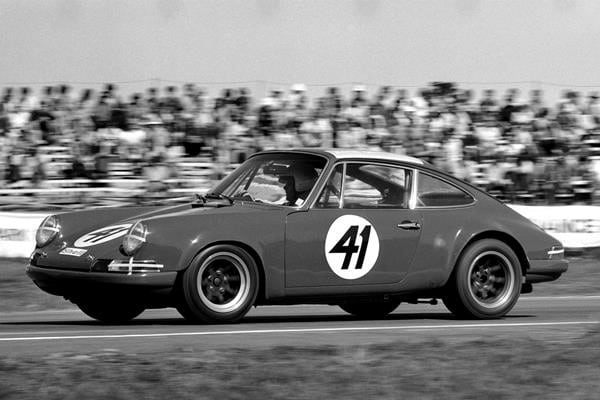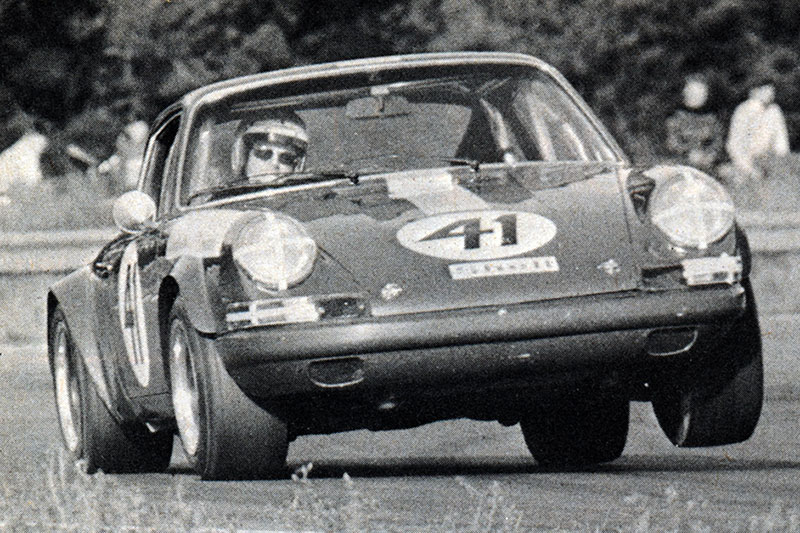 Tim Bailey – Porsche 911T
Tim Bailey started the Auckland dealership 'Continental Car Services' in Auckland 1967. He raced and rallied a number of cars, including a Porsche 911T with 'Rentokil' sponsorship, in many events in the late 1960s and early 1970s. In one event, the 'Glenvale 100' held at Bay Park on 11th July 1971, Tim finished 1st in class and in a very credible 3rd place overall.
Tim raced at Levin on 19th December 1971 as car #47 in his Porsche 911T 2195cc. He raced in Event 9, a 15 lap race, being Heat 1 of Round 3 for the Castrol GTX Championship for Production Saloon Cars. In the race Tim was in Group 1, which was won by veteran racer Merv Neil in his Torana XU1 from Leo Leonard's Chrysler Charger and Jim Richards' Falcon GTHO. Amongst such 'Big Iron' in the race, there was probably little chance of a good result for Lyn's small 2.2 litre Porsche 911!  Race 15, also over 15 laps, was Heat 2 of Round 3 for the GTX Championship and this saw Jim Richards take the win from Merv Neil, Roy Harrington's Torana XU1 and Leo Leonard.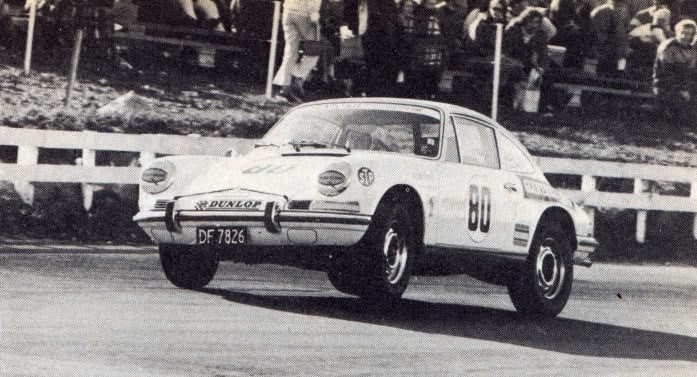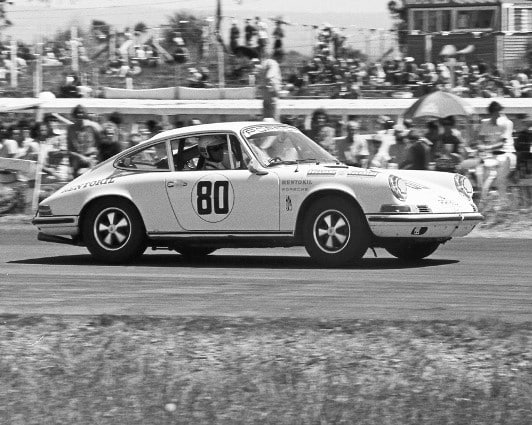 Ian 'Big Pete' Geoghegan –#12 Porsche 911S
In Motorman magazine of December 1974 (pages 14 & 24), Peter Hill records that the 3.0 litre  Porsche 911S driven by Ian 'Big Pete' Geoghegan at Bay Park on 27th October 1974 was owned by Australian Larry O'Neill. The car had been purchased from Bill Brown in 1971 and with the progressively bigger barrels and pistons fitted to the motor, the car gradually changed from 2.3, to 2.5, to 2.8 and finally to its present capacity of 3 litres.  The car was raced at Manfeild on 20th October and at Baypark on 27th October -'Pete' had "great scraps" at both meetings with Paul Fahey in his 2.9 litre Cologne Capri.
At Bay Park in October 1974, 'Pete' in car #12 was 2nd in Heat 1 behind Paul Fahey's #104 Capri. Behind Pete were Alan Woolf's 2 lite Escort BDA, followed by Red Dawson's newly liveried #35 'Marlboro' Chev Camaro, Rod Coppins (who was, supposedly, having his last drive in his red #25 Pontiac Firebird) and Rex Hart's 2 litre #1 Escort, who was in 6th place. Pete had a great dice with Jim Richards in the freshly painted yellow and red #2 Sidchrome Mustang before a crankshaft broke in Jim's Mustang. In Heat 2, Pete was again 2nd to Fahey and ahead of Dawson, Coppins, Jack Nazer in his #63 Victor-Chev and Hart. The 911S was advertised 'for sale' in late 1974.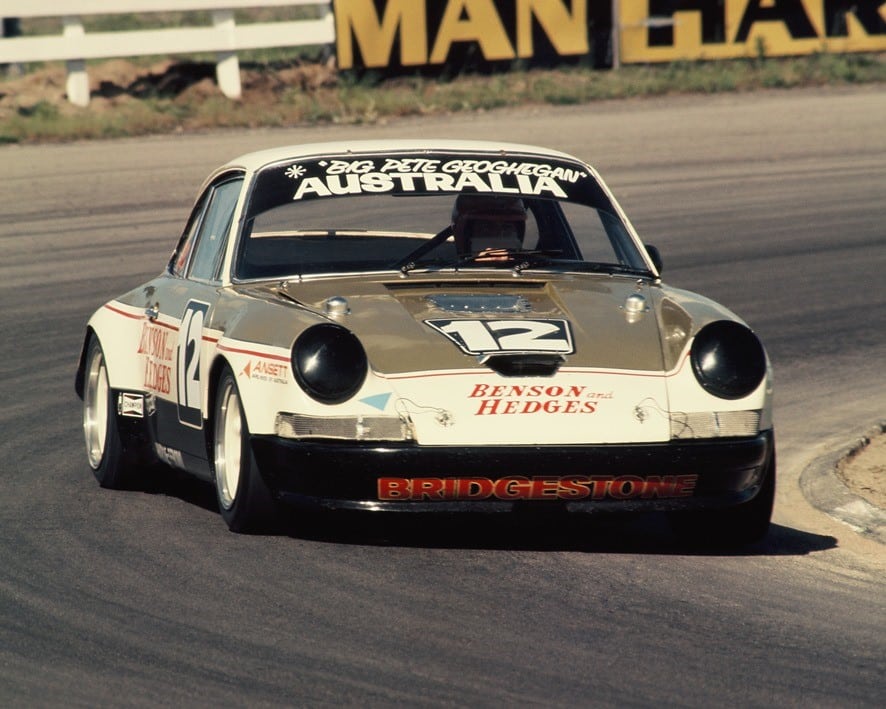 Ian 'Big Pete' Geoghegan -#8 Porsche 911S
A yellow-coloured 'Grace Bros' #8 Porsche was at Bay Park for the traditional New Year meeting held on 29th December 1974.  This car was the former Brian Foley/Jim Palmer Porsche 911s that was by now owned by Reg Moore of Australia. It had been driven by John Harvey and Leo Geoghegan in the Australian Touring Car series and was driven at Bay Park in December '74 by Ian 'Big Pete' Geoghegan.  Running with a 2.8 litre engine on carburettors, it was some 300 lbs lighter and faster than the 'Benson & Hedges' #12 Porsche 911S that Pete had driven at the Bay Park meeting in October '74. Unfortunately, the #8 Grace Bros car had an oil leak in practice so apparently the car did only a few laps and was not given an official time. It was scratched from racing for the day.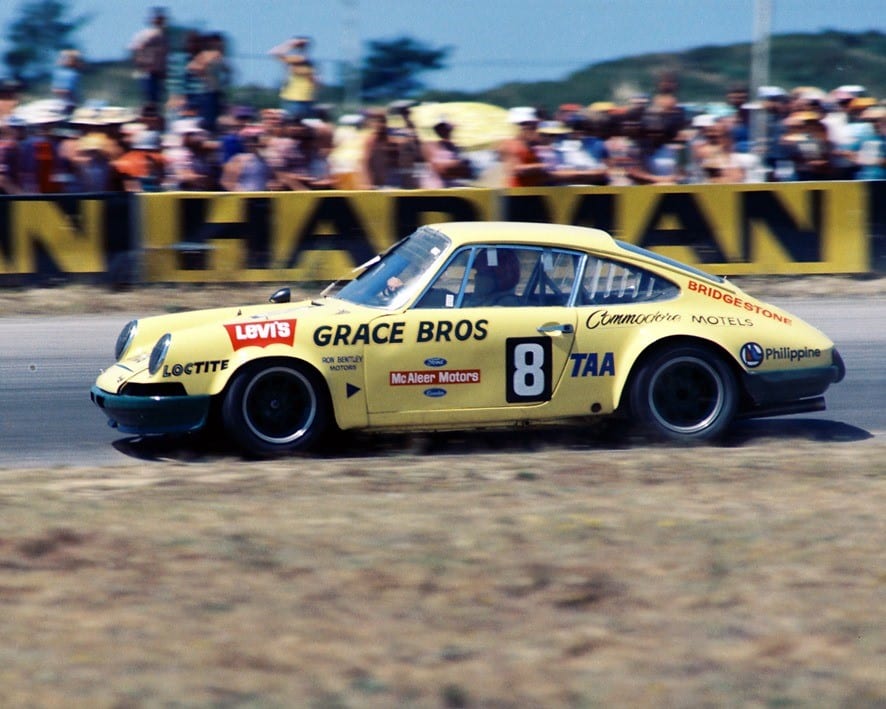 Jim McKeown  – Porsche 911
Jim McKeown from Australia raced his Porsche 911 at Ruapuna, Baypark and other venues in 1974.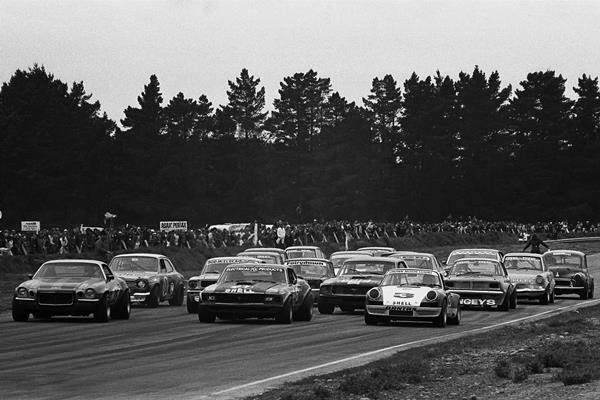 Tony Warren – Porsche 911T
Tony Warren drove the ex-Tim Bailey Porsche 911T in 1975.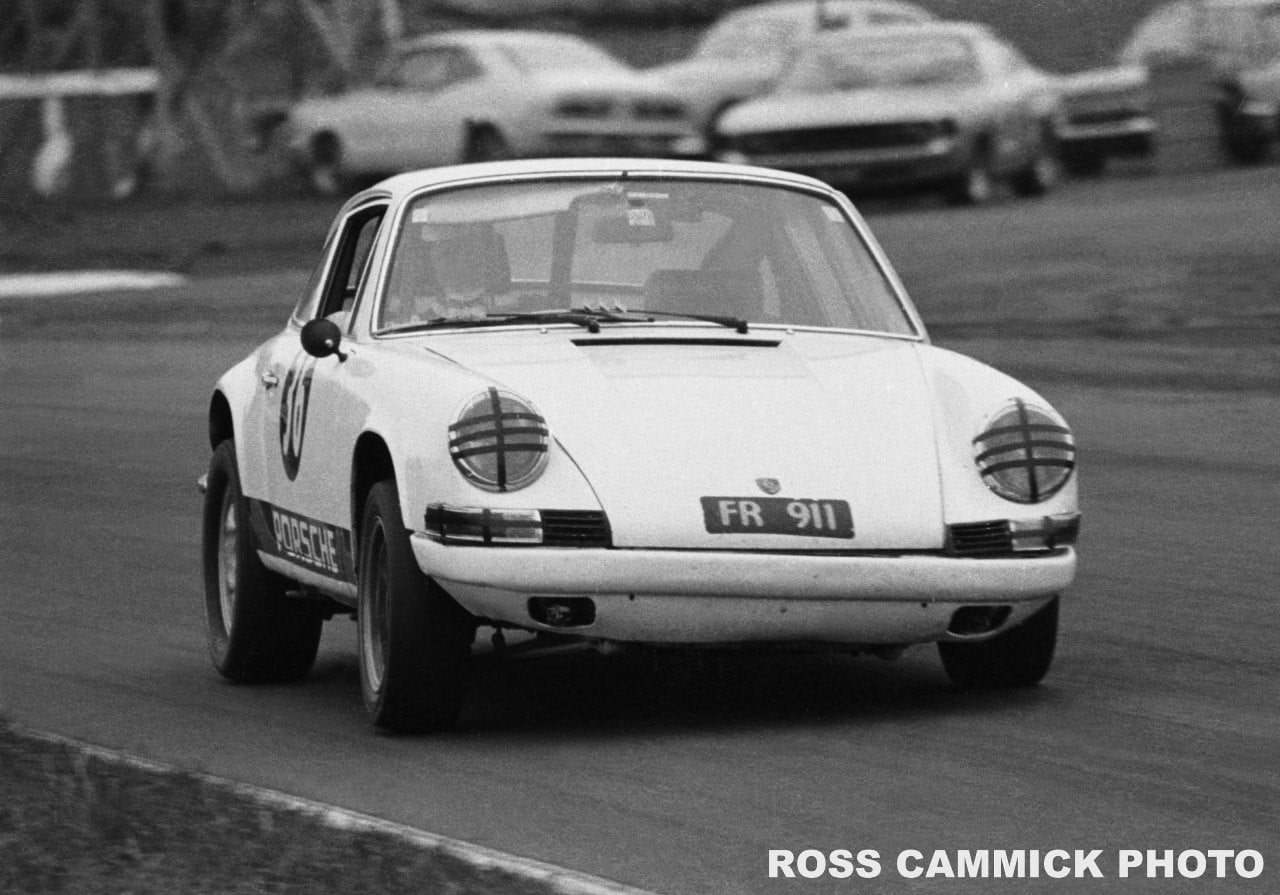 In June 2015 John Crerar wrote about the ex-Tim Bailey/Tony Warren 911 – "I've just been looking at The Roaring Season [website] and found a post about the Porsche 911T. I would check with Lyall Williamson but I am sure we had this car at PDL. I would think maybe 1976 it was rebuilt with Turbo style guards, whale tail etc. The wheels, if my memory is correct, came from a deal with Jim Richards and were fitted with P7 Pirelli Tyres and centre lock nuts made in-house by Tony Fairbairn (AJ) who now works for Indianapolis Speedway Museum. I have photos but could take a bit of finding. It was also fitted with a 2 litre motor. Have no idea where it is Lyall may be able to fill in gaps."
Lyall Williamson then comments – "Goodness me, that takes me back a while. John is right. I bought it off the owner of Rentokil who was Tim Bailey's mate. Bob Stewart wanted to make it into an RSR so we bought a body kit and modified the car in the old PDL Restoration shop. I bought a set of Simons three piece wheels and a set of high back racing seats from Australia that we fitted. The last I remember of the car we painted it black and it was sold to a young guy in Christchurch. It still had the original number plate from what I can recall and that may be the way of tracking the car down."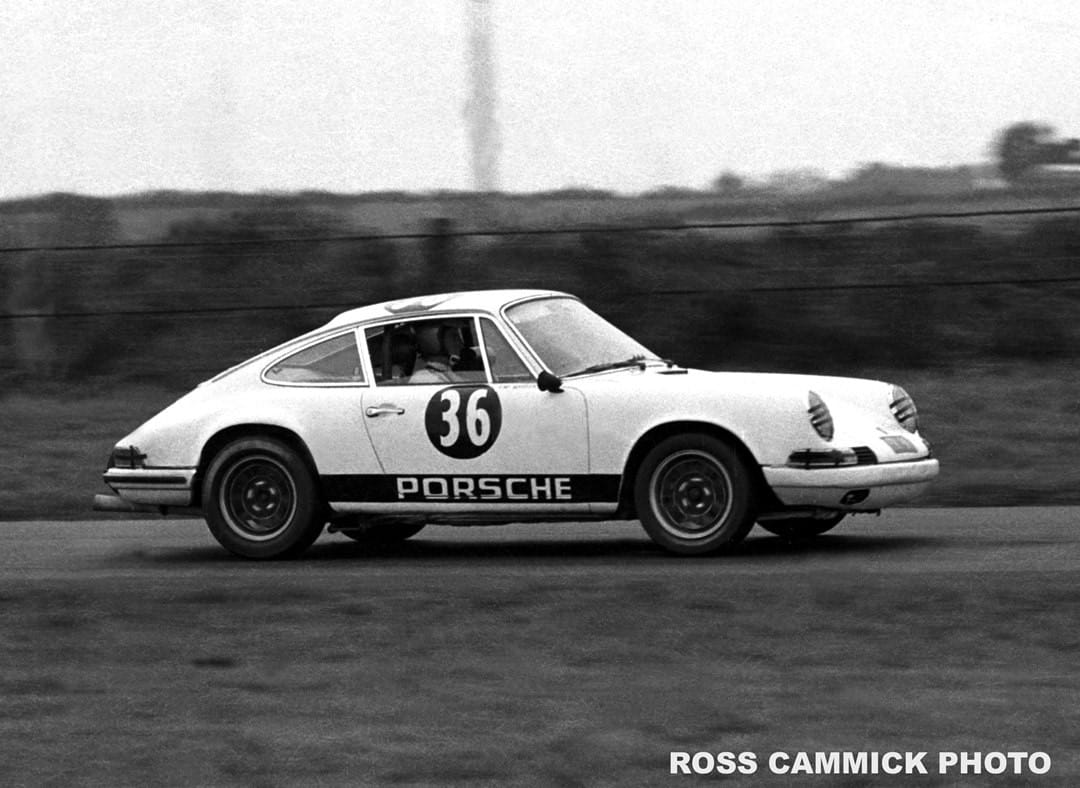 Lin Neilson – Porsche 911S 2200cc
Lin Neilson of Dunedin raced a variety of cars in the 1960s and 1970s including a Ford Zephyr fitted with a Chevrolet V8 engine, Mini-Coopers and many more. Amongst other races he did in 1975, he drove his #44 Porsche 911S 2.2 litre at Levin on 6th October in the 100 lap "Shell 100" Production Saloons – Final Round. Lyn finished 6th in this race to Wayne Wilkinson in a Holden Torana XU1 3.3 Litre, Dave Baker in a Camaro Z28, Bruce Robertson's Falcon GTHO, Ken Adamson's BMW 2002Ti and Roy Hiscock in a Ford Capri.  Lyn was back at Levin on 7th December 1975 where he drove his now #70 numbered Porsche 911S in the Castrol GTX Production Saloon Car Championship. The 20 lap race was started in 3 sections with a brief interval between each to cater for the 3 classes – Rod Coppins won Class 3 in his 5.0 litre Torana L34, Lyn Neilson was 1st in Class 2 in the 911S ahead of John Woolf's Escort BDA and Roy Hiscock's Ford Capri. A young 18 year old, Steve Emson, won Class 1 in a Datsun B110 coupe.
Lyn won the 1976 NZ Production Saloon Championship in his Porsche 911S. The Motorsport NZ website tells us that from 1972-76 this Championship was named as the Castrol GTX Series. The series was held at a number of tracks in October and November annually.  Sadly, in 1982, Lin was killed in an accident on a railway crossing near his home close to Dunedin.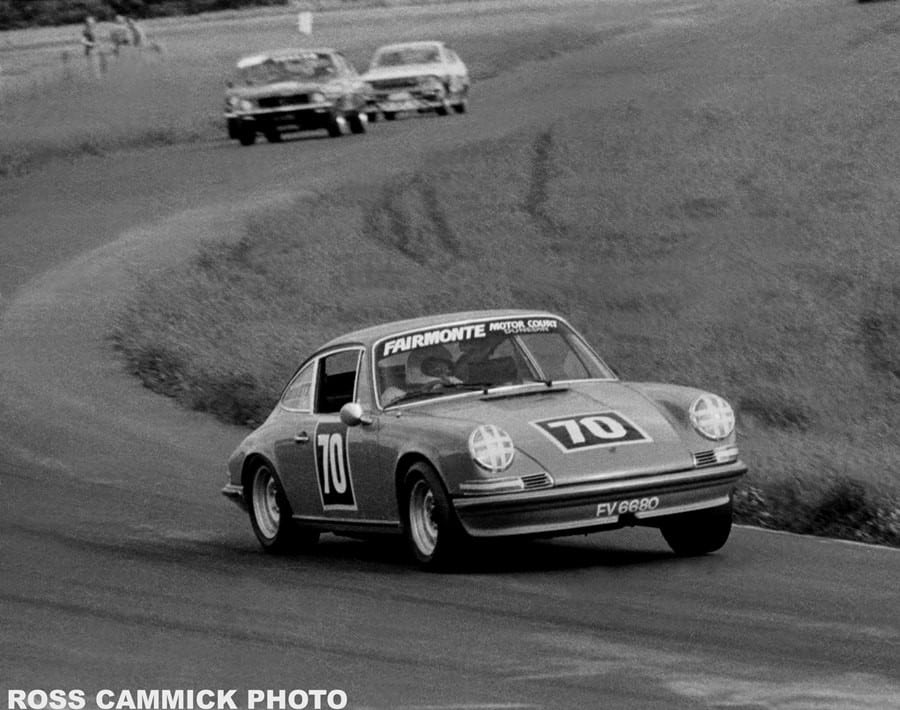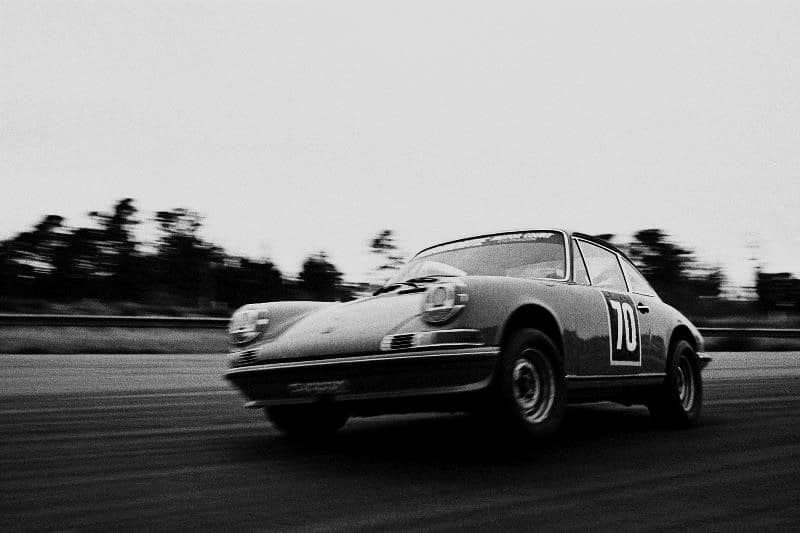 Peter Fitzgerald (Aus) – Porsche 911
Australian Peter Fitzgerald raced in the 1980 Australian Sports Car Championship with his Porsche 911 Carrera. After all 5 rounds of the championship, held between February and November, he finished in 6th place overall. Winner of the championship was Alan Moffat in a Porsche 930 Turbo, followed by Peter Hopwood Lotus Elan, John Latham Porsche Turbo, Ross Mathieson Porsche Carrera and Murray Byrden Lotus 7 S4, then Peter in his Porsche 911 Carrera.
Peter brought his Porsche 911 to the Bay Park 'New Year' meeting held on 28th December 1980. As the meeting progressed the car was seen to be smoking badly. Although the 911 was entered to race at Pukekohe in January 1981, a new crankshaft had not arrived in New Zealand in time for it to be fitted to the Porsche engine, so the Pukekohe entry was scratched. 
Peter Fitzgerald was 3rd in the 1981 Australian Sports Car Championship behind winner, John Latham in his Porsche Turbo and Murray Bryden's Lotus 7 S4.  In 4th place was John Walker in the Magnum Wheels sponsored Porsche Turbo.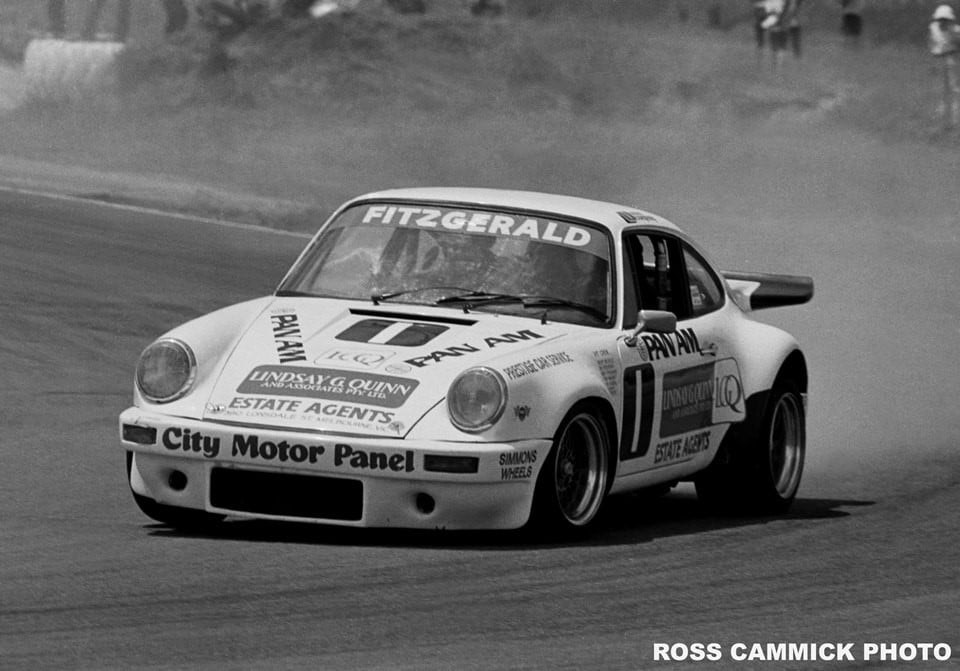 Jim Short – Porsche 911S RSR Spec.
In 1982 Mark Scott, on behalf of others, purchased a left-hand drive 1972 Porsche 911S RSR Spec 2.8 litre and imported the car to New Zealand. Apparently, the car had originally belonged to one of the Directors of Porsche Germany. Another story had the car belonging to Marek Gierowski of Poland who purchased from Porsche AG a body off a 'Prototype' to replace the damaged body on his Porsche rally car. The car was later updated for track racing and fitted with an IROC body before it came to NZ. 
A group of five Porsche shareholding 'enthusiasts' then drove car , known as 'Black Beauty', in a variety of events in 1983 – the five were Ray Barker, Allan Bremner, Keith Hall, Jim Short and Olly Newbegin. By mid-1984 the other four drivers had taken over Alan Bremner's share and by August 1984, Jim Short had taken sole ownership of the car. Jim raced the car in Sports Sedan races at all tracks in New Zealand until 1988 when the car was no longer eligible for Sports Sedan racing. The car has since been rebuilt in a different road-going form.