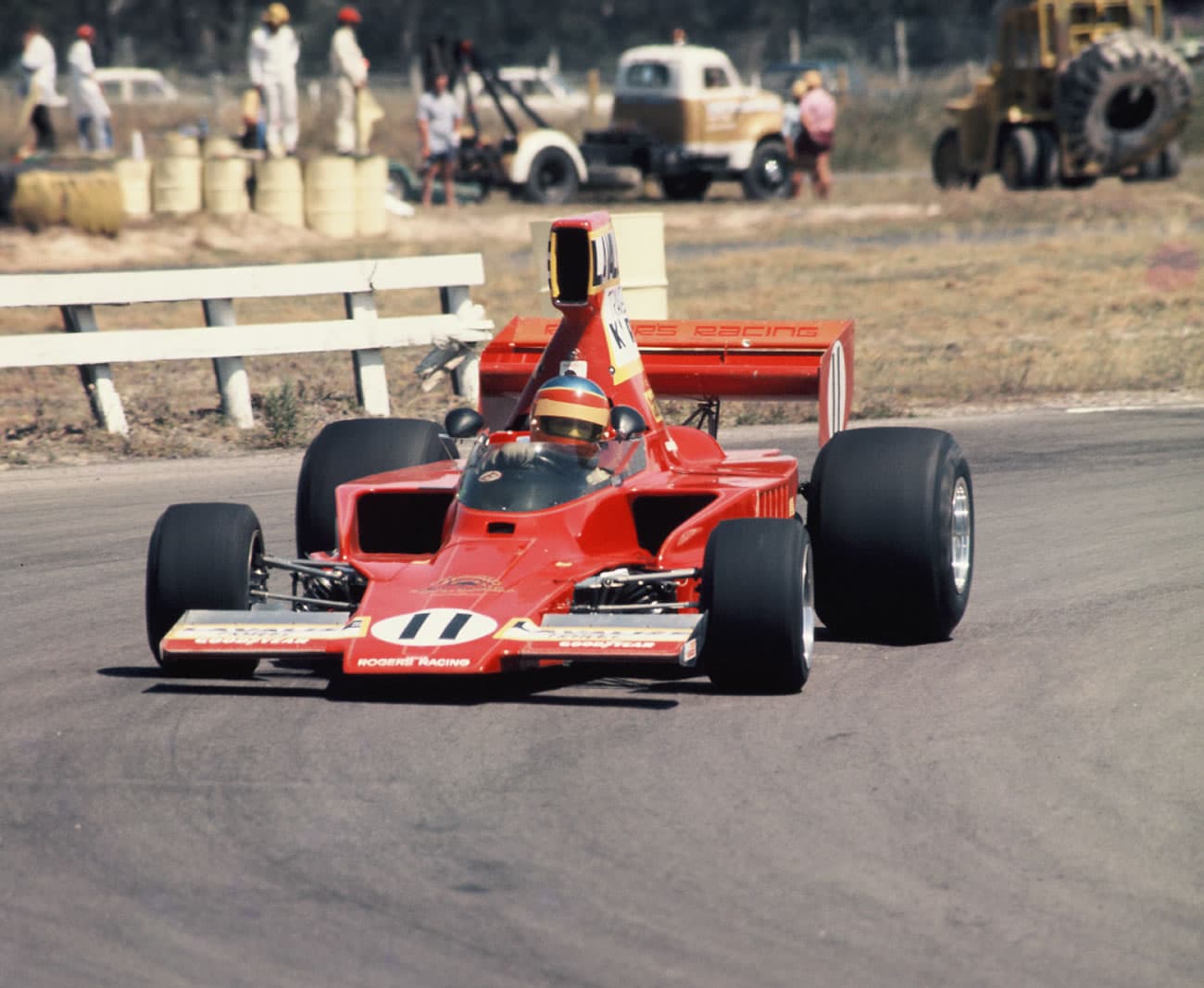 Tasman Cup F5000 racing – Kenneth (Ken) James Smith OBE (Auckland)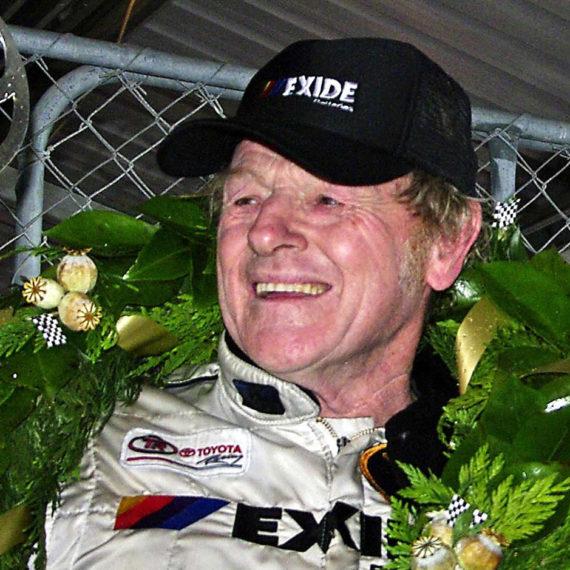 Ken Smith was born in Orakei, New Zealand, on 11 August 1942 and raised in the Point England area of Auckland. At aged 16 he began his motor racing career and has not missed a year since then – that's 56 years straight as at 2014!! 
Ken started hill climbing in 1958 in the ex-Bruce McLaren Austin Seven Ulster before moving to a Cooper T23-Gilby sports car in which Ken and his father, Morrie, fitted with a Holden engine. In late 1962 his father purchased a 1960 Lola Mk2 Formula Junior that had been refitted with a 1500cc Ford engine and together the Smith duo shared drives at various North Island events in 1963 and 1964.
Pre F5000 Tasman Cup racing – In 1965 Ken began racing in the Tasman Cup series with a Lotus 22 1500cc car in which he raced for 3 seasons. In 1968 he upgraded to a Lotus 41 1500cc that he raced for the next 3 seasons. Ken, the ever faithful Lotus man, then purchased a Lotus 59/69 in 1971 that he raced for the next two years. By 1973 he was driving a March 722 F2 car with a 2 litre engine. In 1974 a March 732 replaced the March 722 – but in all these cars, Ken was at best a mid-field runner.  The quest for a car with more power to match the F5000 cars saw Ken buy the ex-Carl Haas owned 'Brian Redman' 1973 Lola T330/332 Chassis #HU8 for the 1975 season.
Late 1974 and Ken's first races in a F5000 -Ken's first race in his new, red coloured, La Valise Travel sponsored Lola T332 was at Pukekohe on 17 November 1974 for Round 5 of the 1974/75 NZ Gold Star series. But, having qualified in 3rd in practice at Pukekohe, Ken's engine 'blew'. After an 'all-nighter' to replace the engine he was on the grid the next day and finished 4th after a late race spin dropped him down the order. The next outing was at Manfeild on 15 December '74 for Round 7 of the Gold Star and having qualified 3rd again, a broken front suspension  on lap 5 put him out of the 16 lap race, as well as from the 28 lap 'Ralta International' race that followed.  On to Baypark for Round 8 of the now traditional New Year meeting held on 29 December 1974 and once again Ken qualified 3rd. This time, however, he finished 3rd in the 25 lap race behind Graeme Lawrence in his Lola T332 and Jim Murdoch in the 'works' Begg 018. With 3 race meetings under his belt in the Lola, he as ready tackle the 1975 Tasman Cup.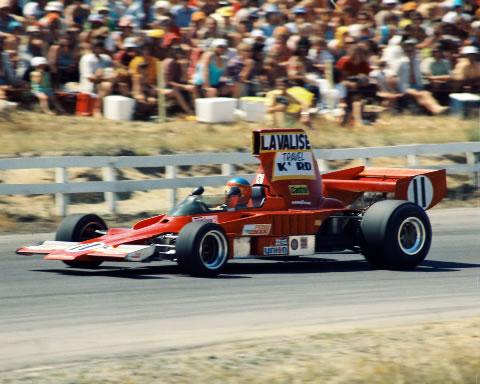 Tasman Cup in 1975 – Ken's 1975 Tasman Cup series of eight-rounds over 8 weeks showed great consistency from him while at the same time he was learning about racing the new Lola amongst more experienced F5000 drivers. His consistency in the eight Tasman races saw him finish in seven races, losing out in only one race due to a faulty fuel metering unit.
Starting at Levin on 5th January 1975, Ken qualified an excellent 4th and took his #11 Lola to 5th place, having had to visit the pits on lap 4 with a puncture.  At Pukekohe on 12 January for the NZIGP he qualified 5th and finished 5th. Round 3 at Wigram on 19 January saw him with a persistent engine misfire so he qualified only 7th and having been plagued by the misfire during the race and with another puncture, 9th pace was the best he could do, being 4 laps down on the winner Graham McRae (McRae GM2)  who completed 44 laps. Round 4 at Teretonga on 26th January saw Ken qualify 3rd but with two visits to the pits during the race for two more punctures he finished 8th on 54 of the 62 laps.
Across the Tasman Sea he went to Australia for Round 5 at Oran Park 100, NSW, on 2 February 1975 where Ken qualified 10th and finished 6th, two laps down in the 61 lap race won by Warwick Brown from Graeme Lawrence, John Walker, Chris Amon and John McCormack. Round 6 was at Surfers Paradise, Queensland, on 9 February where Ken qualified 4th and finished an excellent 2nd to John Walker in his Lola T332 after 50 laps. Round 7 at Adelaide a week later saw Ken qualify 7th but with fuel metering problems he recorded his first DNF of the series when he retired on lap 42 of the scheduled 67 laps. The final race of the 1975 Tasman Cup was held at Sandown, Vic, on 23 February where Ken qualified 10th and finished 7th, one lap down, after 52 laps. With 11 points overall in the series, Ken finished 9th equal in the 1975 Tasman Cup that was won by Graham Brown with 31 points from Graeme Lawrence on 30 points, both in Lola T332s.
1975/76 NZ Gold Star – the eight-round Post Office savings Bank (POSB) sponsored 1975/76 NZ Gold Star championship began at Teretonga on 12 October 1975. With only four cars in the race, Ken lead a very tight and keen race-long battle against Graeme Lawrence in his T332 – with Ken the victor.  One week later saw Round 2 at Ruapuna, where Ken was 1st in both 16 Lap Heats and thus took the overall round points on aggregate.  Round 3 at Levels, Timaru, was held on 26 October and Ken took 1st place from Baron Robertson in his Elfin MR5 F5000 and Graeme Lawrence.  Round 4 was at Pukekohe on 16 November and in Heat 1 Graeme Lawrence beat Ken for the first time in the new season, with Jim Murdoch in Begg 018 in 3rd place. Heat 2 saw Ken take the win from Graeme Lawrence and Jim Murdoch.  With one win and a second place each, Ken shared round points with Graeme Lawrence. 
On to Levin for Round 5 on 6 December 1975 where Ken qualified 3rd and finished 1st after 20 laps and ahead of Australian Bruce Allison's T332 (Bruce was not eligible for Gold Star points) and Graeme Lawrence.  On 7 December at Levin, the Sharp Calculators International Test – Round 1 was held and although qualifying 3rd, Ken recorded his first 'DNF' of the season when he collided with a spinning Jim Murdoch on lap 6 of 10.   Round 6 of the Gold Star was at Manfeild on 14 December and in Heat 1 over 12 laps, Ken was 3rd behind Allison and fellow Australian, Max Stewart (Lola T400). As neither of these Australians were eligible for Gold Star points, Ken took them instead. Heat 2, also over 12 laps, saw Ken in 1st place ahead of Allison, Lawrence and Stewart.  In the Sharp Calculators Test, Round 2, Ken was hit by Stewart on lap 2 of 10, causing Ken to hit a bank with some force and thus retire from the race. Round 7 was at Baypark on 28 December and over 25 laps, Graeme Lawrence took the flag ahead of Ken with Baron Robertson 3rd. The final race, Round 8, was at Pukekohe on 3 January 1976 and Ken took the win from Jim Murdoch and Baron Robertson.
With a convincing display Ken took 1st place in the NZ Gold Star 1975/76 on 67.5 points. In 11 races over the 8 Rounds he took:- 7 x 1st places, 2 x 2nd places, 1 x 3rd (1st on points), 1 x 3rd (2nd on points).  Graeme Lawrence was 2nd on 39.5 points, Baron Robertson 3rd on 30 points, and Jim Murdoch was 4th.
1976 NZ Peter Stuyvesant international series – As there was no longer a Tasman Cup, Ken began the four-round '1976 NZ Peter Stuyvesant' series at Pukekohe on 4 January 1976. Having qualified 2nd to Graeme Lawrence, Ken drove  a very fine 50 lap race to win the NZ Grand Prix;  he was (and still is) delighted ! Round 2 at a wet Manfeild a week later brought huge frustration – he again qualified 2nd to Graeme Lawrence but because he had no rain tyres, he finished in a lowly 9th place on 45 of the 50 laps.  Round 3 at Wigram returned the smiles as having qualified 2nd, this time to Max Stewart, Ken took the win after 44 laps and thus returned the double – fine wins in both the NZIGP Pukekohe and the Lady Wigram in the same year.  The final round of the series was at Teretonga on 25 January and this saw yet another 2nd place in qualifying, once again to Graeme Lawrence. After 62 laps Ken finished 2nd some 38 seconds behind the flying winner in Graeme Lawrence. With 24 points, Ken finished as the clear winner in the 1976 Peter Stuyvesant series ahead of Bruce Allison on 16 points, Jim Murdoch on 10, Kevin Bartlett, Graeme Lawrence and Brian Redman (Chevron-BMW) all on 9 points.
1976 Rothmans International Series, Australia. One week after racing at Teretonga, Ken was racing his Lola T332 in the 4-round 'Rothmans International' series in Australia. Round 1 was on 1 February 1976 at Oran Park, NSW, where Ken qualified 7th and finished the 60 lap race in 3rd place behind Vern Schuppan (Lola T332) and Kevin Bartlett (T400).  Round 2 was at Adelaide one week later and it was a Ken Smith benefit – 1st in qualifying and 1st in the 68 lap race ahead of Schuppan, John Leffler T400, Milton (McLaren M22) and Bartlett.  Round 3 was at Sandown, Victoria, where Ken qualified 4th and finished 4th on 46 of the 47 laps behind Canadian John Cannon (March 73A), Vern Schuppan, and John Goss (Matich A53).  The final round was to have been at Surfers Paradise, Qld, and after qualifying 9th on a wet track, the race was postponed and later cancelled due to heavy rain flooding the circuit.  Ken completed the now 3-round Rothmans Championship in 2nd place on 16 points behind Vern Schuppan on 21 points, with John Cannon 3rd on 9 points.
1976 NZ Gold Star – in a very limited seven car field of mixed F5000, F2 and Formula Pacific race cars, the 3-round 5 race 'NZ Gold Star' series began at Manfeild on 31 October 1976. Ken qualified 1st for Heat 1 over 8 laps and took the flag first from Graeme Lawrence in his T332 – and Ken repeated the formula with another first place for Heat two.  At Ruapuna for Round 2 on 21 November, Ken again won both 15 lap Heats from Graeme Lawrence.  The final event, and seemingly the final race to include F5000 cars, was at Timaru on 28 November where Ken once again took 1st place, this time in a 30 lap race. Having finished 1st in all 5 races, Ken was annoyed to be classified by Motorsport NZ as runner-up in the NZ 1976 Gold Star, a series apparently heavily weighted to Formula Pacific cars.
With no opportunity to race the Lola T332 in New Zealand in 1977, now that Formula Pacific was the nominated formula, Ken took his Lola T332 to Australia and raced at Calder, Vic, before selling the car to Chris Milton who in turn raced the car from September 1977 onwards in the Australian series. After a series of subsequent owners Ken's Lola T332 has been owned since 1993 by Noel and Andrew Robson of Melbourne, Vic, and is seen from time to time in F5000 revival races in Australia.
A summary of Ken's races with his Lola T332 –
1975 Tasman Cup – 9th place.  In eight rounds -5th, 5th, 9th, 8th, 6th, 2nd DNF, 7th.
1975/76 NZ Gold Star –1st place over 8 rounds/11 races – 1, 1, 1, 1, 2, 1, 1, 3, 1, 2, 1 (plus 2 x DNF in non-Gold Star races).
1976 NZ Peter Stuyvesant Intl series – 1st place – 4 races – 1,9,1,2
1976 Australian Rothmans Intl series – 2nd place – 3 races – 3, 1, 4
1976 NZ Gold Star – 5 wins but 2nd place on weighted points –5 races – 1,1,1,1,1
A well prepared and thus reliable F5000 car driven with skill and consistency were hallmarks of Ken Smith in his Lola T332 – in 33 F5000 races over 2.5 seasons in New Zealand and Australia, Ken had only 3 'DNF', one of which was due to a faulty engine fuel metering unit and two were because of accidents (hitting a spinning car and being hit by another spinning car).
Ken Smith – just some of his many achievements in a lifetime of motorsport
Awarded MBE in 1987 in Queens Birthday Honours List for 'services to motorsport'
Inducted to Motorsport NZ 'Wall of Fame' in 1995
Had a triple heart bypass in 1987 – and raced 3 months later
NZ Gold Star Champion in 1975/76, 1983/84, 1984/85, 1986/87, 1989/90.
Three-time winner of NZIGP – 1976 (Lola T332 F5000), 1989/90 Swift DB4 (Formula Pacific), 2004 Tatuus-Toyota (Toyota Race Series)
First place 1976 NZ Peter Stuyvesant International F5000 series
Second place 1976 Australian Rothmans International F5000 series
Three-time winner of the F5000 Tasman Revival series 2008/9, 2009/10, 2010/11 – all in David Abbott's Lola T430
Three-time winner of Penang GP, Malaysia
Two-time winner of Selangor GP, Malaysia
Winner of Malaysian GP 1979 (March-Ford)
Ken's best race – Ken rates the 1976 NZ International Grand Prix at Pukekohe as his best. He is very proud to have his name on the NZ Grand Prix trophy together with other winners including Jim Clark, Graham Hill, Jochen Rindt, Chris Amon and Bruce McLaren.
Ken's best car – Ken rates the Lola T332 HU8 F5000 as his best car.
Ken's 'new' Lola T332 – In recent years Ken tried to buy back his Lola T330/332 HU8 from Noel and Andrew Robson so he could race it again. Having had no success he instead purchased the ex-Danny Ongais Lola T332 Chassis HU54 from USA and after he got it back to New Zealand he undertook a most extensive rebuild of the car, including repainting it to match the La Valaise colour scheme he used in the 1970s. However, he was soon to suffer the misfortune of damaging the car quite severely in a start line accident at Manfeild in late 2011.  With the car since repaired Ken has gained much enjoyment in racing the immaculate red La Valaise Travel liveried Lola T332 in F5000 Revival events in New Zealand and Australia.