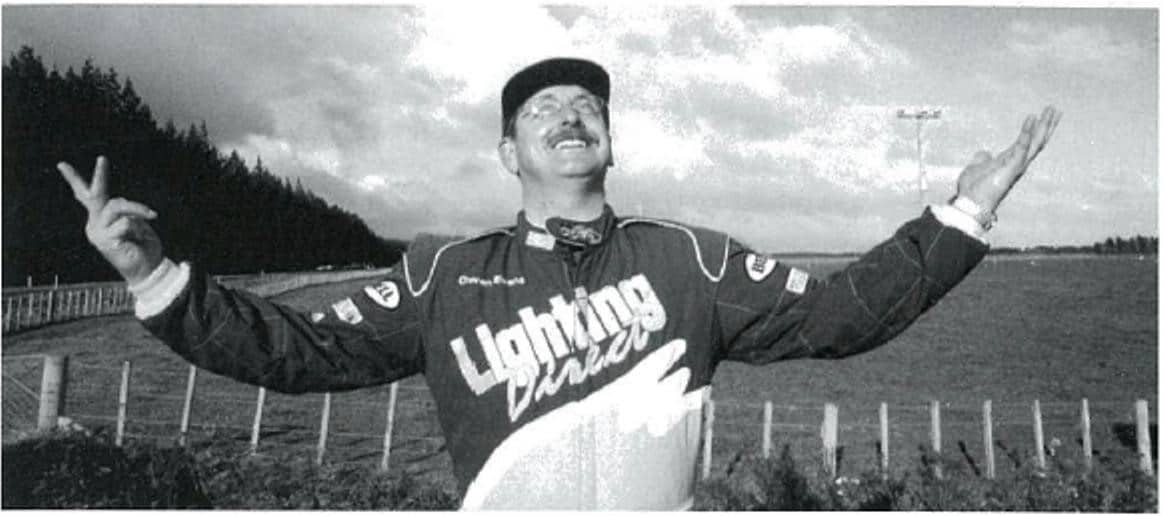 Owen Evans – NZ Land Speed Record, Reporoa, 2nd June 1996
Owen Evans, Goudie's Road, Reporoa 2 June 96
photo by Power Pictures in PCNZ Spiel magazine May/Jun 96
Owen Evans of Auckland, NZ, had been racing Porsche cars since 1991. In 1995 he decided he would like to capture the NZ Land Speed Record (LSR) which, at that time, was held by Dr Roger Freeth who drove a Lola Ford single seat Indycar. Owen also wanted to set a Porsche World Speed Record, for which a Porsche chassis, body and motor were prerequisites.
Owen was a member of the 'Lighting Direct Porsche Racing Team' so there was much discussion within the Team as to which of the Team's cars he should use for his LSR attempt.  As Eugene Childs, Lighting Direct Porsche Team Manager, records in the Porsche Club NZ (PCNZ) Spiel magazine of May/June 96, the choice of car was between Team owner Bill Fulford's Porsche Turbo, Dean Fulford's Porsche, or Owen's Porsche 911 GT Le Mans Turbo. It was finally decided that Owen's car would be best for the LSR attempt – but many changes would need to be made including fitting 17 inch wheels, use of 136 Octane fuel, body changes to streamline the car, bumpers removed, a taller 5th gear, air disturbances such as aerial and speed jacks removed and all body gaps taped to reduce drag.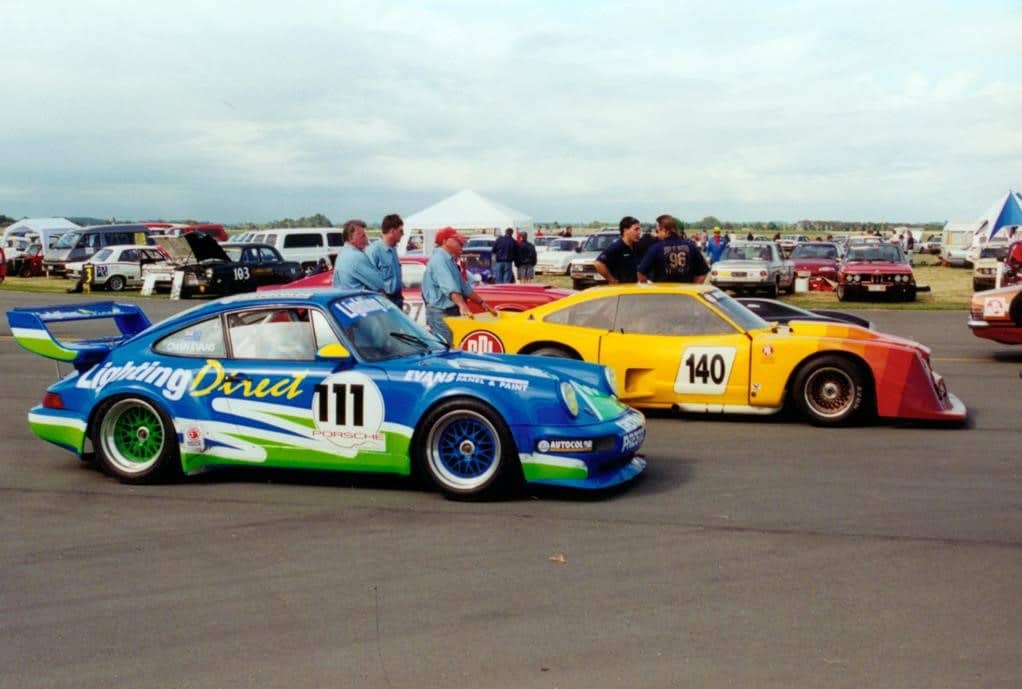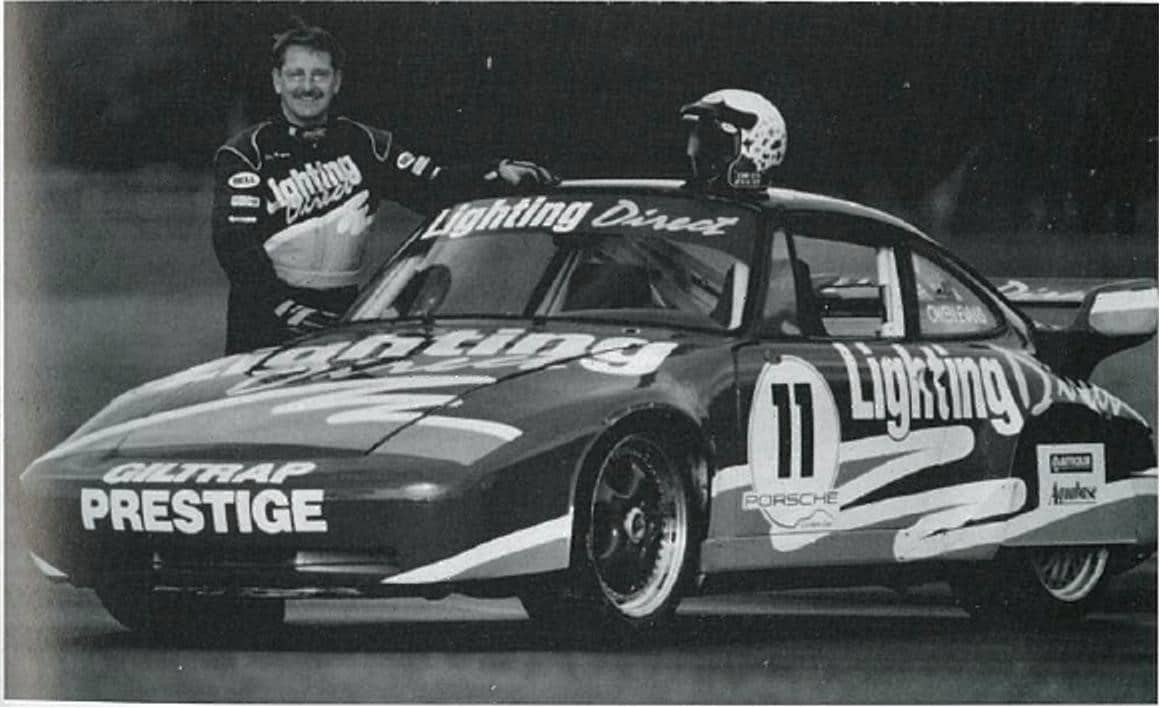 NZ Land Speed Record set by Owen on 2nd June 1996 – Whereas the Lighting Direct Racing Team began planning the LSR attempt in 1995 when the LSR was held by Roger Freeth, by the time they got to Goudie Road, Reporoa in June 1996, Owen's friend and fellow Porsche racer Ray Williams had captured the LSR in his own Porsche 930 Turbo. In the 'Ivory Beast', as Ray called his 930 Turbo, he set the LSR at 196.721 mph (316.92km/h) on Goudie Road, Reporoa on 16th March 1996 – in foul, wet and windy weather.
As Wayne Munro so ably recorded in PCNZ Spiel magazine May/June 96, the Lighting Direct Team had booked "the long arrow-straight and reasonably smooth Goudie Road" at Reporoa for Queens Birthday weekend – both Saturday 1st and Sunday 2nd June 1996, in order to attempt the LSR. However, with strong cross winds on the Saturday, Bill and Owen decided it would be too dangerous to make any attempt at the LSR. Nonetheless, in a shakedown run on Saturday, Owen recorded over 200mph, but not without severe wind buffeting.
Wayne Munro recorded "on the calm, icy Sunday morning at about 8.30am the lime green and blue Porsche streaked from north to south down Goudie Road to cover the mile in just 16.891 seconds – an average speed of 213.13mph. The kilometre came and went in 10.416s, for an average of 345.622km/h. A LSR record is based on the average of any two consecutive runs – one each way – within an hour and a beaming Owen Evans gave the thumbs up after the first run and promptly set out on the return run that broke Ray Williams' record with an average of 214.349mph for the return journey."   All of this using only 100 octane fuel in Owen's Porsche and with a modest 1.0 Bar boost setting for the Turbo!
The average of Owen's second and third runs raised the LSR to 214.385mph (345.019km/h). The 4th run recorded 219 mph (348.061km/h), which in turn raised the LSR for the mile to 216.385mph and for the kilometre to 348.061km/h.   136 Octane fuel was then put into to the car, replacing the 100 octane that had been used so far, a new engine management chip was added, and Turbo boost increased from 1.0 to 1.3 Bar for the 5th run – but, at some 225mph, the right rear 'slick' tyre blew causing the car to "spear off to the right" and somersault violently though a roadside fence and across two roadside paddocks". The car "lost its motor, gearbox and uprights, body panels and a wheel, or two". As Dr John Elliot, who was following the runs in the chase car said, Owen's car went from 200 mph to a stop in about 3 seconds. Dr Elliot observed that "the seat, harness and rollcage in the Porsche remained intact" and this obviously saved Owen's life in such a violent crash – but quite obviously the Porsche was a write off.  Owen was badly injured and he, together with his wife Tracee and sons Simon and Mitch, faced a long slow recovery and adjustment within the Evans family.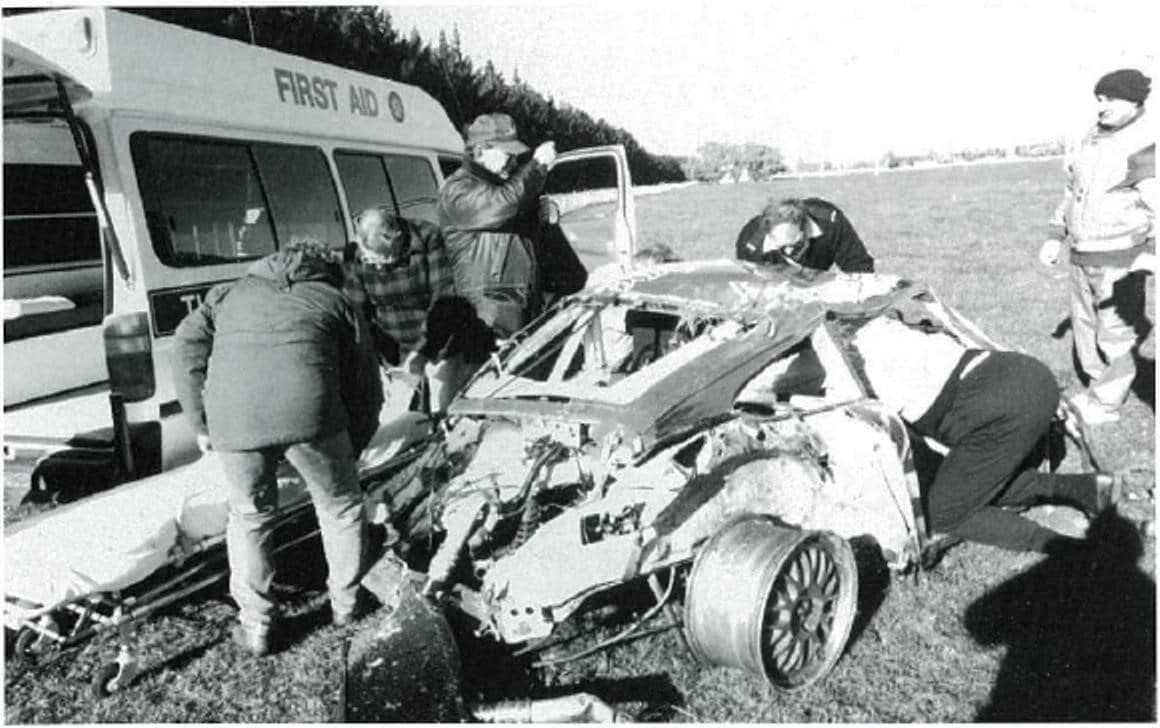 As Bruce Munro recorded in 'Spiel' in 1996, "Owen Evans' name now goes into the record books in company with early record-holders, Australian "Wizard" Smith (who clocked 146.3mph on Ninety-Mile Beach in 1930 at the wheel of his 500hp Rolls-Royce engined Cadillac) and Lawrence Brownlie (177.9mph in a Begg sports car in 1969). Walter York revived interest in the record in 1990 with a 146.9mph run on Ninety-Mile Beach in a Ford Falcon Turbo – bettered in 1991 by Kieran Wills (Mazda RX-7 V8 – 185.95mph), in '93 by the late Rodger Freeth (194.858mph in a single seater IndyCar) and then, most recently, Ray Williams' 196.72mph (316.92km/h) on 16th March 1996."
Owen held the 'Flying Kilometre' record from June 1996 until 27th October 2012 when Eddie Freeman raised it to 355.485km/h at RNZAF Ohakea airbase in his Lamborghini Superleggera.
Owen still holds 'The Castrol Trophy' for the NZ Land Speed Record.