Le Mans 1996 – Le Kiwi Comeback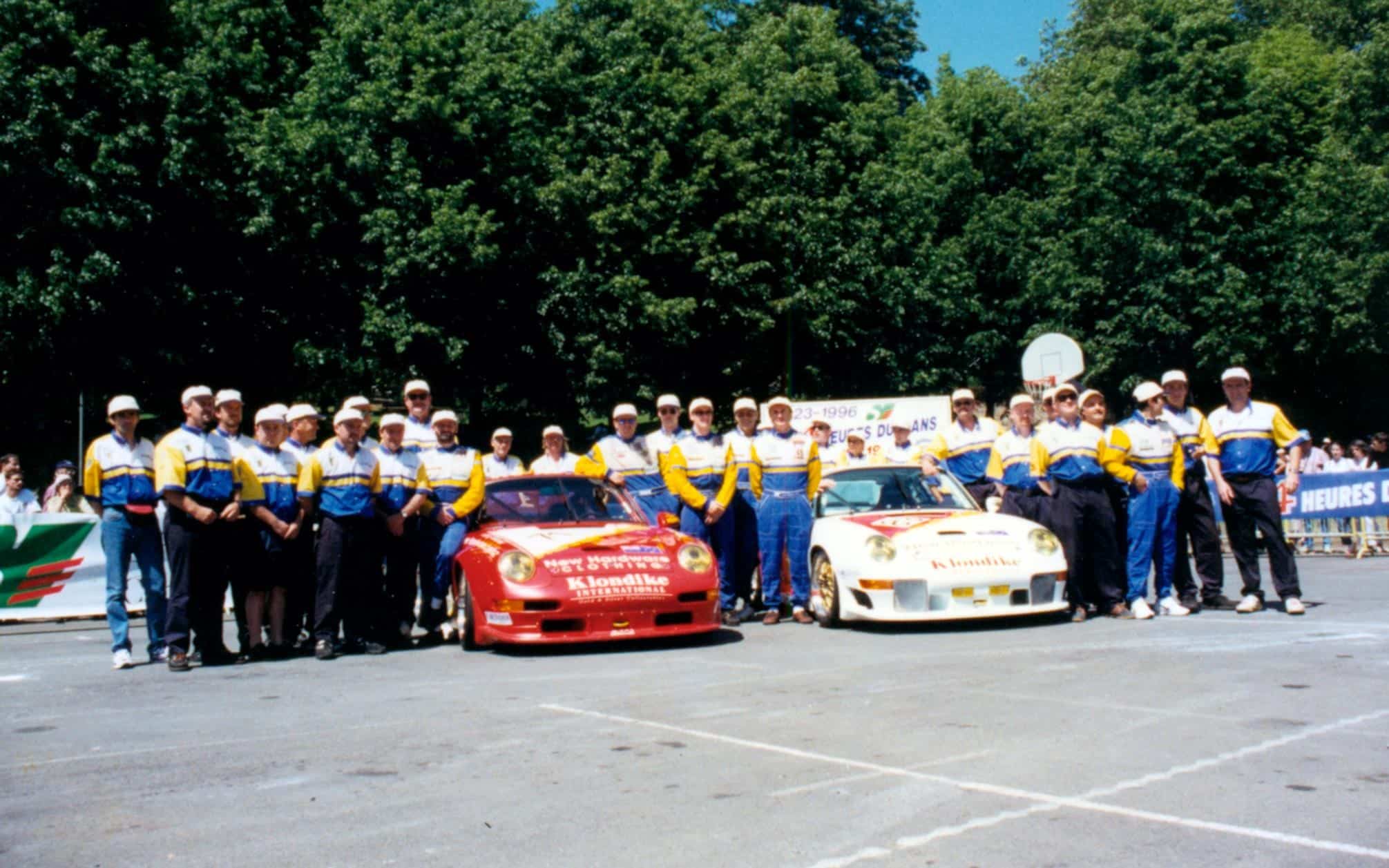 Bill Farmer was asked to comment and give some insight into the 'Le Kiwi Comeback' campaign – a return by Kiwis to race at Le Mans in 1996 as the first ever (and still only) New Zealand national team to contest the race. Bill said it took 18 months of negotiation with the 'Automobile Club de l'Ouest' (ACO) at Le Mans, France, to get their entry accepted. Drivers of the two-car Porsche 911 GT2 team were Bill Farmer (NZ), Stephane Ortelli (France), Robert Nearn (UK), Owen Evans NZ – who pre-qualified but could not race), Andy Pilgrim (USA), Andrew Bagnall (NZ) and Greg Murphy (NZ). The race at Le Mans was the culmination of a 20 month campaign, instigated by Bill, to commemorate the 30th Anniversary of the Ford entry at Le Mans in 1966 with New Zealanders Bruce McLaren, Denny Hulme and Chris Amon; Amon and McLaren won the race in their 'works' Ford GT40 Mk II and Hulme was second (with Ken Miles) in his works Ford GT40 Mk II.
Bill's 'New Hardware Clothing/Klondike International/Parr Motorsport' team was run by Richard Lester of Palmerston North, ably assisted by Paul Robe of Parr Motorsport in UK. Having decided in 1994 to 'live his dream', Bill met with Richard to plan the 'Le Kiwi Comeback'.  First off, Bill needed to get the required international race license, so he raced a Formula Vee in New Zealand in order to get some single seater experience before racing a Formula Brabham in New Zealand and Australia to get his International license. Paul Edwards (UK) arranged for Bill to race in France in order to gain the necessary pre-Le Mans 'enduro' experience. On 29th May 1994 Bill shared a drive in France with Justin Bell and Eric Henriksen in a #38 Porsche 968 Turbo RS in the 'Paris 1000km' race at the historic Montlhery circuit, just outside Paris; they qualified in 23rd position but as the car was not too reliable, they finished down in 15th position. With help from Colin Giltrap in New Zealand (in 2012 to be Sir Colin), Bill was subsequently able to buy a new purpose-built Porsche 911 GT2 Le Mans race car directly from the Porsche factory in Germany.
Bill's report in the Porsche Club NZ (PCNZ) Spiel Magazine #73 of May/June '95 said with co-drivers Paul Edwards and Robert Nearn, he debuted his new #14 red Porsche 911 GT2 LM Twin-Turbo with an excellent first-up 7th place overall, and 3rd in class for a place on the podium, at Donington on 8th May 1995. The race at Donnington was Round 6 of the 12 Round 'Karcher Global Endurance GT'; the Parr Motorsports team qualified 19th of 27 cars at Donington and in finishing 7th overall and they completed 137 laps, compared to the leader's 146 laps over the scheduled 4 hours of the race. After a rapid check of the car by Parr Motorsports in UK, the Team took an even better 2nd place overall, and 2nd in class, at Round 7 of the 'Karcher Global Endurance GT' series at the 'Paris 1000km' held at Montlhery near Paris, only one week later on 14th May '95.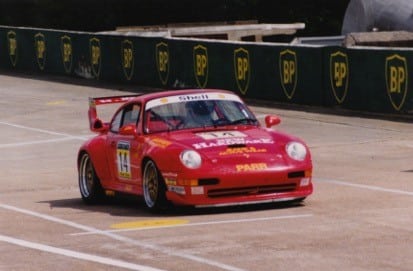 The next race for Bill and his team was Round 9 of the 'Karcher Global Endurance GT' series, 'the Pokka 1000km' event held at Suzuka, Japan on 27th August '95. As Allan Bremner reported in PCNZ Spiel magazine #75 Sep/Oct '95, Owen Evans joined Bill and Robert Nearn as drivers for the 4 hour race but they had the misfortune in pre-race practice when the right-hand Turbo sucked in a washer that in turn caused some damage. After and 'all-nighter' to fix the Turbo they were disappointed to find the engine had a bent valve and with no time to fix it, Bill had to drive the #14 Porsche very gently in qualifying in order to record a lowly 50th place on the start grid; after a spirited drive they finished 13th overall and 3rd in class.
The next step in preparation for the 'Le Kiwi Comeback' was to race at the 1995 Wellington waterfront race, but having got the car to New Zealand, Bill found the race had been cancelled. Thus, the only race meeting for the Porsche 911 GT2 in New Zealand was at Manfeild in October '95 where two six lap races for Sports & GT cars were programmed. Bill raced against Owen Evans in a Bill Fulford owned Lighting Direct Le Mans 911 GT2 Cup car, as well as other racers; many consider these to be the best-ever two races by rivals Farmer and Evans with only 10ths of a second separating the two cars from start to finish in both races – with the crowd on their feet screaming!!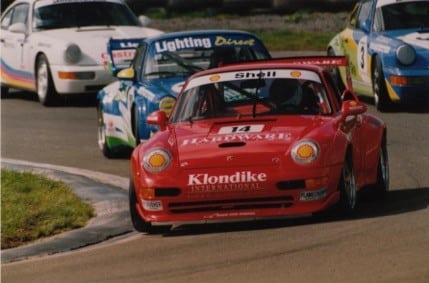 Bill's 911 GT2 Le Mans was then sent to from New Zealand to Florida, USA, for the 1996 Daytona 24 Hour race held on 3rd/4th February 1996. The car was qualified in 23rd place of 76 cars on the start grid with listed drivers Bill Farmer (NZ)/Robert Nearn (GB)/Greg Murphy (NZ)/Stephane Ortelli (FR)/Alex Tradd as reserve (USA). When holding an excellent 3rd place overall after sixteen hours into the race, the engine in the #79 Porsche 'buzzed' and broke a camshaft so the red Porsche was retired and credited with 32nd place. (Team Manager Richard Lester, in 2015, said Porsche replaced the faulty engine). Due to the tireless efforts of "Press Secretary", Ian Nott, the team had by then captured the attention of radio stations in New Zealand and regular live updates were being provided before the car was retired.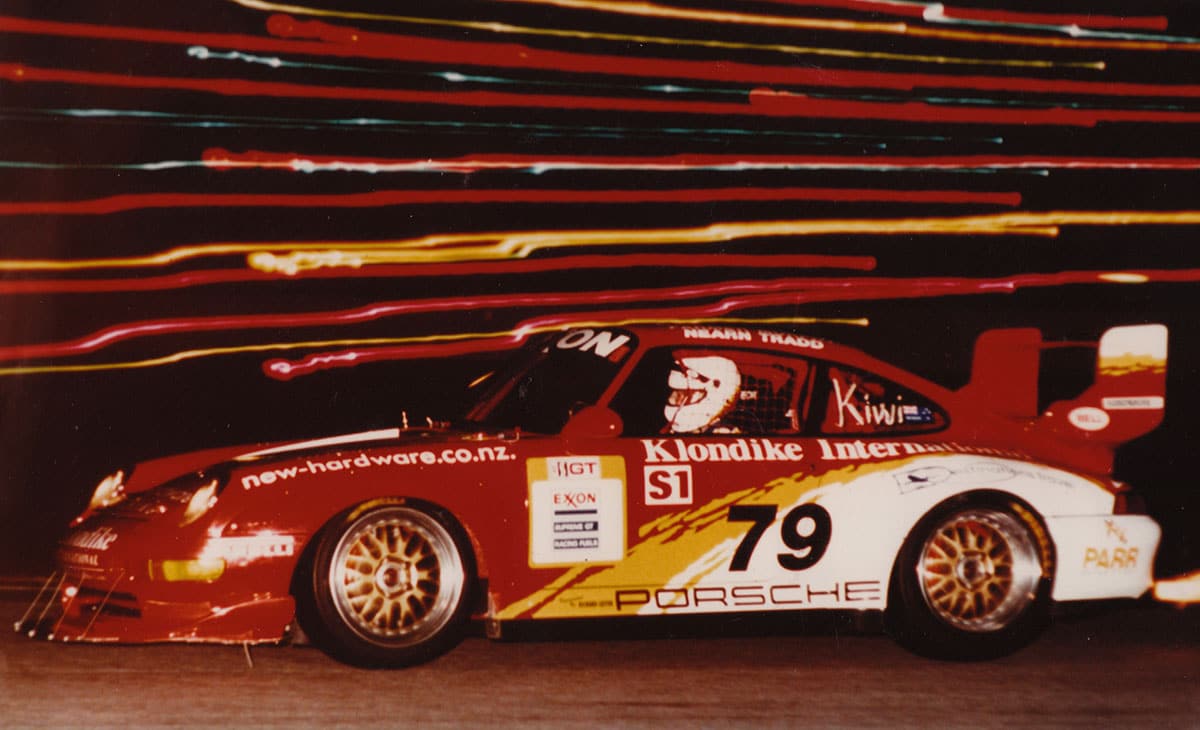 After Daytona, and to complete the shakedown before Le Mans, the team raced in three 4-hour races, being part of the eleven-Round 'BPR Global GT Series'. Round 2 of the Series was the '4 Hour GT of Monza', Italy, on 24th March and Nearn/Ortelli raced the now #92 New Hardware/Parr Motorsport Porsche to finish 8th overall, and 6th in class, on 121 laps compared to the leader's 127 laps. Round 3 of the series was the '4 Hours of Jarama', Spain, on 14th April and Bill joined the team to make a trio of drivers being Farmer/Nearn/Ortelli. Of the 49 cars that started the race, Bill and team qualified 27th and finished in 11th place of 30 finishers (8th in class), having completed 139 laps compared to the leader's 147 laps.
Both of the 'Le Kiwi Comeback' Porsches were at Le Mans for 'pre-qualifying' on 28th April 1996. Owen Evans reports in PCNZ Spiel magazine #78 of Mar/Apr 96 – "Qualifying began at 10.00 on Sunday morning and finished at 7pm. This was not qualifying for grid positions, but qualifying just to be in the race. In the GT2 class there were 20 cars, two of which would be guaranteed entry to the race, so that left 18 cars fighting for 8 spots. If you don't make it, you don't race and you don't get your entry fee back either ($35,000 per car) [in 1996 dollars !!]. The day went very quickly and as the end of qualifying came closer so did the immense pressure of qualifying. In the last hour the times really came down with teams desperate to make the cutoff and with the pressure brought a lot of accidents. Qualifying ended when the cars were released from Parc Ferme. We all felt very relieved. We were in." The #71 car was driven only by Stephane Ortelli and he pre-qualified the car 51st; the #83 car was driven by Owen Evans, Stephane Ortelli and Hugh Price (UK) and pre-qualified 52nd.
The third 4 hour race for the team was Round 4 of the 'BPR Global GT Series' held at Silverstone (UK) on 12th May '95 where Ortelli/Nearn and Andy Pilgrim (USA) raced Bill's now #92 Porsche. They finished 13th of 37 finishers, and 3rd in class, on 118 laps compared to the leader's 125 laps.

Now to the big event at Le Mans for the epic 'Le Kiwi Comeback' in June 1996! Although he had driven the #83 Porsche in the Team's 'pre-qualifying' at Le Mans on 28th April, Owen Evans was subsequently very badly injured in early June when his Porsche 911 GT2 Le Mans crashed, having just set a NZ Land Speed Record. Accordingly, a reshuffle of drivers was needed for the two Kiwi-entered and pre-qualified Porsche 911 GT2 Le Mans cars. With permission from the ACO French authorities, Stephane Ortelli (who was to win Le Mans two years later in 1998) was switched from Bill Farmer's #71 red/white coloured car into the #83 white/red car of Andrew Bagnall/Andy Pilgrim; and Robert Nearn was brought back into the team to join Bill and Greg Murphy in the #71 car. The driver lineup was as shown under the photographs below –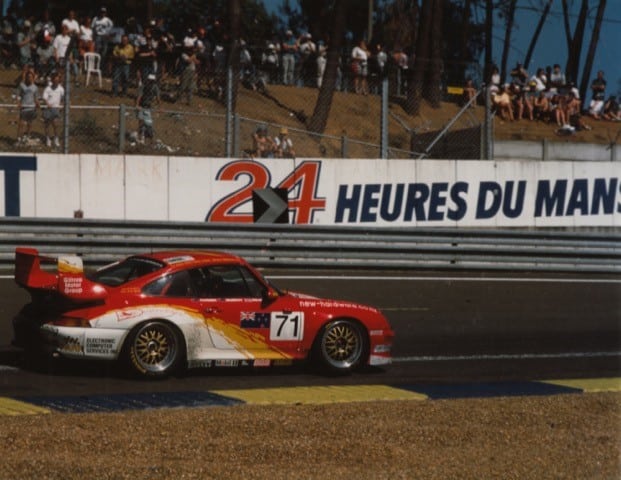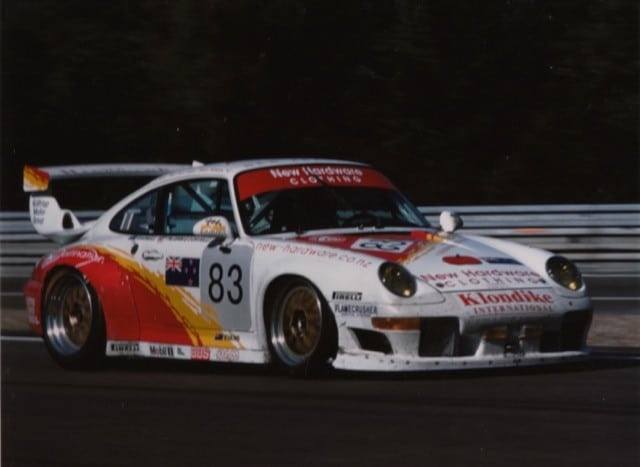 After qualifying was completed the #71 Porsche was in 48th position with a best lap time of 4 minutes 12.878 seconds (193.611km/h), and car #83 was 41st with a best time of 4 mins 10.204 secs. Fastest qualifier was the LMP1 TWR Porsche WSC-95 of Alboreto/Thyes/Martini with a time of 3min 46.682 (215.985km/h). After two late withdrawals, car #71 started the race in 46th position and after 1 hour of racing it was already up into 39th place. The following will give an hour-by-hour indication of how car #71 fared for the remainder of the race – 35th at 2 hours, 34th after 3hrs, 33rd/4hrs, 30th/5hrs, 31st/6hrs, 27th/7hrs, 26th/8hrs, 21st/9hrs, 22nd/10hrs (40 cars still running), 20th/11hrs, 21st/12hrs, 21st/13hrs, 19th/14hrs, 18th/15hrs (31 cars still running), 17th/16hrs, 16th/17hrs, 15th/18hrs, 16th/19hrs, 15th/20hrs (26 still running), 15th/21hrs, 15th/22hrs, 14th/23hrs, 14th/24hrs (25 cars still running). In finishing 14th overall, car #71 completed 313 laps and was placed 2nd in the GT2 class.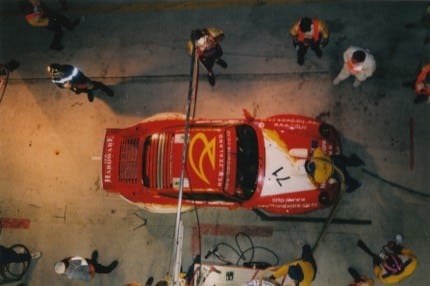 Car #83 started 39th and finished 17th overall, and 4th in the GT2 Class, with 299 laps completed.   As with the #71 car, the #83 car stopped about every hour for fuel, rear tyres, sometimes all four tyres and sometimes a driver change. An hour-by-hour analysis of position for car #83 is as follows:- 42nd after 1 hour, 38th/2hrs, 36th/3hrs, 34th/4hrs, 31st/5hrs (42 cars still running), 30th/6hrs, 27th/7hrs, 23rd/8hrs, 24th/9hrs, 24th/10hrs (38 cars still running), 23rd/11hrs, 23rd/12hrs, 20th/13hrs, 20th/14hrs, 23rd/15hrs (31 cars still running) 18th/16hrs, 17th/17hrs, 17th/18hrs, 18th/19hrs,18th/20hrs (26 cars still running), 18th/21hrs, 18th/22hrs, 19th/23hrs, 17th/24 hours (25 cars classified as finishing). Richard Lester said "The white #83 car actually stayed close for a good part of the race but lost each side turbo in quite close succession….I remember the boys changed the second turbo that failed in 20 mins…and we also lost the rear window when the rattle gun line hooked over the wing and the gun went straight through the plastic…we taped another in double quick".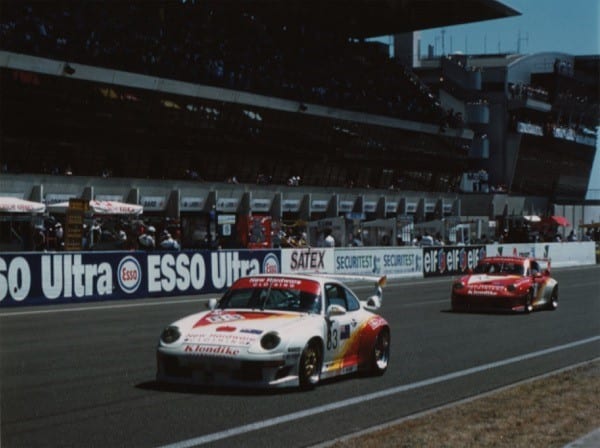 Race winner was one of Joest Racing's LMP1 cars, a TWR Porsche WSC-95 with a 3.0 litre Flat 6 turbo 935 engined sports racer and driven by Davy Jones/Alex Wurtz/Manuel Reuter – they completed 354 laps in 24 hours and covered 4814km at an average speed of 200.6km/h. The highest top speed on the famed Mulsanne straight at Le Mans was recorded by a Courage L36 LMP1 car at an astonishing 332km/h!
The two Kiwis cars carried a nice tribute just above the doors on the roof of each car entitled 'Le Mans 1966-Chris Amon Bruce McLaren" This nice gesture no doubt contributed in spirit to the outstanding finish by both Kiwi Porsche cars in their very first attempt at the grueling and demanding Le Mans 24 Hour race. Porsche of Germany was highly impressed and Porsche's Dr. Wendelin Wiedeking (President and CEO Porsche 1993-2009) came to the Pit garage himself to personally congratulate the Team!  
Bill Farmer said there were some 60 Porsche supporters from New Zealand present at Le Mans and all were dressed in their distinctive blue and yellow/gold shirts – the tyre barriers were also blue and gold which in turn prompted a question from the French "Had the team arranged that?" !!  As Glyn Taylor wrote in PCNZ Spiel magazine May/June '96, "On the final lap as the Kiwi cars came into view the blue and yellow mass once again stood and cheered, this time Bill punching the air with elated defiance. This time Bill had seen us … his post-race comments reflected that at this point his emotions were running as high as ours… As of today crossing the finish line pales in insignificance to seeing some 60 odd of your country persons on their feet cheering you on for what was to be the final lap."  Bill Farmer, Andrew Bagnall and their respective teams can still, in 2015, be justly pleased, delighted and very proud of their wonderful achievements!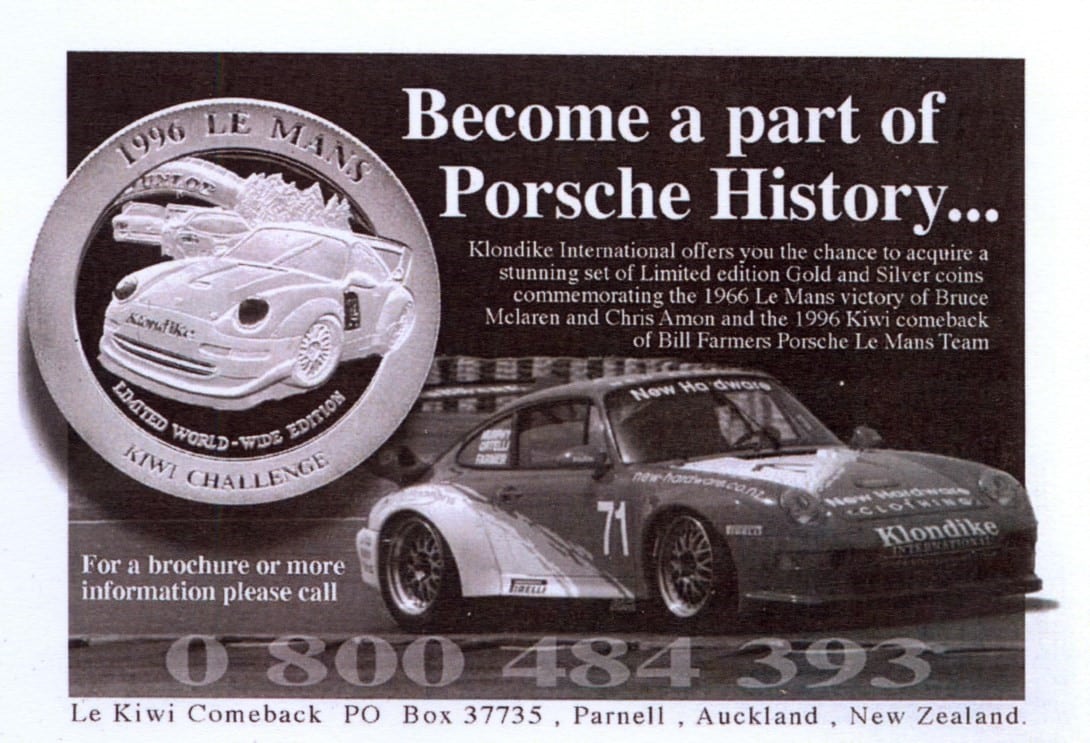 No doubt fellow Kiwis Chris Amon – together with the family of the late Bruce McLaren, the family of the late Denny Hulme (second with Ken Miles in 1966), Howden Ganley (2nd with Francois Cevert in 1972), Bill Farmer, Andrew Bagnall and their 'Le Kiwi Comeback Teams of 1996, and many others, were equally delighted to see Kiwis Earl Bamber (and his fellow drivers) take first place, and Brendon Hartley (and fellow drivers) take second place in their 'works' Porsche 919 Hybrid cars at the 2015 Le Mans 24 Hour race. Also racing at Le Mans in 2015 were Kiwis Mitch Evans (son of Owen, who pre-qualified but could not race the #83 Porsche 911 GT2 LM in 1996) was who was 10th, and 2nd in the LMP2 class, and Richie Stanaway who was well placed in an Aston-Martin GT in the GTE-Pro class until an unfortunate incident by a co-driver dropped his car down the finishing order.