Jaguar: A Racing History in New Zealand. Part 2 1954-1955
1954 – the Archibald XK120, a MkV saloon, an XK120C (C-Type), and Jaguar engines power other cars
Scott Thomson in his book 'Up to Speed', at page 179, said under the title 'Where to Next?':- "Even the fastest sports cars, the Jaguars, were now hopelessly outclassed for major events." 
Ardmore 9 Jan 54 – The former World War 2 airfield at Ardmore, near Papakura just 32km south of Auckland city, was the scene of the 1954 the New Zealand International Grand Prix (NZIGP) meeting held on 9 Jan 54. 
Event 1 on the programme was the 'Bell-Hackett Handicap' over 5 laps for 10.5 miles/16.89km. Twenty five cars were entered, and the Jaguars amongst those were David Caldwell in his ex-Roycroft/Chatteris#51  Jaguar XK120 (chassis 660836) off 45sec handicap, Ray Archibald in his #32 XK 120 (chassis 660864) off 30secs, and Ron Roycroft was off 20sec in his #88 R.J.R. Special (a 1925 Bugatti T35A – fitted with a Jaguar 3442cc engine that was built using a Jaguar 'C-Type' cylinder head, and 'D-Type' pistons). The Maybach Special of Australian Stan Jones started off 'scratch'. The race winner was G.A. Mathieson (or perhaps S. Morris?) in a #52 Ford Special off a 15 second handicap with a race time of 10min 24.4s. At the finish of the race, the Ford Special was 19 sec ahead of the first car to start, that being of D. Tisley in a #42 Buckler MkVI. In 3rd place was Morrie Stanton in his #30 Stanton Special fitted with a Gipsy Major aircraft engine, (hence the name 'Cropduster'), and in 4th place was Bob Gibbons in his rapid #56 Cooper Jap 1097cc. The Jaguars did not feature in the results.
After Event 2, which was a motor cycle race, the next event for cars was Event 3, the 'Richard Webb Memorial Handicap' held over 10 laps. Ron Roycroft in the #88 R.J.R. Special (Bugatti T35A Jaguar) started on a 40 second handicap with 14 cars ahead of him, and 3 cars behind. Bob Gibbons in his #56 Cooper MKV-Jap 1100cc was off 2m 10s and he finished the race in 1st position with a race time of 18m 14.2s. In 2nd place was Arnold Stafford in a #54 Cooper-Norton 500cc who started on a 40sec handicap, and  J.D. Berkett was 3rd in #53 JBS-Norton 500cc starting off a 10s handicap. Ron Roycroft in the #88 R.J.R. Special/Bugatti T35A Jaguar was 4th.
Event 5 was 'Redex Sports Car Handicap' over 5 laps with David Caldwell's #51 Jaguar XK120 starting on 20secs handicap, Ray Archibald's dark green #32 XK120 off 5secs and just ahead of Phil Neill's FSS Ford V8 Special. Ross Jensen in a scarlet-red #16 Austin Healey 100, on a 1m 20sec handicap, took the lead 4th lap and won in a time of 9m 41.8s. Jensen was 18sec ahead of the #32 XK120 of Ray Archibald in 2nd who had started on a 1m 35s handicap. Laurie Powell in his #48 Ford V8 Special was 3rd and Keith Roper 4th in a #18 Austin Healey 100.  
Event 6 was the 1954 NZIGP, held over 100 laps of the 2.1 mile/3.79km anti-clockwise (for 1954 and 1955) circuit with the winner being awarded the NZ Motor Cup. There were 24 cars that qualified for the race including two Jaguar, or Jaguar-powered, cars. Ray Archibald of Christchurch drove Miss Buchanan's #32 XK120 to qualify 13th of 26 cars and he started from the inside of Row 4 on the 7 rows on the grid.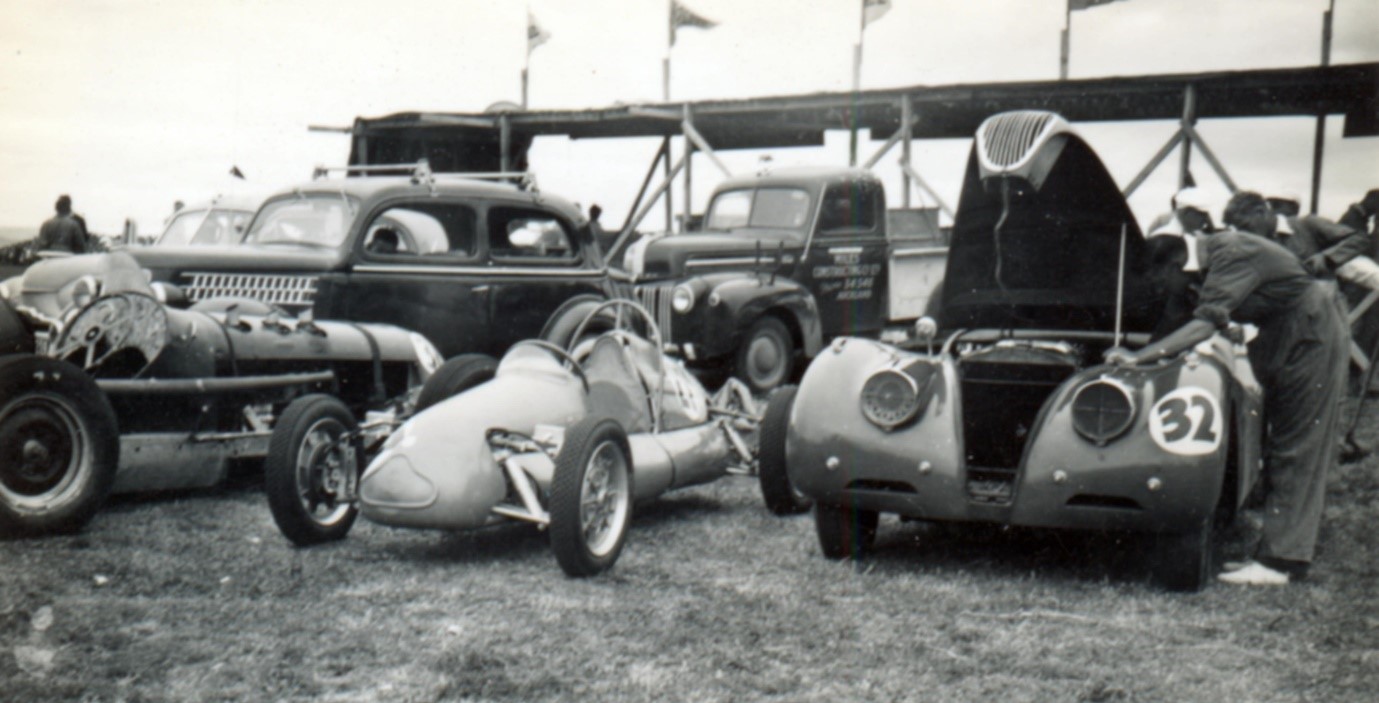 Also entered was Australian, Lex Davison, driving his 1951 HWM (chassis HW3) single seater, now fitted with a Jaguar 3442cc C Type engine – he qualified 6th and started from Row 2, but he did not finish the race.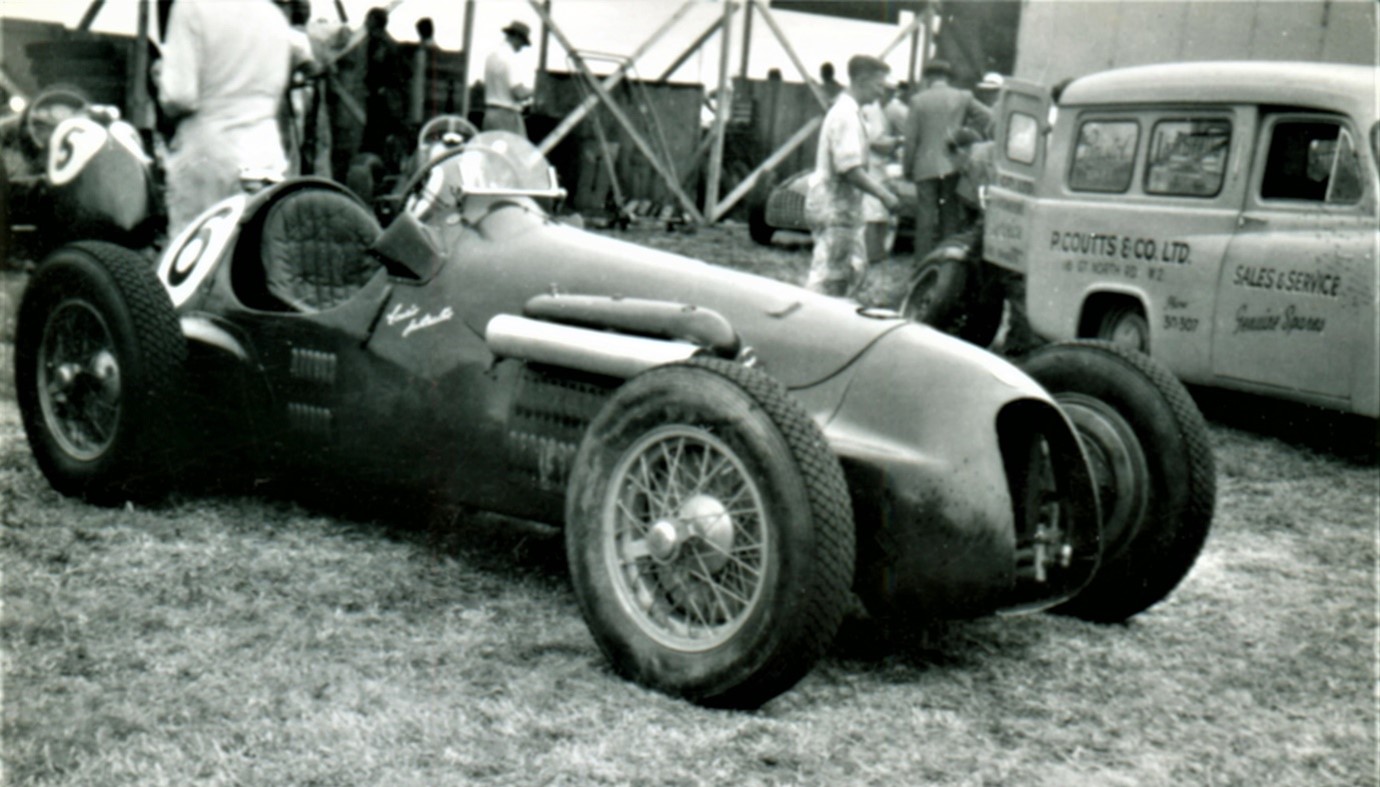 Australian, Stan Jones in his Maybach Special Mk 1 3800cc, won the 1954 NZIGP in a time of 2hrs 45min 20sec, from Englishman Ken Wharton in the 'works' BRM P15 1500cc V16 s/c, and Australian Tony Gaze in his HWM-Alta 1973cc was 3rd.  Ray Archibald did not finish the 100-lap race in the XK120, having retired after 91 laps when a stone holed his coolant radiator.
Wigram 6 Feb 54 – The Lady Wigram Trophy Race meeting on 6 Feb 54 was held once again on the airfield at RNZAF Station Wigram, Christchurch.
Races preceding the Trophy race included a 12 lap 25 mile/40.23km 'Redex Sports and Racing Car Handicap'. Ray Archibald in his #27 Jaguar XK120 started 5min 50sec behind the first car and closed to 2nd place at race end behind winner J.K. Kerr in a Singer SM, who started on 40 seconds. Ray Archibald's time for the 12 laps was 26min 22secs, and at the chequered flag he was only 6 seconds behind the winner. In 3rd place was G.A. Roud in a #17 Austin A40 Special, and in 4th was Keith Roper in his Austin Healey 100.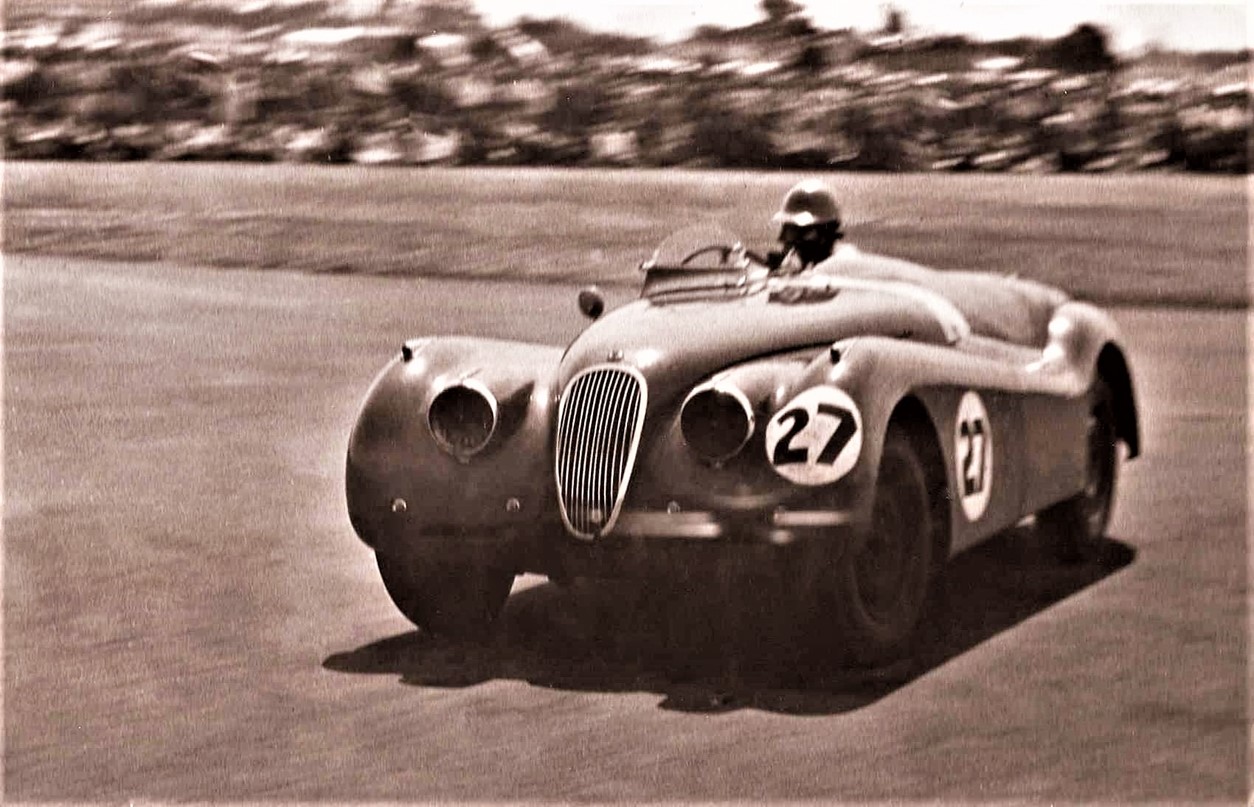 The next race was a Saloon Car handicap over 7 laps where #5 W.K. Macdonald of Rangiora, starting off a handicap of 2min 20secs, took 5th place in his Jaguar MKV 3.5 litre.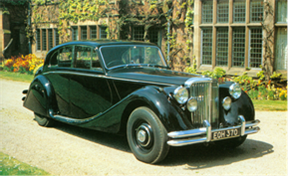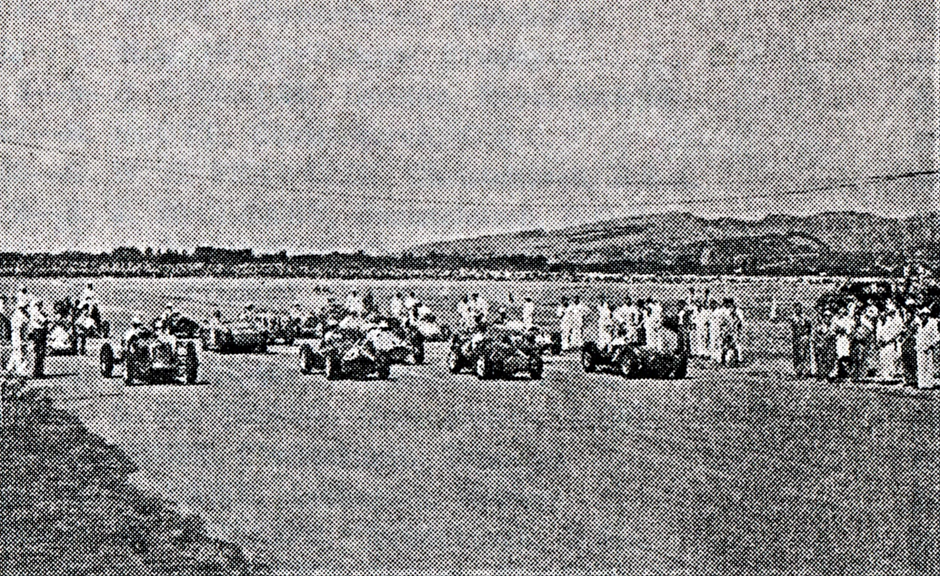 Front Row from left – Fred Zambucka Maserati 8CM, Tony Gaze HWM-Alta, Peter Whitehead Ferrari 125 V12, Ken Wharton BRM P15
Row 2 – behind and between Zambucka and Gaze is #27 Ray Archibald XK120
Photo 1956 Wigram programme
In the Lady Wigram Trophy Race, Englishman Peter Whitehead won the 48 lap event in a time of 1hr 9min 51.3secs driving his #5 Ferrari 125 1995cc V12 s/c single seater. Australian Tony Gaze was 2nd in his #6 HWM-Alta, and Englishman Ken Wharton pushed his #3 BRM P15 V16 s/c across the line into 3rd place. John McMillan was 4th in his #14 Alfa Romeo Tipo B 'P3', Arnold Stafford was 5th in his #20 Cooper Norton, and  Ray Archibald who qualified his #27 Jaguar XK120 in 6th place of 19 cars, finished the race 6th place in a time of 1hr 18min 19.5sec.  
Modern Motoring magazine of March 1954 reported, "….Archibald's front right tyre gave up the unequal struggle and it picked the sweeping left-hand bend into the pit straight to do so. The Jaguar drifted to the right and the straw bales, one of which wound up between the right front wheel and the mudguard. The wheel locked and Archibald came to a stop on the grass. He waited until the road was clear then drove to his pit with the wheel locked. The wheel was changed after the pit crew had wrestled for some moments the jammed bale. At the same time wheels went on the rear of the Jaguar. That stop cost Archibald his fourth place."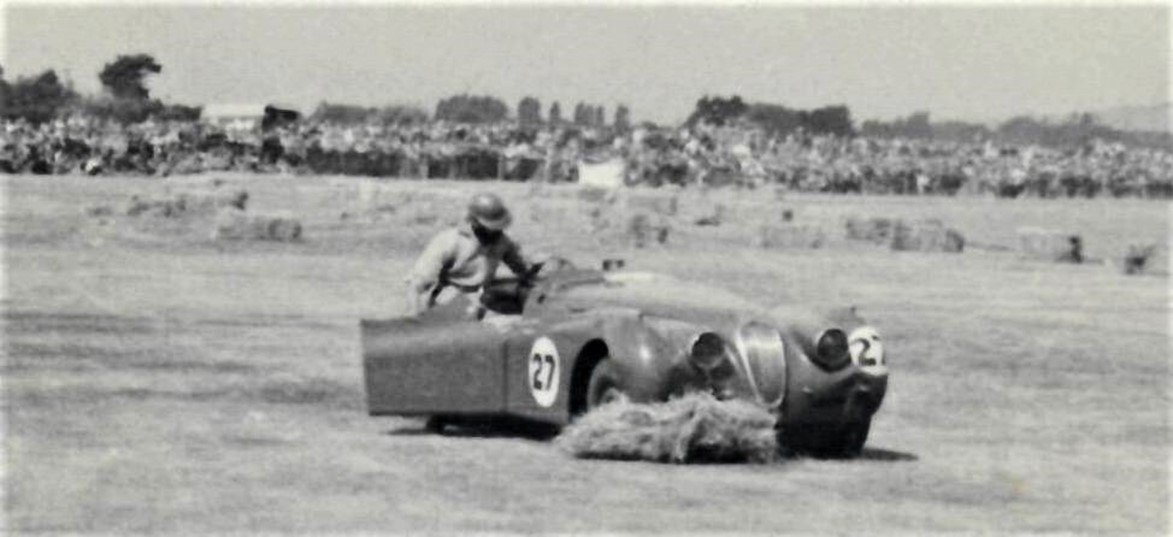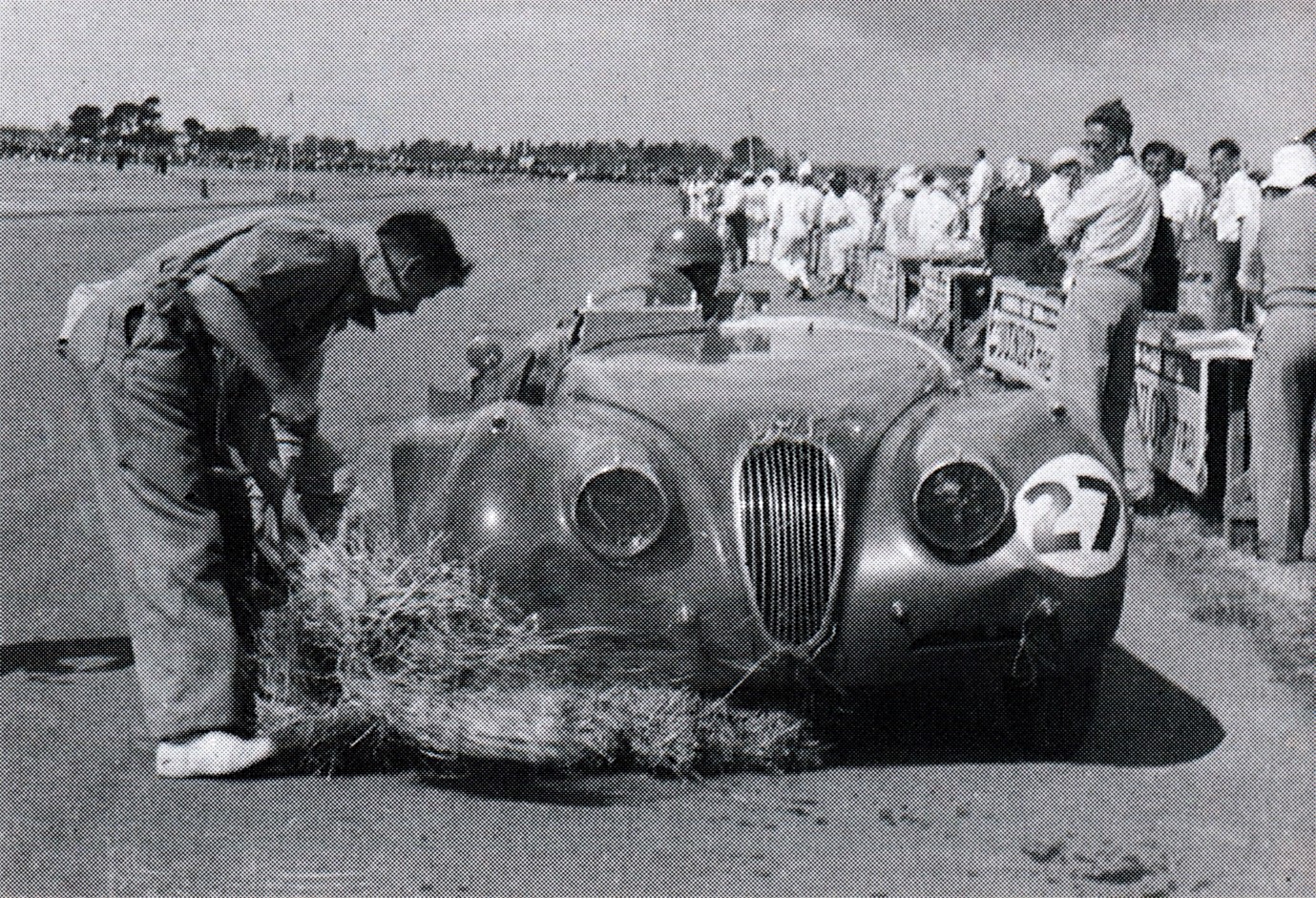 After the race at Wigram, the Tony Gaze HWM-Alta was sold to Sybil Lupp for Dunedin medical student John Horton to drive in 1954 and 1955. Tom Clark raced the car in 1956-57, and Jim Boyd 1960-62 – the car was eventually overhauled over a long period and fitted with a Jaguar 3.8 engine when it appeared in Russell Duell's hands in 1987. Colin Giltrap had the original Alta motor refitted before it was sold overseas.
Ohakea 6 Mar 54 – The 1954 Ohakea Trophy Race meeting was held on the runways and taxiways at RNZAF Station Ohakea on 6 Mar 54.  In Event 6, a Saloon Car Handicap Race over 7 laps, Tom Clark drove his big #6 Jaguar MkVII, and W. (Bill) Culver his #17 Jaguar MkV 3.5 (3485cc). The race was won by Ron McCutcheon in a Ford V8, from Lionel Bulcraig in a Ford V8, and Tom Clark took 3rd place in his MKVII.  Clark recorded the fastest lap at 1min 55sec, which was 2 sec faster than Lionel Bulcraig's Ford V8 and Bill Culver's MkV – they each recorded only a single lap at less than 2 minutes, whereas all of Clark's (apart from the opening lap) were all less than 2 minutes.
Tom Clark entered the Jaguar MkVII again in Event 8 'Consolation Saloon Car Handicap Race', but entry criteria stated the event was "for those who have not won prize money in Race 6", and this meant that Tom probably did not start Event 8 – tough rules in those days! However, Bill Culver won Event 8 in his Jaguar MkV 3485ccc, from J. Macintosh in a Zephyr 2262cc and Fred Parker in a Hillman 1260cc; all of Culver's last four laps were at a very consistent 1min 56secs.
Another Jaguar-powered car at Ohakea was that of Ron Roycroft who raced his #15 Bugatti T35A–Jaguar 3442cc. Roycroft's first event at Ohakea in 1954 in this car, listed as a R.J.R. Special, was in Event 2, a Sports and Racing Car Handicap over 8 laps; the race was won by M. Orr, from A.L. (Tony) Shelly, and Dr. G.B.A. Cowie all three of whom drove Morgan Plus 4 sports cars.  The fastest lap of the race was set by George Smith in his Gee Cee Ess Special at 1min 34sec, and second fastest was shared by Roycroft, Ron Frost and Peter Ward, all on 1min 41sec.  
In Event 10 for the 25 lap Ohakea Trophy Race, Ron Roycroft in his Bugatti T35A-Jaguar started the handicap race 10min 25sec after the two cars that started first on 'go'. The only car in the 22 car field left to start behind Roycroft was the eventual race winner, Bob Gibbons in his Cooper MkV-Jap 1100cc. As Roycroft raced, a problem became evident with steadily increasing engine temperature, due to the small and clearly inadequate size of the Bugatti T38 replacement radiator. Accordingly, Ron was forced to drive slower and slower in order to keep the temperature down. However, on lap 23 of the scheduled 25 laps, Ron retired when an axle broke in the Bugatti-Jaguar.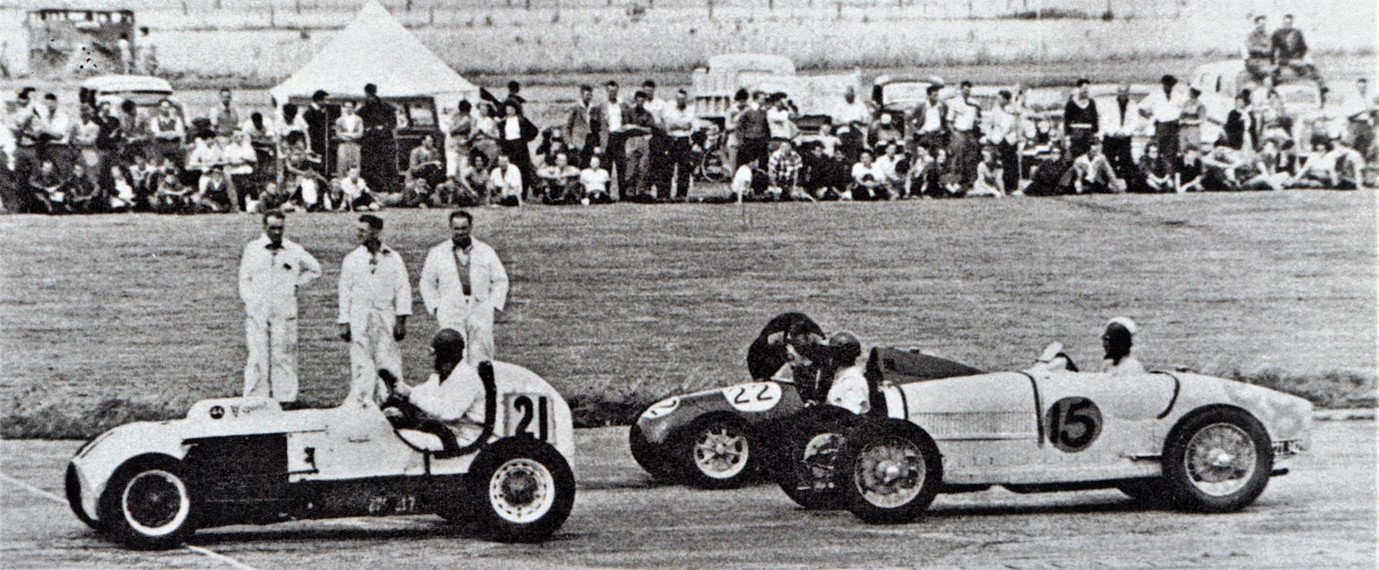 Bob Gibbons from Wellington won the 25-lap Ohakea Trophy Race in a time of 42min 12sec driving his Cooper MkV-JAP 1100cc. Gibbons was just over 1 minute ahead of Levin driver Ron Frost in his Cooper MkVII-Norton 500cc in 2nd place, with a further one minute back to fellow Levin driver Peter Ward in his ex-Frost/Stafford J.B.S.-Norton 500cc.  The little and light cars were winners, even on an fast open 'flat-out' airfield circuit.
Mairehau 27 Mar 54 – In the 60 lap 150mile/241km C.W.F. Hamilton Trophy handicap race, held at Mairehau (Christchurch) on 27 Mar 54, Jack Tutton was 5th in his ex-Peter Whitehead Jaguar C-Type (chassis 039), and Ray Archibald was 6th with failing brakes in his Jaguar XK120.  Race winner was Doug Haigh driving his Haig-Citroen in a race time of 2hrs 37min, with Frank Shuter's Edelbrock Special 2nd, Keith Roper's Austin Healey 100 in 3rd, and Ron Frost's nimble Cooper MkVII-Norton was 4th. Shuter recorded the fastest overall time of the race in 2hrs 23min 12sec, from John Horton's ex-Gaze HWM-Alta, with Jack Tutton's C-Type 3rd fastest in a race time of 2hrs 24min 58 sec. Horton set the fastest lap of the race at 2min 9secs.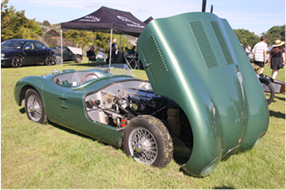 Dunedin 19 Apr 54 – The 1954 NZ Championship Road Race was held at Dunedin on Easter Monday, 19th April 1954 and Ron Roycroft took a fine win in his Bugatti T35A Jaguar with a time of 1hr 24min 19sec for the 44 laps.  John Horton in the ex-Tony Gaze HWM-Alta took 2nd place, ahead of Arnold Stafford's Cooper MkVIII-Norton 500cc.  Ray Archibald was 4th in his highly tuned British Racing Green XK120, with a race time of 1hr 17min 16sec, followed by Hec Green in his RA, then Jack Tutton in 6th place in his ex-Peter Whitehead Jaguar C-Type.  Roycroft led for the first 12 laps before Horton took the lead and stayed there until he needed a plug change on lap 27, whereupon Roycroft led the remaining 17 laps.  Tutton had had trouble with the low-slung Jaguar grounding its tail at the approach to the ramp at the back of the circuit.  On lap 34 Archibald and Morrie Stanton (Stanton Special) touched after which both cars pitted to check for damage, with Stanton subsequently retiring and Archibald losing 3rd place to Stafford.
In the Sports Car Handicap race, Dr. Bruce Hay started from scratch in his Jaguar XK120 and he powered through to 1st place, ahead of H.W. Shaw in a Mercury V8 roadster, and B.J. Harris in Zephyr-powered Palm Beach Allard.
In Brian Watson's book 'Racing Jaguar in New Zealand', at page 134, he reports that W. McDonald drove his Jaguar Mk5 to 5th place in a Saloon car handicap race at Dunedin.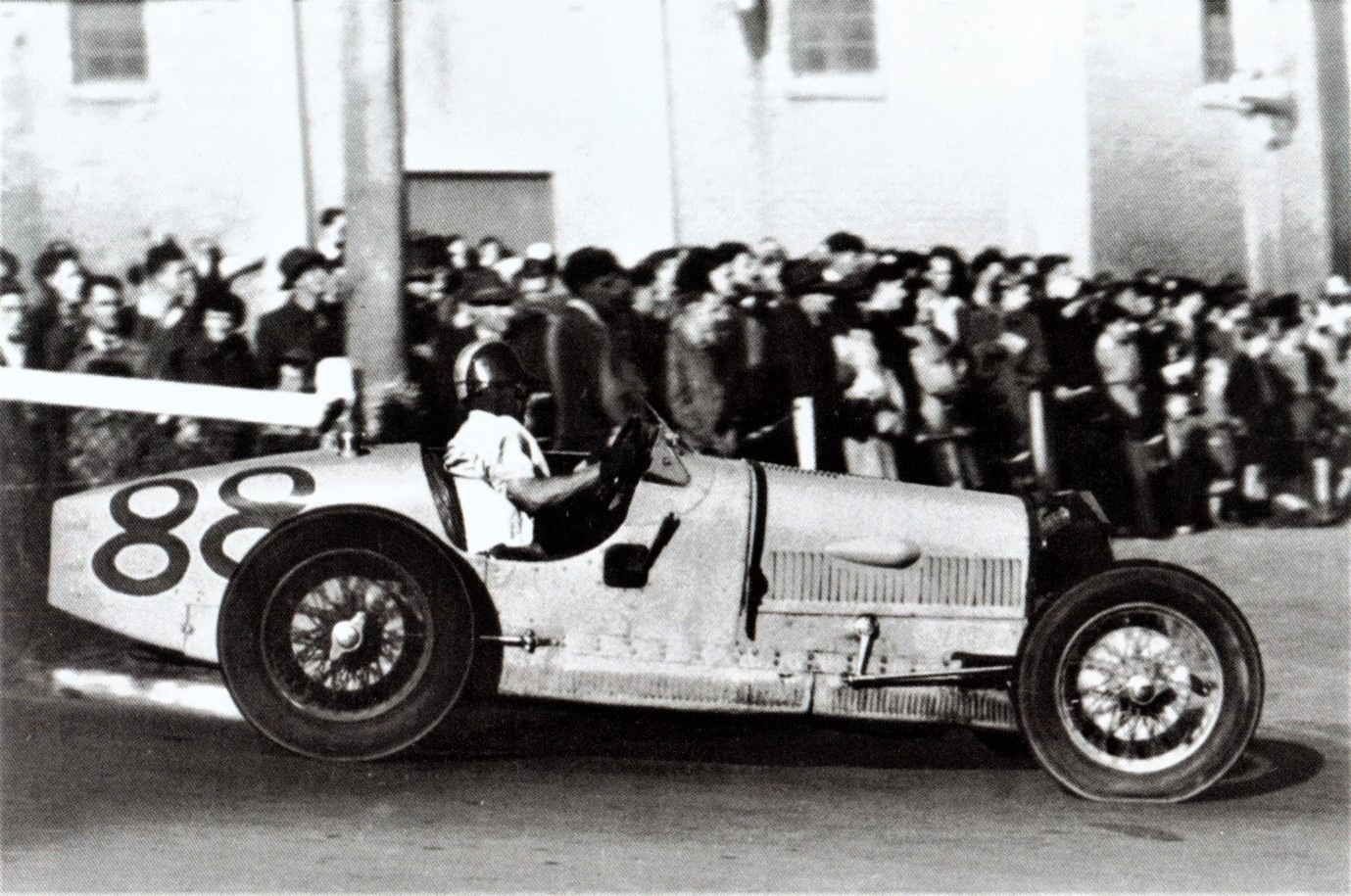 1955 – XK120 still a winner, the HWM-Jaguar single-seater back for the GP, the C Type and MkV race again
Ardmore 8 Jan 55 – As with the inaugural NZIGP meeting held in 1954, the 1955 NZIGP meeting was held for the second time on the airfield at Ardmore. There were only four events on the programme, with Events 1 and 2 being the two preliminary 'Heats' for the NZIGP. The only Jaguar–powered car was Australian Lex Davison's HWM Jaguar (chassis HW3) 3442cc that Lex used to win the recent 1954 Australian GP.
Event 1 was Heat 1 for the GP, and that was won by #2 Peter Whitehead in his Ferrari 625, from #3 Reg Hunt in his Maserati A6GCM, with Jack Brabham in 3rd place in his Cooper Bristol.
Event 2 was Heat 2 for the GP, and that saw #1 Prince Bira from Thailand win in his Maserati 250F (chassis 2509/2504), from #4 Tony Gaze in his Ferrari 625, with #6 Dick Cobden's ex-Whitehead Ferrari 125 s/c in 3rd place, and #77 Lex Davison 4th in his HWM-Jaguar.
Event 3 was the Ardmore Handicap for Sports Cars, and the only Jaguar driver entered was J.E. Horton in a XK120 – but he withdrew from the race. Race winner was A.W. Harris in G. Brown's Buckler MkVI who started from a handicap of 11min. In 2nd place was B.F. Harris in an Allard Palm Beach who started off 7m 45sec handicap, and in 3rd place was late entrant Dawson in a MG TC.
Event 4 was the 1955 NZIGP. Lex Davison in his HWM-Jaguar qualified 6th fastest, and that put him on Row 2 of the grid; in the race he held 6th place before experiencing transmission trouble. Lex completed only 88 of the scheduled 100 laps and pushed the car over the finish line to 9th place.  Prince Bira won the GP in his Maserati 250F in a time of 2hrs 40min 12sec, ahead of Peter Whitehead and Tony Gaze in their Ferrari 625s fitted with 3-litre sports car engines, and Jack Brabham who was 4th on 98 laps in his Cooper T23-Bristol Mk2 – named the 'Redex Special'.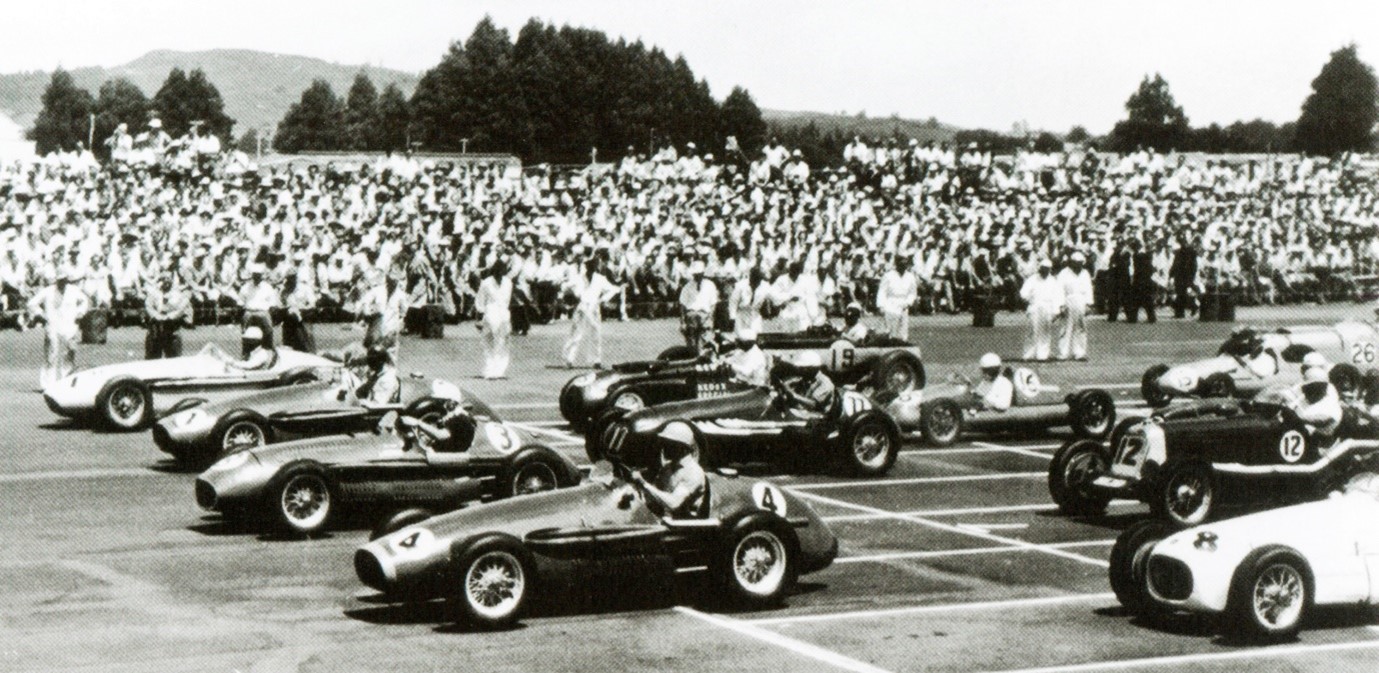 Front Row – 4 Gaze Ferrari 625, 3 Hunt Maserati A6GCM, 2 Whitehead Ferrari 625, 1 Bira Maserati 250F (on Pole)
Row 2 – 8 Horton HWM-Alta, 12 Clark Maserati 8CM, 77 Davison HWM-Jaguar, 5 Brabham Cooper T23-Bristol, behind Brabham is 16 Syd Jensen Cooper MkVII-Norton, 19 Roycroft Alfa Romeo P3
Photo 'Up to Speed', pg 219
Mairehau 5 Feb 55 – There was no race at Wigram in 1955 because the runway was being re-sealed, so the next 'big' race meeting was at Mairehau, Christchurch, on 5 Feb 55. Ray Archibald in his #6 Jaguar XK120 won the 30-lap C.W.F. Hamilton Trophy handicap race with a race time of 1hr 16min 47.2secs, and Jack Tutton in his ex-Peter Whitehead Jaguar C-Type was 5th in 1hr 20min 42.2sec.  In the 12-lap J.F. Tutton Memorial race at Mairehau, Archibald lost third place when his exhaust came loose, which in turn needed a Pit stop to be made to fix it, so he finished in 5th place in his XK120 with a time of 28min 54.4secs.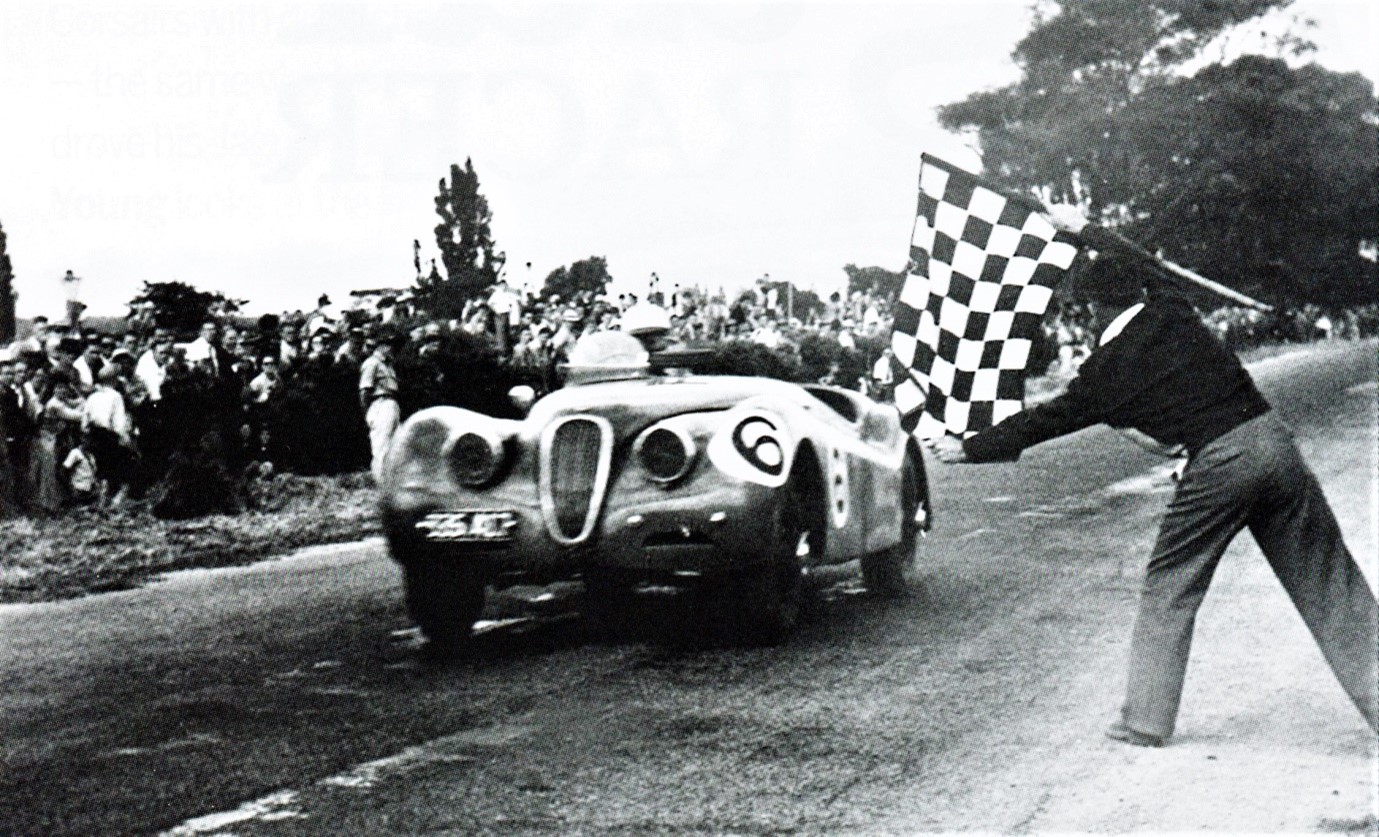 Ohakea 5 Mar 55 – At the Ohakea Trophy Race meeting held on 5 Mar 55, V.B. (Bruce) Cook of Wellington in his Jaguar XK120 (chassis 660353) won Event 2, a Sports Car Scratch race over 8 laps, ahead of J. Aitken of Auckland in a Dodge Sports 3600cc, and Phil Neill of Auckland in an Austin Healey 2660cc.
Event 4, a Saloon Car Scratch Race over 7 laps, saw W. Culver of Thames drove his #22 Jaguar MkV 3.5 to 3rd place, behind M.G. Jensen of Palmerston North in a Riley 2.5 litre, and Ross Jensen of Auckland in a Ford V8 3920cc.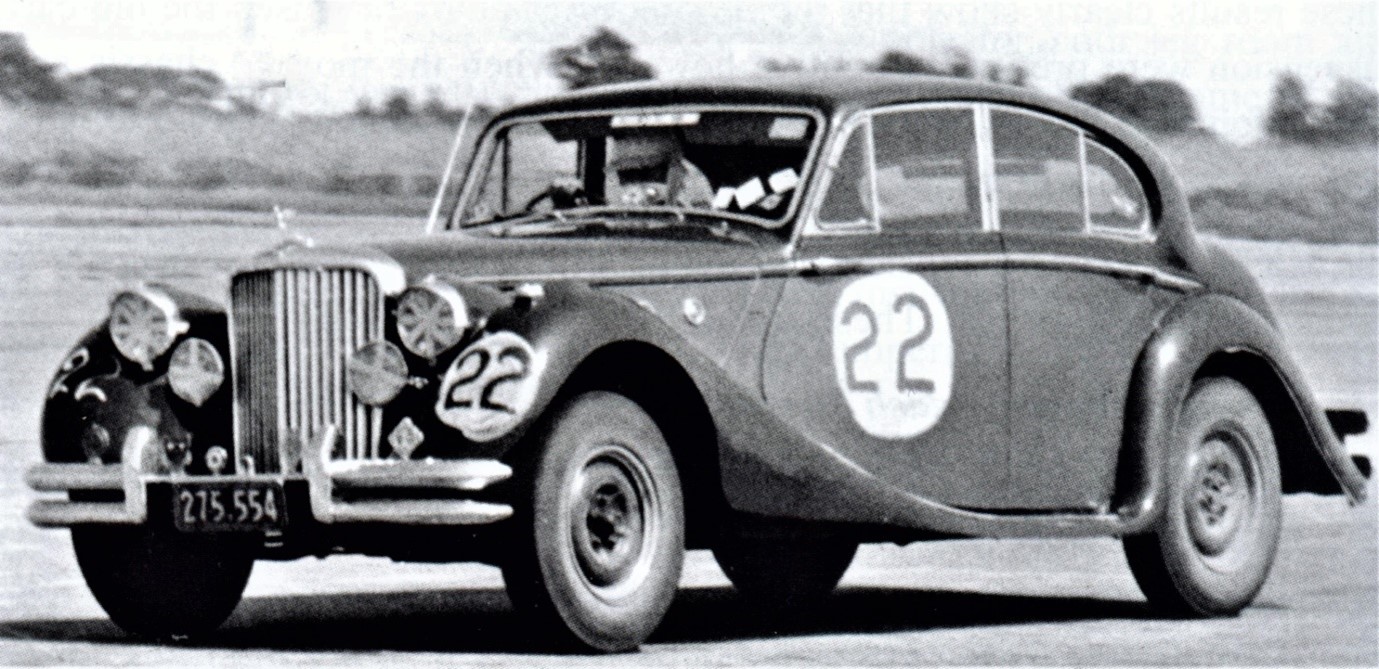 In the 15 lap Ohakea Trophy Race, George Smith won in his Gee Cee Ess in a time of 23min 26.8 sec, from Frank Shuter's Edelbrock-Cadillac, with Syd Jensen's Cooper-Norton in 3rd – but there were no Jaguar, or Jaguar-powered, cars in the race.
Bruce Cook in his #22 Jaguar XK120 raced again in Event 12 'All Comers' Handicap' over 7 laps, but race results are unknown.
Dunedin 9 Apr 55 – Following Ohakea, the next event was at Dunedin on 9 Apr 55 for the NZ Championship Road Race. Ray Archibald did not finish the race in his Jaguar XK120, having retired after 12 of 44 laps with damage caused when hit by another car in a first lap tangle.  Ron Roycroft won the race in his Alfa Romeo Tipo B 'P3' in a time of 1hr 20min 7secs, from Arnold Stafford's Cooper MKVIII-Norton, and Frank Shuter's Edelbrock-Cadillac.
In the Sports Car handicap race, Ray Archibald in his XK120 started on scratch at the back of the field and drove very well to finish 2nd, behind B. Briggs in a Ford 10 Special, and ahead of Neil Garrad's Vauxhall Special.
And so to the end of the 1954 and 1995 seasons where Jaguars, or Jaguar-engined cars, were in most cases extremely reliable while being driven with vigour to achieve good, if not winning, results.