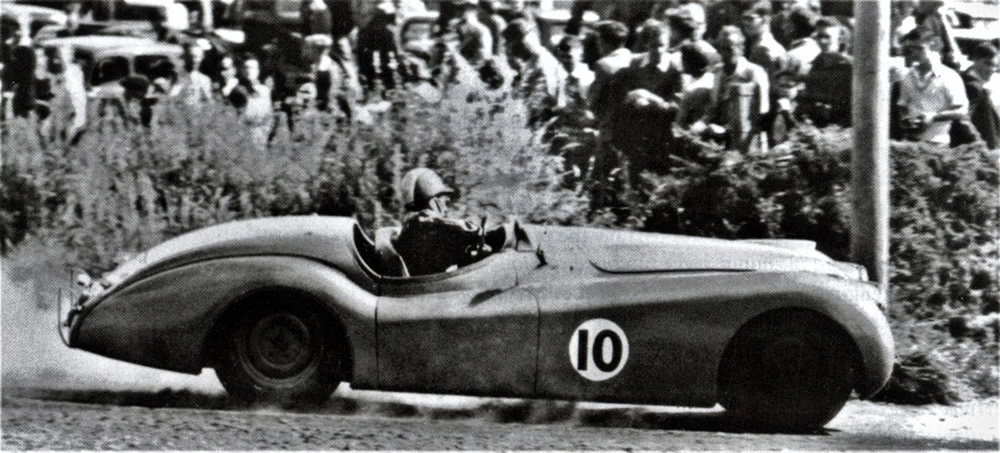 Jaguar: A Racing History in New Zealand. Part 1 – 1950–1953
Part 1 – 1950–1953
This is 'A Jaguar Racing History in NZ', not 'The Jaguar Racing History in NZ', so it is not meant in any way to be an exhaustive story about every Jag that raced in every event in New Zealand!  Instead, I have drawn on a number of period books and race programmes so that I could assemble a representative selection of events in which Jaguar, or Jaguar-powered cars, raced in New Zealand from 1950 onwards. Along the way, I have included some extra race information and results to indicate the types of fellow competing cars so that the reader might gain a feel of what on-track competition the Jaguar's faced 'back then.' Read on and enjoy the ride!
References:
The New Zealand Grand Prix Annual 1960-61, edited by Des Mahoney 1961
The Rothmans Book of New Zealand Motor racing, edited by Des Mahoney 1963
Powered by Jaguar, by Doug Nye 1980
Teretonga 25, by Marylyn Bunce, Keith Douglas, Donald McDonald 1982
NZIGP the first 30 Years Ardmore/Pukekohe 1954-1983, edited by Donn Anderson 1983
Racing Round the Houses – the History of the Dunedin Festival Motor Races 1953-1965, by Scott Thomson 1983
Roy Salvadori: Racing Driver, by Roy Salvadori and Anthony Pritchard 1985.
The Dunlop Book of NZ Motorsport, by David McKinney 1987
The Shell Books of NZ Motor Racing from 1963 onwards – by Peter Greenslade & Euan Sarginson
Historic Racing Cars of New Zealand, by Graham Vercoe 1991
The Golden Years of New Zealand Motor Racing, by Graham Vercoe 1993
Archie and the Listers, by Robert Edwards 1995
Wigram Motor Racing – The History of the Motor Racing Club 1949-1974, by Murray McFadden 1996
The Tahunanui Beach Motor Racing Years of the Nelson Car Club 1949-1997, by Mike Stephens 1996
Off The Record – 1947-1997 A Commemoration of 50 Years of the Hawkes Bay (Sports) Car Club, complied by Lily Baker Q.S.M 1997
Up To Speed – The Roycroft years in New Zealand motor racing, by Scott Thomson 2006
Racing Jaguar in New Zealand, by Brian Watson 2009
Levin Motor Racing Circuit 1956-1976 -The Twenty Year History, by Murray Carkeek 2010
Race Programmes – Ardmore, Levin, Ohakea, Pukekohe, Renwick, Teretonga, Wigram
Motorman Magazine from 1963 onwards, by Donn Anderson
autoNews Magazine from 1967 onwards, by Alan Dick
1950 – The first Jaguar XK120 in New Zealand
The first Jaguar XK120 sports car (chassis 660009) in New Zealand was an aluminium-bodied car, imported into NZ in October 1949 by Shorters of Auckland – it was used by Bert Shorter himself, before being purchased in 1950 by Albert James (A.J.) Roycroft of Glen Murray. This bronze-coloured 3442cc 6 cylinder double overhead camshaft (DOHC) sports car was raced in December 1950 by A.J.'s son, Ron Roycroft, at the former Seagrove airport, but the car did not finish the race.
Scott Thomson said in his book 'Up to Speed', "….the new Jaguar was not a racing car, but a smooth and tractable road express. Like all Jaguars, the XK120 was superbly styled. It had good luggage accommodation, and a better than average hood for a sports car. Softly sprung, it tended to float and lean more than sports car drivers were then used to. Today one is conscious of sitting on the chassis frame with legs outstretched, rather than being down inside a modern roaster. Gear travel is short, reverse a bit too easy to find."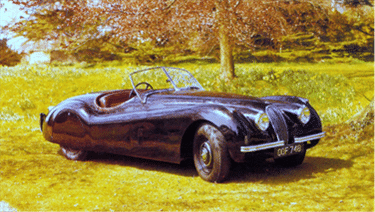 The first New Zealand Grand Prix (NZGP) was held on the airfield runways at RNZAF Station Ohakea on 18th March 1950. Although there were no Jaguars racing at that event, the car that won was the Jackson-Ford, driven by John McMillan. Years later that car, by now named the Northland Special, was fitted with a Jaguar XK engine, and the car still competes in the occasional event for Vintage and Historic race cars.
1951 – XK120s race against two Italian thoroughbreds and many NZ-built specials
Mairehau 3rd February 1951 (hereafter dates are abbreviated e.g. 3 Feb 51) – Jack Tutton and Ron Roycroft raced their Jaguar XK120s at the NZ Championship Road Race meeting held at Mairehau, Christchurch, on 3 Feb 51. Within the one race, there were two trophies to be won: – one for the fastest race time (i.e. a 'scratch' race), and a second trophy was awarded on a handicap basis, the handicap being applied to each car at race start.  Graham Vercoe's book 'The Golden Era of NZ Motor Racing', pages 20-24, reports that Ron Roycroft won the Harry Butcher Challenge Trophy scratch race in his bronze-coloured XK120, with a race time for the 40 laps of 1 hr 38 min 57 secs, while Jack Tutton was third (3rd) in his white XK120 (chassis 660112), with a time of 1 hr 44 min 25s.  
The C.W.F. Hamilton Trophy was the handicap section of the race at Mairehau, and it was won by Bob Blackburn (his starting handicap was 27.5 mins!) in a Kennedy- Austin, with a race time of 1 hr 58 min 03 secs, followed by Jack Tucker (handicap 14.25 min) in a Roper-Ford, who finished some 52 secs back. Ron Roycroft in his XK120 (on a handicap of 7.5 min) was 3rd (in 1 hr 58 min 57 secs), and Jack Tutton in his XK120 (handicap 9 min) was 4th (in 2 hrs 2 mins 51 secs).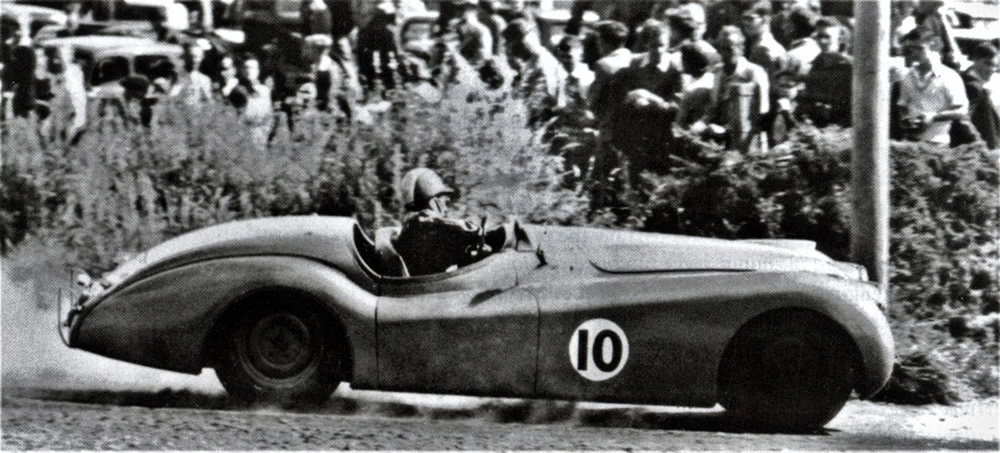 Ohakea 3 Mar 51 – There were three Jaguar XK120s were entered in the Ohakea Trophy Race Meeting held on the runways and taxiways at RNZAF Station Ohakea on 3 Mar 51. In Event 2, the Sports Car Handicap race over 8 laps for 16 miles/25.75km, equal first place was awarded to both Bob Gibbons in his #1 black XK120, and Jack Tutton's #38 white XK120 with the same race time of 17 min 2 sec.
In the wet main race, Event 6 for the 35 lap 'Ohakea Trophy Race' over 70 miles/112.654km, George Smith drove his #44 Gee Cee Ess-Ford Special win, with a time of 1 hr 3min 15 secs. Australian, Tom Sulman, was 2nd in his thoroughbred Italian #42 Maserati 4CM 1.5 litre supercharged (s/c) car, and #10 Ron Roycroft finished in an excellent 3rd place in his Jaguar XK120 with a time of 1 hr 5 min 38 sec.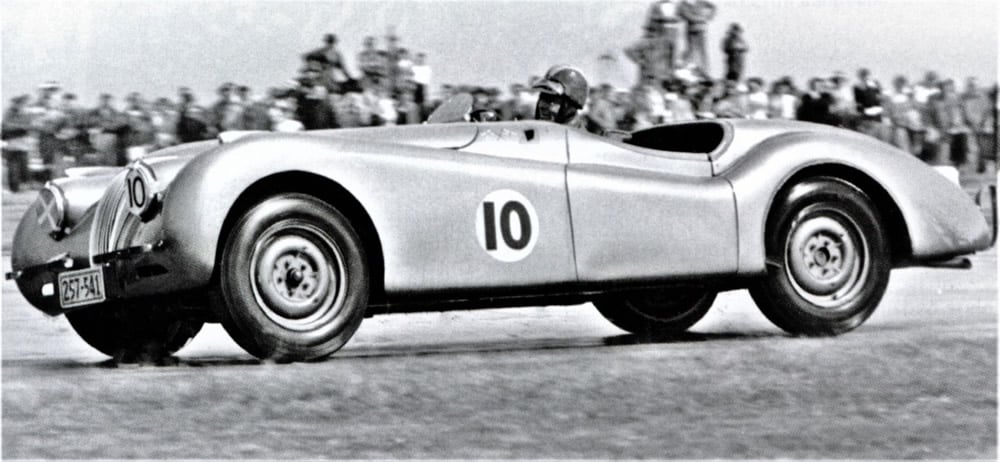 In the Selwyn Molesworth Trophy (The NZ Grand Prix Trophy) handicap section of the race, George Smith, starting off 'scratch' in his GeeCeeEss, won in a time of 1hr 16min 15sec. Ron Roycroft started off on a handicap of 2min 20sec in his Jaguar XK120, and he finished 2nd with a time of 1hr 17min 7sec. Morrie Proctor's #15 Riley 9 Special 1087cc (starting on an 8min handicap) was 3rd, with Tom Sulman's ex-Giuseppe Farina/Roy Salvadori Maserati 4CM-1500 s/c (chassis 1521) starting off a 'scratch' handicap and finishing in 4th place.
Wigram 30 Mar 51 – Jack Tutton and Ron Roycroft entered their Jaguar XK120s in the 48 lap Lady Wigram Trophy Race, billed as the '100 Mile [160.9 km] Car Race', and held on the airfield at RNZAF Station Wigram on 30 Mar 51. The Trophy race was the only event on the programme. In the rain, Roycroft started from the centre of the front row in the grid, between George Smith's #44 GeeCeeEss Ford V8 4024cc on pole position, and Frank Shuter's #1 Smith-Ford V8 4024cc. Racing as car #10, Roycroft finished in 2nd place in his XK120, some 3.5 minutes behind Les Moore's #19 Alfa Romeo Tipo B P3 2850cc s/c, who recorded a race time of 1hr 27min 41secs. Jack Tutton finished tenth in his white XK120. Apart from the two British-made XK120s sports cars, two British Cooper- JAP 1100cc single seaters, and the three Italian cars in Les Moore's Alfa Romeo Tipo B 'P3' single seater, C.A.C. Ramsey's Alfa Romeo 8C 2.3 litre sports car, and Tom Sulman's Maserati 4CM 1496cc s/c single seater, the remainder of the field of 22 cars were all NZ built 'specials'.



So, 1951 saw the 'smooth and tractable road express' Jaguars do very well in competition, beaten only by thoroughbred Italian-built single-seaters, and a very quick NZ-built 'Special' in Smith's Gee Cee Ess.  At the end of the 1951 racing season, A.J. Roycroft sold the bronze-coloured Jaguar XK120 (chassis 660009) and purchased Bob Greenwell's XK120 (chassis 660836) – that in turn was soon painted bronze in colour, just like the first Roycroft XK120 had been.
1952 – XK120s take the minor placings
Wigram 22 Feb 52 – The 'Wigram book 1949-1994', at Reference J, relates "Unlike last year, race day dawned fine and sunny. The main race was now reduced to only 50 miles (80.47km in 24 laps), but contestants first had to qualify in one of the 25 mile (40.23km) heats."  Heat 1 for the Lady Wigram Trophy Race, with entries from 10 cars, was won by Bob Gibbons in his Cooper-JAP 1100cc, from Australian Tom Sulman in his Maserati 4CM 1496cc s/c, and in 3rd place was a young Ronnie Moore in a 998cc Kieft. Heat 2 with 11 cars was won by George Smith in his Gee Cee Ess 4.5 litre, from Hec Green's RA Vanguard 2.1 litre, Don Ransley in Les Moore's red Alfa Romeo 8C 2.3 litre tourer in 3rd, and Jack Tutton in his white steel-bodied Jaguar XK120 3.4 litre was 4th.
Jack Tutton qualified the XK120 10th fastest of 19 cars that started in the Lady Wigram Trophy race, so he lined up on Row 3 of the grid. As he did in the 1951 Lady Wigram Trophy, Les Moore again took 1st place in the 24 lap race in his Alfa Romeo Tipo B 'P3' s/c, with a race time of 39min 4sec. In 2nd place, and 1m 36sec behind, was Australian Tom Sulman in his Maserati 4CM s/c, and Frank Shuter's Edelbrock V8 Special was 3rd – a further 1m 55s behind Sulman.  Next came Halsey Logan (Logan Mercury 4024cc), Des Wild (J2 Allard 3907cc), Arnold Stafford (Cooper MkIV Norton 498cc), Mrs Sybil Lupp (MG TD 1.3 s/c), Des Haigh (Ford 1.2), Pat Hoare (HRG 1.5) and Jack Tutton was 10th, and last, in his Jaguar XK120.

Ohakea 1 Mar 52 – Bob Gibbons of Wellington, Harry Chatteris of Auckland, and Peter Harrison of Rotorua all entered their Jaguar XK120s in the Ohakea Trophy race meeting held on 1 Mar 52. Chatteris in car #2 drove the ex-Greenwell/now Roycroft-owned bronze XK120 (chassis 660836), and Harrison his red ex-Bert Shorter #16 XK120.
All three XK120s were entered in Event 3, a 'Sports Car Handicap Race' over 10 laps/20 miles/32.19 km –  #2 Chatteris and #1 Gibbons started off together on handicaps of 20 seconds, but Gibbons soon spun his #1 XK120 at the first corner of the race and dropped to the back of the field. Gibbons caught up and the three XK120s raced together with only some 100 metres between them until Harrison retired with mechanical trouble. Chatteris won in a time of 21min 55secs, ahead of Gibbons, with E.H. Faulkner's Ford Special 3662cc in 3rd place.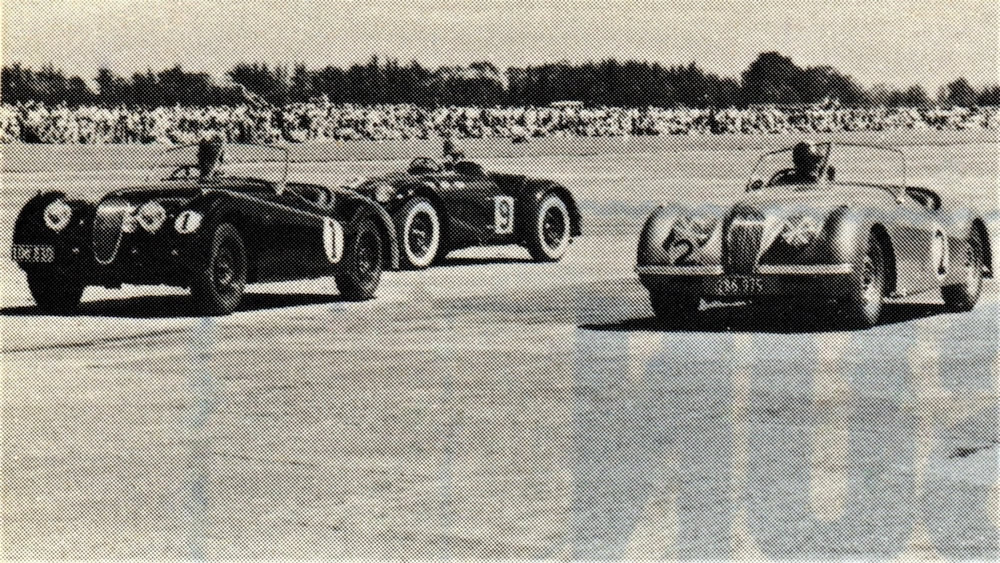 George Smith won the 35 lap Ohakea Trophy Race in his #10 Gee Cee Ess-Ford with a time of 58min 15sec, being 30 seconds ahead of Tom Sulman's #24 Maserati 4CM s/c, and #9 Frank Shuter driving George Smith's Allard J2 3920cc was 3rd. Arnold Stafford was 4th in his little #21 Cooper MkIV-Norton 500cc, and Harry Chatteris in the Roycroft-owned #2 XK120 was 5th. Harrison's XK120 was scratched from the race. Stafford won the Ohakea Handicap section of the race in 1hr 10min 28sec and took the Selwyn Molesworth Trophy, followed by Shuter, Smith, Sulman, with Pat Hoare's #18 HRG-Singer in 5th and the Chatteris-driven XK120 in 6th.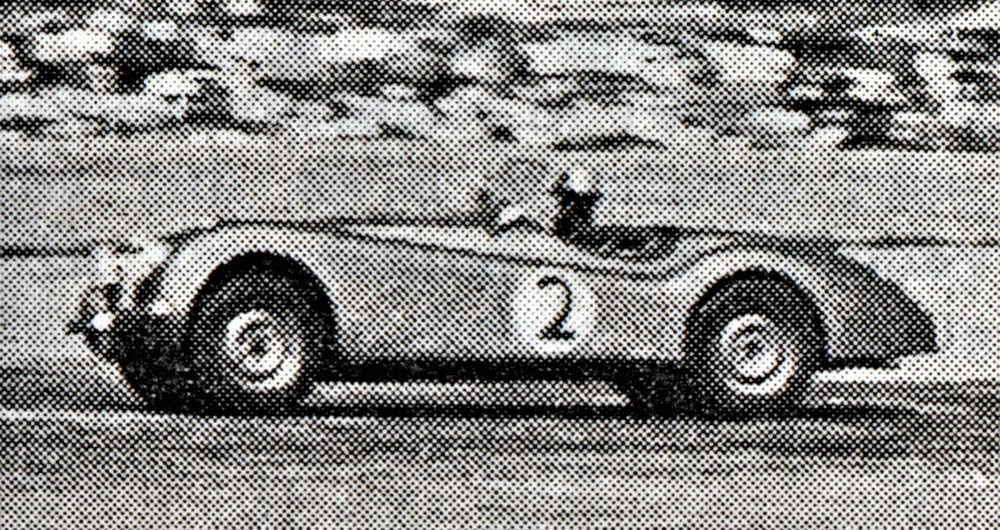 Mairehau 22 Mar 52 – Jack Tutton and Ron Roycroft entered their Jaguar XK120s in the 1952 NZ Championship Road Race held at Mairehau, Christchurch on 22 Mar 52. At just over three quarters of the distance covered, and while Roycroft was in second position, he retired on lap 33 of the scheduled 40 laps with steam coming from the engine due to a blown frost plug. George Smith won in his Gee Cee Ess-Mercury with a time of 1hr 37min 11sec, from Frank Shuter (1hr 39min 43sec) in the Edelbrock-Mercury, and Halsey Logan (1hr 42min 14sec) in the Logan-Mercury. Jack Tutton was in 4th place in his Jaguar XK120 on 1hr 45min 56s.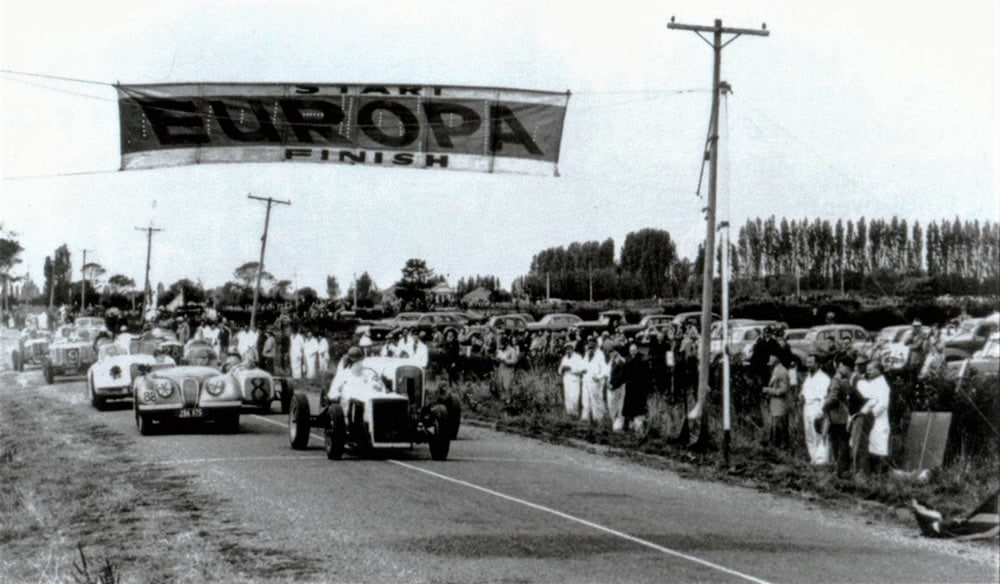 In summary, the 1952 season saw the Jaguar XK120 sports car filling the lesser places in races dominated by the lighter, more agile, and faster single seaters.
1953 – The pace quickens beyond the XK120s, and enter the Mark VII saloon
Mairehau 31 Jan 53 – Jack Tutton entered his white Jaguar XK120 (chassis 660112) in the 150 mile/241km Mairehau Road Race held at Mairehau, Christchurch, on 31 Jan 53. Also entered was Mrs Sybil Lupp who shared the silver-grey coloured #9 XK120 (chassis 660895) of 'H R Brown' (Dr Bruce Hay). Ron Roycroft was now driving the ex-Les Moore Alfa Romeo Tipo B 'P3' and he won the 60 lap/242km C.W.F. Hamilton Trophy Race in a race time of 2hrs 15min 4secs. Ernie Sprague's Tucker Ford was 2nd with a time of 2hrs 36min 5sec, and Doug Haigh was 3rd in his Haigh-Citroen on 2hrs 38m 53.0s. The shared Lupp/Brown XK120 finished 4th on 2hrs 41min 20s, and Jack Tutton was 8th in his XK120. Roycroft also won the Handicap section of the race, with the Brown/Lupp XK120 in 7th and Jack Tutton in 9thin his XK120. 
Wigram 28 Feb 53 – In the 1953 Lady Wigram Trophy Race held on 28 Feb 53, J.L. (Les) Holden entered his Jaguar XK120 (chassis 660535) and qualified 8th of 18 cars for the main race. The 24 Lap Trophy race was won by Ron Roycroft in his #19 Alfa Romeo Tipo B in a time of 38min 40.4sec, nearly 1 minute ahead of George Smith's #44 Gee Cee Ess-Ford Mercury (39min 38sec), followed by Frank Shuter's #1 Edelbrock-Ford Mercury (40min 40.2sec) in 3rd place. Ernie Sprague's #25 Tucker-Mercury Ford was 4th on 41min 44sec, and in 5th place was Doug Haigh in his #18 Haigh-Citroen (41min 46sec). In 6th place was Les Holden in his XK120 in 43min 00sec.  The fastest lap was set by Roycroft in 1min 34sec. It was clear that the lighter NZ-built 'Specials' had the handling and speed-edge over the bigger and heavier XK120 sports car.  
At Wigram there was also a 25 mile Handicap race for cars not competing in the Trophy race in which R.M. (Bob) Bailey entered his #15 fawn-coloured Jaguar MkVII 3442cc saloon. With 22 cars in the field, Bailey started 4min 50sec behind the first car, a Morris Minor, and some 2 minutes ahead of the last car, Ron Roycroft in his Bugatti T35A-Jaguar. Arthur Moffat won the race in his S.S.90 (the forerunner to the Jaguar) in a time of 26min 25sec. A Morris Minor was 2nd, followed by a M.G.T.D, another Morris Minor, and a Ford V8 Special. Neither Roycroft nor Bailey were placed.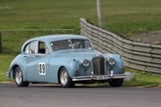 Ohakea 14 Mar 53 – There were five Jaguar XK120s entered in the 1953 Ohakea Trophy Race meeting held on 14 Mar 53. Peter Harrison entered his red #1 XK120, as did #24 H.C. (Harry) Chatteris, #25 Miss E.F. Christie, #42 J. Grieg, and #45 V. Field, all in their XK120s. 
All five XK120s were entered to race in Event 2, a 20 mile handicap race for Sports Cars over 10 laps, although Miss Christie may not have started. The race was won by K. Roper in his Morgan Plus 4, from Phil Neill in his F.S.S. V8 Special, and V. Field's XK120.
In Race 4, a 15 mile Saloon Car handicap race for over 1500cc cars, Ross Jensen won in his Ford V8 Coupe from Noel Dickson in his Ford Zephyr, J. Mackintosh in a Vanguard, and Tom Clark was 4th in his #10 Jaguar MKVII 3442cc saloon.
Event 6 over 8 laps was an 'Allcomers Open Handicap' for Saloons, Sports and Racing Cars – and entries saw #1 Peter Harrison in his Jaguar XK120, #10 Tom Clark in his Jaguar MkVII, #42 J. Greig in his XK120, #45 J.R. Field in his XK120, and #49 Doug Bransgrove in his 'Jaguar 2663cc' – Tom Clark finished 5th.

The Ohakea Trophy race was run on handicap, and Tom Clark started on 9min 35sec in his big Jaguar MKVII saloon, Chatteris and Christie in their XK120s were to start on 5 min 25 sec, and Harrison on 4 min 35 sec in his XK120 – however, neither Chatteris or Harrison appear to have started the race. Miss Christie completed only 14 of the scheduled 25 laps and Graham Vercoe, in his book 'Historic Racing Cars of New Zealand', page 77, records "At Ohakea, [Hec] McLean [driving his ex-Billy Lee Cooper T5 MkII-JAP 497cc] ran into the back of Miss E. Christie's ultra-slow XK-120. The Cooper inverted itself and jammed under the Jaguar, being dragged this way for 75 metres before freeing itself. McLean was relatively unhurt…."  A further report said Miss Christie moved to the right to let McLean pass, but McLean was already on the right! Allen Freeman (handicap of 10 mins) won the 25 lap event in a time of 48min 37sec in his Morgan Plus 4, from Ron Roycroft's Alfa Romeo Tipo B 'P3' (on a handicap of zero, or 'scratch'), and Bob Gibbon's Cooper MkV-JAP 1100cc (handicap 50sec) was 3rd. Tom Clark in his big Jaguar MkVII luxury saloon retired when in 3rd place after 16 of the scheduled 25 laps. Roycroft won the Molesworth Trophy for the fastest time of the race.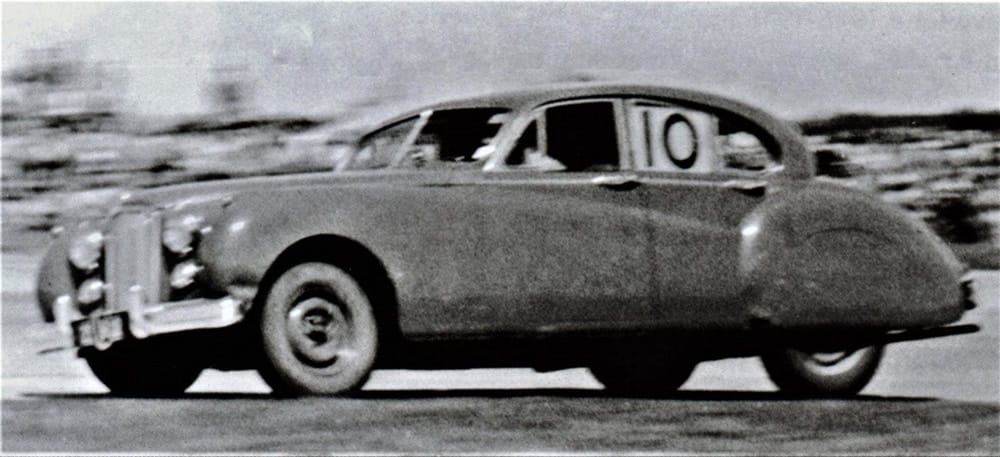 Dunedin 1 Jun 53 – Sybil Lupp entered her recently acquired white ex-Jack Tutton Jaguar XK120, and 'H.R. Brown' (Dr Bruce Hay) his silver-grey XK120, in the NZ Championship Road Race held over 43 laps/75 miles/120km of the Dunedin 'wharf' circuit on 1 Jun 53. In practice, 'Brown' qualified 5th and Lupp 6th with the same time of 1min 55sec, and they started on the second row of nine rows comprising the 23 cars that started the race.  In what proved to be the country's first street race, Ron Roycroft in his Alfa Romeo Tipo B 'P3' won in a time of 1hr 18min 28sec, from Bob Gibbons in his little Cooper MkV-JAP 1100cc (1hr 20min 44sec), and Ron Frost's equally small J.B.S.-JAP 490cc who finished in 1hr 22min 55sec. Sybil Lupp finished in 7th place in her XK120 taking 1hr 27min 32sec, and 'H.R Brown' in his XK120 was 10th on 1hr 29min.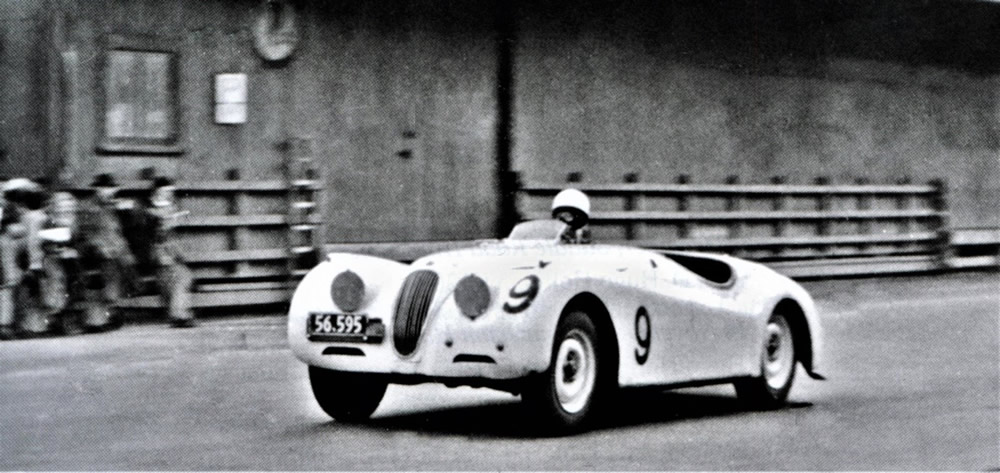 In the 30 mile Sports Car Handicap race, P.J. Harrison of Rotorua, started off scratch in his red XK120, and moved up through the field, but he retired with 'engine trouble' at half distance. Modern Motoring magazine of June 1953 said, "Harrison's Jaguar might well be one of the quickest in the country judging by the Dunedin exhibition. He started on the back mark: was in seventeenth place after one lap; fourteenth in two; eighth in three; fourth in six; and out (with motor trouble) in seven." The race was won by Dudley Waters (who started first) in a Morris Minor with a race time of 37min 5 sec; in 2nd place was Jack Tutton who started 4min 55sec after the first car in his Allard J2, and 3rd was Phil Neil in his FSS V8 Special who also started on 4min 55sec.
A brief summary of Jaguar racing in 1953 showed, once again, the lighter and more nimble single-seater racing cars and specials 'had the wood' over the bigger Jags.