Greeting British Airways Concorde to New Zealand on 6th April 1986
A British Airways Concorde was flown to New Zealand on Sunday 6th April 1986 and I Ied a flight of three A4K Skyhawks to escort Concorde to Auckland.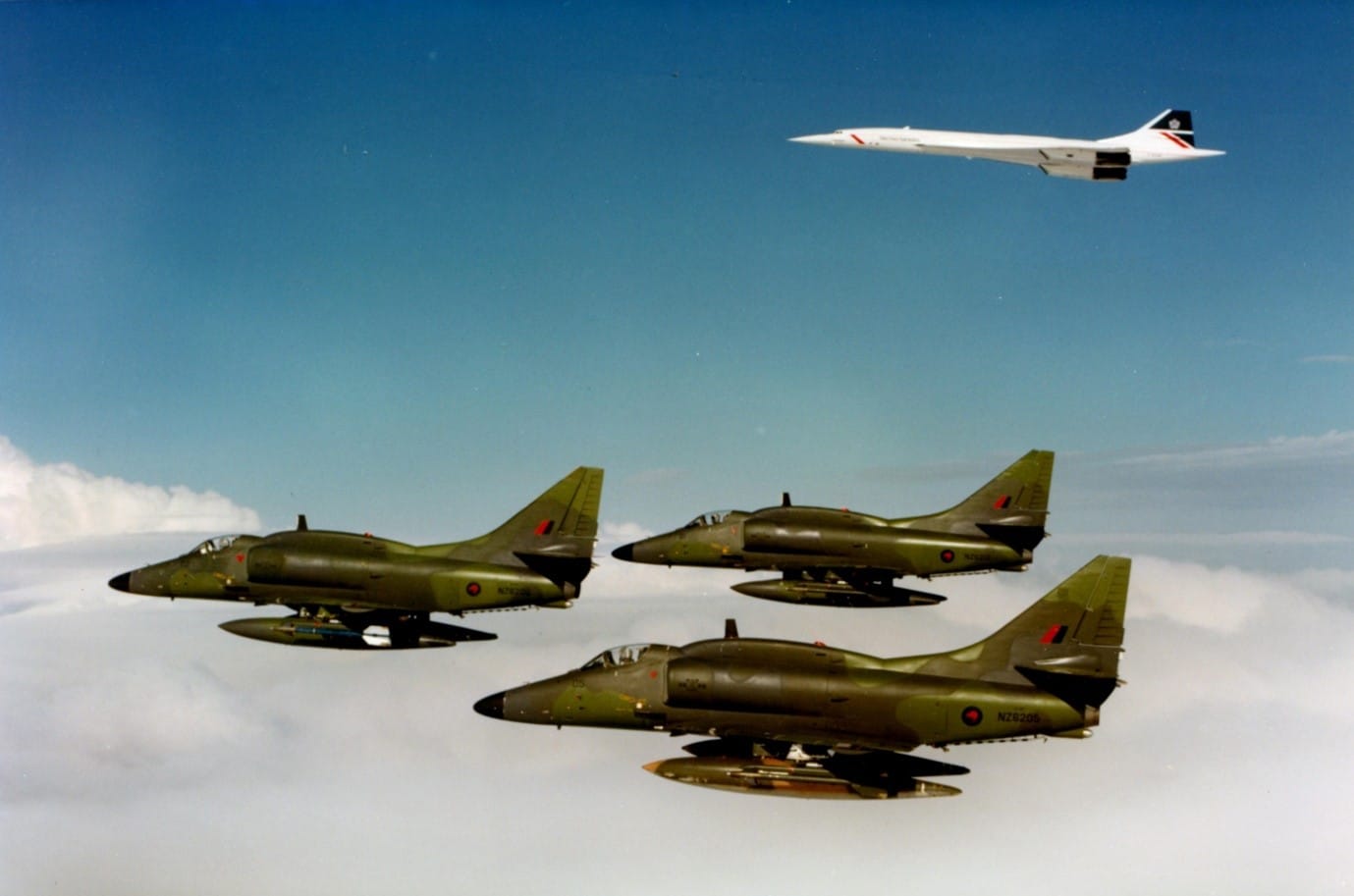 Pre-visit planning – On Thursday 3rd April 1986 I flew Skyhawk TA4K NZ6251, with air force photographer Flight Sergeant Hutchinson as passenger, from RNZAF Base Ohakea to RNZAF Base Auckland's Whenuapai airfield; upon arrival we travelled to an Auckland City hotel where we met and talked with Captain John D. Cook, Flight Training Manager Concorde, British Airways. John was to be the captain of the Concorde G-BOAB, callsign 'Speedbird Concorde 60 Charlie', when he flew the aircraft to Auckland from Perth, Australia, on Sunday 6th April 1986.  Concorde had been chartered by Palmerston North businessman Kenneth Irons for this flight from London that would also allow passengers to witness the passage of Halley's Comet at some stage in the flight.
At our meeting, Captain Cook said he wanted to discuss in detail the rendezvous (R/V) procedure with our Skyhawks, the flight path and altitude from the R/V point to overhead Auckland International Airport, and the subsequent short flight over Auckland City, before he made a final landing at Auckland airport.    Those at the meeting between John and me included a Civil Aviation Department (CAD) 'rep', an Air Traffic Controller (ATC) from Auckland Radar, a British Airways liaison 'rep', and Flight Sergeant Hutchinson RNZAF who would take photographs from a two-seater Skyhawk TA4K – he would also give a pre-flight briefing to a TV1 cameraman on the day who would be in the rear seat of another TA4k to take some movie film for TV coverage.
It was agreed that we would R/V on the 223 degree radial at 60 nautical miles (NM) from Auckland airport at 5,000 feet. Captain Cook said he would take off in Concorde from Perth at 11.30am (NZ time) and it would take him (just!) 2 hours 58 minutes to fly to GUMPO by 2.30pm (GUMPO was an air reporting point 230 NM westward from Auckland). At GUMPO he would start his descent from cruise altitude to 5000 feet and slowdown from supersonic speed to 250 knots at the R/V, expecting to arrive at Auckland airport at 3.00pm.  He said the Skyhawks were welcome to join with Concorde but he insisted there be adequate vertical and lateral separation between the Skyhawks and his aircraft to ensure absolute safety for his passengers.  He got that assurance from me!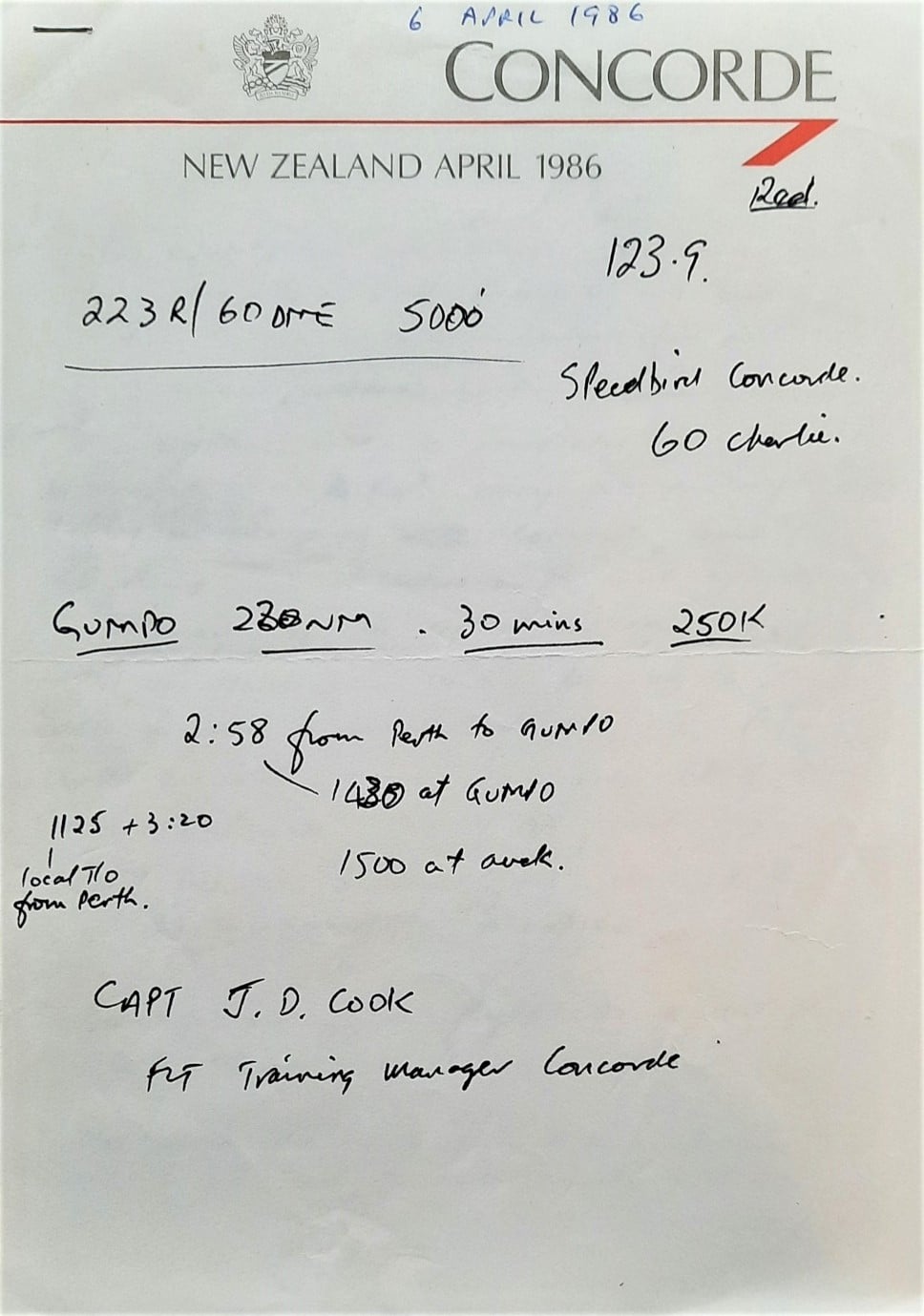 Greeting Concorde – On Sunday 6th April 1986 five Skyhawks were airborne from Ohakea in strong winds and rain, climbing to some 25,000 feet while heading northward towards New Plymouth. At that time in 1986 I was a Wing Commander in rank and appointed at OC Strike/Operations Wing at Ohakea, and on this day I was Flight leader of 'Skyhawk Red' flying in A4K Skyhawk NZ6202, with Sqn Ldr Jim Jennings as CO 2 Sqn in A4K NZ6201, and Wg Cdr Frank Sharp as CO 75 Sqn in NZ6205.   A two seater Skyhawk TA4K carried photographer F/Sgt Hutchinson in the rear seat to take the photographs of the three A4K Skyhawks with Concorde, and TA4K Skyhawk NZ6251 carried a TV cameraman in the rear seat taking movie film for TV1.
We were in solid cloud at altitude overhead New Plymouth when we changed radio frequency from Ohakea Radar to the Auckland Radar Sector controller on 123.9 VHF. The Auckland controller was already talking to Concorde 'Speedbird' that was in descent towards the R/V point, and he gave us a heading to reach the anticipated R/V at 60nm south west of Auckland airport.  In descent we popped out of cloud and soon afterwards saw and joined up with Concorde, which was a magnificent sight to see, so sleek and graceful and quite clearly the most stunningly graceful aircraft I had ever seen in the air!
Having joined up and had some 'still' shots taken from abeam Concorde, we moved ahead of Concorde to 'lead the way' in descent to Auckland Airport. Thereafter, I led Concorde out towards Whitford to the east of the airport before turning left past Maraetai and Beachlands to fly to the north of Musick Point and over Browns Island, and then on an east to west run up Auckland Harbour to the seaward side of downtown Auckland City. After passing over the Auckland Harbour Bridge, and when abeam Birkenhead, Captain Cook turned Concorde left towards Auckland Airport while the five Skyhawks carried on westward, climbing to altitude and turning southwards to return to Ohakea, taking 1.7 hours in total for the whole flight.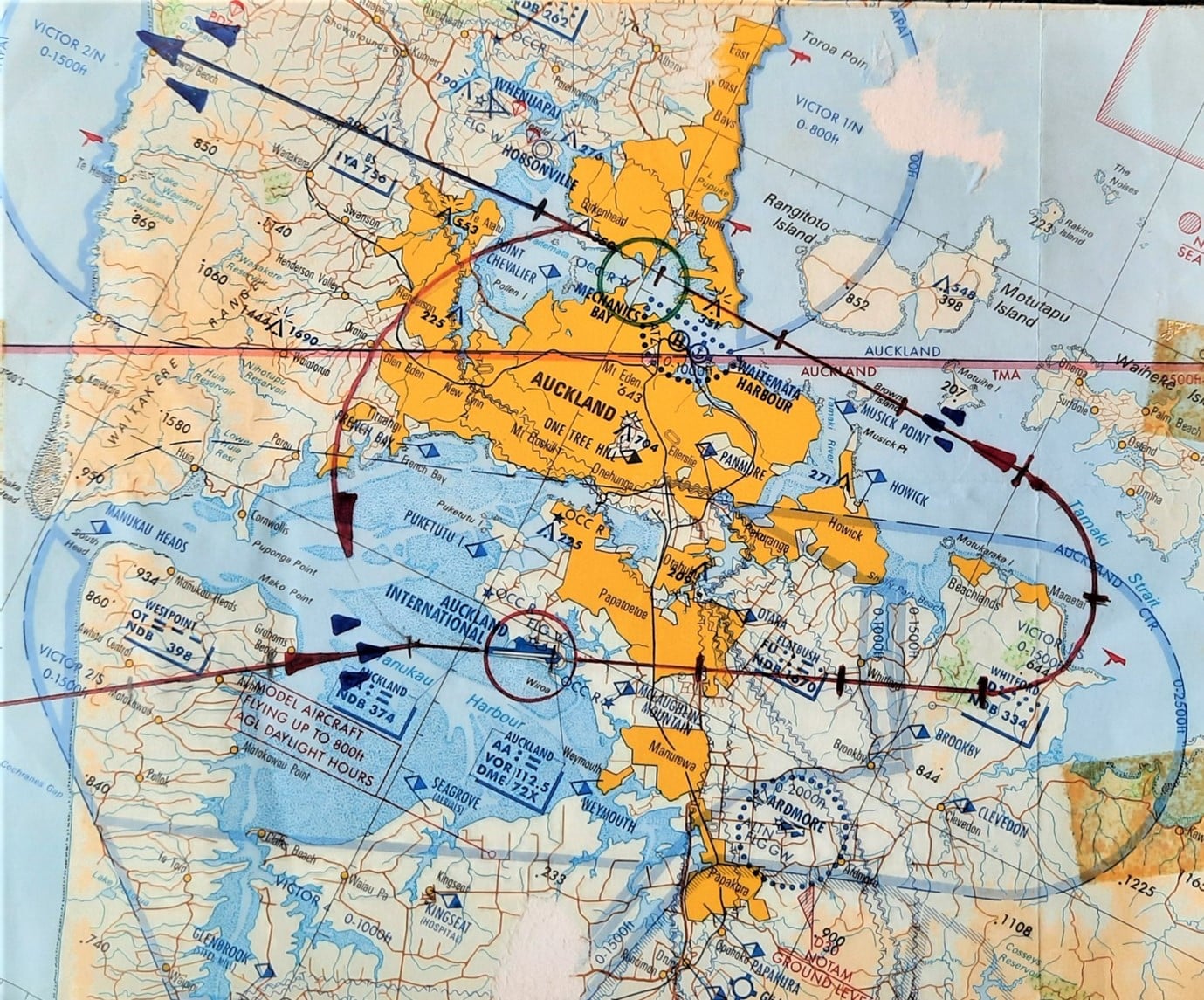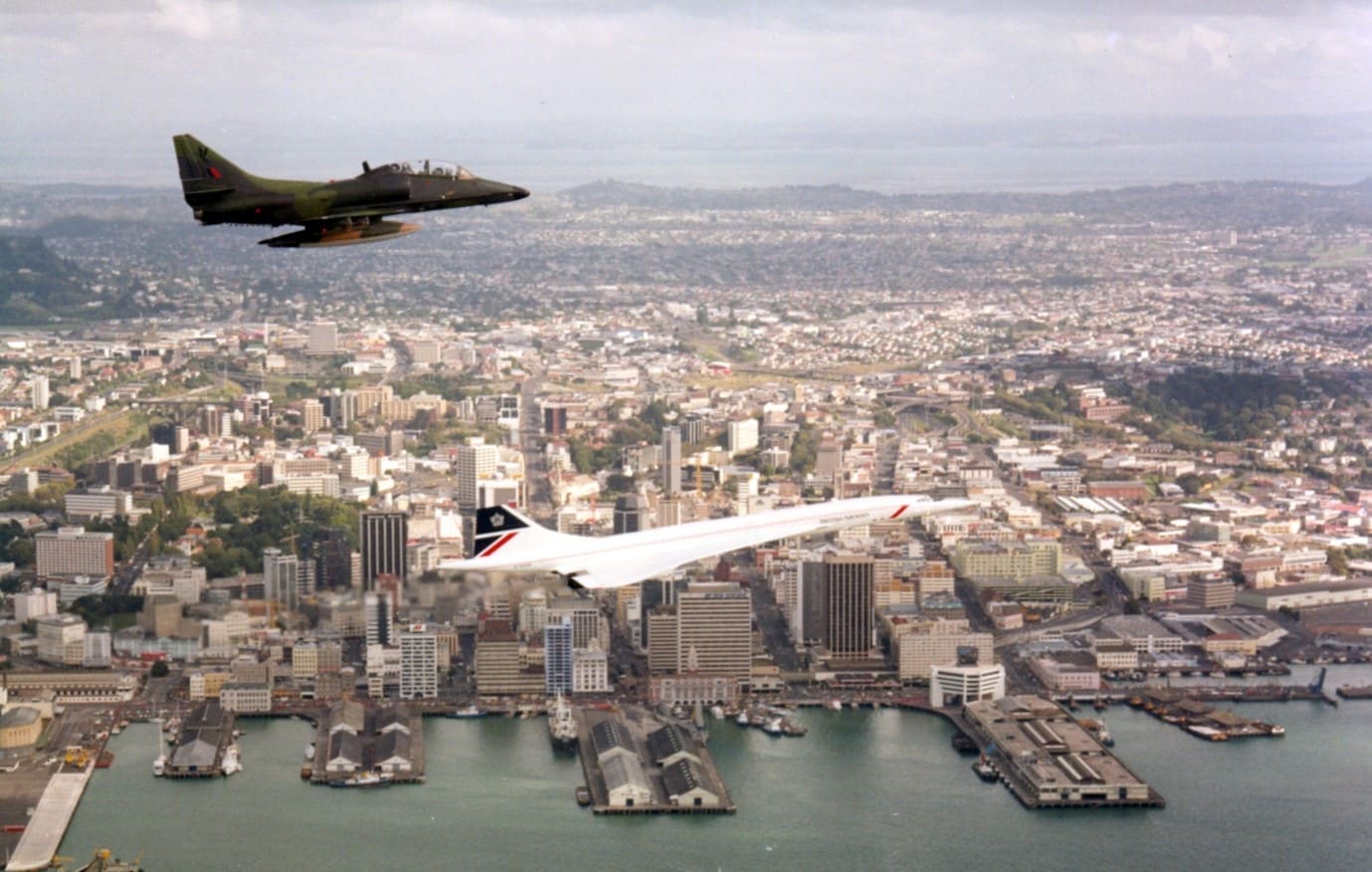 I read later that Captain John Cook in Concorde did a flypast along the Auckland runway, followed by a low approach with undercarriage down, and a noisy climb before making a final landing, much to the enjoyment of the reported 40,000 crowd in attendance and those on the choked highways and roads around and near the airport.   John Cook later sent me a nice note of thanks for the welcome; and now, some 36 years after the flight, I can still see in my mind the graceful beauty of Concorde in flight.   
On 'Concorde' notepaper headed "New Zealand April 1986", I wrote in 1986:- "The initial request came from British Airways. Their experience had shown that the arrival of Concorde in any country for the first time had generated enormous interest from the public. British Airways, therefore, wanted to extend an invitation so that some aspect of NZ aviation could be associated with Concorde's first arrival in NZ. Not many NZ aircraft can in fact fly fast enough to accompany Concorde. The Skyhawk was selected as the most appropriate with a view to its speed and agility.
It was therefore an honour for me to be able to lead a formation of A4s to R/V with Concorde some 100 miles SW of Auckland, and to lead Concorde to landfall over NZ on this memorable occasion.  Concorde was a beautiful aircraft in flight: small but very sleek. Of delightful design.
The flight was also of good training value that proved to be a challenge to meet. A prior meeting had been conducted with CAD, ATC, British Airways and the Captain, John Cook, to establish the concept and agree of safety criteria. On the day, strong winds and rain at Ohakea and inclement weather at New Plymouth led to some doubts as to our ability to effect the join-up. As it turned out, good work by the Air Traffic Controller from Auckland Radar (who by the way had been stuck in the traffic jam of the enthusiastic crowd of well-wishers enroute to the airport) meant that we sighted Concorde in clear weather and joined up. Thereafter, we had some video taken for TVNZ and some colour photos taken from other Skyhawks before heading for Auckland and the overflight of the city.
In all, as an exercise in planning and co-ordination involving members from CAD, ATC, British Airways and RNZAF, it proved to be a most rewarding experience and most satisfying once successfully achieved.  The A4 is not often seen in NZ skies, being often over weapons ranges and avoiding areas of the populace. Hence it was a good chance to show the aircraft to the people of NZ."