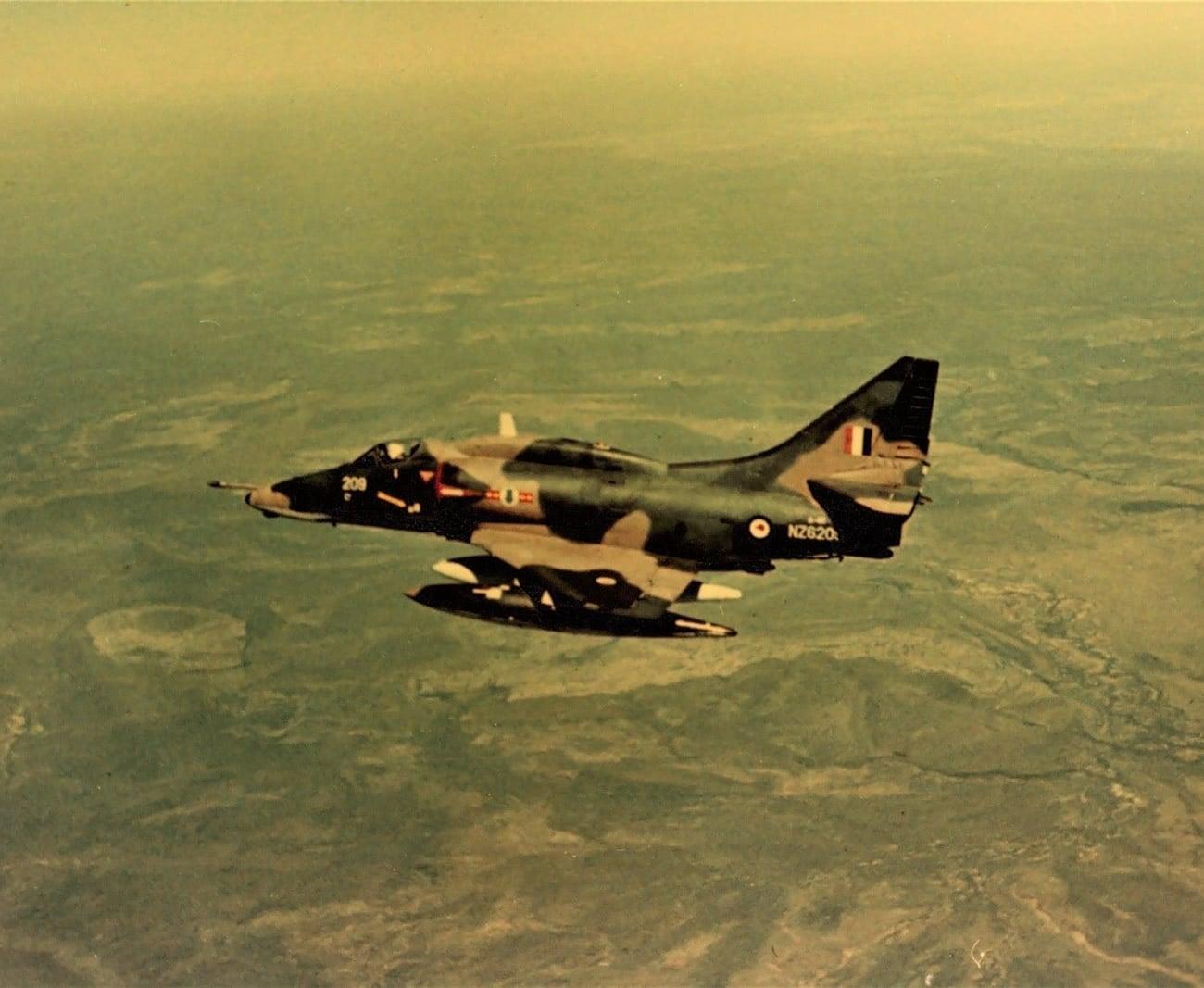 Flying RNZAF Skyhawks on Exercise Blue Denim, and 'Riding a Mirage', Darwin
May/June 1973, by Jim Barclay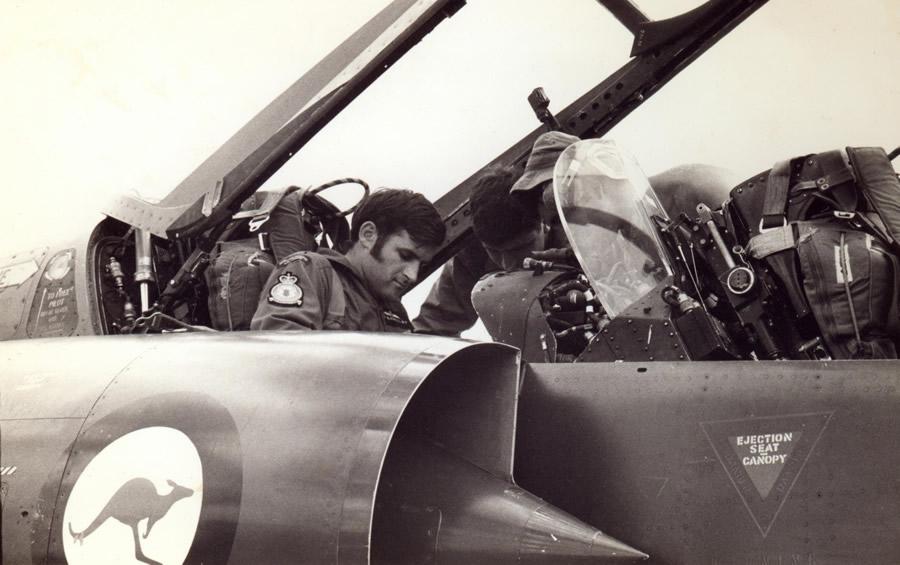 Eight RNZAF A4K Skyhawks from No 75 Squadron were flown from RNZAF Base Ohakea on Thursday 24th May 1973 to RAAF Base Richmond, NSW, Australia. After refuelling at Richmond the A4s were flown on the same day to RAAF Base Townsville, Queensland, where they remained overnight. The next day, Friday 25th May, the Skyhawks were flown from Townsville to RAAF Base Darwin, Northern Territory, Australia.
At Darwin the Skyhawks participated in 'Exercise Blue Denim', together with 77 Squadron RAAF flying their Dassault Mirage IIIO fighters, and four RAF Avro Vulcan B2 bombers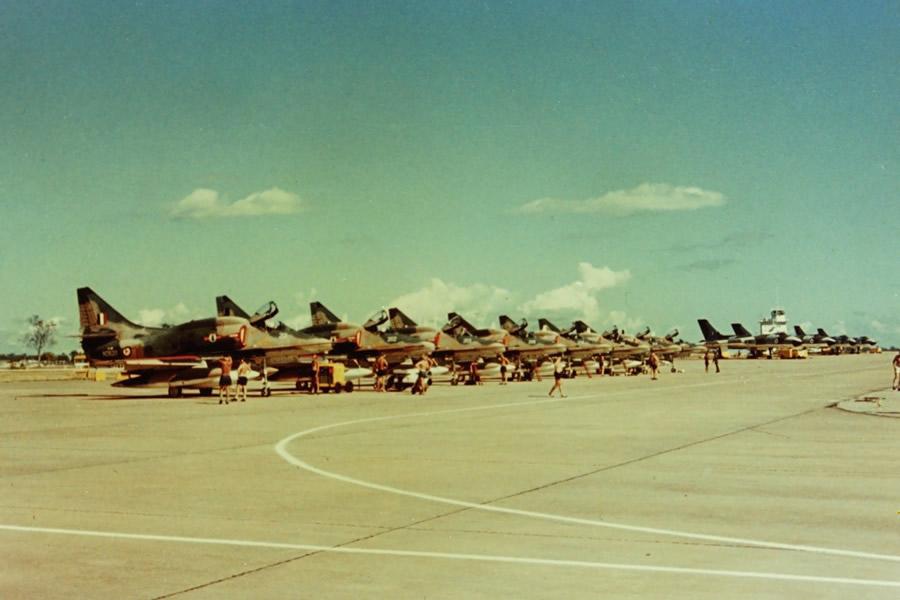 I did not fly a Skyhawk to Darwin – instead I was a passenger in an RNZAF C130H Hercules NZ7002 transport aircraft. In addition to carrying a number of 75 Squadron ground crew and pilots, the C130 carried Skyhawk spare parts and support equipment, including ground power units (electrical generators) and Skyhawk engine starting units. We departed from Ohakea very early in the morning of Thursday 24th May for the long 5.5 hour flight across the Tasman Sea to Richmond. Our time of arrival was planned so that the 75 Squadron groundcrew would be on the ground and ready to marshal in the Skyhawks when they arrived.  Having refuelled the Skyhawks and then 'despatched' them to Townsville, we remained at Richmond for the night; the next day, we flew in the Hercules on a directly from Richmond to Darwin, taking 6.3 hours for the joinery. 
After arrival at Darwin, 75 Squadron pilots flew a few local area 'famil' flights each before becoming involved it Exercise Blue Denim. My sorties included a 2.4 hour flight on 26th May where I flew some 330km for touch & go landings at Tindal, and then another 14km to Katherine airfield; a 1.9 hour navigation exercise (navex) on 28th May that went via Quail Island bombing range [now a wild life sanctuary] where I dropped 6 x Mk 76 lo-drag practice bombs from a 45 degree dive; a 2.0 hour flight on 30th May that included more 45 degree bombing at Quail Island before some 1 v 1 radar intercepts with the Darwin based radar 'Control and Reporting Unit' (CARU) and air combat; and, on 1st June, I led a flight of four Skyhawks on a 1.8 hour flight to do more  bombing at Quail Island, this time with Mk 106 hi-drag practice bombs, and then some 2 v 2 intercepts with CARU and air combat.
The purpose of Exercise Blue Denim was set primarily to be an air defence exercise (Adex) where the Skyhawks and Vulcans would 'attack' assigned targets in the greater Darwin area and the Mirages working with CARU would 'defend'. My first sortie on Ex Blue Denim was on Tuesday 5th June and we (I was no 2 of 2 Skyhawks) had two attacks to make in the 1.9 hour flight – the first was as Mission 209 for an attack of Point Charles lighthouse (21 km NW of Darwin) and we were intercepted by a Mirage, and also where I claimed a Mirage 'shot down'; my second attack was as Mission 210 where we did an attack on Darwin airfield. My next flight was 1.8 hours on Wednesday 6th June where as 2 of 2 again, we did some CARU controlled radar intercepts and air combat against two Mirages before carrying out a simulated low level attack on the Darwin airfield for the public Open Day that was in progress.  My final flight for the exercise was for 1.8 hours at night time and I made 'attacks' from 8000 feet over Darwin while CARU vectored Mirages after me.
One extra flight I enjoyed was to fly for 1.4 hours in the rear seat of a two-seater RAAF Mirage IIID (D for Dual) fighter aircraft on Friday 1st June.  Flying Officer Gonsal from RAAF 77 Sqn was my pilot and we flew Mirage A3-104. The prime purpose of the sortie was for me to take some 16mm movie film for NZ Broadcasting (NZBC) TV of a flight of Skyhawks in various close formations about the general Darwin area. After the filming part of the flight was completed, there was time for me to fly the Mirage and experience some of its handling characteristics.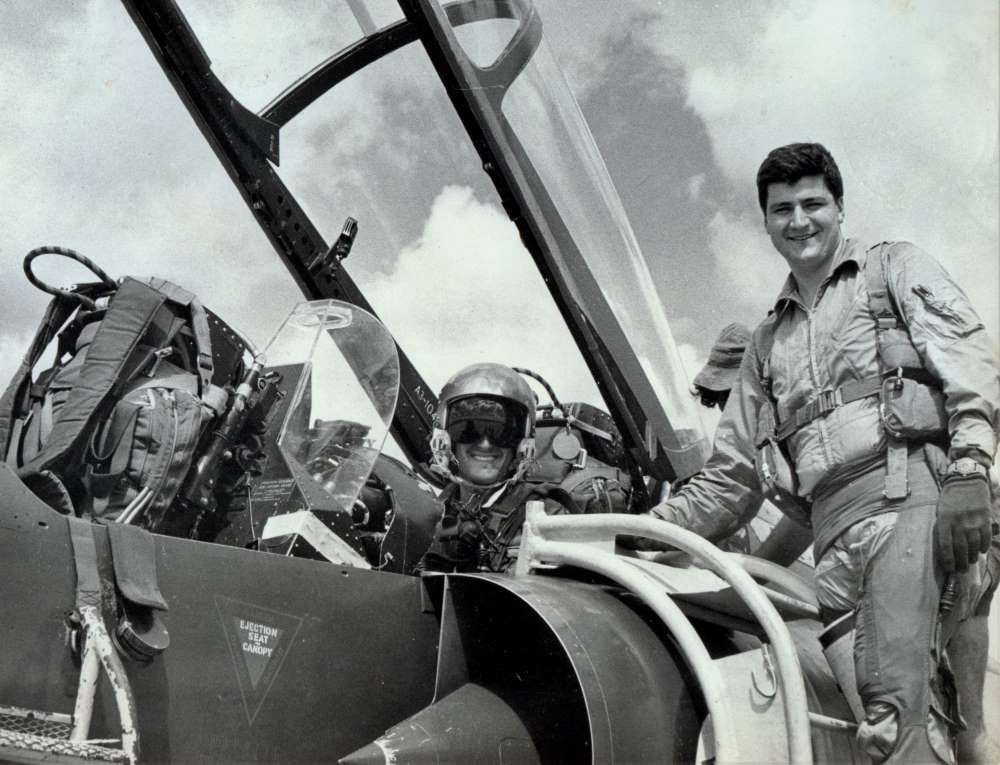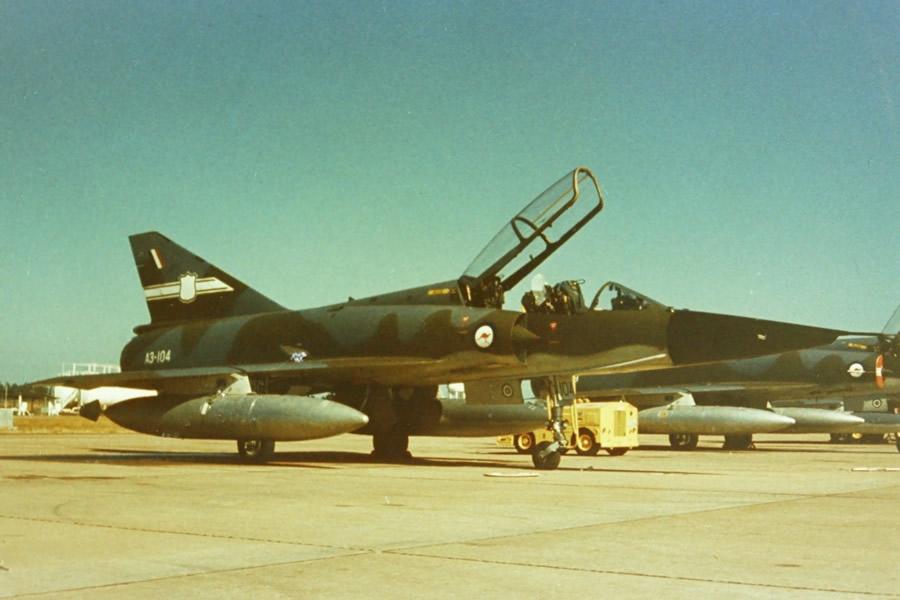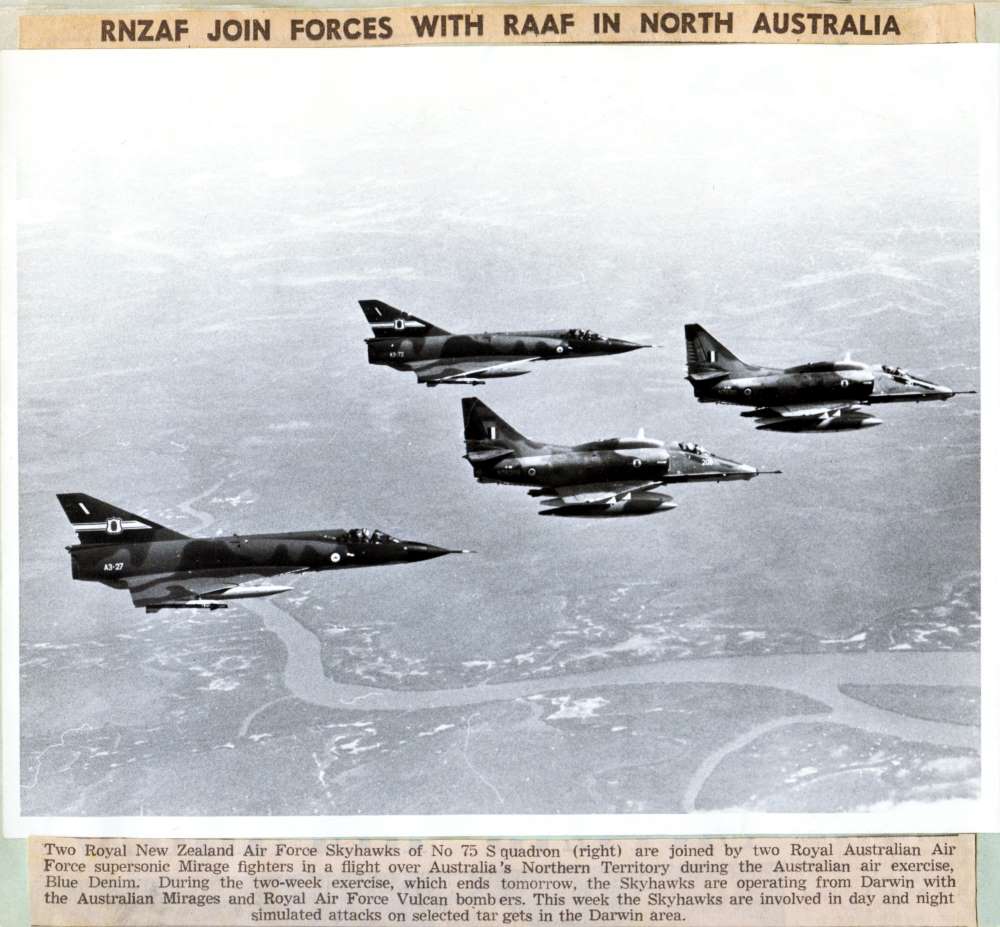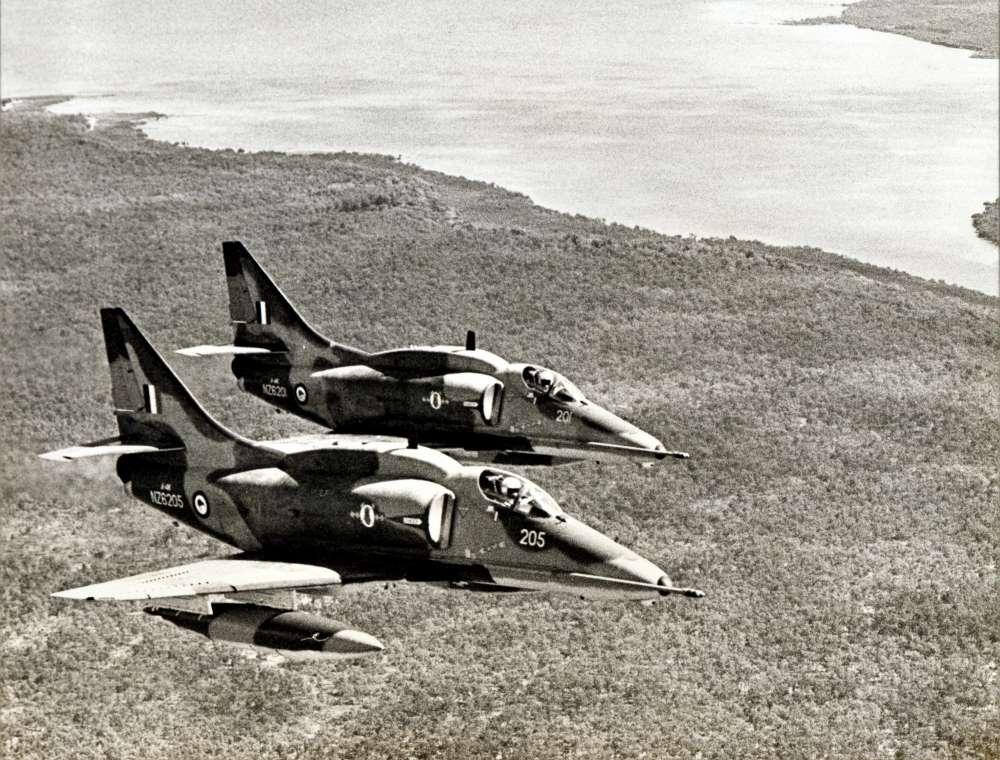 On completion of Exercise Blue Denim, I flew A4K NZ6205 on Sunday 10th June 1973 from Darwin to RAAF Base Amberley, which is located to the west of Brisbane in Queensland. I was number eight in an eight aircraft Skyhawk formation. Heading south-eastward from Darwin, we climbed initially to Flight Level 250 (25,000 feet), then as the aircraft weight decreased as fuel was used, we climbed to FL270, then to FL290 before descending to Amberley on this 3.4 hour flight (1536 nautical miles!).  We experienced the usual prevailing strong tail wind on this leg.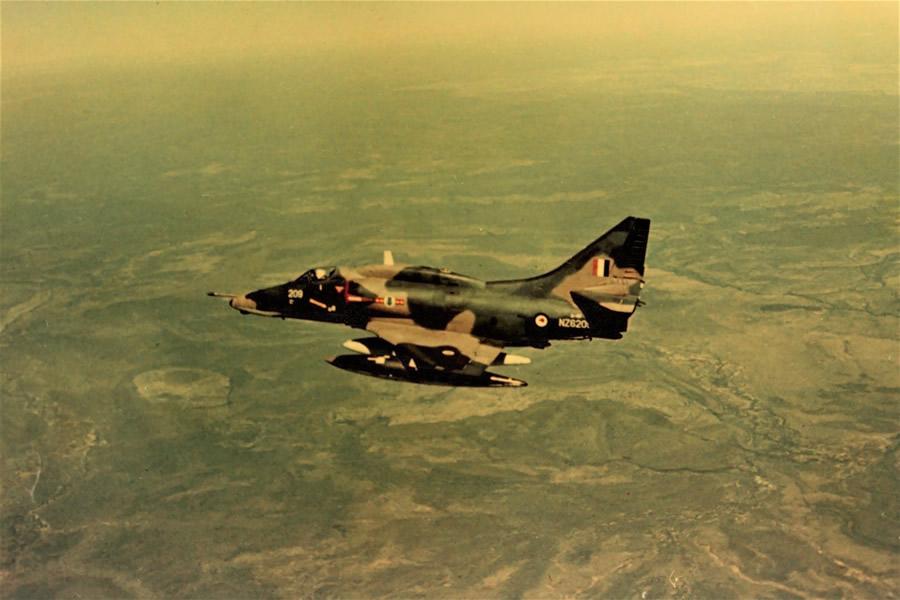 On arrival at Amberley, 75 Squadron pits were delighted to see the RAAF F4E Phantom II fighter aircraft that were leased from USA while the RAAF awaited delivery of their new F-111C swing wing aircraft.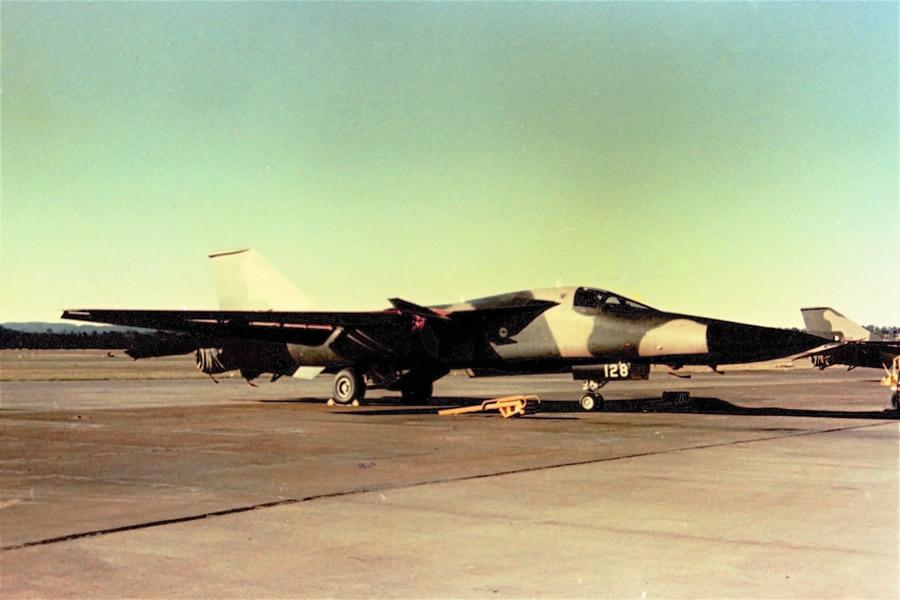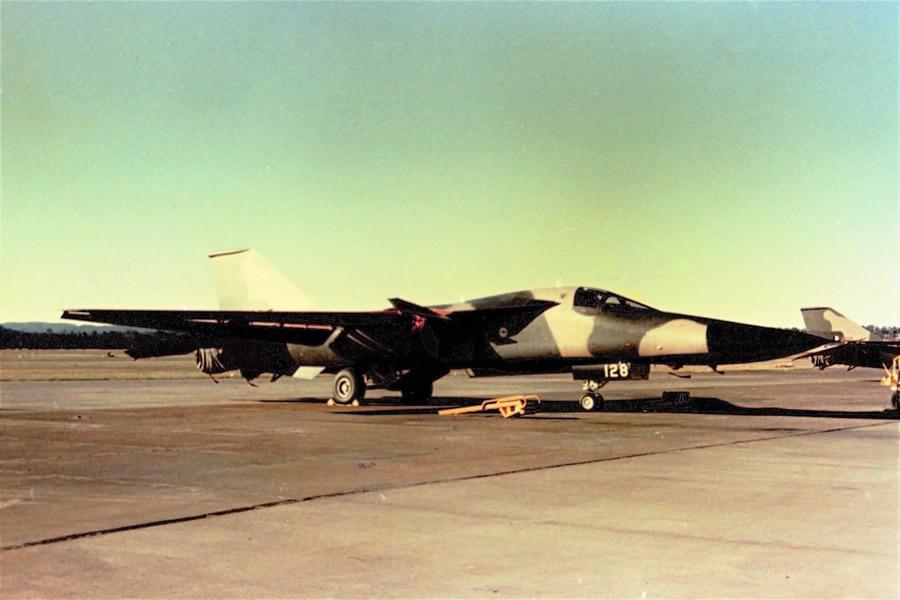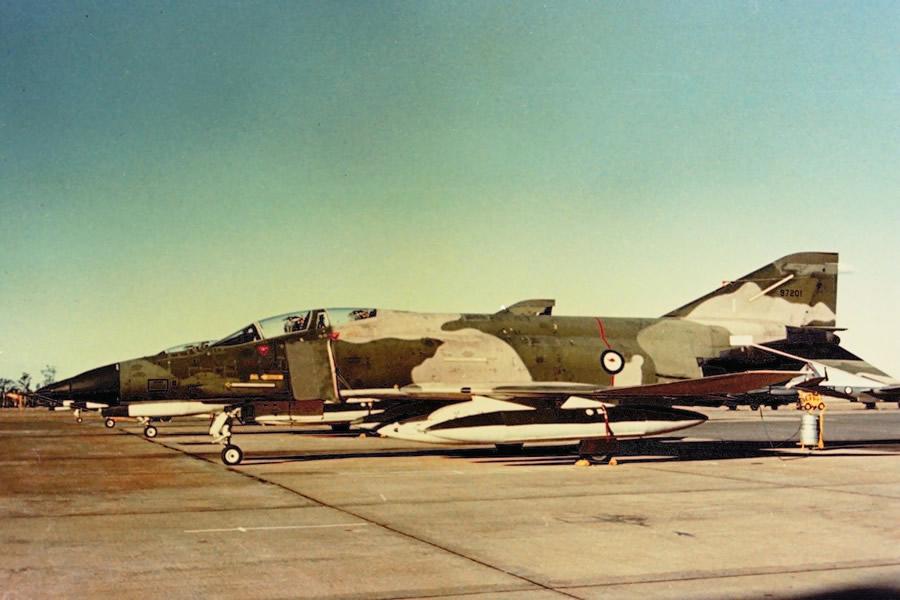 After an overnight at Amberley, we flew for another 3.0 hours across the Tasman Sea to Ohakea on Monday 11th June 1973. We had a RNZAF P3B Orion positioned about mid-Tasman to provide navigation assistance, HF radio relay to oceanic air traffic control, and for Search and Rescue cover – just in case a Skyhawk pilot ejected. I was the leader of my pair of aircraft, and number 7 in an 8 aircraft formation.   As was the normal practice, we probably joined up as an eight-aircraft formation to do a fly past over Ohakea on arrival.  After the highlights of two weeks away on exercise it was back to 'routine stuff' at Ohakea as I had my annual instrument rating test the next day in TA4K Skyhawk NZ6253. However, one month later we departed Ohakea for Singapore and Exercise Vanguard 16.