Denny Hulme – 1970 Porsche 917K – Watkins Glen
It was only some 5 weeks since his McLaren Formula One team leader, Bruce McLaren, had been killed when testing a McLaren M8D Can-Am car at Goodwood, and only some 6 weeks after he sustained very bad burns to his hands while testing a McLaren M15-Offy for the Indy 500, that Denny Hulme was entered to race at Watkins Glen. As a driver of one of the Porsche Salzburg cars, entered by the Porsche-Audi USA team, Denny raced in the Watkins Glen 6 Hour race held on 11th July 1970 at the upstate New York race track in USA.  The 6 hour event at Watkins Glen was the ninth round of the 1970 World Sportscar Championship. Teamed with Vic Elford, Denny and Vic drove one of two blue and white Porsche-Audi USA Porsche 917K flat 12 4.5 litre Group 5 Prototype Sports Cars.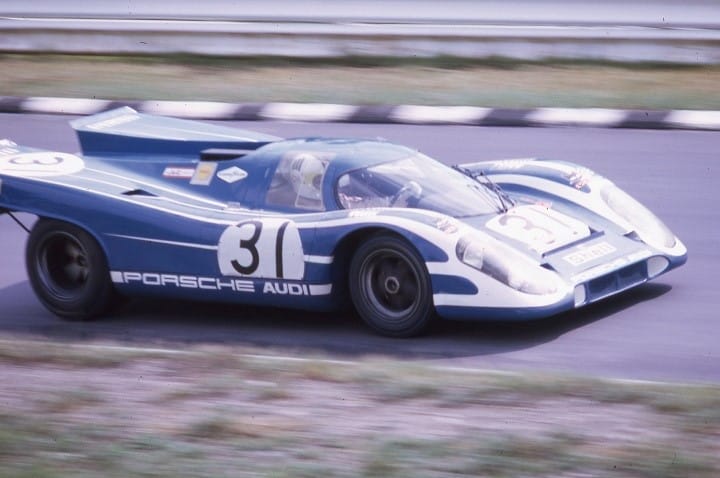 On pole for the race after qualifying with a time of 1minute 06.3 seconds (205km/h – 127mph) was car #1 of Jo Siffert/Brian Redman in one of two Gulf Porsche 917K cars. In second place on the grid was car #92, a works Ferrari 512S of Mario Andretti/Ignazio Giunti, and in third place was car #2, the second Gulf Porsche 917K driven by Pedro Rodriguez/Leo Kinnunen. In 4th place was the Jacky Ickx/Peter Schetty works Ferrari 512S, in 5th the Martini Porsche 917K of Gijs van Lennup/Gerard Larrousse and 6th the #32 blue and white Salzburg Porsche-Audi USA 917K of Richard Attwood/Kurt Ahrens.  In 7th place on the grid with a time of 1min 08.8secs (some 2.5 secs behind the pole sitter) was the blue and white #31 Porsche 917K of Vic Elford/Denny Hulme.
Mario Andretti in his 'works' Ferrari led at the beginning of the 'rolling start' race and held his lead until he caught up with the back markers on lap 3 when he was passed by Jo Siffert. Jo was to lose his lead to Pedro Rodriguez on lap 35.  The two Gulf cars collided on lap 100 when Pedro was attempting to lap Jo, causing body damage to both cars and puncturing Siffert's tyre.  Pedro led from lap 211 to the end of the race that came on lap 308 after 6 hours and 47.5 seconds, having covered 308 laps at an average speed of 189.592km/h (117.808mph). The #2 Gulf Porsche 917K-016 of Rodriguez/Kinnunen took the flag from the #1 Gulf Porsche 917K-014 of Siffert/Redman, also on 308 laps. This was the 4th win of the season for Rodriguez. Three laps down on 305 laps was the #92 Ferrari 512S of Andretti/Giunti, and a further 3 laps back on 302 laps, in 4th place, was the Porsche Audi USA Porsche 917K of Elford/Hulme – they suffered from the wrong choice of Goodyear tyres.  The #91 Ferrari 512S of Ickx/Schetty was 5th on 298 laps and in 6th place was the second Porsche Audi USA Porsche 917K of Attwood/Ahrens on 295 laps. 20 cars finished the race of the 26 that started.
On the next day, Sunday 12th July 1970, Denny Hulme, driving his Team McLaren McLaren M8D Chev finished first at the 'The Glen 200' Can-Am race held at Watkins Glen over 200 miles/87 laps.  Denny's overheating McLaren finished the 87 laps in a time of 1 hour 41.16 mins at an average speed of 118.56mph. In winning the race, Denny was only 7 seconds ahead of Jo Siffert's Group 5 Gulf Porsche 917K. Jo was followed by Richard Attwood in 3rd place on 85 laps and Vic Elford in 4th place on 85 laps, both in their Salzburg Porsche-Audi USA Group 5 Porsche 917K cars.  Twenty one of 33 cars that started finished the race. Denny won five of the eight Can-Am rounds that season and thus won the 1970 Can-Am Championship in the Team McLaren M8D.