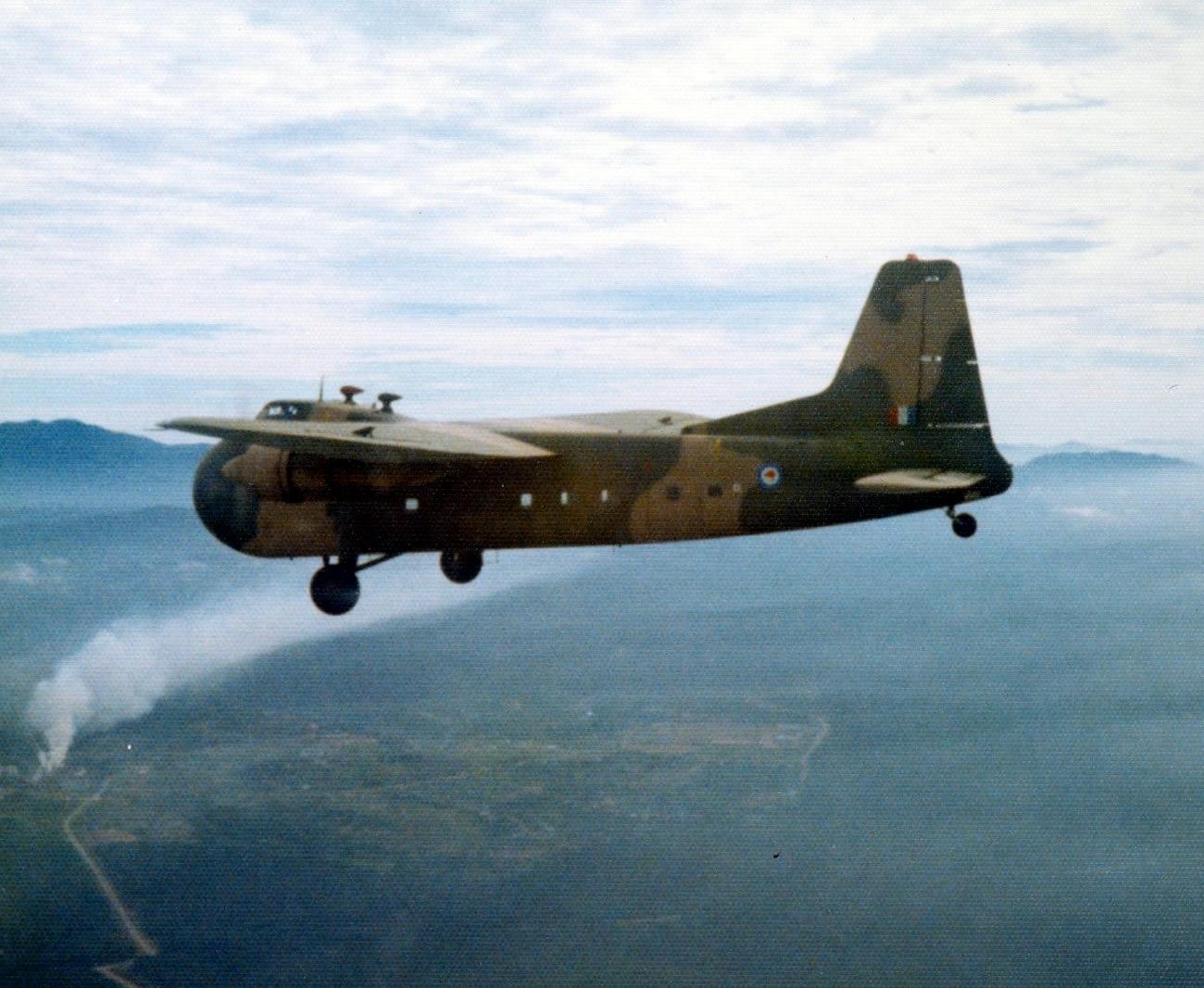 Close Formation Bristol Freighter NZ5906
Here are a few photos taken in 1973 that you wouldn't expect to be taken by a recent 75 Squadron Skyhawk pilot!
By late August 1973, I had completed nearly 3 years flying Skyhawks on 75 Skyhawk Squadron (Sqn) at RNZAF Base Ohakea and I was posted to Singapore for about two years. I left New Zealand in early September, with my family, and started work on 4th September with the Singapore Armed Forces (SAF) at Tengah airbase.
In October/November 1973, 75 Sqn was involved in their second Vanguard deployment to SE Asia for the year and were based at Tengah airbase for Exercise Vanguard 17. If I remember it correctly, the squadron had sent a detachment of Skyhawks from their compliment of eight to be based for a period at Royal Malaysian Air Force (RMAF) Base Kuantan – which was about halfway up the east coast of the Malaysian peninsula. In November all the Skyhawks returned to Tengah, Singapore, before their departure for New Zealand. Two Number 41 Sqn Bristol B170 Freighter Mk31Ms, based at Tengah, were tasked to collect the 75 Sqn groundcrew and Skyhawk support equipment from Kuantan and return it all to Singapore. 
For the two-aircraft B170 75 Sqn recovery flight tasked for the flights on 9th November 1973, I joined Flt Lt Keith Skilling and crew on B170 NZ5912, and together with Flt Lt Den Monti and crew in B170 NZ5906, we flew to north to Kuantan. The Pre-flight briefing included procedures for some enroute close formation practice by the pilots of the two B170s, something that was not often done in the 'venerable Frightener'. 
Dressed in a simple air force issue flying suit and equipped with headset (fitted with a microphone, and sound-reducing ear defenders to help counter the very loud noise inside the B170),  I took my place in the right hand seat on the flight deck of B170 NZ5912.  No 'bone-dome' flying helmet, oxygen mask, or G Suit needed for this former knuck!  The flight took 1 hour 20 minutes, each way.