1970 Rorstan-Porsche and 1970 Stanton-Porsche

In September 1969, Ian Rorison and Feo Stanton, as owners of the Rorstan Racing Team, engaged Bryan Faloon to drive their Bob Britton (of Rennmax Engineering, Sydney) designed Rorstan-Climax single seater – that itself was based on a Brabham BT23.  Paul Bolton (in 1968) and Dennis Marwood (in 1969) had been drivers of the Rorstan cars in the two preceding seasons.
Bryan Faloon of Levin started racing in a Ford Anglia 105E saloon car at the Levin track in 1963 and after some 5 years in this car, he purchased in 1967 his own Brabham BT4-Climax single seater. With a very limited budget, he raced with a little success in this ageing car during the 1967/68 NZ domestic and the 1968 International season – including excellent 7th places in international company at both Pukekohe and Levin. However, the 1969 international season was a disaster for him when his car caught fire before the start of the GP signalling the end of his self-financed dream of single seater racing.
For the 1969-70 season the 'Tasman' regulations on engine size were changed – the USA stock-block 'Formula A' V8 5000cc engine was adopted by Australia and New Zealand, running under the English name 'Formula F5000'. Cars could run standard pushrod engines up to 5000cc, or racing motors up to half of that, as was the case for the previous 2.5 litre Tasman Formula. National Formula engines, now up to 1600cc. were also allowed.
The Rorstan Team obviously figured on taking the alternative route and rather than using a stock-block V8, they decided on a smaller racing engine fitted to a smaller and lighter car than a F5000. Although a 2-litre Porsche engine had been rumoured for the Rorstan single seater, it was not available, so the venerable but increasingly fragile 2.5 litre Coventry-Climax FPF 4 cylinder engine was retained.  Thereafter and throughout the 1969/70 season, despite many engine problems and failures, Bryan Faloon drove the 'Team Cambridge' liveried Rorstan-Climax with modest success in the four 1970 International races (7th at Wigram, and 10th at Teretonga), as well as finishing in a well-earned 3rd place in the 1970 NZ Gold Star Championship.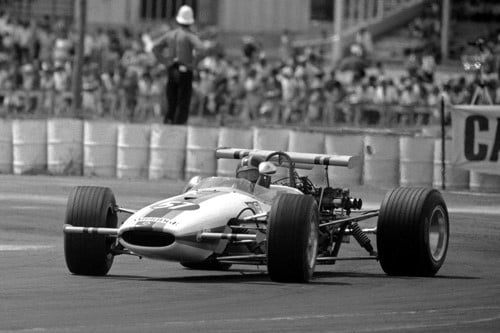 In his summary of the '69/70 Single Seater season, noted motoring journalist Peter Greenslade reported:-
"But, in some ways, the most impressive [1970] Gold Star driver was Bryan Faloon, who scored 32 points with the ultra-light and unreliable 2.5 Climax-engined Brabham based Rorstan, his best effort being at Wigram where he was first resident home. A more competitive car could make Faloon a leading light in New Zealand racing."
Before the start of the 1970/71 season the Rorstan team had planned to fit a Porsche 771 1990cc flat-eight air cooled engine to their single-seater. However the engine had not arrived in time so for the initial races of the season they once again used a 'cobbled together' Coventry Climax FPF 2.5 litre. The new Porsche engine arrived just before Christmas in 1970 and this was fitted to a new Bob Britton designed Stanton chassis, that itself used some parts from an old Rorstan-Climax. The motor was the same type of engine as fitted to Porsche sports racing cars; it was said to develop 282 bhp, but Rorstan said it developed only 240hp. The engine was a partially stressed chassis member mated to a Porsche five speed all synchromesh gearbox, as fitted to a road car. Kevin Clarke was the team's mechanic in New Zealand.
Due to the late arrival of the engine, the new #57 Rorstan-Porsche 771/1 2200cc Mk1a, chassis F1001, could not be readied in time for the Round 1 of the 1971 Tasman International, held at Levin on 2nd January 1971, so the entry was scratched. The race was won by Graham McRae in his McLaren M10B F5000, from Neil Allen's McLaren M10B F5000 and Chris Amon's March 701 Cosworth V8.
The long awaited Rorstan-Porsche Mk1a was finished at midnight of the Thursday before the NZ International GP held at Pukekohe on 9th January 1971. However, an alternator problem prevented the 'Team Cambridge' liveried Rorstan-Porsche from starting in the first practice session on Friday, and by the time the engine was running, rain had commenced and further practice was 'rained-out'. Although the organisers had set a 10 second maximum speed differential between fastest and slowest cars, they allowed Bryan to start the GP at the back of the grid in the 20 car field.  However, gear selector problems just before the GP prevented Bryan from starting the 58 lap race. The GP was won by Neil Allen from Frank Matich and Graham McRae, all of whom drove McLaren M10Bs.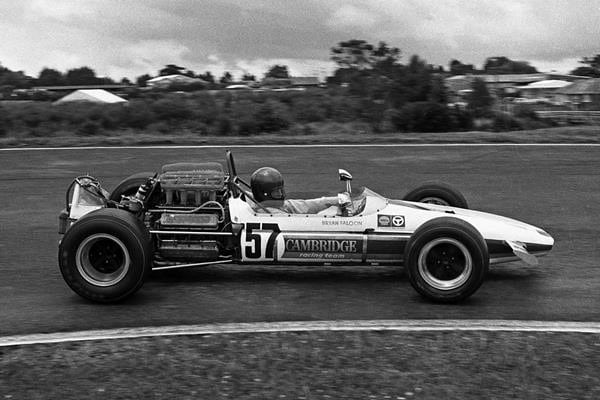 Bryan was entered to drive the Rorstan-Porsche in Round 3 of the Tasman Championship – the Lady Wigram Trophy race held at Wigram, Christchurch, on 16th January 1971. After the abortive event of Round 2 at Pukekohe the previous weekend, the Rorstan team disassembled the gearbox to find that second gear had been damaged. Bryan completed only 3 laps of practice before it was seen that the only available spare second gear ratio proved to be too high for Wigram, so the entry was withdrawn. The race won by McRae from Matich in their M10Bs with Graeme Lawrence third in his ex-Amon 'works' 2.4 litre Ferrari Dino 246T. The Rorstan-Porsche was withdrawn from Round 4, the remaining international race in New Zealand and held at Teretonga on 23rd January 1971. The race was won by Neil Allen, from Frank Matich and Teddy Pilette, all of whom drove McLaren M10Bs.
The Rorstan team then travelled to Australia for Round 6 of the Tasman Championship held at Sandown Park, Victoria, on 21st February 1971. A new Porsche 771 2.0 litre engine had been fitted to the Rorstan single seater, but Bryan had a 'miserable' time with the car. He qualified near the back of the grid in 16th place of the 18 qualifiers with a time of 69.5 seconds (Neil Allen was fastest in his M10B at 62.8 secs). It was reported that Rorstan-Porsche 'was still having problems in the power and handling department, so Team Manager, Feo Stanton, decided not to run the car in the race'. Race winner was Graham McRae (M10B) from Teddy Pilette (M10B), Frank Matich (M10B) and Chris Amon (Lotus 70 F5000). After Sandown, the Rorstan-Porsche remained in Australia – and evidently, it was nearly purchased by Alan Hamilton, owner of Porsche Australasia, in Melbourne.
Peter Greenslade said in his summary of the Tasman season in the 1971 Shell book said: –
"Technically the Rorstan-Porsche was an interesting exercise, even if it did not run a race lap. Sydney's Bob Britton designed the chassis, which was a spaceframe incorporating portions of the original Climax-engined lightweight Rorstan. A tubular section over the engine substituted for more usual top rails, the engine being a partially stressed member. Suspension is by coil springs all round, with angled links in front and wishbones at the rear. The sports-racing 2000cc flat-eight engine was said to develop 282bhp, and drive is through a normal five-speed road-going Porsche gearbox."
Notwithstanding Peter's comments, many considered the car to be overweight and underpowered. As Michael Clark in opined in 2015 "The Porsche 771 and 771/1 engines were designed for sports cars – the idea of putting a big, wide flat 8 two-litre engine into the back of an open wheeler was not a good one. Even if the engine had been nice and compact, an up to 2.5 litre engine would have needed around 380bhp to even be competitive with the F5000s at that time – so at best the Rorstan-Porsche was at least 100bhp shy. And – it was anything but nice and compact!"
1971/72 Season
The next meeting for the Rorstan team was to have been on 3rd October 1971 at Pukekohe for Round 1 of the NZ Gold Star Championship. The new Stanton-Porsche, chassis SM-RMR1, formerly known as the Rorstan-Porsche, arrived back in New Zealand from Australia just a few days before the Gold Star opener at Pukekohe. There was insufficient time to ready the car, despite working until 4am on practice morning, so Bryan drove a Titan Formula Ford belonging to Gordon Edwards. The 20 lap race was won by David Oxton in the 'works' Begg FM4 F5000, from Graeme Lawrence in his 1.8 litre Brabham BT29 and Garry Pedersen in his Gemco-Oldsmobile sports racing car.
14 Nov 71 Pukekohe Round 2 of the Gold Star – #57 Stanton-Porsche 1990cc – Bryan qualified 5th of 11 cars and finished 6th in Heat 1 over 10 laps behind David Oxton's Begg FM4, Frank Radisich in his McLaren M10B, Ken Smith's Lotus 69-Hart, Neil Doyle in the Begg FM2/1 and Garry Pedersen's Gemco-Olds. Bryan's race time was 10 mins 43.8 (winner, Oxton, was 10m 7.9). In Heat 2, also over 10 laps, Bryan finished 4th behind Oxton, Radisich and Doyle with a race time of 10 min 35 sec.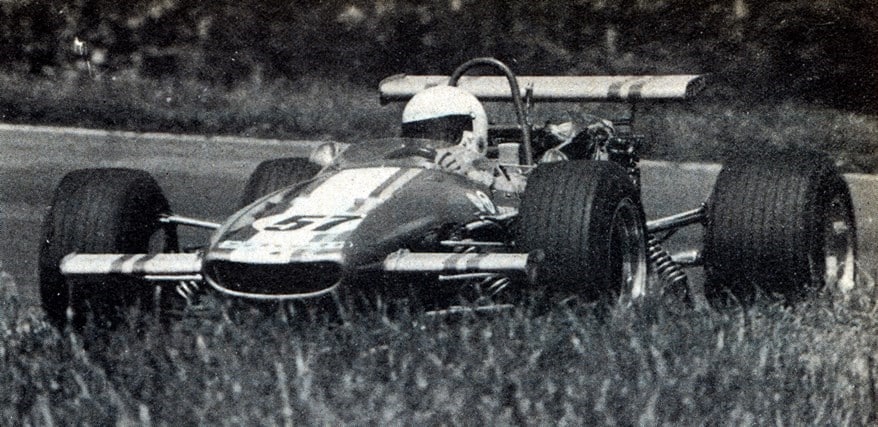 19 Dec 71 Levin Gold Star Round 3 – #57 Stanton-Porsche 1998cc. Bryan qualified 4th with a time of 47.8 seconds (Graeme Lawrence in his Brabham BT29 was fastest in a time of 45.9 secs). In Race 16 over 25 laps, Bryan was holding 3rd place until he was passed on Lap 20 when oil in the clutch caused it to slip – and his brakes began to lock as well. He finished 5th behind Graeme Lawrence in his Brabham BT29, David Oxton Begg FM4, Robbie Francevic McLaren M10A/B and Ken Smith Lotus 69B FVC.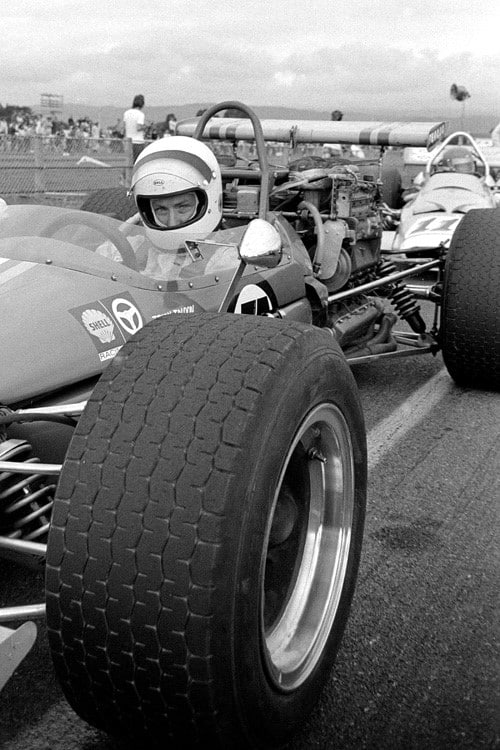 28 Dec 71 Bay Park –#57 Stanton-Porsche 1990cc.  Bryan qualified 8th of 11 cars with time of 57.6 seconds. (Fastest was Graeme Lawrence in his brand new Lola T300 Chev F5000 car with 52.2 secs). The next day, Bryan did not start Heat 1 over 12 laps as the team was still working on an engine problem incurred during some late practice the previous day. However, he finished 4th in Heat 2 over 12 laps, a race won by Frank Radisich in his McLaren M10B from David Oxton's Begg FM4 and Ken Smith's Lotus 69B Hart FVC.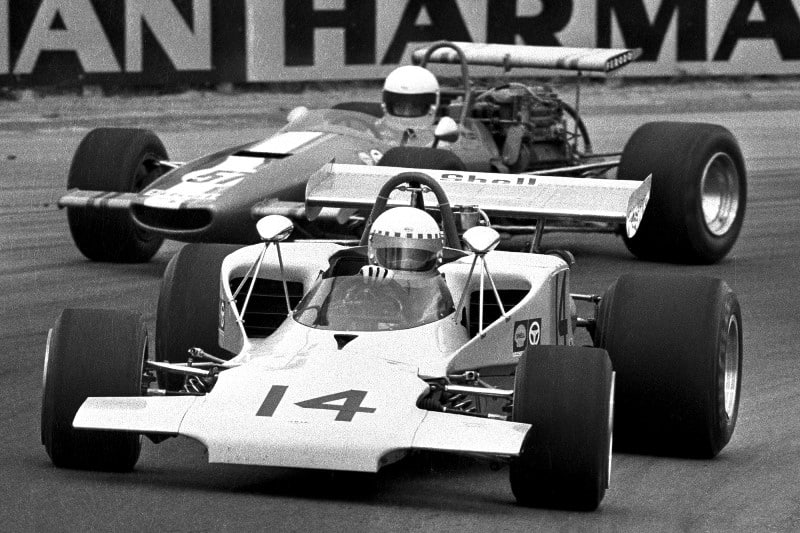 8 Jan 72 NZIGP Pukekohe. #57 Stanton-Porsche 1990cc. Qualified 18th of 22 cars. Bryan was killed in a fatal accident on Lap 52 of the scheduled 58 laps. As Donn Anderson recorded in Motorman magazine, February 1972, Bryan was running near the tail of the field when he moved over to allow John McCormack in his Elfin MR5 F5000 to pass. However, Bryan was apparently unaware that Graeme Lawrence in his Lola T300-Chev F5000 was right behind McCormack. As soon as McCormack had passed, Bryan evidently moved back to his original line – right into the path of Lawrence.
The Lola and the Stanton tangled just before the kink in the back straight at Pukekohe where single seaters were doing more than 160 mph. Bryan went straight ahead at the kink and stuck an earth bank; the car went over the bank and came down with a very big thump which was severe enough to cause Bryan's fatal neck-head injuries (the car did not overturn, nor did Bryan lose his helmet). The Stanton-Porsche was not too badly damaged whereas the Lola T300 was a write-off after Graeme Lawrence hit a stationary train on the adjacent railway tracks. Graeme was severely injured.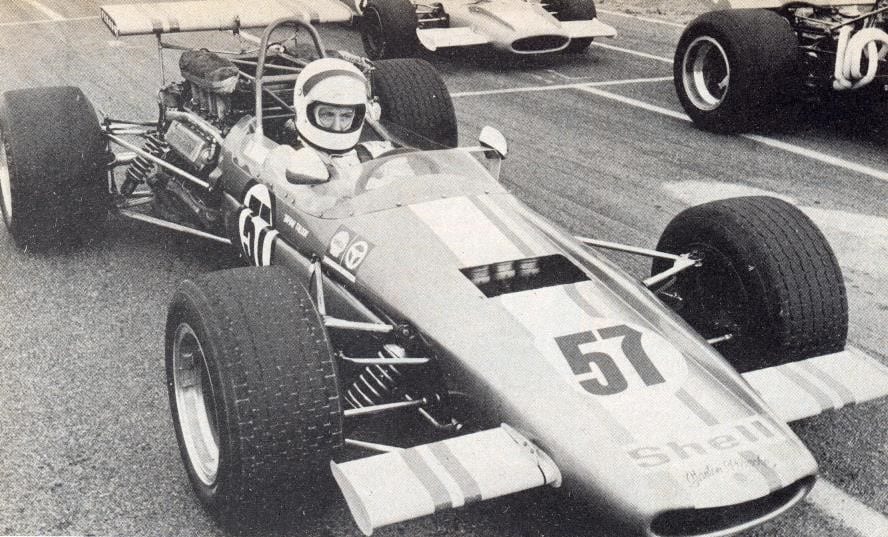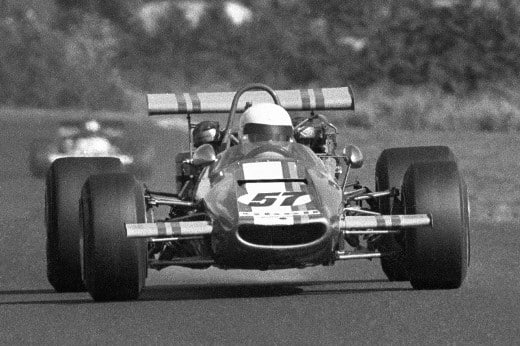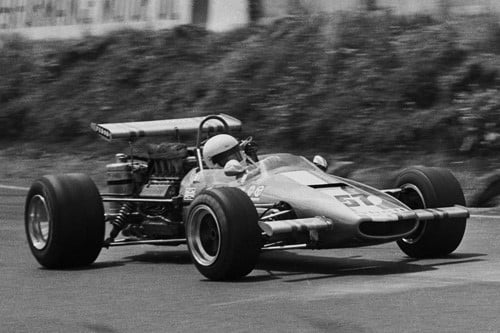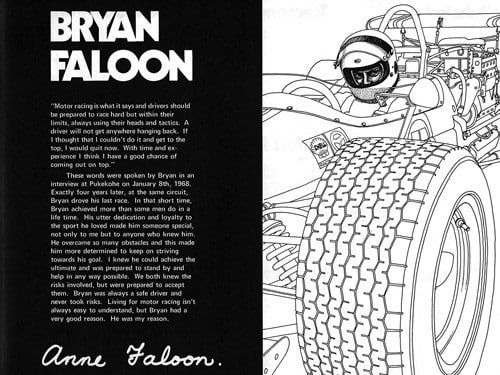 After the accident at Pukekohe, the Stanton–Porsche was sold to Porsche Australasia importer, Alan Hamilton of Melbourne, Australia. Apparently Alan kept the Porsche 771 race engine and the rest of the car went to a new owner in Victoria, Australia.
NZ Festival of Motor Racing celebrating Porsche – January 2016
Significant Porsche cars that were raced in New Zealand
By Jim Barclay