1970 March 701-1 F1
Chassis 1 Ford Cosworth 3.0-litre V8 – Owner: Roger Wills, UK
This March F1 works car was driven when brand-new by Chris Amon in 15 F1 races from March 1970 until October 1970. It was put into the Donington Collection in the UK at the end of the 1970 season, but was called into action again for Derek Bell to drive in the 1971 Argentinean Grand Prix. It has been mounted on the wall of the Donington Collection museum since and has not turned a wheel since 1971.
The March 701 was purchased from the Donington Collection in 2010 by Kiwi expat Roger Wills. Roger will be well remembered for his heroic drives at the NZFMR Bruce McLaren Festival held in January 2010 in his 1965 McLaren M1B Can-Am and his 1959 Cooper T51 Climax. Roger very kindly shipped the March 701 to the New Zealand Festival of Motor Racing celebrating Chris Amon so that Chris could be reunited with this car. Chris said he will be very keen to see this car in its 'preserved' original condition.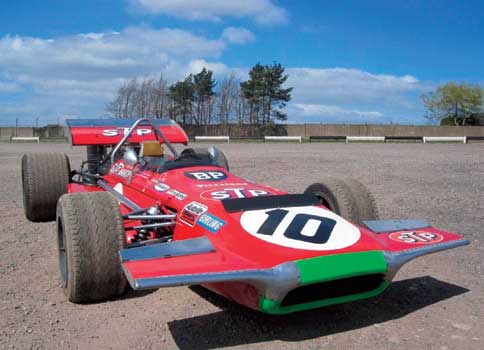 Upon its return to the UK, Roger will have a comprehensive overhaul of the March undertaken so he will be able to drive it in Historic F1 races. The Festival Directors wish to thank Roger for his generosity in sending the March to New Zealand for static display.
Source: NZFMR 2011, Cars Of Interest – 1970 March 701-1 F1 -Page 54