1955 Ferrari 750 Monza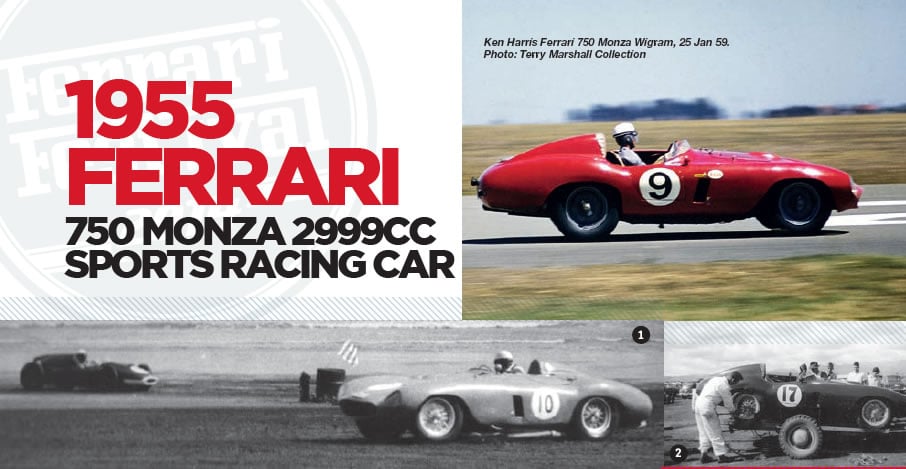 This ex works 1955 Ferrari Monza chassis number C0514M was one of two Monzas racing in New Zealand in 1957. It was brought here by British driver Ken Wharton to race in sports car races at the NZIGP meeting held at Ardmore in January 1957. It was said that the car had been driven by Ferrari works driver Eugenio Castelotti in the tragic 1955 Le Mans 24-hour race, and later won at Rouen in France with two third places in the Targa Florio in Sicily, and the Swedish GP. Sadly, Ken Wharton was killed when the car rolled in a sports car race at Ardmore in 1957.
Aucklander Ken Harris purchased the wrecked car in 1957 and rebuilt it to race condition. He finished third in the first Ken Wharton Memorial Trophy race, held at Ardmore in January 1958, and first in the sports car race held that year at the Lady Wigram Trophy meeting. In 1959, Harris won the Ken Wharton Memorial Trophy at Ardmore and finished 12th in the 1959 NZIGP. Fellow Aucklander Bill Thomasen purchased the Monza in late 1959 and raced it throughout 1960 before he sold it to John Riley in 1961. Riley fitted a Chev V8 4600cc engine when the 2999cc 260hp four-cylinder Ferrari engine finally failed. By now the six-year old car was uncompetitive, but Riley did score a win in a sports car race at the 1963 Levin International meeting. He also finished second in both the 1963 Beach Racing championship held at Muriwai and a race meeting at Pukekohe.
A number of other people owned the car after John Riley: Len Southward (later to be Sir Len), of the Southward Car Museum, purchased the car in the late 1960s–early 1970s from an owner in Riversdale, Southland. Len had the Corvette engine removed and put the car on display in an unrestored condition in the museum until a complete restoration was undertaken in the mid-2000s.
As the only remaining example of the thirteen exotic single-seater, sports racing and GT Ferraris that raced in New Zealand from 1954 until 1971, the Ferrari Festival 2014 organisers are delighted to see
the iconic 1955 Ferrari 750 Monza on display.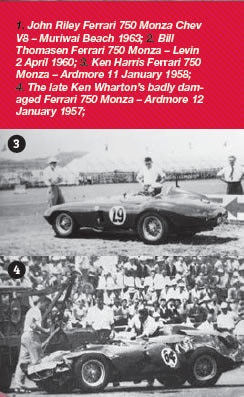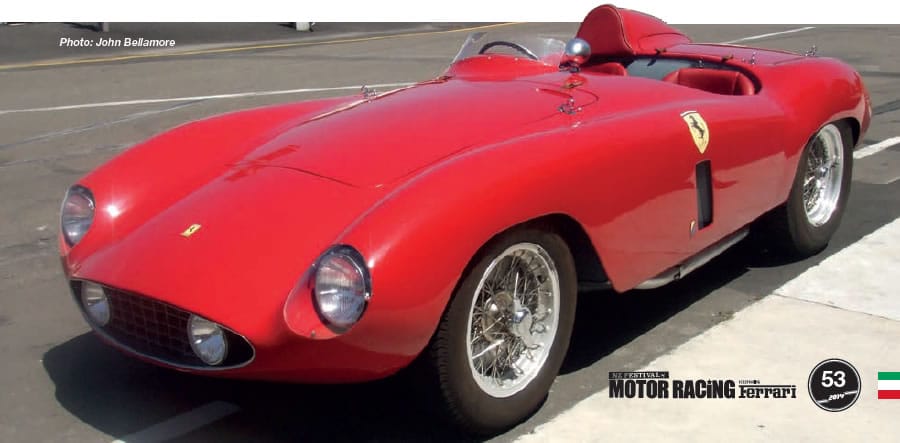 SOURCE: NZFMR 2014 Official Programme, page 53.